According to a complaint filed today with the Department of Housing and Urban Development, OneWest Bank has consistently violated the Fair Housing Act by refusing to locate bank branches in minority communities or issue mortgage loans to people of color. The bank was also more likely to foreclose on properties in communities of color, and their holdings of foreclosed properties in minority communities were not well-maintained, the complaint alleges.
This matters because until 2015, OneWest Bank's CEO was Steven Mnuchin, Donald Trump's national campaign finance chair and rumored choice for Treasury Secretary.
Two non-profit groups, the California Reinvestment Coalition and Fair Housing Advocates of Northern California, filed the complaint. The alleged conduct comprises "redlining," the long-held practice of preventing minority families from acquiring home mortgages. Congress banned redlining in the Fair Housing Act of 1968, designed to prevent discrimination based on race, color, national origin, religion, sex, disability, or familial status.
Mnuchin and a consortium purchased OneWest from the Federal Deposit Insurance Corporation (FDIC) in 2009, when it was a failed institution known as IndyMac. He served as CEO through 2015, when the bank merged with CIT in a $3.4 billion deal. OneWest branches, mostly in California, still carry the same brand name. Mnuchin is no longer CEO of the merged company but joined the CIT board after the purchase completed in August 2015 (Mnuchin also received a $10.9 million severance package for serving as vice chair of CIT for less than a year). Mnuchin also started a hedge fund, Dune Capital.
The complaint alleges that most OneWest branches serve white customers. Of 74 branches across six southern California counties, zero are in African-American communities, one is in an Asian-American community, and eleven are in Hispanic communities. OneWest consolidated twelve branches over the past several years, and five of them were in census tracts with majority-minority residents.
Using data from the Home Mortgage Disclosure Act, the complainants find that OneWest's mortgage lending largely avoided minority areas. This map shows mortgage applications for OneWest in 2014, when Mnuchin was still CEO. The applications, represented with green dots, fall almost entirely outside minority community census tracts.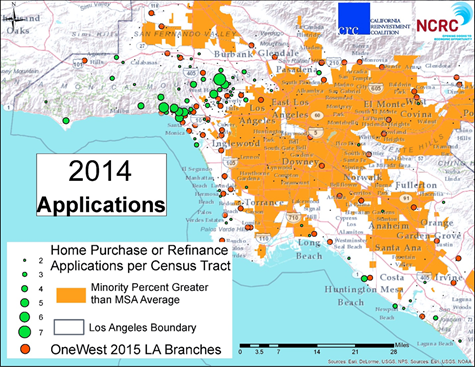 In 2015, OneWest mortgage loans to white borrowers in Los Angeles County represented 82.4 percent of their total loans, over 14 points higher than the industry average in that region. Loans to African-Americans, Asian-Americans, and Latinos fell well below the industry average.
"During 2014 and 2015, OneWest originated exactly two mortgage loans to African American borrowers in its assessment area," said Kevin Stein, deputy director of the California Reinvestment Coalition.
By contrast, according to data from Property Radar and the California Reinvestment Coalition, during Mnuchin's tenure at OneWest from 2009-2015, OneWest conducted 24,634 foreclosures in communities of color in California – most of them on homes originated by the failed IndyMac Bank – while originating only 2,624 mortgages in the same communities. The foreclosures in majority minority communities represent over two-thirds of all of OneWest's foreclosures over this period.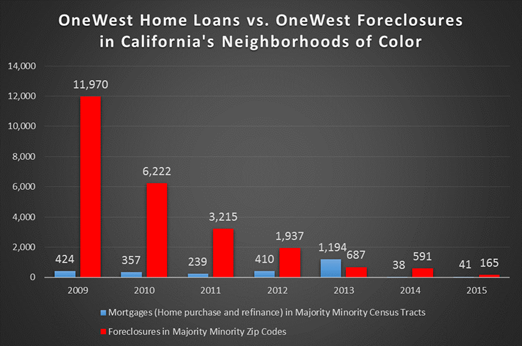 Once OneWest acquired these foreclosed properties – known in the industry as "real estate owned" or REO – they allegedly did not maintain the ones in communities of color as well as those in white communities. Fair Housing Advocates of Northern California investigated REO homes in Contra Costa and Solano Counties from April 2014 to May 2016. They found that those in white communities were well-maintained with mowed lawns and professional "for sale" signs, while the homes in communities of color were often littered with trash, and featured overgrown grass, boarded-up doors and windows, and no "for sale" sign. All of the REO properties in communities of color studied had five or more maintenance or marketing deficiencies, according to the investigation.
In a statement attached to the complaint, Sharon Kinlaw, executive director of the Fair Housing Council of San Fernando Valley, said, "The evidence included in this complaint suggests that OneWest Bank has steered clear of people of color in its assessment areas for a number of years. We want to know how many people were harmed and we look forward to learning what HUD finds out."
Mnuchin is no stranger to controversy around foreclosures. His group purchased IndyMac through a deal with the FDIC, where the agency backstopped all losses above the first 20 percent on any mortgage defaults. This limit on losses gave Mnuchin's bank incentives to foreclose, as they could impose fees and re-sell properties at a profit. OneWest turned $3 billion in profits from 2009 to 2014, off an initial investment of $1.65 billion.
OneWest appears to have accomplished many of these foreclosures through fraud. Erica Johnson-Seck, a vice president of foreclosure and bankruptcy for OneWest, explained in a July 2009 deposition that she "robo-signed" 6,000 foreclosure-related documents per week, spending just 30 seconds on each sworn affidavit that attested to the veracity of all relevant information in the case. Johnson-Seck admitted to not reading the documents before signing them, to not knowing how the records were generated, and to not signing in the presence of a notary, all of which made the affidavits she signed false evidence in court.
In 2011, housing activists in Los Angeles camped out on Mnuchin's lawn in Bel-Air to protest the eviction of Rose Mary Gudiel, who faced foreclosure after being just two weeks late on one mortgage payment.
The California Reinvestment Coalition has also accused OneWest of targeting seniors. Their subsidiary, Financial Freedom, executed 39 percent of all foreclosures on reverse mortgages between 2009 and 2015, despite servicing only 17 percent of the market, according to HUD data obtained by the California Reinvestment Coalition.
But the redlining complaint, in light of the Trump campaign and transition's difficulties on matters of race, are particularly salient for the potential Treasury Secretary. Trump himself settled a housing discrimination case with the Justice Department in the 1970s, though his company did not have to admit guilt. According to the lawsuit filed, African-Americans were told there were no vacancies at Trump-held properties, while whites were rented apartments.
CIT, the parent company of OneWest, has not yet responded to a request for comment.
Updated at 5:25 pm, November 17: A spokesperson for CIT, the parent company of OneWest Bank, emailed this statement to The Nation: "CIT is committed to fair-lending and works hard to meet the credit needs of all communities and neighborhoods we serve."