Atlanta's "Stop Cop City" Movement Is Youth-Led Democracy in Action
"When we can't trust our leaders, regardless of political party, to exercise their power for our betterment, we the people have the power to do something about it."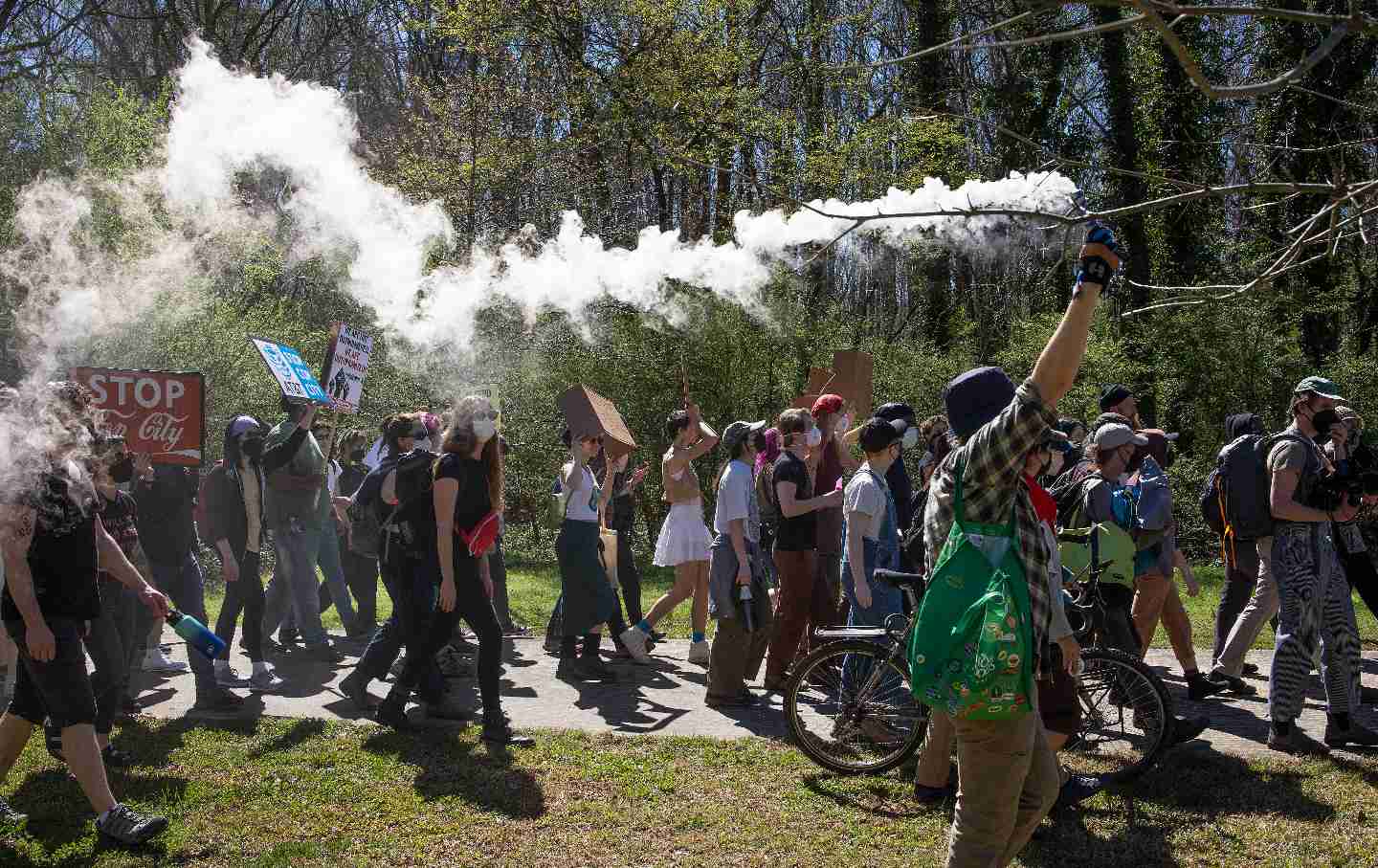 In July, the Georgia State University Student Government Association passed a resolution opposing Atlanta's proposed "Public Safety Training Center"—also known as Cop City—to be constructed on 85-acres of land outside of city limits.
"The construction of Cop City in Atlanta, a militarized police training facility also known as the Atlanta Public Safety Training Center, has raised significant concerns among the student body," the resolution read. "The Student Government Association publicly denounces the construction of Atlanta's cop city as it threatens civil liberties, exacerbates systemic biases, and will directly impact the lives of the Students this body represents."
The $90 million training center would feature "a lab to develop and test technological innovations" and "a mock streetscape to simulate real-world crisis situations faced by law enforcement officers" with "a focus on tactical training," according to the Atlanta Police Foundation website. Opponents of the facility cite the risk of increased police militarization. "I do share the concern of the citizens of Atlanta," Arthur Rizer, a former police officer and a scholar of policing, told The New York Times, "that the apparent focus is going to be a paramilitary-type training, urban assault tactics, which quite frankly have not been effective at reducing crime."
"Cop City, if built, would pose a direct threat to the safety and well-being of our students," said Brian Ramirez, a member of Young Democratic Socialists of America and a GSU student. Over the last few years, the fight to "Stop Cop City" has mobilized young people across Georgia, beginning in 2021 with the Defend the Atlanta Forest occupations. "The Stop Cop City movement is a signal to bloated police departments across the country that we are fed up with overmilitarized communities and overflowing prisons," said Yana Batra, a student at Georgia Tech.
The resolution from GSU's student government came after months of protests from students, including a walkout at more than one dozen universities. At GSU—a campus well-known for its diversity and youth organizing—a military-grade training facility for police is a clear cause for concern. "GSU is so heavily policed," Rhea Wunsch, a GSU student and Campus Mobilization Co-Lead at GYJC, laments. "We're under the jurisdiction of APD, GSUPD, Marta Police, Capitol Police, and Fulton County PD," said Wunsch. "There's no need for one school to have so much policing."
According to Ramirez, the ties between the university and the Atlanta Police Foundation further pushed students to act. "Approximately 20 faculty members and GSUPD personnel were identified as APF donors. Notably, GSU's non-profit entity, The Georgia State Foundation, was also listed as a donor," said Ramirez, citing documents obtained under the Georgia Open Records Act. "As an institution that prides itself on high Black student graduation rates and one of the most diverse student bodies in the country," reads a statement from the GSU Student Coalition Against Policing & Militarism, "GSU's participation in prison industrial complex expansion raises concerns."
Current Issue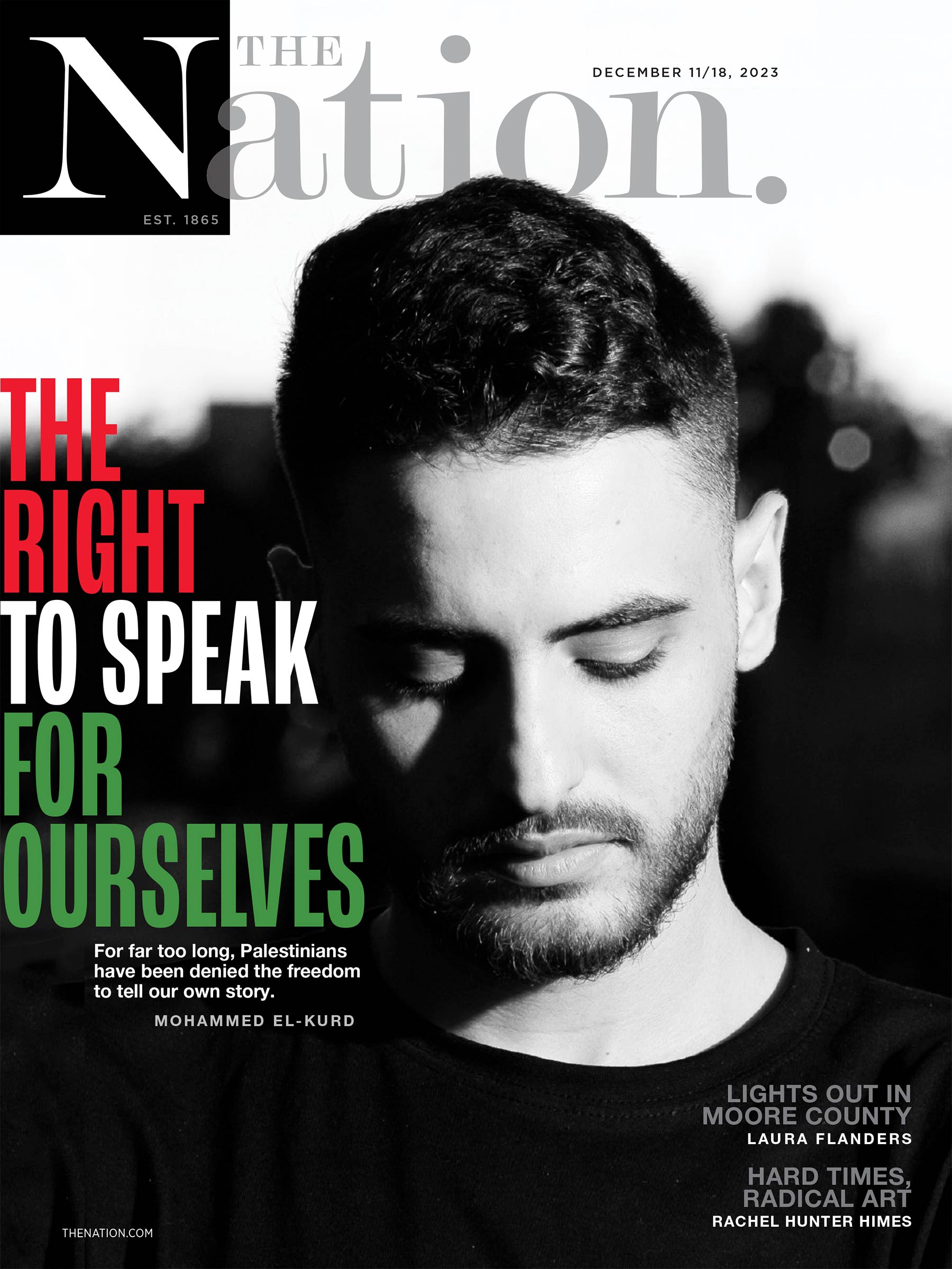 The movement gained significant momentum in the last few months, with national coverage of Cop City spurring the work of hundreds of students across the state. Groups like the Georgia Youth Justice Coalition—which previously won statewide fights around equal ballot access, representative redistricting, and funding for education—have taken leadership alongside dozens of statewide orgs in spreading awareness of Cop City. "I quickly began organizing with many smaller grassroots groups," said Zeena Mohamed, a student at the University of Georgia and an organizer with the GYJC, about canvassing around Stop Cop City.
On social media and on the ground, students and groups like GYJC have worked to inform their peers about the effects of the training center and created a network of organizers across the state. "Many people were unfamiliar with the project, but this lack of awareness became an opportunity for engagement. When we educated them about Cop City, its potential implications, and its connections to the university, we found that they were generally receptive and supportive once they understood the situation," said Ramirez. A majority of Black adults in Atlanta oppose the project, according to an Emory University survey from March, while 44 percent support the building of the facility. "I think what we can conclude from the study is that Black Atlanta, like the rest of Atlanta, is split on support for Cop City," Andra Gillespie, an associate professor whose research covers African American Politics at Emory University, told Capital B Atlanta.
The land being used for Cop City is part of the historical Weelaunee Forest, stolen from the native Muscogee residents in the early 19th century by white settlers. In the decades following, slavery permeated the area's plantations. By the 20th century, city officials were looking for new uses of the land and began bringing in unpaid inmates to work on the Atlanta City Prison Farm. "I felt that this simple police facility proposal indicated so many more historical and structural problems the city faces," said Mohamed, the organizer with GYJC.
In January, Manuel "Tortuguita" Terán, a nonbinary climate protester and supporter of the Defend the Atlanta Forest, was shot by Georgia State Patrol SWAT troopers during a raid on a Stop Cop City encampment protesting the construction. An autopsy determined that Teran had been shot 57 times and most likely had their arms raised when the police began firing, and their hands were free of gunpowder residue. The troopers were not wearing body cameras at the time of the shooting and will not face charges. One trooper was also shot in unclear circumstances, a video suggests that he was hit by friendly-fire by other officers. Terán's family is suing the city for records related to their death, and calling for an independent investigation along with members of Congress Rashida Tlaib, Cori Bush, and Ed Markey.
The project has its defenders among the ranks of Atlanta Democrats. "This training facility will not only help boost morale, retention and recruitment of our public safety personnel, but will give us physical space to ensure that our officers and firefighters are receiving twenty-first century training," said former Atlanta mayor Keisha Lance Bottoms in 2021.
The problem however, according to the nonprofit Legal Defense Fund, is that "research has shown that increased militarization of law enforcement agencies leads to an increase in violent behavior by officers." For the LDF, "investing tens of millions of dollars in a facility that will perpetuate militarized tactics rather than address root causes of violence is harmful to public safety in Atlanta." According to an analysis from The Washington Post, there's been no correlation between increased police spending and lower crime rates in the last 60 years. "Funneling exorbitant sums of city funding into training facilities while key services and needs of Atlanta residents remain unmet is deeply at odds with the health and safety of the Atlanta community."
After over a dozen hours of public testimony, the city council voted to allocate $30 million dollars toward the training facility in June. "A vote today for this paper is a public endorsement of war, of human rights abuse, of militarized streets in our city" said Reverend James Woodall, the former State President of Georgia NAACP, during the public comments.
Popular
"swipe left below to view more authors"

Swipe →
For many young people, the environmental ramifications of the center are just as worrying as the prospect of a militarized police force. The South River was ranked the fourth-most endangered river in the country due to extreme neglect by local governments. After 1989, the site became a dumping ground for DeKalb residents, owned by the city and within an unincorporated part of DeKalb County. Atlanta has been forced to pay for violations of federal law due to excessive pollution into the water—far above the federally allowed limits. "Pouring millions of dollars into a police training facility that requires the razing of thousands of old-growth trees—when every week seems to bring another story of an inmate dying at the Fulton County Jail—is an abhorrent waste of taxpayer dollars," said Batra. "The Student Government Association affirms our commitment to environmental justice and opposes projects like Cop City that further deforest Atlanta, privatize public land, and contribute to contamination and pollution in the South River watershed," reads the GSU resolution.
In August, 2021—only a few weeks after the ordinance was first approved—the Georgia Tech Student Planning Association released a statement against Cop City, raising concerns about the already-troubling history of the land, as well as the environmental impact. "This development and future training activities could further pollute the South River, which is already recognized as one of the most compromised in the country," the statement reads. "Furthermore, the location of the proposed facility in southwest DeKalb County perpetuates a legacy of environmental racism against communities of color in our city…We, as planners, are responsible for envisioning a different future, not one based on fear or repression, but one that strives to be more democratic and just."
A recent lawsuit from The South River Watershed Alliance against the City of Atlanta and the APF, alleges that pollution from the construction site is already cause for concern. "Stormwater discharged from the Atlanta Training Facility construction site harms South River Watershed Alliance's members by causing additional impairment to Intrenchment Creek's water quality and diminishing the habitat for aquatic species," the statement explains. Alex Ip, founder of The Xylom, a non-profit, Gen-Z-run newsroom in Atlanta, found that the amount of green space that would be preserved after construction would likely be much smaller than Atlanta officials' lofty estimates. Despite assurances of minimal disruption, construction of the center would, indeed, be built over swaths of forest. "Youth are more willing to dissent from political thought when it comes to environmental issues simply because our futures are at stake," said Mohamed. "Many of our representatives are near the age of retirement and still uphold broken systems of the past."
For those like Brian and Rhea, organizing around a divisive issue hasn't been easy. In carrying out their work, young people and other Stop Cop City organizers faced brazen attempts to curtail their efforts. "GSUPD has harassed multiple students who were gathering signatures on the greenway saying that it is against policy," Ramirez said. "I tried very hard to find that policy and all that I could find is that tabling isn't allowed, but nothing about gathering signatures." At the beginning of September, 61 people were indicted by Republican state attorney Chris Carr on Racketeer Influenced and Corrupt Organizations Act (RICO) charges. The indictment, spanning over a hundred pages, spends pages explaining "anarchism," characterizing the actions of "militant anarchists, eco-activists, and community organizers" as a massive covert conspiracy against state policy.
The movement as a whole, however, has had an indelible impact on youth power in Georgia. "It revitalized the organizing scene, especially in Atlanta," said Mason Goodwin, a fellow GSU student and former lobbyist for Georgia Youth Justice Coalition for Action. With this momentum, a petition against the original ordinance was approved by the Atlanta Clerk in June. The threshold for the issue to appear on the ballot was 58,203 signatures—15 percent of electors registered to vote in the last municipal election. More than 116,000 signatures have reportedly been collected and submitted. "When we can't trust our leaders, regardless of political party, to exercise their power for our betterment, we the people have the power to do something about it," said Batra.
Despite this, the city says that organizers missed the August deadline. Atlanta mayor Andre Dickens, who supports the project, talked down the petition during a press conference in July, "I don't personally believe [the petitioners] are going to be successful." Mayor Dickens maintains that a referendum vote would be useless as the lease is already signed and can't be canceled. However, amid calls of support from prominent politicians across the country—including Georgia's own Stacey Abrams and Raphael Warnock—Dickens has expressed support for scanning the petitions to see where Atlantans' support lies.
In the meantime, the Stop Cop City organizers remain hard at work. "A new generation is forming around this movement in the city," said Goodwin, "and that's really powerful to see."