Will Atlanta's "Stop Cop City" Referendum Make It Onto the Ballot?
Organizers collected 116,000 signatures in support of a referendum to repeal the ordinance authorizing the police training facility, but it's unclear if—and when—the initiative will be voted on.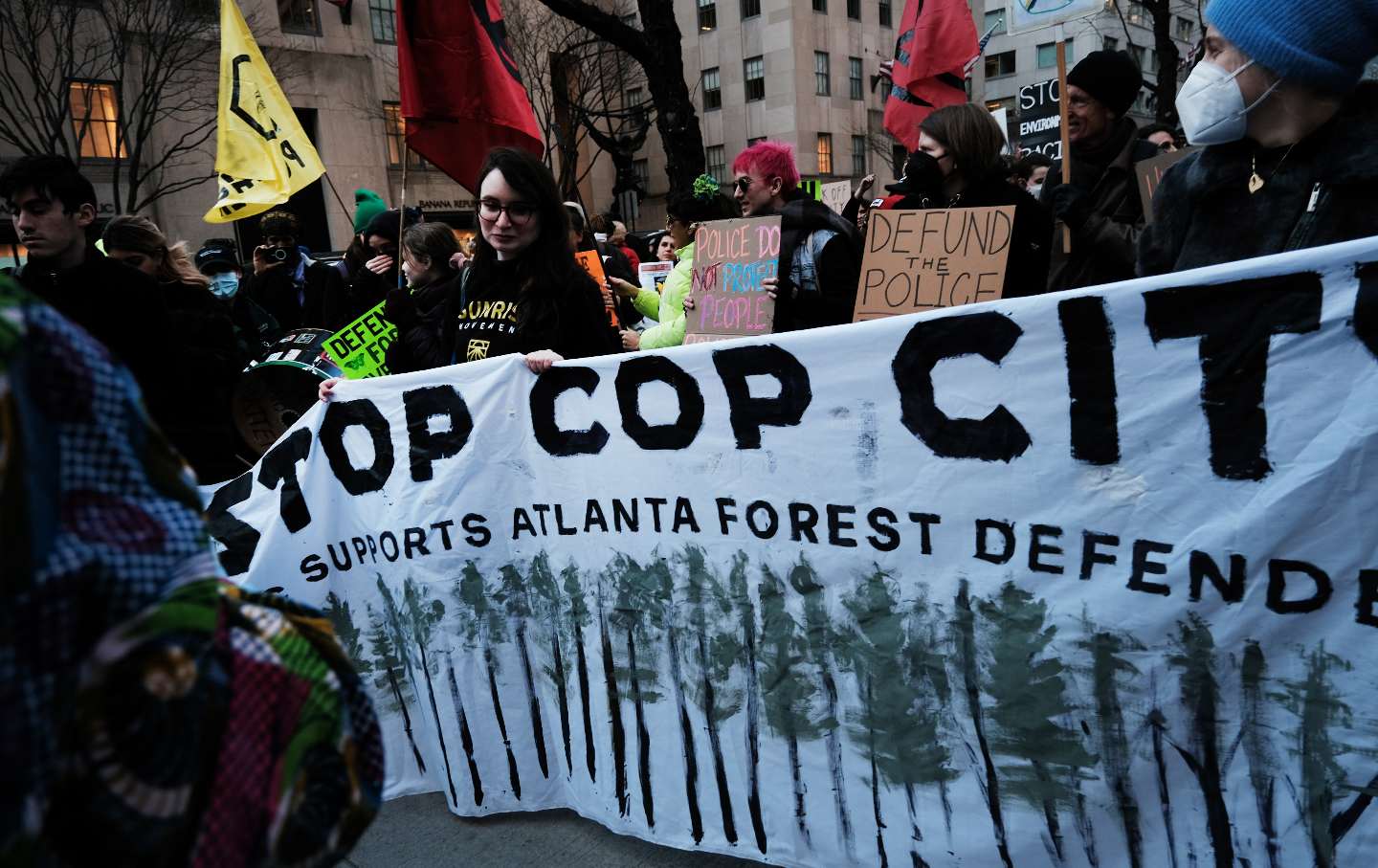 This summer, Stop Cop City organizers pivoted to use the state's legal processes to advance their goals. What started as a neighborhood environmental campaign two years ago has grown into an international climate and anti-policing outcry and—most recently—a potential voting matter for the city of Atlanta.
In 2021, Atlanta City Council announced plans to build a 85-acre, $90 million police training facility, nicknamed "Cop City" by activists, in the Weelaunee Forest south of the city. The project generated staggering backlash—protest encampments on the proposed construction site in the Weelaunee Forest, a summer of marches, mutual aid, and community-building, and 17 hours of public comment overwhelmingly opposing the facility.
Lisa Baker, a Dekalb County resident and Stop Cop City organizer, recalls that the idea for a ballot referendum, a process of allowing constituents to directly vote on an issue of interest, was tossed around as early as September 2021, but organizers decided against it until the movement grew significantly. Eventually, they revisited it with force, zeroing in on canceling the Atlanta Police Foundation's contract to lease the land that the training center would be built on.
"If you look historically at other similar land defense projects, they've always had two branches. They've always had an occupation, kind of direct action, strategy and also a legal strategy," Baker says. "We have to have legal grounds where we can force them to stop this project."
Georgia's ballot referendum laws are notoriously restrictive, but Alex Joseph, a former prosecutor working on the Stop Cop City ballot initiative, says that a movement in Camden County broke the ice for Atlanta's referendum. In March of 2022, Camden residents voted on a referendum to block the construction of a spaceport in coastal Georgia county. County commissioners who spearheaded the project sued to overturn the result of the election, but in early 2023, the Georgia Supreme Court upheld Camden voters' decision.
With the knowledge that it was possible to push a successful referendum in Georgia, the Stop Cop City organizers launched their campaign on June 7. Almost immediately, they encountered significant barriers. Putting Stop Cop City on the ballot meant collecting roughly 58,000 signatures, representing 15 percent of the city's registered voters, in person and witnessed by an Atlanta resident, in 60 days, which placed the deadline around mid-August.
Current Issue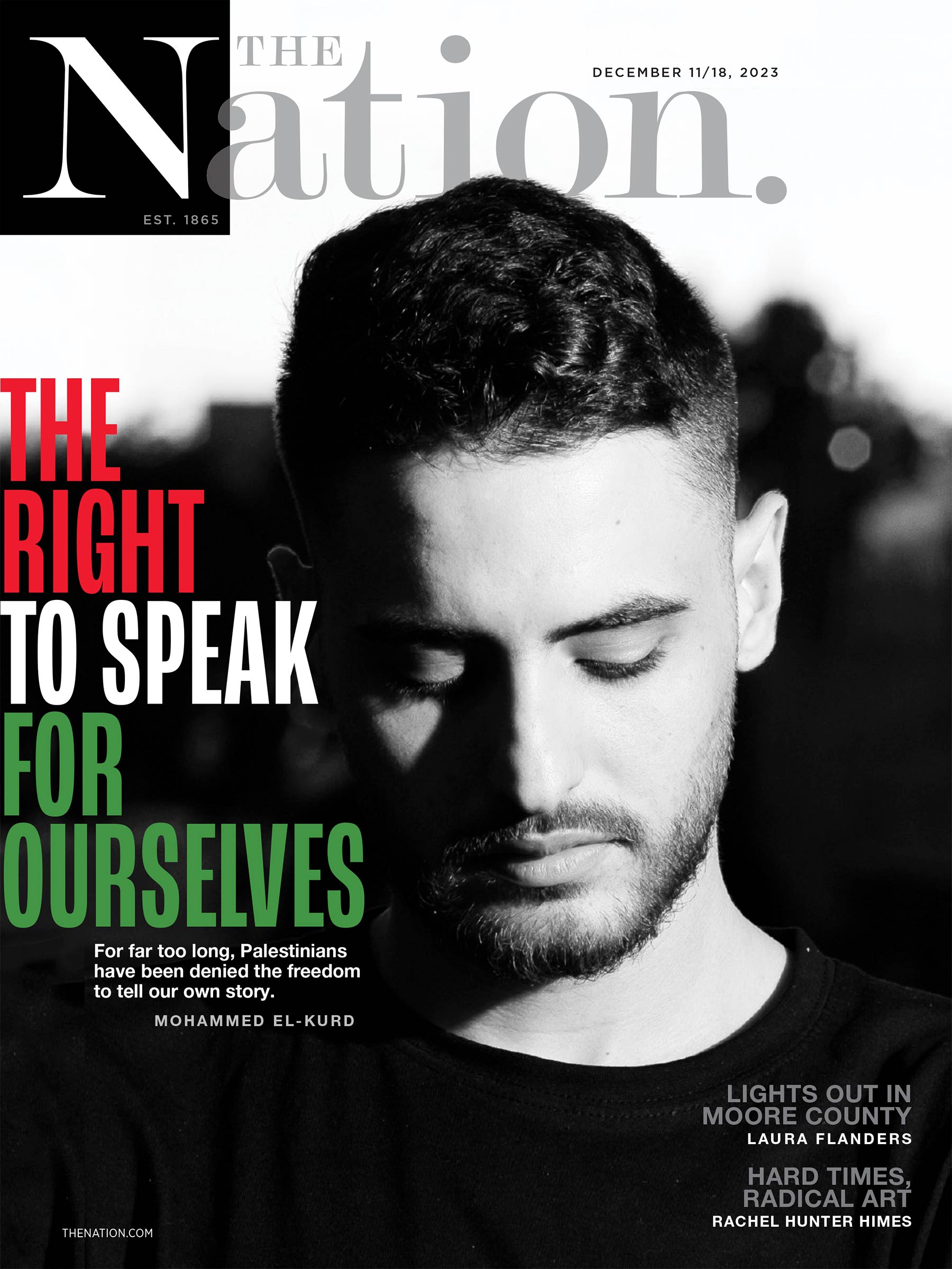 As a resident of Dekalb County, just southeast of Atlanta, Baker lived closer to the proposed training facility than most Atlanta voters. Still, she wasn't eligible to vote or even collect signatures. In early July, Baker joined three other Dekalb County residents in filing a lawsuit against the City of Atlanta to allow Dekalb residents to collect signatures and restart the 60-day countdown under these new circumstances. In late July, Baker and her co-filers won the lawsuit, and the 60 days restarted, extending the due date to mid-September.
After delivering dozens of boxes of signatures to the city's elections office, activists were told that they had missed the mid-August deadline to submit signatures. Organizers responded that the deadline had been extended after Baker's lawsuit, but the elections office argued that the decision was being challenged again—they would have to wait for yet another judgment to be handed down. Most recently, in late September, the city started processing the signatures by uploading them online, needlessly publishing every signer and witness's name and address, initiating an approval process that could take months.
In total, the organizers say they have collected 116,000 signatures in support of the ballot referendum. Yet the question remains if—and when—the Stop Cop City initiative will be voted on. The referendum could potentially appear on the March 2024 presidential primary ballot.
Unfortunately, the challenge is nothing new. Local police and Georgia government officials repeatedly style the organizers as lawless: Atlanta police and Dekalb County police arrested dozens of peaceful protesters, and a Georgia State Patrol officer brutally shot and killed organizer Manuel Terán ("Tortuguita") during a raid of a Stop Cop City encampment. Recently, the barrage continues: last month, Georgia Attorney General Chris Carr announced a sweeping indictment of 61 activists involved with Stop Cop City on racketeering charges.
Still, the possibility has Stop Cop City organizers hopeful. "The exciting thing about the referendum was always the fact that we have a chance of forcing the city to do this," said Baker, "forcing the city to do something other than ignore the will of the people and just shove this down our throats."
Read the rest of StudentNation's dispatches on the 2023 election here.