Print Magazine
October 8, 2012 Issue
Column
As Mitt Romney's campaign descends into increasingly indefensible terrain, a few right-wing stalwarts are still standing by their man.
The stakes are high for students unlucky enough to be caught in the crossfire.
Letters
Syria on the brink. Who is the fairest trader of all?
Feature
The pendulum swings hard against the rights of labor.
Courts that shelter the powerful and evict the little guy.
Giving corporations the inalienable right to buy elections.
Fight for a Court that speaks of and for the rest of us.
A Court for the money power, and our democracy is at stake.
Books & the Arts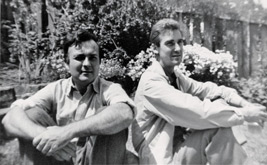 A new biography shows how the poet Robert Duncan fed a line backward into the labyrinthine history of human imagination.
Until the final reel of celluloid is shot and projected, will every film's primary subject be film itself?
Maureen F. McHugh's After the Apocalypse; Joshua Cohen's Four New Messages
The shadows were the elective habitat of the artist Bruce Conner, who thought true knowledge was shrouded in secrecy.