It's Time for Dems to Stop Hand-Wringing and Demand That Israel End Its Bombing
Palestinians don't need crocodile tears and lawyer-speak. They need a cease-fire.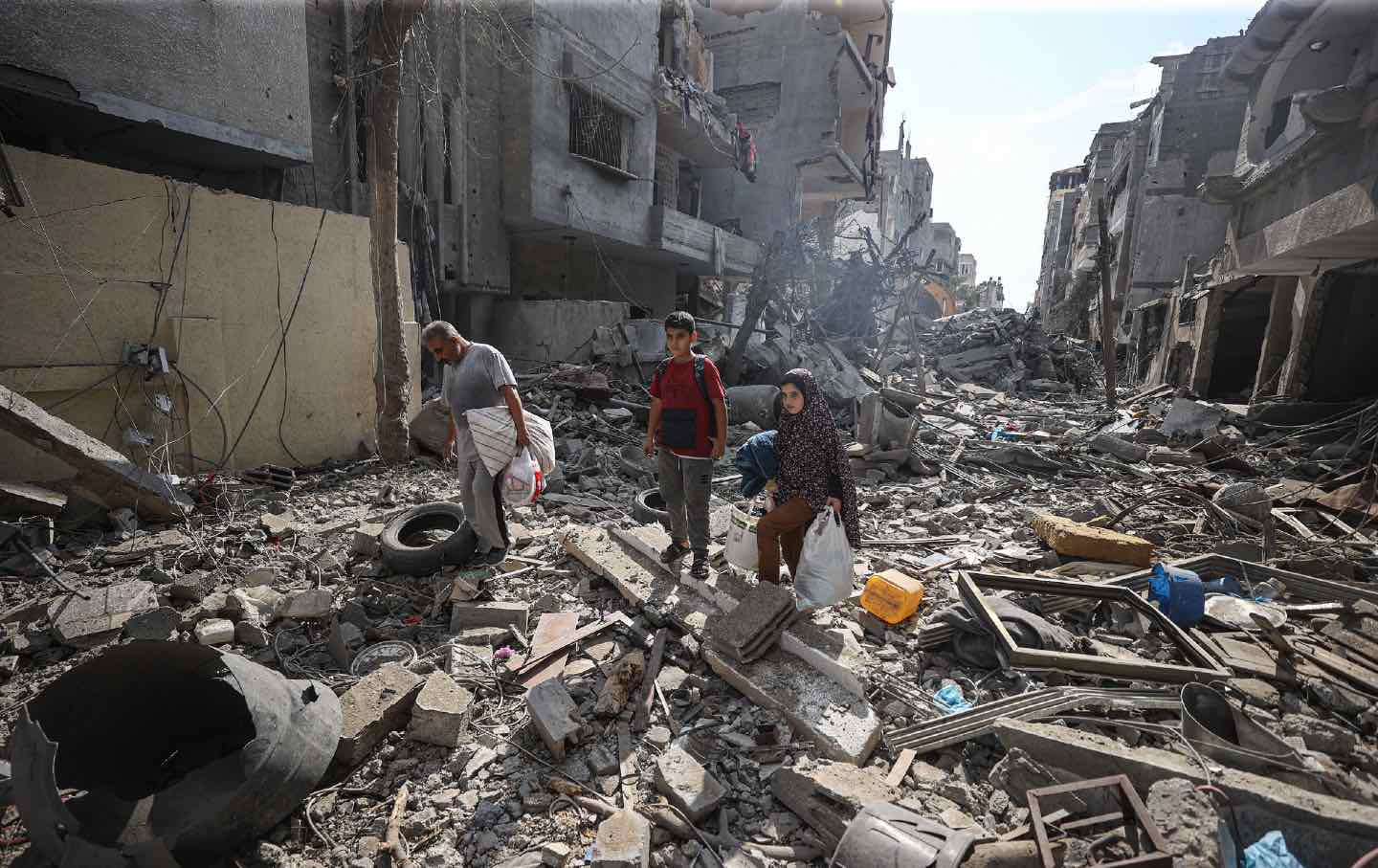 Nine days after Hamas fighters killed 1,300 Israelis and took 150 hostage in a surprise attack, the Israel military has dropped more than 6,000 bombs on Gaza, a densely populated strip that is home to 2.4 million people. As the Palestinian death toll surpasses 2,750 and worries grow about a potential ethnic cleansing, there are increasing calls for the United States to stop its financial and political support for Israel's siege and to use its influence to end the bombardment. Protests have targeted Senator Chuck Schumer's home in Brooklyn, Representative Nancy Pelosi's office in San Francisco, and Senator Elizabeth Warren's office in Boston. Thousands of Jewish people and allies are expected to converge in Washington, D.C., on Monday and Wednesday for mass protests and civil disobedience demanding "an immediate ceasefire" and an "end to Israel's genocide against Palestinians in Gaza," according to a press release from Jewish Voice for Peace. This action follows demonstrations across the country that swelled in numbers after the Israeli government gave orders last Friday for an estimated 1.1 million people to evacuate to south Gaza, a likely sign of an imminent and bloody ground invasion.
But while a smattering of national lawmakers have issued meaningful demands for a stop to Israel's bombings, most Democrats are resorting to vague hand-wringing about "unnecessary harm to civilians" and "international humanitarian law," calls for more humanitarian aid, and declarations that they are "deeply concerned." This is all fine enough, but absent are calls to stop what is actually causing the crisis: Israel's bombing and siege of Gaza.
Most conspicuous is a letter sent to President Joe Biden by Representatives Jan Schakowsky, Mark Pocan, James McGovern, and Pramila Jayapal—the chair of the Congressional Progressive Caucus—alongside 55 of their colleagues, on October 13 that expressed "deep concern" for the evacuation order and the cutting off of food, water, fuel, and electricity, but did not call for Israel to end its bombing of Gaza. Instead, its focus was for the bombing to be carried out "according to international law and take all due measures to limit harm to innocent civilians," which is to say this body does not oppose the bombing campaign.
Other high-profile statements from Senate Democrats took a similarly weak-kneed tone. Take, for example, these tweets from Senators Chris Murphy, Elizabeth Warren, and Ed Markey, that vaguely expressed concern for civilian life but avoided the taboo "cease-fire" word.
These Bomb Nicer statements are more watered down than that of House progressives. They don't call for an end to the Israeli government's bombing campaign, blockade, or collective punishment. They rely on process criticisms that demand the Israeli government carry out its potential war crimes with more grace and charity. "Deep concerns," "minimize civilian harm," "comply with international law"—they ask for nothing that is actionable. The mode is one of a passive spectator, an observer like an Amnesty International volunteer with a clipboard, rather than a sitting US senator with a direct line to the most powerful person on Earth. Nothing specific is being asked, only that we all sort of watch and look Deeply Concerned and take the mass death down from a 10 to an 8.5.
The fact that a few lawmakers are calling for a cease-fire shows that it can be done. On Monday Representatives Cori Bush, Rashida Tlaib, André Carson, Summer Lee, and Delia C. Ramirez announced a House resolution urging Biden to "immediately call for and facilitate deescalation and a ceasefire." Endorsers include Representatives Jamaal Bowman, Bonnie Watson Coleman, Jesús "Chuy" García, Jonathan Jackson, Alexandria Ocasio-Cortez, Ilhan Omar, Ayanna Pressley, and Nydia Velázquez. Bush and Tlaib have already faced immediate backlash by AIPAC and other pro-Israel groups for their previous calls for de-escalation and cease-fire.
Current Issue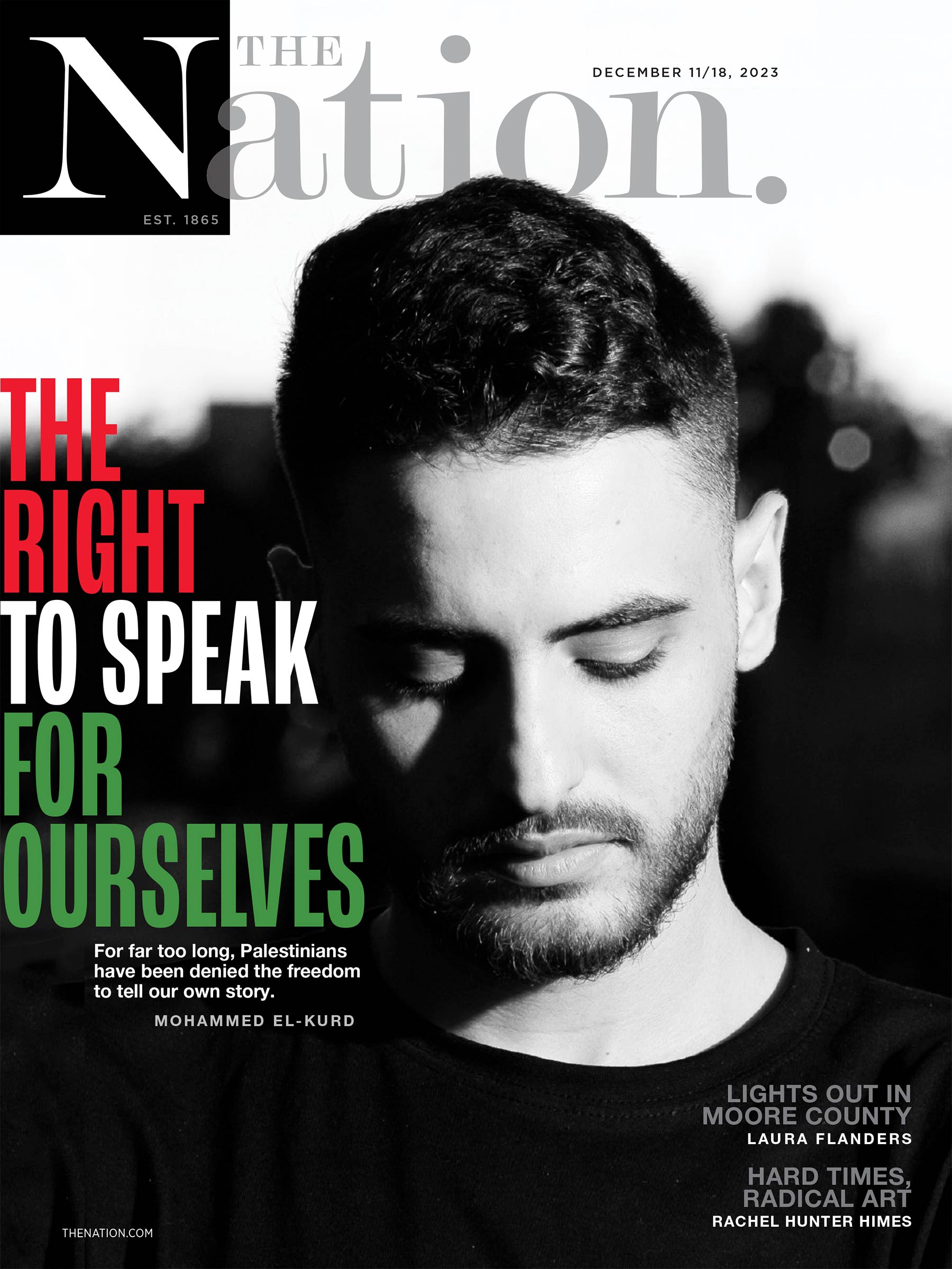 These positions are relatively strong, but the time has come to call out the president himself. Given the moral urgency of the issue, partisan niceties should take a back seat to naming names, specifically that of the party leader himself. President Biden has unequivocally backed Prime Minister Benjamin Netanyahu's military campaign, with only minor criticisms around the margins. He is pledging to hike this support for Israel's military, with no requirements for restraint of any kind. This is on top of the $3.3 billion the United States already gives Israel annually. Democrats and Democratic-aligned media have spent this week calling out the genocidal rhetoric coming out of the Republican Party. This is the necessary and moral thing to do, but it's also fairly low-risk. What isn't low-risk is calling on the head of one's own party who, while he may not as overtly be trafficking in direct incitement, is arming, funding, and supporting the Israeli right, which is. To say nothing of the actual violence of the Israeli government's real-world siege of Gaza, all of which is far more deadly to the average Palestinian than even the most bloodthirsty rhetoric on Fox News.
Israel's orders for Gaza residents to evacuate to the south of the strip have touched off panic, as Israel bombs evacuation roads, and some doctors refuse to leave their sick patients in the evacuation zone. An estimated 1 million people have been displaced, and the World Health Organization is warning that evacuation orders given to 22 hospitals in the north are a "death sentence for the sick and injured." Israel has cut off food, water, and fuel to Gaza's civilian population of 2.4 million, which is more than half children. The Israeli government is killing an average of more than 300 Palestinians a day, almost all of them civilians, and has killed at least 1,030 Palestinian children. (Hamas's attack killed hundreds of Israeli civilians, among them children.) Raz Segal, a professor of Holocaust and genocide studies at Stockton University, described the assault on Gaza "as a textbook case of genocide unfolding in front of our eyes," according to an article published on October 13 in Jewish Currents.
Calling for the US to stop supplying this grim reality will create conflict with the Biden administration. In a State Department memo, first reported on October 13 by Akbar Shahid Ahmed at HuffPost, staff said press materials should avoid key phrases: "de-escalation/ceasefire," "end to violence/bloodshed," and "restoring calm."
And the Biden administration has an assist from J Street, which has tried to rebrand as more progressive in recent years. As reported by Ryan Grim, Prem Thakker, and Akela Lacy at The Intercept on October 13, there was a rush last week by J Street to make calls for a cease-fire or de-escalation off-limits. There was space for generic appeals for the Israeli government to "follow international law" and "minimize" civilian deaths, but anything pushing for an end to the bombing campaign––or potential invasion of Gaza––was forbidden, on pain of losing J Street's support. The organization's hard line is not without dissent: On Sunday night, The Intercept reported that over 100 "former J Street staffers and representatives from its network of university groups are pushing their former organization to join mounting calls for a ceasefire."
Popular
"swipe left below to view more authors"

Swipe →
Yet there are growing calls for a stop to the bombings. UNICEF is calling for an immediate cease-fire, alongside a host of humanitarian organizations. But the Center for International Policy, a think tank with a relatively progressive reputation, is declining to fully join this call. In an October 15 memo, the CIP urges the Biden administration to push for "at minimum, a temporary cessation in fighting to allow for the delivery of direly needed food, water, medical supplies, and other critical aid immediately necessary to the preservation of life." While this would be an improvement, it leaves open the door for the Israeli government to continue bombing and invading Gaza. Notably, the president of CIP, Nancy Okail, did call for a cease-fire on October 13, stating on Twitter, "Anything short of calling for an immediate ceasefire will be contributing to an impending catastrophe."
Obviously, a cease-fire is the floor. The issues of apartheid, dispossession, and occupation—all supplied and politically supported by the US—need to be discussed. For now, the moral minimum should be to demand that the Israeli government stop its relentless pummeling of a defenseless, largely civilian population.
As the injured die in hospitals cut off from power, the living bury their loved ones in mass graves. Israeli forces are killing on average one Palestinian child every 15 minutes. And with water and food rapidly running out, the situation is poised to get even worse. For anyone claiming the moniker of "progressive," it's way past due to call for a cease-fire and an end to the collective punishment via blockade and cutting off electricity and supplies.
In a few months' time, every Democratic member of Congress, no matter how progressive, is going to try to convince young voters and a base that's increasingly sympathetic with the Palestinian plight that a second Biden term is essential to advance a fairer and most just vision for the world. How they will square this circle with Biden's virtually unchecked backing of Netantayu's siege and bombing of Gaza isn't clear. If moral concerns don't move the needle, perhaps the cold, hard reality of alienating a great deal of the Democratic base will. Watching a president give a speech on the importance of human rights and democracy one day, and the next giving a blank check to Israel's dropping white phosphorus and wiping out entire civilian families is a hypocrisy and cravenness that even the most pragmatic voters won't be able to stomach. The question is: Do members of Congress want to right the ship now and push for a cease-fire—or do they want to wait until after thousands more Palestinians have died amid the Democratic Party's collective cowardice?