Palestinians Just Want to Be Treated Like Human Beings
We don't need to be interrogated on TV about the deaths of our families. We don't need to be talked about in clinical terms. We just need a chance to tell our stories.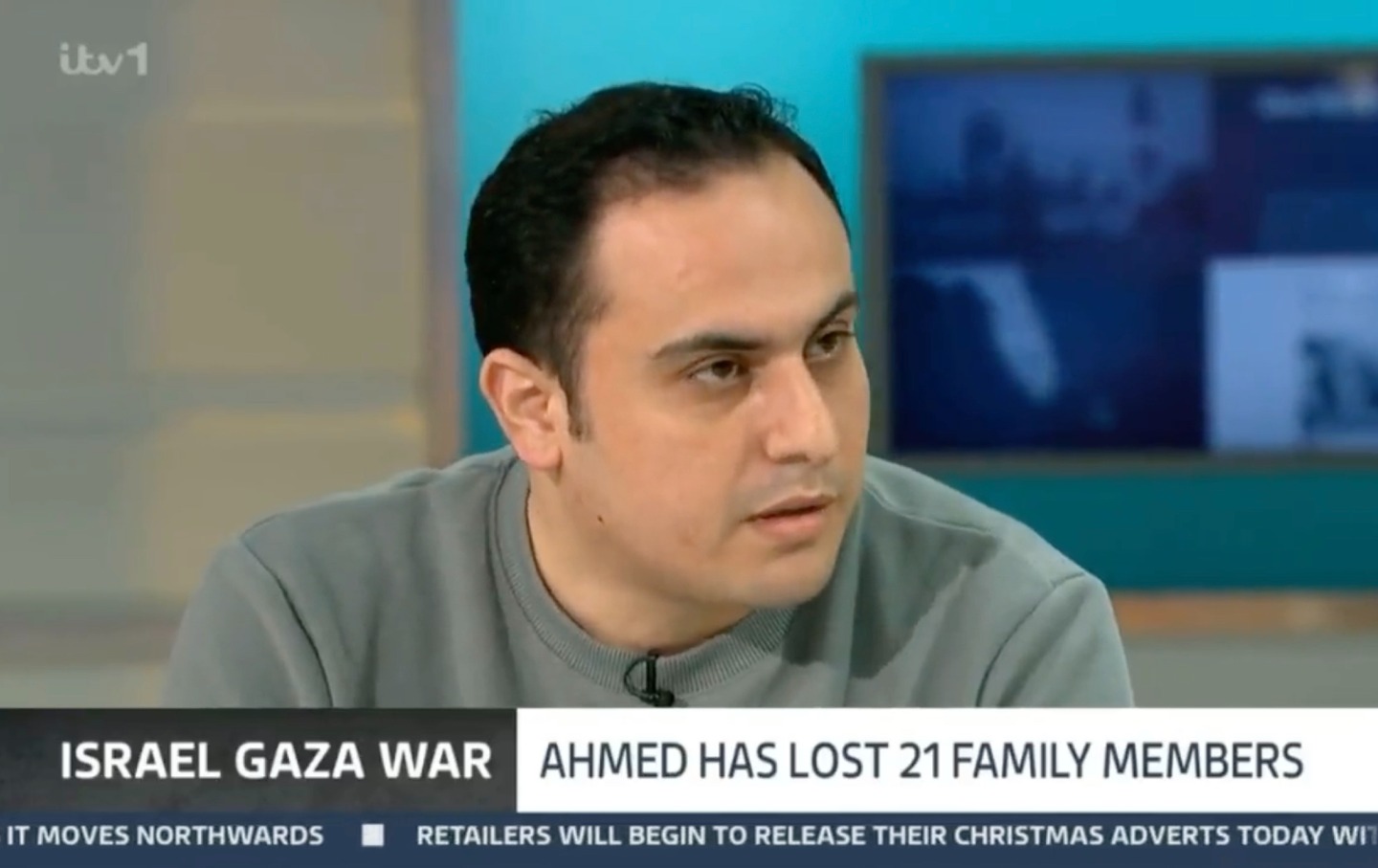 As the numbers of dead, wounded, and homeless in Gaza mount, surpassing all previous wars against this small strip of land, we can sense a sort of collective numbness beginning to set in among the media, the public, and government leaders. When numbers rise into the tens of thousands, what's lost is the granular humanity behind those numbers—the individuality that makes each death, each injury, and each destroyed home a source of trauma that will have ripple effects for years to come.
And for us, the feeling of déjà vu is overwhelming.
About nine years ago, during Israel's previous war on Gaza, Ahmed's older brother Ayman was killed by an Israeli missile. Immobilized by grief, Ahmed turned inward. Pam, who knew Ahmed from her time living in Gaza, noticed his Facebook profile go black. "How are you?" she asked tentatively via Messenger. "Fine," he responded at first. "No, tell me something real," she said back.
Pam knew Ahmed had been struggling to improve his English. So, instead of avoiding the subject of Ayman, she invited him to celebrate his brother's life, and together they worked on an essay that paid him tribute while serving as an outlet for Ahmed's bottomless grief. The experience was so beneficial—not only for Ahmed but for the Western readers who later read his story—that we wanted to duplicate it for others. Thus was born the project we founded in early 2015: We Are Not Numbers. Today, it has engaged more than 350 Palestinian youth, mentored by nearly 130 professional English writers from around the world, and published 1,280 personal stories that give life to the numbers in the news.
Current Issue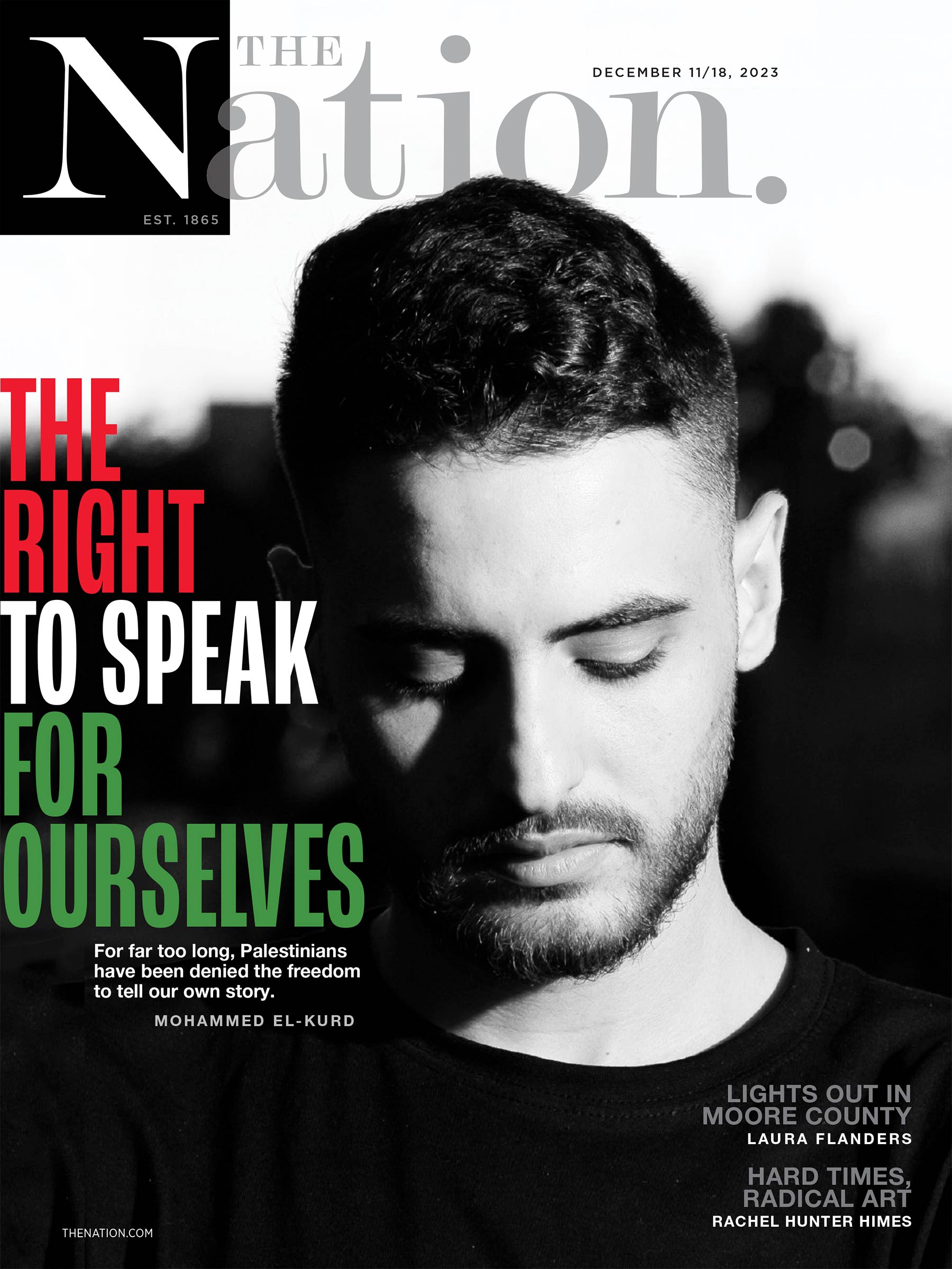 And then suddenly, here we are again—right back to where we started. Only this time, it's so much worse. The killing of one brother was devastating. But what adjective can begin to describe the death of 21 loved ones, all at one time?
At 4:30 am on October 22, 20 members of Ahmed's immediate family—his father, two brothers, three sisters, 14 nieces and nephews, and a cousin—were murdered by a distant Israeli soldier with a missile. Four days later, another niece succumbed to her burns due to a shortage of ICU beds. In addition, his now-deceased cousin's wife and daughter were killed in a separate bombing. There seems to be no end.
Days after a tragedy that neither of us could put a name to, we sat together in London—where Ahmed now lives—and reflected on how much has, and has not, changed since our partnership emerged in the wake of great loss. Ahmed's experience with We Are Not Numbers made it possible for him to win a scholarship to study and then live in the UK—where he now is dedicating himself to fulfilling his family's hopes and dreams for a life free of closed borders and limited possibilities. And We Are Not Numbers itself has changed the discourse about Gaza, giving many young people who live there a voice they didn't have back in 2014. Despite the challenges posed by the Israeli blockade of the Internet, media ranging from the BBC to The Washington Post to The New York Times have turned to project members to tell the stories behind the numbers.
In other ways, however, the situation is depressingly the same. One of those is the weaponization of language to "otherize" the Palestinian people and separate the rapidly unfolding events from a historical context that set the stage for this latest tragedy. When talking about the deaths of Israelis during the October 7 Hamas attacks, the words "slaughter" and "massacre" are commonly—and, we should say, accurately—used. But when Ahmed went on British television to discuss the mass killing of his family, he was described as having "lost" them—a move from accuracy and clarity into vague euphemism. He was also asked how close he was to his family, and whether they were a "big feature" in his life, as if he might be embellishing the experience of losing so many of his loved ones.
Ahmed didn't misplace his family. They were killed, as part of a deliberately indiscriminate bombing campaign that has targeted every single person inside Gaza. The Israeli military warned everyone to evacuate northern Gaza, then proceeded to bomb the middle and south. "The IDF is breaking records in terms of the level of precision of the munitions it is using in the Gaza Strip," reported the website Israel Defense. "Actually, the war is one of the first in history in which one of the sides is only using precision munitions, with one- or two-meter accuracy." If that is the case, we'd say that means Ahmed's family was murdered (or even massacred).
Another continuing burden imposed on Palestinians, which the media and others usually neglect to apply to anyone else, is the requirement that they repudiate Hamas—which was elected into government before most of them were even old enough to vote—to prove their worthiness of sympathy and aid. In that same British TV interview, Ahmed was told that "Israel is very clear that this is against Hamas" after describing the atrocities against his family, none of whom had anything to do with Hamas. Such questions are almost never asked of Israelis, although their government's acts of terrorism against Palestinians are well documented. (The indiscriminate killing of civilians and destruction of homes in the current assault is but the latest example.) What is it about Palestinians that prompts such a total loss of empathy?
But perhaps the most damaging is the omission of context. If readers and viewers rely only on "mainstream" TV and newspapers, they will think the Hamas attack came out of the blue. But if they had been following We Are Not Numbers for the past nine years, they would have known that Gaza's 2 million people have been living with high unemployment, deep poverty, and extreme shortages of electricity and potable water all day, every day—with only a few of them allowed to leave, due to the Israeli blockade. When we recently began planning a book based on the trends revealed through the We Are Not Numbers stories, "depression" and "hopelessness" emerged as predominant themes. It is this kind of environment, with no prospect of positive change, that breeds militancy. This is not a justification. It is an explanation.
"Anger, frustration and sadness strain every nerve in my body," writes one We Are Not Numbers member, Roaa Aladdin Missmeh. "It is normal for adults to reminisce about their childhoods, to smile and wish they could return to those simpler, innocent times. But what will Gazans remember?"
A question that should give the world even more pause is, "What are the consequences of a life of misery, without hope?" The Hamas attacks of October 7 gave us one answer. Could there be another? Yes, but then the United States and other powerful supporters of Israel must show Palestinians that violence is not the only way to force the world to pay attention to their plight.
In the days since the Israeli counterattack against Gaza, visits to We Are Not Numbers have soared 342 percent. And since his family was killed, Ahmed's X (formerly known as Twitter) following has ballooned by 35,000. Meanwhile, around the world, tens of thousands of sympathizers have poured into the streets to protest what some now are calling the genocide in Gaza. It was the massive violence, however, that inspired this outpouring of attention and support.
Popular
"swipe left below to view more authors"

Swipe →
To achieve another answer to Roaa's question, and our own, the everyday oppression of Palestinians must attract the same attention. The young members of We Are Not Numbers write about it every day—including Mahmoud Mushtaha on the inability to secure jobs, Haytham Abusenjar on the lack of basic care for cancer patients, and Arwa Abudahrouj on the impossibility of traveling. One of the goals of our project is to show these young people—who make up more than half of the population and will arguably determine the future of the region—that there are other ways to bring about change than violent resistance. But they must see proof of that.
Ultimately, that means bodies like the United Nations and International Criminal Court (both of which have ruled in favor of Palestinian independence in the past but were ignored) must finally be empowered to demand change or impose a cost. Otherwise, we fear that in three years, or five, or maybe 10—no matter to what extent Israel thinks it has decimated Hamas—we will once again be experiencing déjà vu.