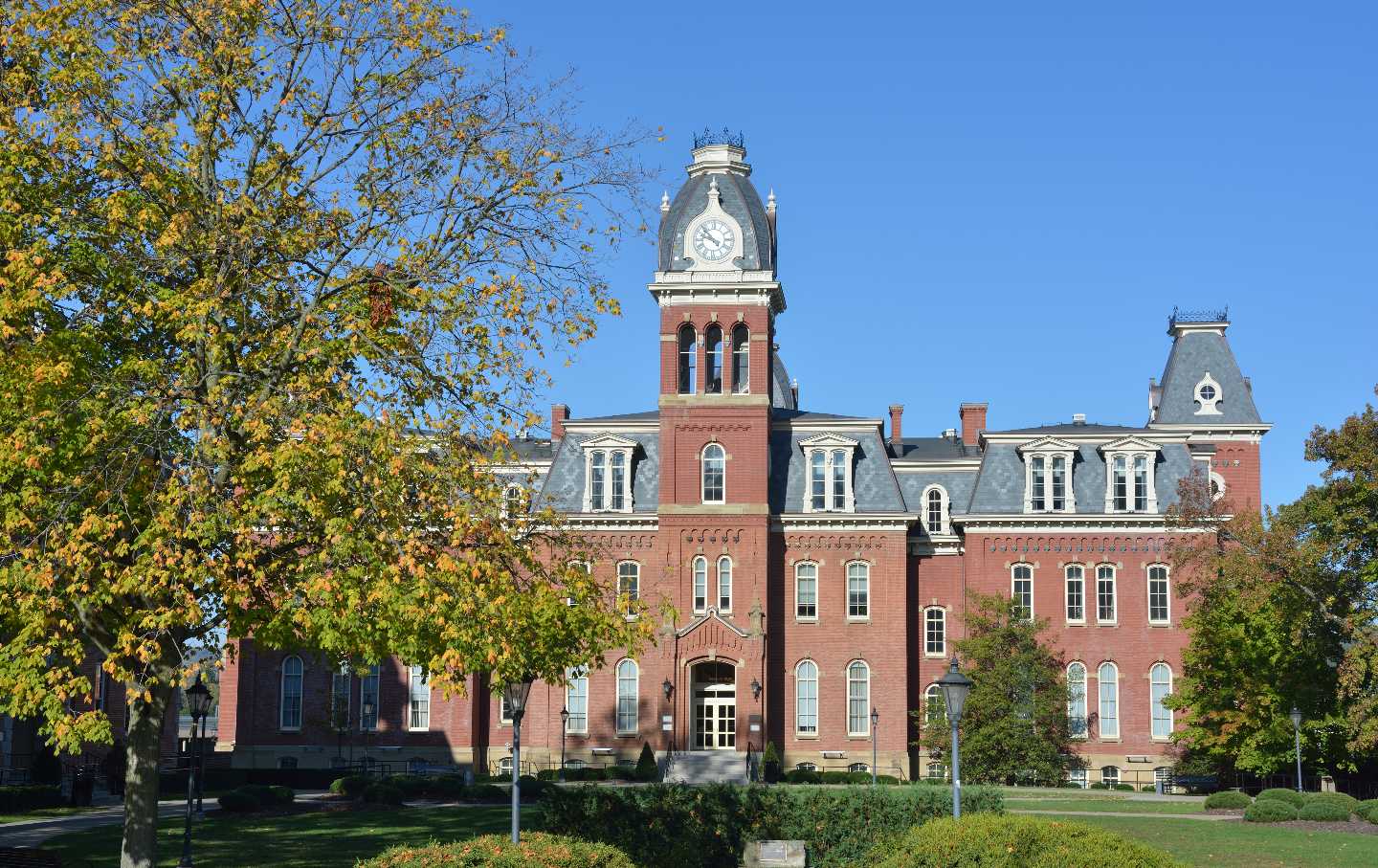 Last week, West Virginia University (WVU) announced a plan to raze some of its core programs. The public land-grant university intends to eliminate 9 percent of its majors (32 programs total), all of its foreign language programs, and 16 percent of its full-time faculty members (169 in total). The departments targeted for these massive cuts count Truman, Marshall, Fulbright, and Rhodes scholars among their alumni. These cuts were recommended by the consulting firm rpk GROUP, and there's every reason to believe they're a trial balloon for doing this elsewhere. Anyone who cares about higher education should be alarmed about what this portends for public universities. Deprecated: Non-static method Athletics\TheNation\ACFBlocks::parse_popular_posts() should not be called statically in /code/wp-content/themes/thenation-2023/inc/single_article_functions.php on line 566
Popular
"swipe left below to view more authors"Swipe →
These changes are the functional equivalent of an atomic bomb at WVU, and stand to make it increasingly difficult for the institution to meet its stated mission to create "a diverse and inclusive culture that advances education, healthcare and prosperity for all by providing access and opportunity." So why is it doing this?
WVU is the largest university in West Virginia. It is labeled an R1 university under the Carnegie Classification of Institutions of Higher Education, meaning it is in the top tier of high research activity among US universities; it is the state's only R1 school. Like other land-grant universities, it was created by the Morrill Act in 1862, which allocated land and financial support from the federal government to help reshape education in response to the Industrial Revolution. Land-grant institutions were charged with educating rural students across the country outside of the elite private universities, which were driven by tuition and legacy admissions.
Today, like many land-grant universities, WVU sits at the convergence of several cultural and economic tectonic shifts that are working in tandem to radically transform education. Foremost among these shifts is the changing economic climate of higher ed. WVU, like many higher-education institutions, has been plagued by gross financial mismanagement by administrators and consultants who have funneled money into massive administrative bloat and capital projects at the expense of faculty hires and support for faculty and graduate students. The university is currently facing a $45 million budget gap, and is seemingly uninterested in shrinking administrator salaries, creating artificial conditions for austerity.
This shift to massive administrative salary costs and, relatedly, software and tech expenditures, came about as federal funding of higher education massively slowed, particularly after George W. Bush's cuts in 2007–08. Fifty years of cuts to higher education have accounted for losses of between 30 to 50 percent of funding for some land-grant schools. Facing state austerity and a culture war on public goods, especially public education, state funding for higher education continues to decline, forcing public universities to rely more on private donors, who impart new controls on higher education professionals.
Meanwhile, higher education has become a major political target for the right. One only needs to look at the takeover of the New College of Florida (to name but one example of the GOP's "war on woke") to see how academic expertise has come under fire as a political wedge issue in this campaign season—while the GOP's privatization program, perfected under Reagan, funnels public money into both tax cuts for the wealthy and various grifts. The book bans, censorship, purges of area studies programs, and targeting of academics at public institutions (particularly in the South) are all calculated to decrease the public's confidence in public education so that it can be dismantled and replaced with private corporations, which lack regulation and oversight.
The Covid-19 pandemic has also provided an opportunity to reshape education (including K-12) and capitalize on shifting technological trends for curriculum delivery. The major toll on educators' health (physical and mental) from the pandemic led academics to quit in droves. At the same time, major layoffs in the tech industry have fueled the expansion of the consultant class, who are producing "work products" and firms to steer what's left of higher ed's public funding into their own pockets.
This moment is also seeing tremendous technological modernization, as education scrambles to respond to advances in artificial intelligence (AI). It's telling that as WVU announces these devastating cuts Johns Hopkins University, a private R1 university in Baltimore, is making 80 tenure-track hires in AI. Marshall University, in Huntington, W.Va., announced plans last week to build a $45 million cyber-security center, despite similarly declining enrollment. It's not hard to see the tech layoff-to-academic pipeline this summer. But in Brazil, Korea, and Poland, when modernization happened too quickly for the public sector to pivot, the for-profit sector absorbed and even monopolized the very subsidies that were intended to foster mass education, while providing poorer outcomes than the public sector.
In the face of these cultural, financial, and political challenges, WVU's controversial President E. Gordon Gee has imposed austerity measures on faculty and is responsible for these sweeping cuts, which he is making just before his planned retirement in 2025. To determine these cuts, the administration retained rpk GROUP to implement Phase 2 of its "academic portfolio" transformation. A cursory glance at the client lists for consulting firms like rpk GROUP or McKinsey offers a chilling foray into neoliberal capitalism. The retention of such a firm—which boasts that it creates "effective growth strategies for education"—also points to the larger issue that WVU is a harbinger of what awaits much of US higher education.
What will be the outcome of these moves to "restructure" universities? Policies that funnel public funds to private entities are intentionally designed to produce two tiers of education: one for the elite at small, private, endowed universities and one for state students who are poor, first-generation, disabled—or are interested in the liberal arts, fine arts, or programs that question the current political arrangement.
Ad Policy