Why the Mainstream Media Loved Trump's Fake Pro-Workers Rally
A combination of horse race journalism and anti-union bias led to absurd reporting.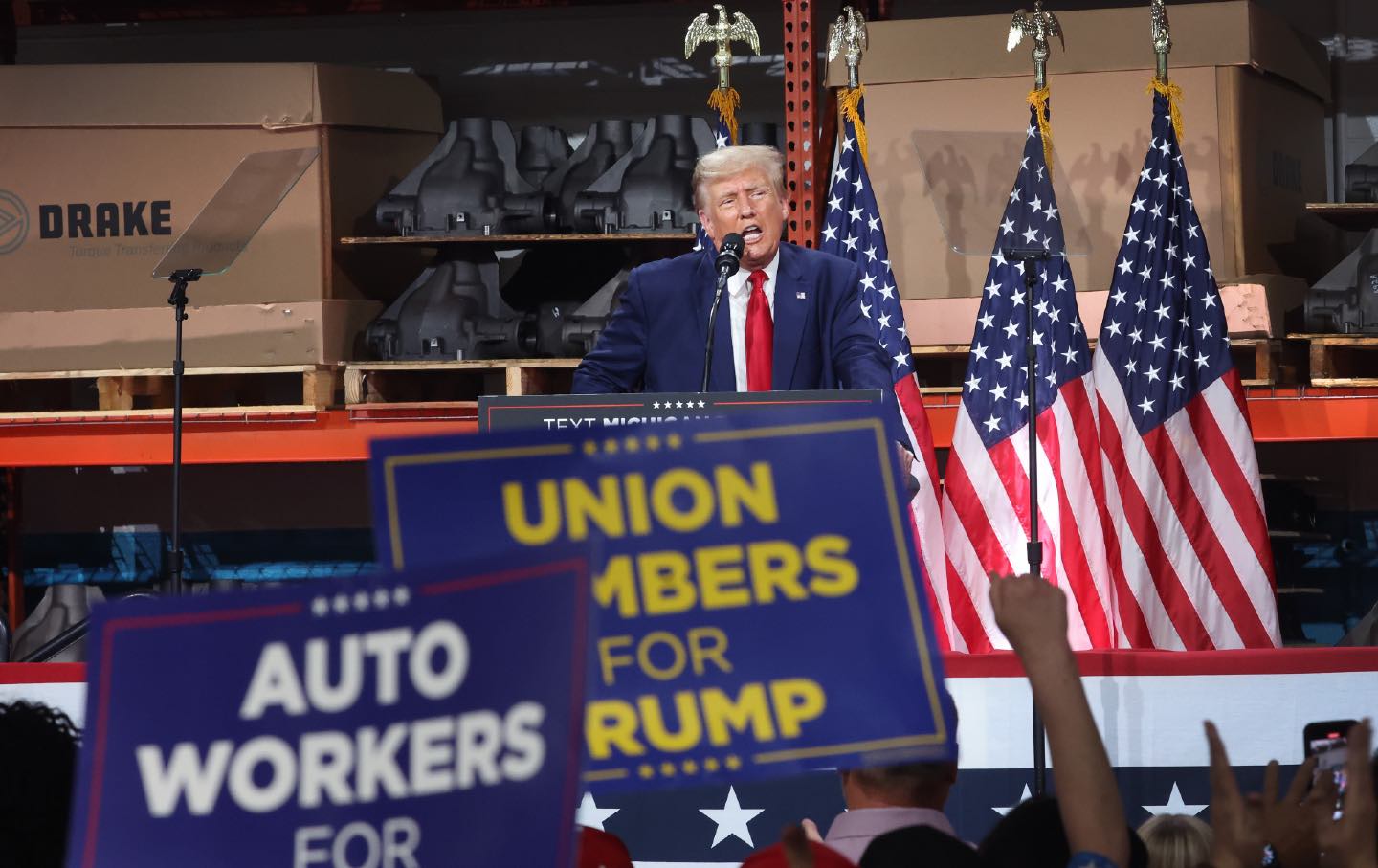 Donald Trump got all the headlines he could possibly have wanted for his stunt rally in Michigan allegedly addressed to striking autoworkers. The whole thing was an elaborate ruse—a Potemkin event designed to create the impression that the members of the United Auto Workers (UAW), now involved in a historic strike targeting all three major American car manufacturers, were eager to hear Trump's message. But as best can be proven, only a small fraction of those attending the event were striking autoworkers.
Still, the event succeeded in snookering the mainstream media, always an easy target for Trumpian trickery. Many major outlets drew a parallel between Trump's rally and Joe Biden's walking the picket line in support of the UAW on Tuesday—an unprecedented move for a sitting president. The pervasive coverage of these two wildly disparate phenomena as parallel events starkly illuminates the mixture of incompetence and ideological blinkers that governs the media's coverage of not just Trump but also labor unions.
On Tuesday, Politico's Adam Wren reported, "When Donald Trump heads to suburban Detroit Wednesday to address striking auto workers, the former president will be bracketing Joe Biden's own visit today to the UAW picket line and unofficially kicking off the general election in a battleground state." This sentence was later amended, without a correction notice, to take out the word "striking." But that alteration doesn't fix the main factual problem, which is that Trump wasn't addressing (with negligible exceptions) autoworkers at all. The rest of the article presented the Trumpist argument that the former president was transforming the GOP into a working-class party.
A few reporters actually did the due diligence to find out what Trump's rally was all about—and who actually attended it. It's striking to contrast their reports with the false narratives promulgated by the mainstream media. Writing in Jacobin, Alex Press accurately noted:
Trump's visit to Michigan is being coordinated by Michigan's nonunion auto manufacturers, many of whom oppose the transition to [electric vehicles or EVs]. (Parts suppliers are particularly opposed, as an EV power train requires fewer parts than an internal combustion engine.) Holding such a rally during a strike is the opposite of showing solidarity with union workers.
Press also reported that "Chris Marchione, political director of the International Union of Painters and Allied Trades (IUPAT) District Council 1M in Michigan, told me that nonunion auto manufacturers and the Trump campaign are being assisted in organizing today's rally by at least one longtime local activist in the state's 'right-to-work' movement." This is significant because Michigan is a labor battleground where the Democratic lawmakers, newly in control of the legislature, recently overturned the state's right-to-work law.
Trump used his speech to bash UAW leadership, the strike, and EVs. Trump's comments were very much in keeping with the general tenor of the other GOP presidential hopefuls, who, as my Nation colleague John Nichols points out, are all stridently anti-union. According to Trump, "The auto workers are being sold down the river by their leadership." Trump also said union president Shawn Fain is "not doing a good job in representing his union, because he's not going to have a union in three years from now. Those jobs are all going to be gone, because all of those electric cars are going to be made in China."
Current Issue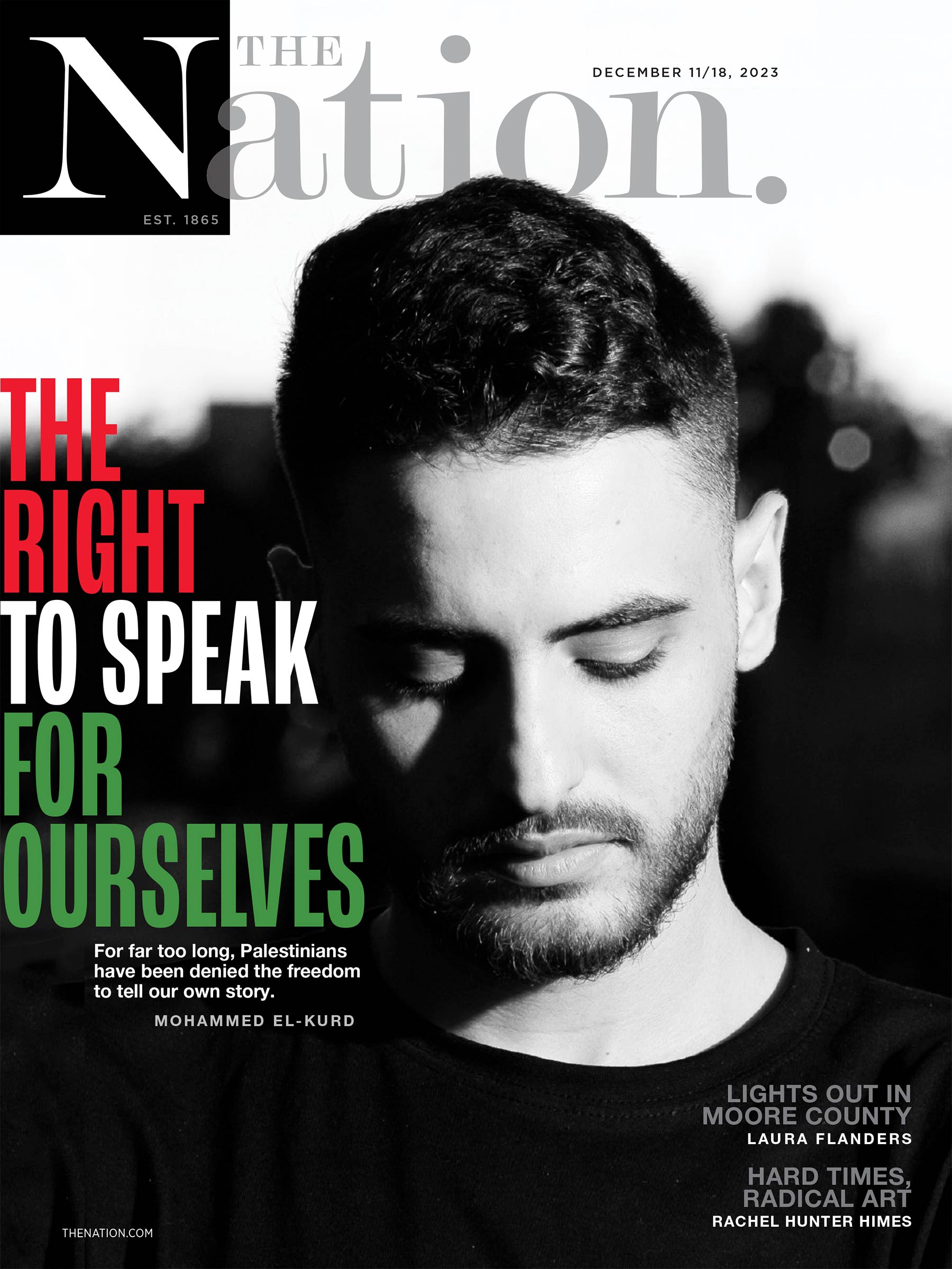 Given these sentiments and his presidential record of hostility toward organized labor, including the nomination of the militantly anti-union Eugene Scalia as labor secretary, it wasn't surprising that the UAW had no interest in meeting Trump or sending representatives to his event.
As The Detroit News reported, "It wasn't clear how many auto workers were in the crowd for the speech, which was targeted at them." The newspaper added,
One individual in the crowd who held a sign that said "union members for Trump," acknowledged that she wasn't a union member when approached by a Detroit News reporter after the event. Another person with a sign that read "auto workers for Trump" said he wasn't an auto worker when asked for an interview. Both people didn't provide their names.
The newspaper was able to find one actual autoworker at an event attended by roughly 500 people.
A TikTok video produced by progressive media group More Perfect Union, featuring interviews with the MAGA groupies gathering outside the event, showed a similar dearth of striking autoworkers.
In short, Trump spoke at an astroturf anti-union event organized by a businessman, with minimal actual striking autoworkers present. How did the media report this? On September 18, The New York Times ran an article anticipating the event with the headline "Trump to Woo Striking Union Members in Detroit, Skipping 2nd G.O.P. Debate." This Trump-friendly spin set the tone for subsequent coverage, despite the fact that in the actual event Trump didn't go to Detroit and didn't in any meaningful way woo striking union members.
The BBC offered a similarly false account: "Donald Trump is in Michigan to woo striking car-workers, a day after President Joe Biden turned up on the picket line in the Midwestern state—an early skirmish in the battle for the blue-collar vote ahead of next year's White House election." The news outlet added, "After the 2020 election, exit polls showed Mr. Trump winning four in 10 union members—more than any other Republican for generations."
That statement is in itself false. The trajectory of Trump's success is very different. In 2012, Barack Obama won with 58 percent of union households as against 40 percent for Mitt Romney. In 2016, Hillary Clinton ran a singularly dismal campaign that almost seemed designed to alienate labor—remember her pledge that "we're going to put a lot of coal miners and coal companies out of business"?—in the face of Trump's right-wing populist promises to restore American jobs with a mixture of protectionism and immigration restriction. Clinton shied away from campaigning in major industrial Midwestern states like Michigan—and got only 51 percent of union households as against 43 percent for Trump. In 2020, Joe Biden diligently returned to traditional Democratic themes of economic populism, including a revival of industrial policy to restore manufacturing jobs. As a result, Biden got much closer to Obama's numbers: 56 percent as against 40 percent for Trump.
Popular
"swipe left below to view more authors"

Swipe →
Contra the BBC, Trump's 2020 numbers among union households were the same as those for Mitt Romney—a politician widely regarded as an out-of-touch plutocrat.
Trump has made important inroads among non-college-educated voters, especially white ones. But among union voters, the breakthrough he achieved in 2016 seems to have been a one-off. Union voters are returning to their strong preference for Democrats. That is the real story that media accounts miss.
As Alex Press noted on X (formerly known as Twitter), "the actual interesting story here is that while a lot of UAW members voted for Trump, almost none attended the rally. I imagine that's because they knew it was an event opposed to the strike's aims!"
In an article that appeared on Wednesday, The New York Times claimed that Trump has a "mixed record" on labor. But this "mixed record" comes from conflating Trump's time as a businessman (where as a real estate mogul he had to find ways to work with unions—when he couldn't get away with stiffing them) with his time as a candidate in 2016 (when he blamed economic troubles on other countries) to his actual record as president (when, according to the newspaper, Trump "made appointments and adopted policies often more antagonistic to organized labor than those of many other Republicans"). These three different approaches only add up to a "mixed" record if weighted equally. That's an absurd way to make a judgment. Business tactics and campaign promises don't have the same gravity and importance as actual presidential policy. Judged by the most important criterion—his actual record in governance—Trump is wildly anti-labor.
The media reporting on Trump's relationship with labor has been so wretched that it's hard not to get cynical. Trump was terrific for ratings and circulation, so perhaps mainstream outlets are eager to pump him up again in order to get an exciting election in 2024. And of course, the standard problem of the Trump era is that the protocols of nonpartisan reporting require treating Trump with a deference that, given his record of lying, is indefensible. The media remains committed to the idea that the two acceptable "sides" of American politics (Democrats and Republicans) are roughly equivalent.
There's also the mainstream media's historic inability to accurately report on labor. We see this not only in the UAW strike but also in the recently settled Writers Guild of America strike. Throughout the strike, as Katharine Trendacosta has documented in Defector, trade publications like Variety, heavily dependent on ads and access by the major studios, have had a noticeable tendency to uncritically publish management talking points.
The great media critic A.J. Liebling, who died in 1963, famously quipped, "Freedom of the press is guaranteed only to those who own one." This axiom applies more strongly to labor issues than any others since working class militancy calls into question the root power of the owners of the press.
In 1961, commenting in The New Yorker on a strike by railway-towboat workers, Liebling complained that all the newspapers automatically took management's side on the supposed problem of "featherbedding" (in other words, the creation of make-work jobs). The reaction to Liebling's very mildly worded piece was more telling than the column itself. His column was widely reprinted in union papers and led to an outpouring of gratitude. A machinist in Chicago naively concluded that The New Yorker was a magazine that fights for the people and wanted a subscription.
As Liebling noted, "This tempered objurgation [scolding], asking only a modicum of fair play for labor in New York, provoked a reaction of gratitude so exaggerated that it broke my heart. No newspaper anywhere in the nation, apparently, has had a kind word for the working man since about 1936—on this point the press is not lopsided, but unilateral, monolithic, solidary, and unanimous."
Anti-labor and eager to build up Trump, the mainstream media was destined to mess up the story of the former president's Michigan visit. In doing so, it made a great argument for alternative media.