Rashida Tlaib 1, Marjorie Taylor Greene 0
Greene's failed attempt to censure Tlaib united Democrats, divided Republicans, and energized ceasefire activism.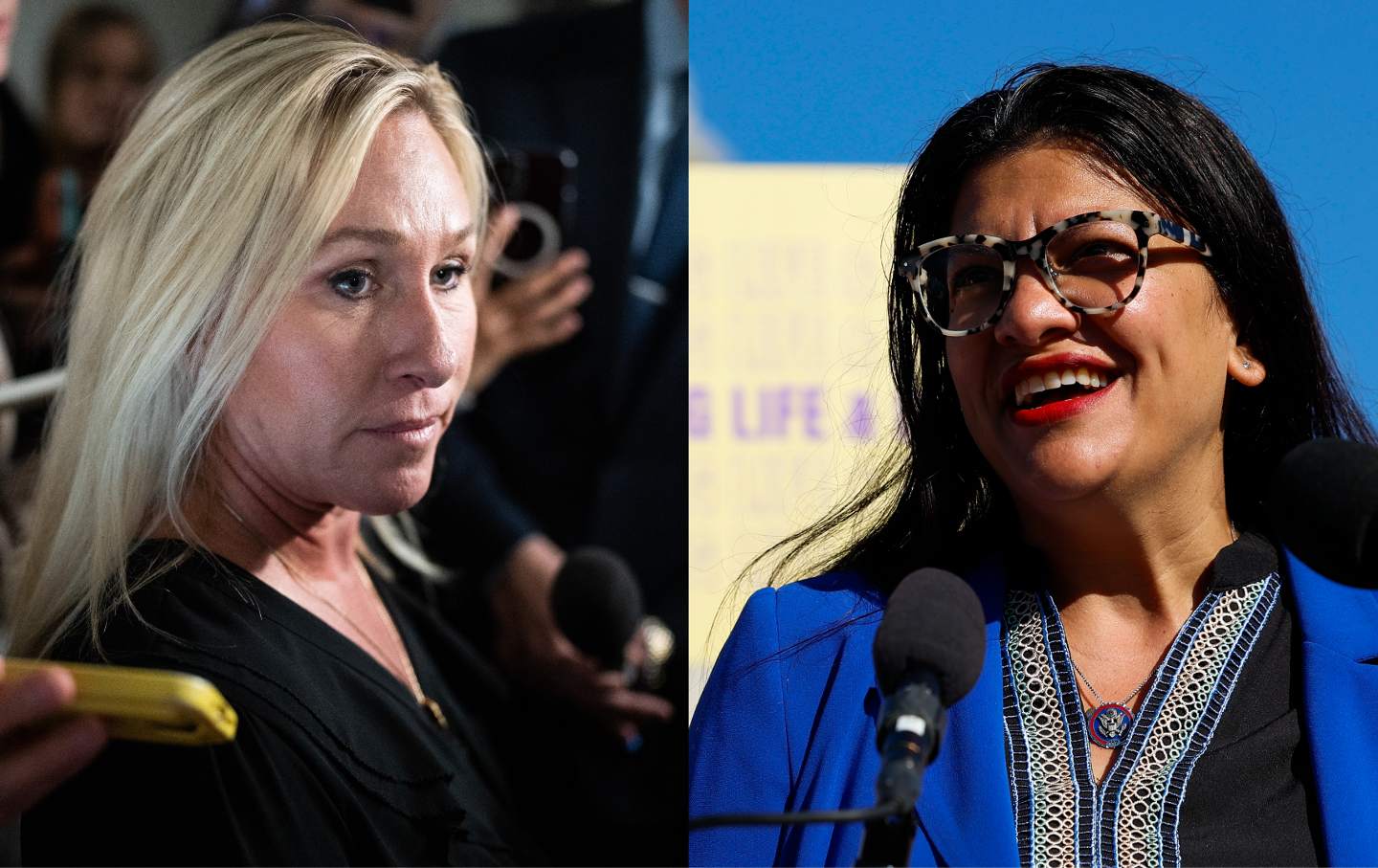 As mass demonstrations on behalf of a cease-fire to save the lives of civilians in Gaza have filled the streets of cities across the country in recent weeks, the US House's only Palestinian-American member came under fierce attack for seeking to echo these calls in the halls of Congress. But an effort to censure Representative Rashida Tlaib (D-Mich.) for rallying on Capitol Hill with Jewish American activists in opposition to the Israeli bombing campaign that has left more than 9,200 Palestinian children, women, and men dead failed miserably this week in the House—thanks to Republicans.
The censure motion was brought by the chamber's most perpetually offended member, Representative Marjorie Taylor Greene (R-Ga.). Greene thought she had a surefire way to rebuke Tlaib, divide Democrats against one another, and scare cautious members of Congress away from calling for an end to the killing. She proposed to formally rebuke Tlaib after the Michigan Democrat addressed an October 18 Capitol Hill rally of Jewish-American peace and justice advocates that was organized by members of the groups Jewish Voice for Peace and If Not Now. Many of those who rallied with Tlaib later engaged in a nonviolent protest inside the Cannon House Office Building, although the Detroit Democrat was not present for that demonstration, during which activists delivered their "not in our name" message directly to their elected representatives.
That salient detail was lost on Greene, whose censure resolution accused Tlaib of engaging in "antisemitic activity, sympathizing with terrorist organizations, and leading an insurrection at the US Capitol complex." (Notably, Greene was stripped of her House committee assignments during her first term, after she was accused of "trafficking in racism, anti-Semitism and baseless conspiracy theories," and seeming to promote political violence. The assignments were restored after Republicans took control of the chamber earlier this year and California Representative Kevin McCarthy, who developed an alliance with the Georgia Republican, became speaker of the House.)
Greene's gambit to get the House to formally reprimand Tlaib was the latest attempt to inflame tensions on Capitol Hill in the aftermath of the horrific October 7 attack by Hamas on Israeli kibbutzim and a music festival, which left roughly 1,400 dead, and the ensuing Israeli assault on Gaza, where the death toll has passed 9,000—including more than 3,000 children.
But Greene's plot didn't work as she planned. Rather, it united Democrats and divided Republicans at precisely the point when new House Speaker Mike Johnson, whose election Greene supported, is trying to pull his chaotic caucus together. Things got so wild that, by the week's end, Greene was attacking fellow Republicans for abandoning her Islamophobic project, while a top Republican, recalling one of Greene's most embarrassing statements, advised the Georgian to "go chase so-called Jewish space lasers."
Current Issue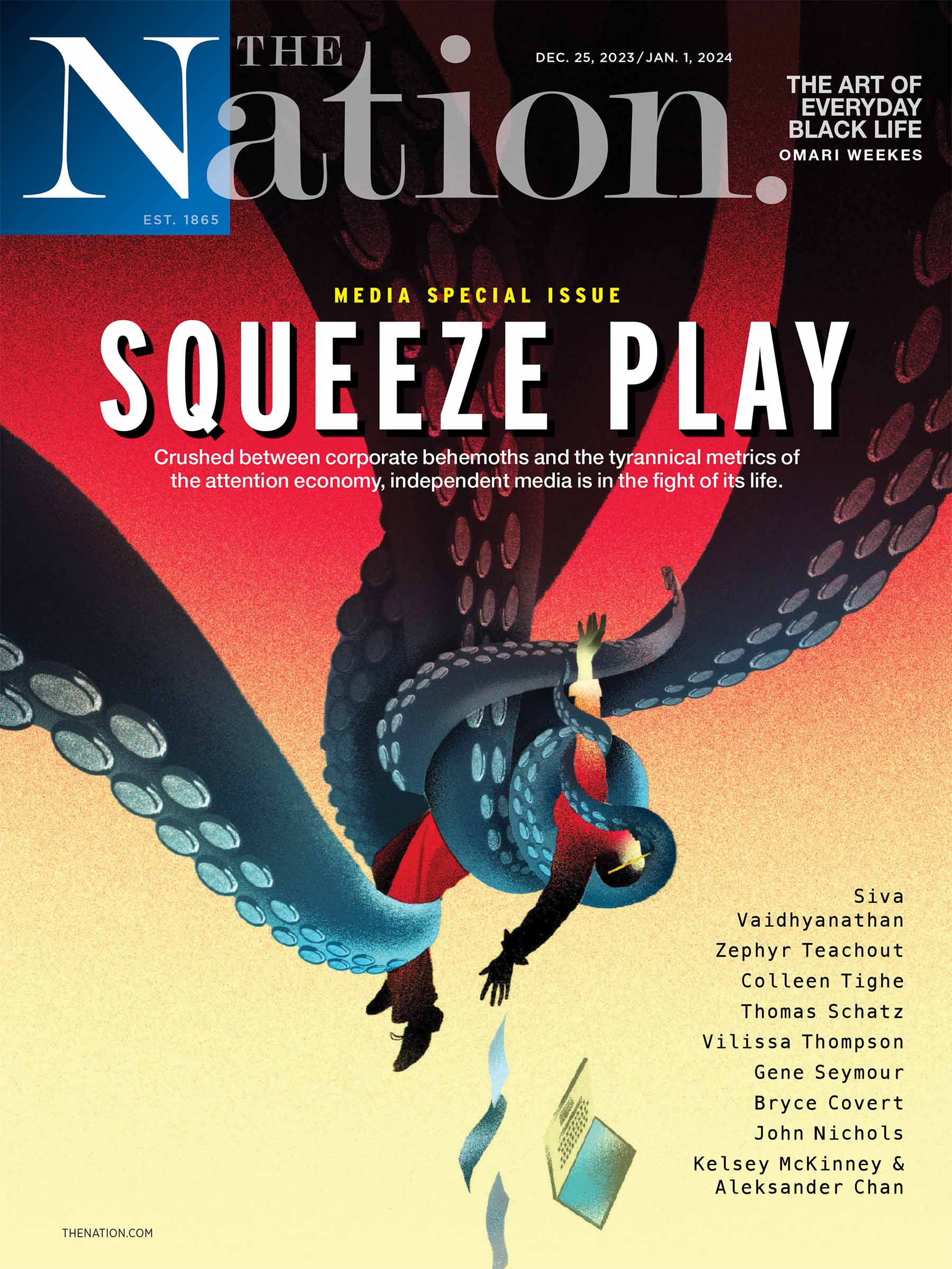 Rather than being silenced, Tlaib emerged from the fiasco as an emboldened advocate for interfaith efforts to end the ongoing Israeli assault on Gaza, explaining, "Instead of funding more bombs with American taxpayer dollars, our leaders should be calling for a ceasefire now, before the violence claims thousands more lives."
Tlaib, a civil rights lawyer who is one of two Muslim women serving in the House, and who has a long history of working with Jewish, Muslim, and Christian activists on behalf of peace and justice projects in Detroit, refused to be intimidated by Greene. That was critical to the fight in the House. The Michigan Democrat pushed back forcefully against the censure resolution."Marjorie Taylor Greene's unhinged resolution is deeply Islamophobic and attacks peaceful Jewish anti-war advocates," Tlaib said.
"I am proud to stand in solidarity with Jewish peace advocates calling for a ceasefire and an end to the violence. I will not be bullied, I will not be dehumanized, and I will not be silenced. I will continue to call for ceasefire, for the immediate delivery of humanitarian aid, for the release of hostages and those arbitrarily detained, and for every American to be brought home. I will continue to work for a just and lasting peace that upholds the human rights and dignity of all people, and ensures that no person, no child has to suffer or live in fear of violence."
Jewish peace and justice groups joined in the pushback, with If Not Now declaring, "Marjorie Taylor Greene is attacking Rashida Tlaib with all of these baseless claims to distract from her and her party's antisemitism and white supremacy. If Republicans are looking to stop the source of real antisemitism in the US…the call's coming from inside the house."
House Democrats stepped up as well. Some defended Tlaib from the start, including Vermont Representative Becca Balint, who dusted off a censure resolution of her own against Greene. Arguing that the Georgian was "the one spreading the antisemitism, the Islamophobia," Balint said that Greene was having "a corrosive effect on the democracy as a whole." Representative Mark Pocan (D-Wis.) declared that "censuring Rashida looks like racism and xenophobia," while Representative Ayanna Pressley (D-Mass.) said, "Rashida Tlaib is doing what her district elected her to do: advocate for a better, safer, more just world. Her voice and her leadership are essential."
Even Democrats who disagreed with Tlaib on Middle East issues signaled that they would reject the censure move, and it became clear that Greene's effort to drive a wedge between Democrats who support a cease-fire and those who oppose it would fail. But in a Republican-controlled House, the resolution still could have passed.
Unfortunately for Greene, her hyper-partisan attempt to grab a headline proved to be so shameless that some of the House's most conservative Republicans refused to go along with her.
A move to table Greene's resolution, which effectively killed it, passed by a 222-186 vote. The "yes" votes came from 199 Democrats and 23 Republicans. The Republicans who broke with Greene weren't embracing Tlaib's advocacy for Palestinian rights. Rather, they were saying that Greene was off the rails. For instance, while he said that he felt that some of what the Democrat had said was "egregious," Georgia Republican Richard McCormick, one of the most conservative members of the chamber, said, "I don't think that Congresswoman Tlaib was violent. I don't think that she was trying to overthrow a government."
Another vote to table the censure motion came from Kentucky Republican Thomas Massie, the only member of the GOP caucus who voted with Tlaib and a handful of progressive Democrats against a House resolution that last week condemned Hamas's October 7 terrorist attack on civilians and encouraged military aid to Israel but did not address Israel's bombing of densely populated areas in Gaza.
Popular
"swipe left below to view more authors"

Swipe →
Greene was furious. She posted lists of Republicans who had voted to table her resolution, referring to them as "pathetic" and complaining, "Conservatives on this list hide behind excuses with their white wigs on and quote the constitution." She was particularly angry with US Representative Chip Roy, a Texas Republican who has become a key player in the party's House caucus. After Roy argued that Greene had offered a resolution that was "deeply flawed and made legally and factually unverified claims," Greene fired off a series of attacks that concluded with the Georgian telling the white-bearded Roy, "Shut up, Colonel Sanders."
Roy didn't appear to be all that unsettled by the exchange. Asked about the first of Greene's barbs, he said, "Tell her to go chase so-called Jewish space lasers if she wants to spend time on that sort of thing."