Who's Driving the GOP Clown Car?
With Kevin McCarthy out, far-right Republicans Jim Jordan and Steve Scalise are vying for the House leadership chair.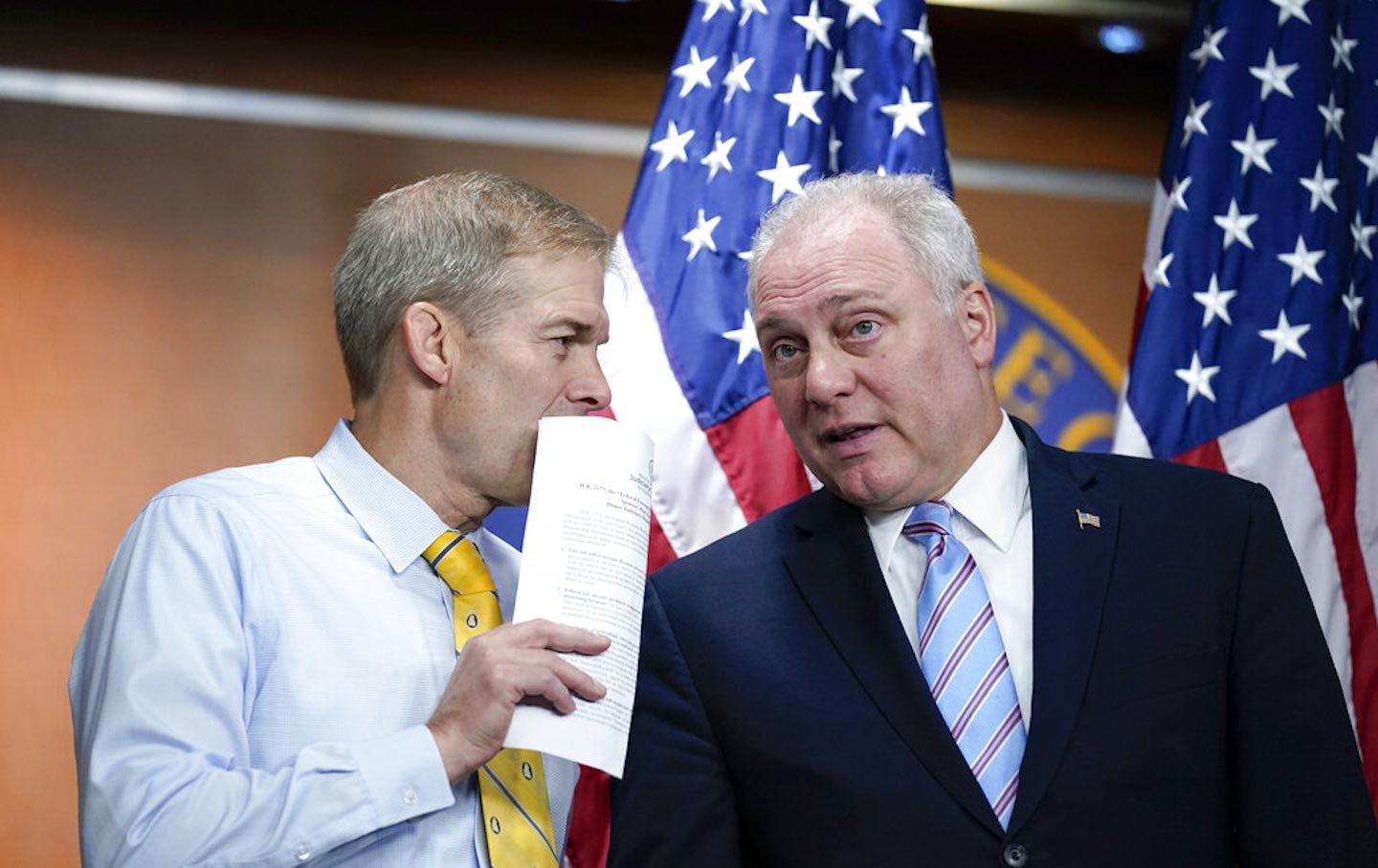 The state of the world has lately conspired to make the GOP's clown-show quest for congressional leadership an undertaking with grave consequences. Things were bad enough this time last week, when the intra-caucus revolt led by Florida Representative Matt Gaetz knocked Kevin McCarthy out of his House speakership. In addition to heightening the prospect of a government shutdown after the continuing resolution on spending expires in just over a month, the motion-to-vacate vote also threw the funding of the war effort in Ukraine into doubt. That major spending outlay was stripped out of the final version of the resolution, with McCarthy allegedly agreeing with House Democrats to bring it up for a separate vote later. With McCarthy now gone, no one can say for sure how or whether Ukraine spending gets back on track.
And now, of course, Hamas's attacks on Israel—with Israeli Prime Minister Benyamin Netanyahu retaliating from a full-war footing—make the self-inflicted chaos atop the House a still more fraught, and poorly timed, abdication. On Monday, the House GOP conference convened to assess the likeliest outcomes for Wednesday's scheduled vote for a new speaker, but the proceedings just served to confirm what everybody already knew: It's a specter with few good outcomes in play, for either the party or the country. The leading candidates to succeed McCarthy are majority leader Steve Scalise of Louisiana and Judiciary Committee chair Jim Jordan of Ohio. Both are deep-red MAGA apostles; both won't acknowledge that the 2020 election results were legitimate.
Jordan was an active plotter of the failed January 6 coup who is still in defiance of his subpoena to appear for the House Select Committee to Investigate the January 6th Attack. So within the demented sanctums of Republican Party power, Scalise comes off as a more measured institutionalist for simply lying and grandstanding about the insurrection. On the other hand, Scalise has suffered from past association with fellow Louisianan and former grand wizard of the Ku Klux Klan David Duke; he spoke before a 2002 conference of a Duke-founded white nationalist group, and once told a New Orleans Times-Picayune reporter that he saw himself as "David Duke without the baggage." He has claimed the latter comment was misinterpreted (without managing to explain just what the unseen layers of nuance in a Duke analogy might be), while insisting he knew nothing about the actual makeup of the group that sponsored his 2002 talk. (This dodge, too, doesn't pass the sniff test, especially since the group in question was named the European Unity and Rights Organization, or EURO.)
With these front-runners making the speaker vote the dictionary definition of a Hobson's choice, it's not surprising that McCarthy himself, ever alert to new possibilities to humiliate himself in the quest for power, is already indicating that he'd again be available to take up the speakership in the not-at-all unlikely event of a deadlocked vote. This scenario isn't instantly far-fetched; after all, taking absences in the House into account, Gaetz and his allies hit upon exactly the minimum vote total to vacate McCarthy's speakership—which means that it would take but one anti-McCarthy balloter flipping to restore the old, barely functional status quo.
But such horse-trading scenarios posit a level of traditional calculation and political sapience that just doesn't apply to the Trumpified GOP. To grasp just how far gone the caucus is, just recall the endgame of McCarthy's own fight for leadership survival, which seemed to rely on the charity of the tirelessly demonized Democratic opposition. "The Democrats had lots of reasons to decide they weren't going to support McCarthy," says Geoffrey Kabaservice, vice president of political studies at the Niskanen Center. "Yet McCarthy still expected them to bail him out. A lot of moderate Republicans were also upset at the Democrats for letting this happen, on the assumption they had to be the adults in the room. But what was McCarthy prepared to actually do for the Democrats? The answer was nothing. Not a single member of the Republican Party understands that this was never going to happen. It's one thing not to understand governing—this suggests that they don't understand politics. That's true from the top to the bottom of the caucus."
This failure bespeaks a broader fealty to an ideology that's short-circuited many of the traditional incentives for political advancement, Kabaservice adds. "Formerly, people in leadership understood that to have that job, you had to govern. That meant funding the government even if you may not like that fact. But we're in a situation now, where we have this narrowly divided Congress, and these people on the hard right who have always been at the fringes, they now in what you might call the empowered fringes, and they have no incentive to govern. Defying the leadership is their source of money, fame, and power. There's just no way to be an anti-government Republican and govern."
Current Issue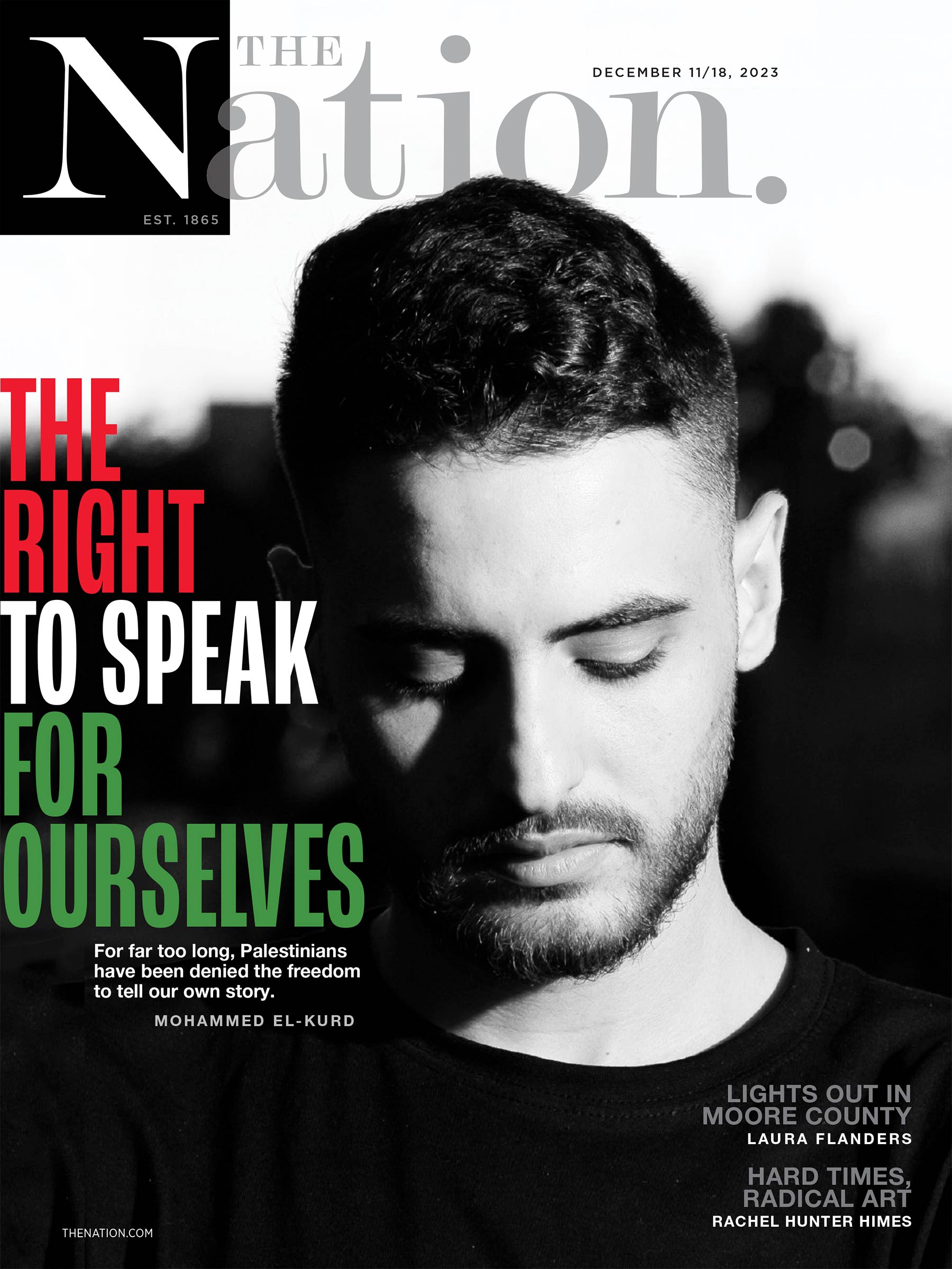 This is how you get to the terrifying prospect of a smash-it-all election denier like Jordan seriously vying for the speakership—prospectively putting him in a position to shut down House dissent should an outvoted Donald Trump again mount a coup effort in January 2025. One small but telling indication of the caucus's disarray is that Nancy Mace, a South Carolina representative who had previously soaked up airtime in the mainstream press on the basis of nonexistent bona fides as a moderate, sided with Gaetz to topple McCarthy and then announced that she was backing Jordan.
Jordan has also voted against past security outlays for Ukraine, and is playing up the need to focus instead on the alleged scourge of crime and wrongdoing from the country's southern border as part of his speakership. (Needless to say, he's Trump's choice for the job.) But here, too, Kabaservice says, the political incentives in the GOP are completely out of whack. "If House Republicans have said all along they care about the outcome in Ukraine, and they let the funding drop, those people have effectively announced their suicide as politicians. If Ukraine goes under, which seems a more and more realistic possibility at this point, they can't just blame it on Joe Biden…. We also don't have an ambassador to Israel right now, because Republicans are playing games for no purpose other than their own aggrandizement and funhouse ideology."
There's also a good chance that Wednesday's vote won't produce a consensus candidate—after all, McCarthy himself endured a 15-vote marathon to get the speakership in January after caving to every conceivable demand of the caucus's hard-right flank, including the motion-to-vacate rule that proved his downfall. That prospect could produce a vote permitting Speaker Pro Tem Patrick McHenry as "a kind of John Boehner figure," Kabaservice says. But of course, Boehner also wound up forfeiting his speakership because the Tea Party right deemed him too prone to making deals to keep things working. It's hard to see any scenario involving a quasi-adult leader of the House Republican caucus that doesn't continue tripping the infinite regress of purist leadership purges from the right. Certainly, the narrow majority the GOP now has doesn't allow for a decisive lurch back toward viable governance. "Each wing of the party has veto power over the other," Kabaservice says. "For the MAGA wing, if you elect a comparative moderate to speaker, that person is by definition a traitor, and the MAGA wing is gonna get rid of them. On the other hand, the MAGA wing doesn't care anything about declining national security, or the country's continued existence."
It's true, he adds, that "a lot of Republicans are concerned about this. They'd like to resist, but they're too cowardly."