This Advocate for Abortion Rights Is Running for Mississippi Attorney General
Challenging the Republican who took the Dobbs case to the Supreme Court, Greta Kemp Martin champions civil rights, worker rights, and reproductive rights.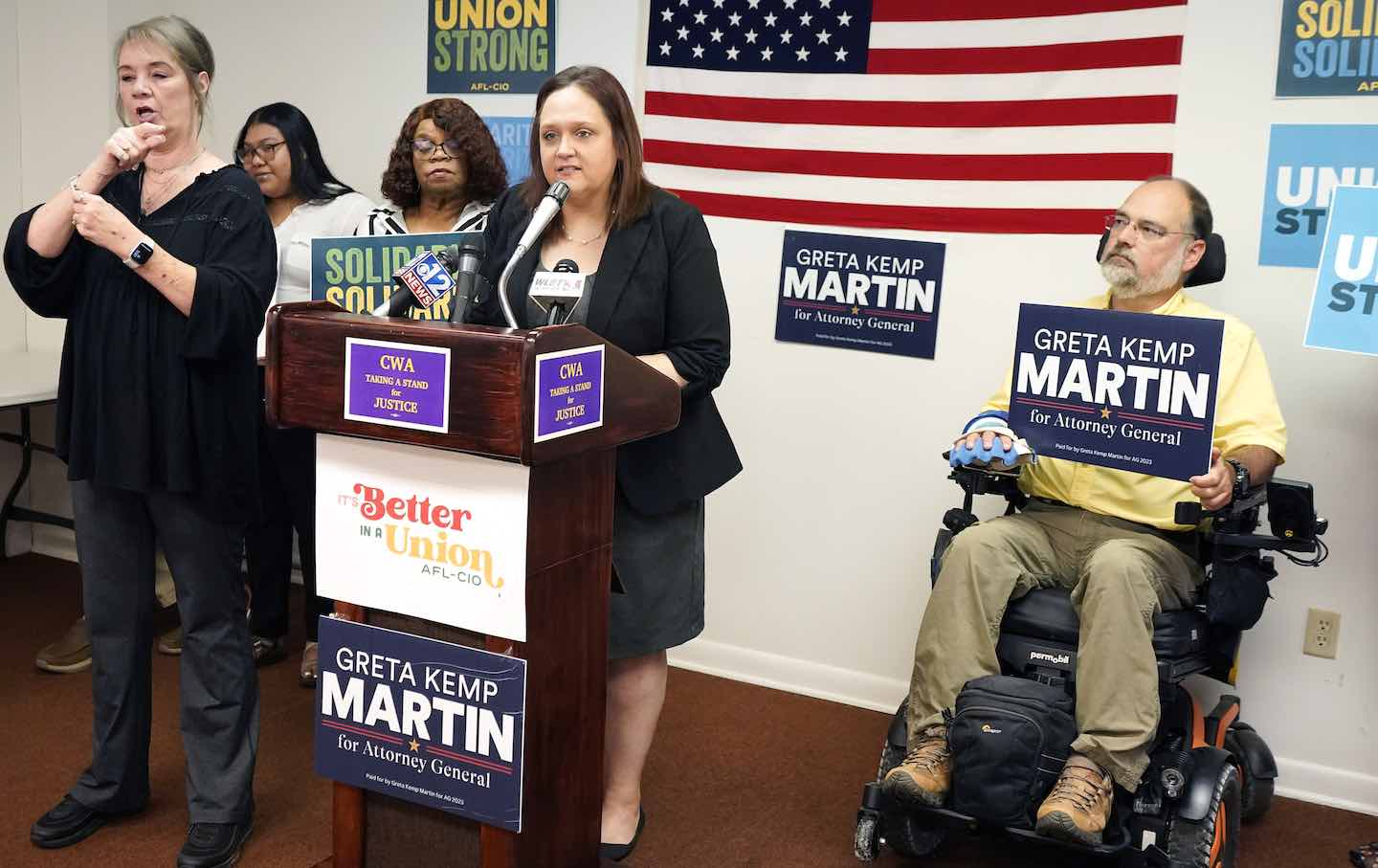 Mississippi Attorney General Lynn Fitch took the Dobbs v. Jackson Women's Health Organization case to the US Supreme Court, which overturned the precedent set in the court's historic Roe v. Wade and Planned Parenthood v. Casey decisions and upended abortion rights in America. A conservative ideologue who in 2020 became the first Republican since Reconstruction to serve as Mississippi's chief law enforcement officer, Fitch uses her official state website to argue that abortion bans "empower women" and to suggest that, with the rejection of reproductive rights, "we start a new chapter in American history."
But voters across the country, in states just as conservative and Republican-dominated as Mississippi, have recognized that the chapter Fitch is writing puts Mississippi and other states that are promoting abortion bans on the wrong side of history. There's nothing "new" about where Fitch is taking the law. Rather, it's a throwback to the bad old days when, as former Planned Parenthood Federation of America president Cecile Richards explains, "women and families…[are denied] the right to make their own decisions about the most fundamental issue in our lifetime."
Related Article
Fitch is running for reelection this November, with a new message that puts an Orwellian twist on her anti-choice machinations. The Mississippi attorney general is leading a national crusade to assure that law enforcement agencies in states that ban abortion can track down information about people from those states who have abortions in jurisdictions that protect reproductive rights.
That doesn't sit well with Greta Kemp Martin, the former president of the Mississippi Women Lawyers' Association and the immediate past president of the Mississippi Association for Justice—the organization that represents the state's trial lawyers. "Just because our attorney general orchestrated the Dobbs case, that doesn't mean that Mississippians are in agreement with her," says Martin.
"The polls show that people do not agree that Dobbs should be the law of the land."
Indeed, while Mississippi may be quite conservative and currently very Republican, a 2022 survey of likely voters in the state found that 51 percent opposed the Dobbs decision. While pollsters and pundits suggest that there is a higher level of support for restrictions on reproductive rights in Mississippi than is found nationally, only 18 percent of Mississippians say abortion should be illegal in all cases.
Current Issue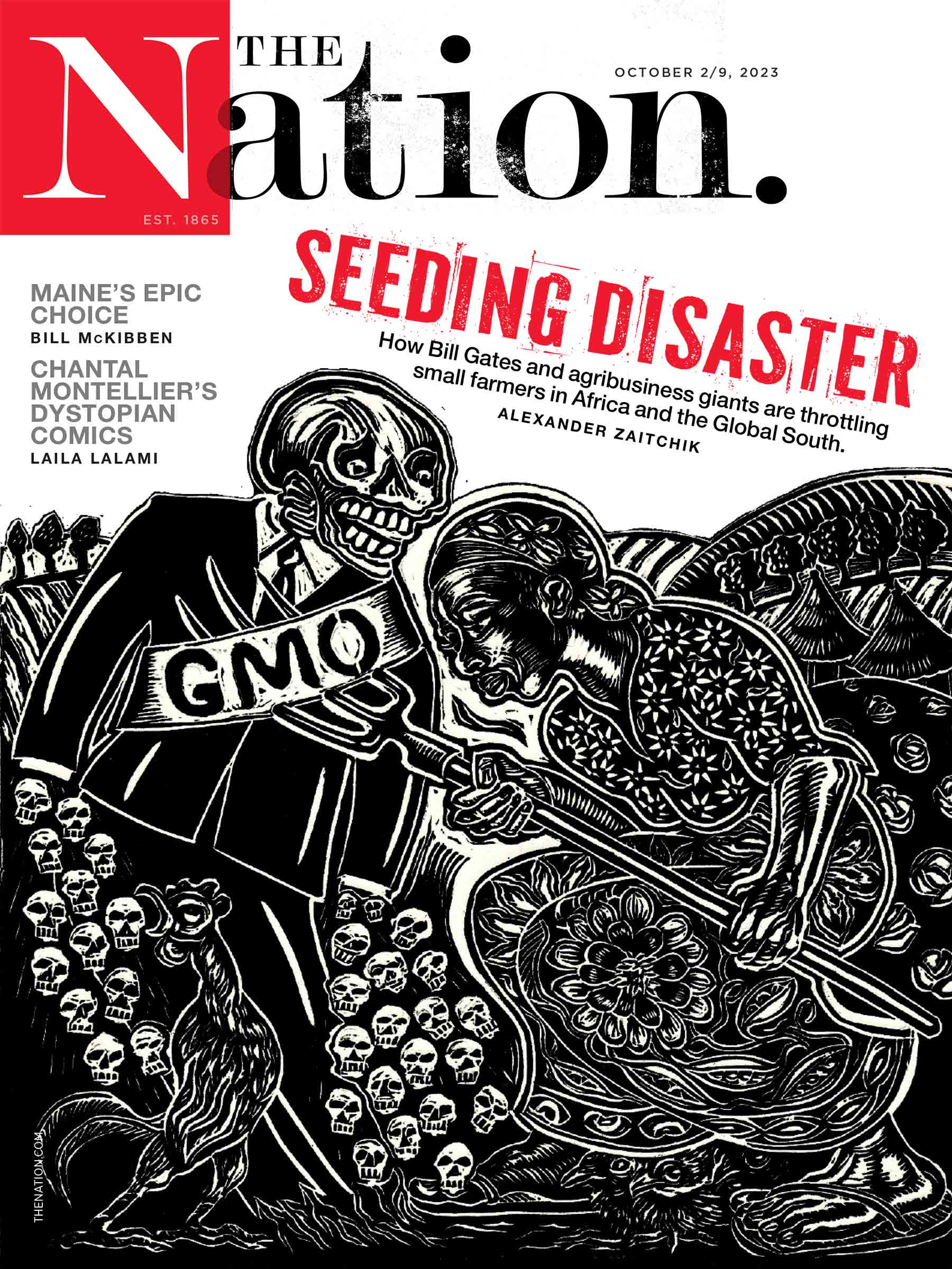 So, could Mississippi be the next red state where voters send a pro-choice message? It happened in the 2022 election season in Kansas and Kentucky, where referendum votes rejected efforts to restrict abortion rights. And Martin is hoping it will happen again this fall in the Magnolia State.
When the Dobbs decision came down, Martin says, "For me, like many women, it was devastating." As one of the state's most prominent and active lawyers, she joined a group of Mississippians who set out to identify a Democratic candidate to take on Fitch. Eventually, Martin recalls, "people were saying, 'You should run. You're qualified. You understand the issues. You need to stand up for women.'"
Martin answered the call and launched what, she acknowledges, is an uphill bid in a state where every statewide elected post is held by a Republican and where Donald Trump's two presidential bids prevailed with some of his highest levels of support in the country—57 percent in both 2016 and 2020. But her grassroots campaign has gained traction in Mississippi, where the candidate has earned strong support from Planned Parenthood Southeast Advocates, which says, "Unlike Lynn Fitch, Greta Kemp Martin knows health care decisions should be made by patients, not by politicians," She's also backed by the Mississippi AFL-CIO, which has been enthusiastic about her proposal to establish a fair labor division within the AG's office. The labor federation says the division, which would focus on cases involving child labor, wage violations, and unsafe working conditions, is needed because, as Mississippi AFL-CIO President Robert Shaffer notes, "We are the only state in the United States that doesn't have any form of a voice for workers in government at all."
Martin's campaign has also grabbed the attention of advocates around the country. Minnesota Attorney General Keith Ellison, a staunch defender of reproductive rights, hails Martin, who he met with last week at a gathering of Democratic attorneys general and AG candidates from across the country, as "smart, capable, compassionate and fearless." Members of the Democratic Attorneys General Association have put themselves in the forefront of efforts to defend abortion rights in the aftermath of the Dobbs decision, and Ellison argues that it is vital to elect pro-choice Democrats in this year's contests for AG posts in Kentucky, Louisiana, and Mississippi. "As the battle for reproductive rights unfolds at the ballot box, in statehouses, and in courtrooms across the country, state AGs are best positioned to lead the fight," explains Ellison. He says Martin's election, as a "guardian of the right to choose after Dobbs," would send a powerful signal not just in Mississippi but nationwide.
Martin agrees. But she's not focused on abortion access alone. "We have an almost $100 million corruption scandal here in Mississippi, and the current attorney general has done nothing. She's failed Mississippians on every account." That's a reference to the controversy that has unfolded in the state since a 2000 auditor's report raised concerns about the mishandling of $94 million in federal funds for low-income families disbursed by the Mississippi Department of Human Services. Much of the money was directed to organizations linked to political allies, friends, and associates of the state's powerful Republican leaders, when it was supposed to have been used as Temporary Assistance for Needy Families funding.
"I intend, on the first day that I take office, to launch a full investigation," says Martin.
She also wants to work with Democrat Brandon Presley, if he is elected governor in a tight race this fall with Republican incumbent Tate Reeves, to expand Medicaid, as part of a push to provide health care to hundreds of thousands of people in a state where rural hospitals are closing at an alarming rate. These are issues she knows a lot about, having worked for a number of years as the litigation director for Disability Rights Mississippi.
Presley, an economic populist who has run close to Reeves in a number of polls, identifies as a "pro-life Democrat." He does not favor a complete ban on abortion, but is likely to accept restrictions on access. "Brandon and I are not going to agree on everything. No two people ever will," says Martin. But, she adds, they agree on most issues and are prepared to work with one another to help low-income families in Mississippi's rural counties and hard-hit cities. "I believe Brandon Presley is going to be the next governor of Mississippi, and I am excited that he wants to extend Medicaid, which is a huge issue here in Mississippi," she says. "He's going to need an attorney general who is on his side on that issue."
Popular
"swipe left below to view more authors"

Swipe →
But is it possible that Mississippi could elect a pro-choice Democrat as attorney general? Martin thinks so, noting that voters in the state continued to elect Democratic attorneys general long after Republicans started winning other statewide posts in the late 1980s and early 1990s. Indeed, when Fitch won the post in 2019, she became the first Republican to hold the title since 1878.
Martin is traveling to every corner of the state to build a multiracial coalition that can motivate young and progressive voters where turnout is historically low because of rampant voter suppression and gerrymandering. Martin thinks that concerns about the Dobbs decision will help her, even with some voters who might otherwise lean Republican.
"Dobbs is a slippery slope," explains Martin. "If we don't put people in office to protect women, there are going to be more restrictions and more efforts to criminalize health care decisions. Mississippians don't want that."