Tonight's GOP Debate Could Put the Final Nail in Ron DeSantis's Political Coffin
Trump has trashed DeSantis for months. Yet the Florida governor apparently plans to defend Trump in the debate. Dumb move!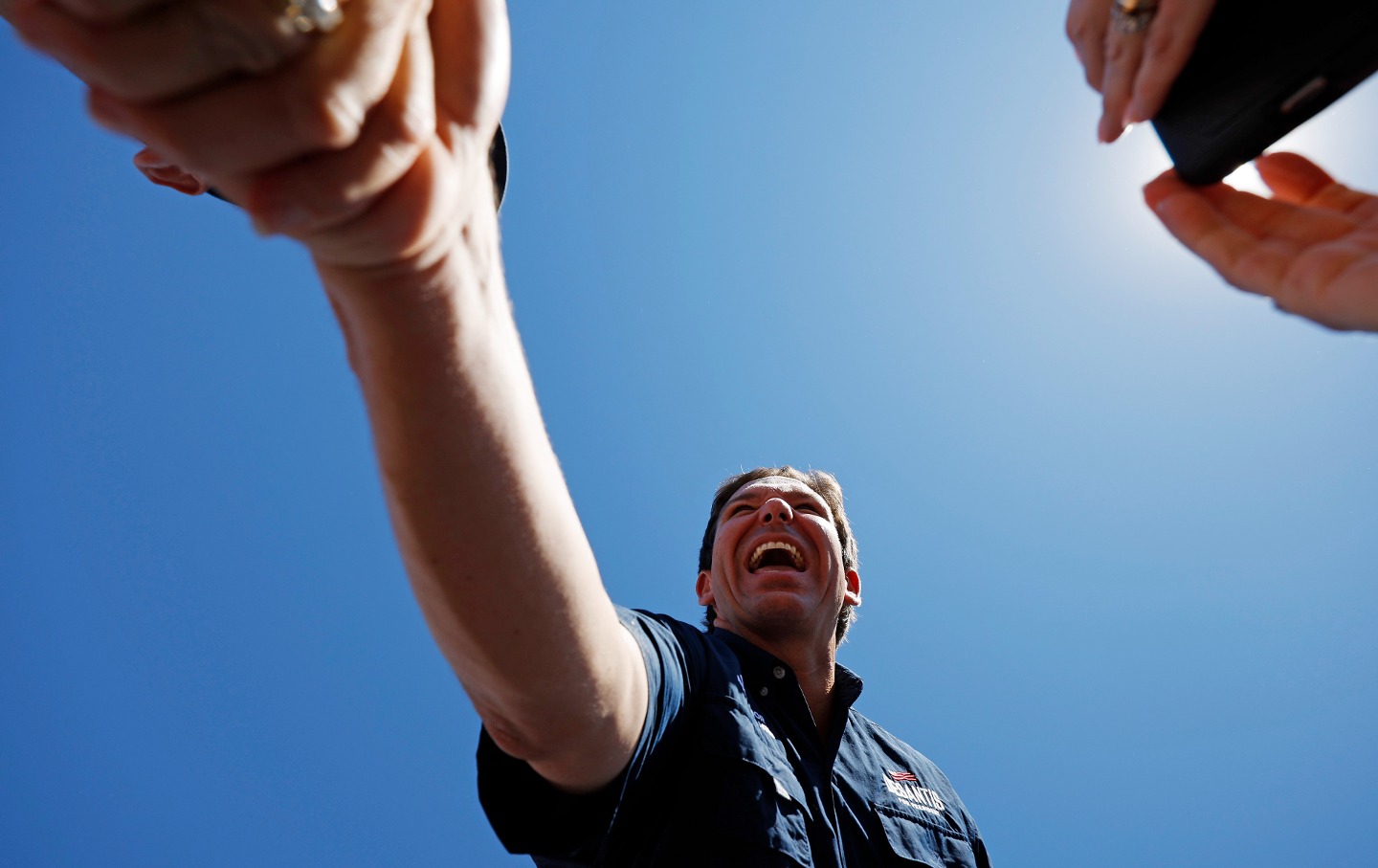 Donald Trump has a political skill that has served him very well in three bids for the presidency. He identifies an opponent who might get in the way of his candidacy and then aims a litany of abuse on the hapless rival. It begins with juvenile jabs at the intellect, energy level, weight, or height of the targeted contender. Over time, the insults become increasingly personal and aggressive. Trump does not let up until the rival is so diminished, demeaned, and disgraced that he or she simply gives up. And, then, remarkably, the routed Republicans get on board "the Trump train" as enthusiastic defenders of the insulter-in-chief.
The list of leading lights in the Republican Party who have been dismantled by Trump in this fashion includes Ted Cruz, Lindsey Graham, Marco Rubio, Jeb Bush, Scott Walker, and too many others to name. Yet, aside from Chris Christie—who seems to have figured out after his failed 2016 run (and subsequent stint as a transparently cynical apologist for the 45th president) that the only way to fight Trump's fire is with a rhetorical flamethrower—the prominent Republicans who are attempting to displace the oft-indicted former president in 2024 appear to be stumbling into the same trap that claimed their predecessors.
Or, in the case of Florida Governor Ron DeSantis, leaping into it.
DeSantis has so badly bungled his bid that Trump doesn't see any need to debate his fellow Floridian or any of the lesser Republicans who have positioned themselves as alternatives to the man who lost the White House in 2020 and is likely to lose again in 2024. Trump's decision to skip the debate that the Republican National Committee has organized on Wednesday evening in Milwaukee—and, possibly, all future debates as well—is, of course, being attacked by Christie. The scrappy New Jerseyan, who has been spoiling for a fight with Trump, has been his usual blunt self. "Surprise, surprise… the guy who is out on bail from four jurisdictions and can't defend his reprehensible conduct, is running scared and hiding from the debate stage," roared Christie, who labeled Trump a "certified loser, verified coward."
If Trump had decided to show up Wednesday, the wrestling match with his New Jersey nemesis would have been a good one. But Christie's not seriously competing for a nomination that he has no chance of winning. He's positioning himself for a post-Trump era that most Republicans cannot even imagine at this point.
It's different for DeSantis, who seems to maintain the delusion that he is still in the running for the 2024 nomination. In some senses, the governor of Florida caught a break with Trump's decision to stay off the debate stage. A Trump appearance on Wednesday night would have further marginalized DeSantis's sputtering candidacy— as the former president would have continued the battering of his collapsing rival, while the wangling with Christie would have stolen the spotlight from DeSantis and the rest of the field.
Current Issue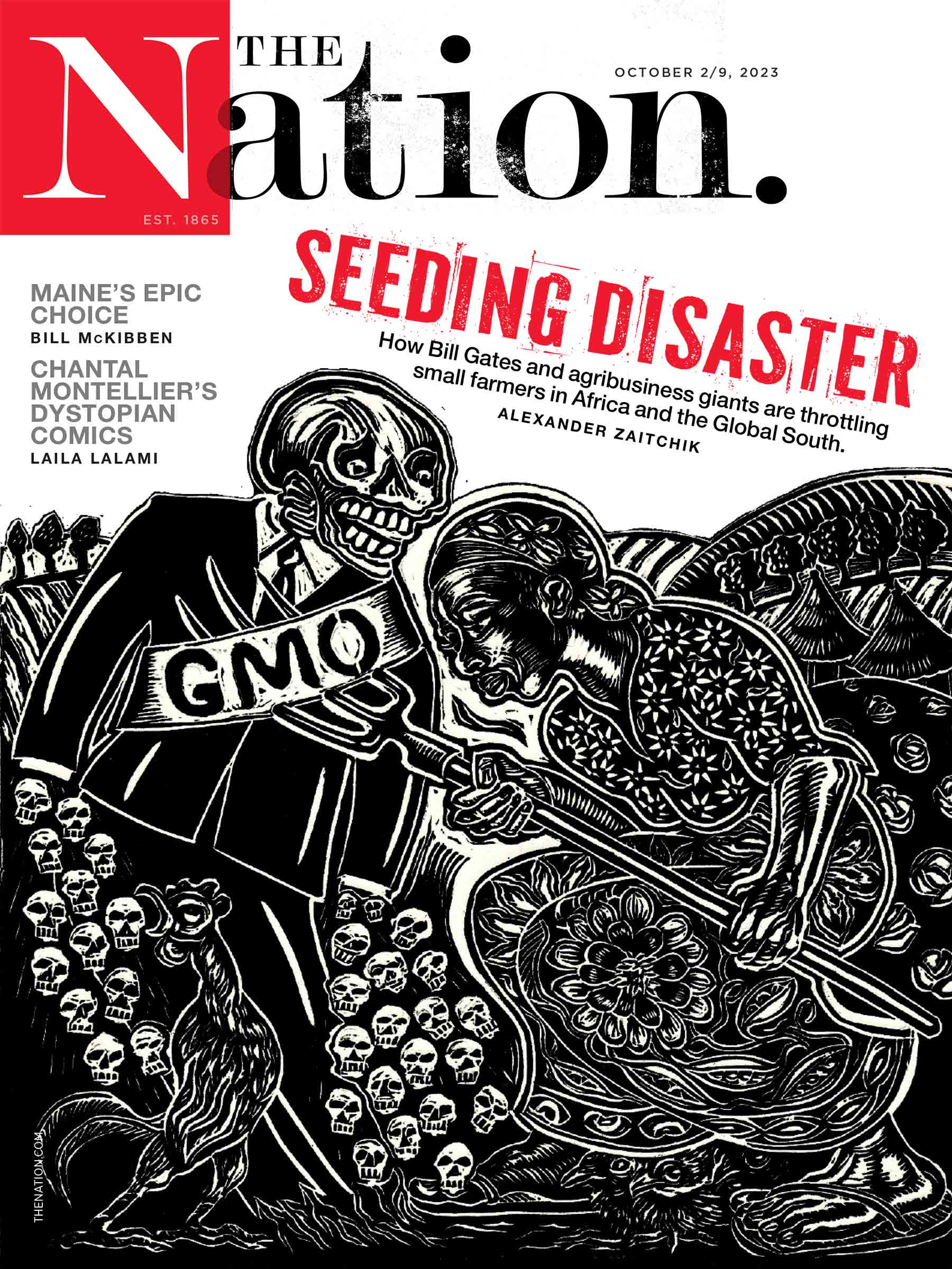 But DeSantis can still do himself plenty of damage. It appears that the governor plans to position himself not as an alternative to Trump but as a defender of the former president's honor. A trove of documents from Never Back Down, a super PAC that is providing critical support to DeSantis, was revealed last week, providing insights into the debate strategy that the governor is likely to employ. At the heart of its list of "basic must dos" is an encouragement to "Defend Donald Trump in absentia in response to a Chris Christie attack." According to The New York Times, which reviewed the debate-prep memo, it
urges Mr. DeSantis to "defend Trump when Chris Christie attacks him," with a specific suggestion for an attack line accusing Mr. Christie, the former New Jersey governor, of appealing mainly to Democrats: "Trump isn't here, so let's just leave him alone. He's too weak to defend himself here. We're all running against him. I don't think we want to join forces with someone on this stage who's auditioning for a show on MSNBC."
Now that this dubious strategy has been exposed, DeSantis will probably alter his language slightly—especially the tone-deaf suggestion that the candidate who has a commanding lead in the polls, and whose status with the Republican base does not appear to have been damaged by his 91 indictments or his decision to skip the debate, is "weak." But don't look for the governor of Florida to distinguish himself from his most prominent constituent.
Instead of taking on Trump, DeSantis plans to go after Christie—and another contender, wealthy businessman Vivek Ramaswamy, who has begun to overtake DeSantis in some recent polling.
That's a stupid strategy that will undoubtedly help Ramaswamy gain traction. But stupid strategies have defined DeSantis's candidacy.
It is now well-established that the governor is more of a media creation than a competent contender. He's fumbling things so badly that Trump now leads DeSantis by 46 points in the latest CBS News/YouGov poll. Indeed, The Washington Post recently concluded, "If a GOP primary were to be held today, multiple polls show DeSantis would resoundingly lose to former president Donald Trump in the state both men call home."
And the numbers are all but certain to get worse for DeSantis because, just like all of his rival's previous GOP opponents, he clearly has no clue how to counter Trump's barbs.
Popular
"swipe left below to view more authors"

Swipe →
That was agonizingly obvious after the pair both appeared at the Iowa Republican Party's Lincoln Dinner late last month—which, it turns out, is probably the closest DeSantis will ever get to a debate with Trump.
The former president spent much of his time deliberately butchering DeSantis's name—referring to him as "Ron DeSanctus," a new shorthand version of the nasty nickname he's long used when referring to the governor: "Ron DeSanctimonious." Trump then ripped into his opponent as a tool of "the establishment globalists" who would most assuredly ruin things for Iowa corn farmers, before warning, to laughter and applause from a crowd that DeSantis has been appealing to for months, "I wouldn't take a chance on that one."
The Iowa appearance was just the latest takedown of DeSantis by Trump and his hit squad. In June, after DeSantis attended a Nevada Republican cookout where fried lamb testicles were served up, the Trump campaign's reaction was: "Not surprised Ron DeSantis is looking for a set of balls."
So what's DeSantis's response to the litany of abuse? He plans to defend Trump in Wednesday's debate.
That could well be the final nail in the political coffin that Ron DeSantis has spent the past several months constructing for himself.