Ron DeSantis Is Starting to Look Like a Scott Walker–Level Loser
The governor of Florida is on a 2024 trajectory that mirrors the former governor of Wisconsin's doomed 2016 campaign.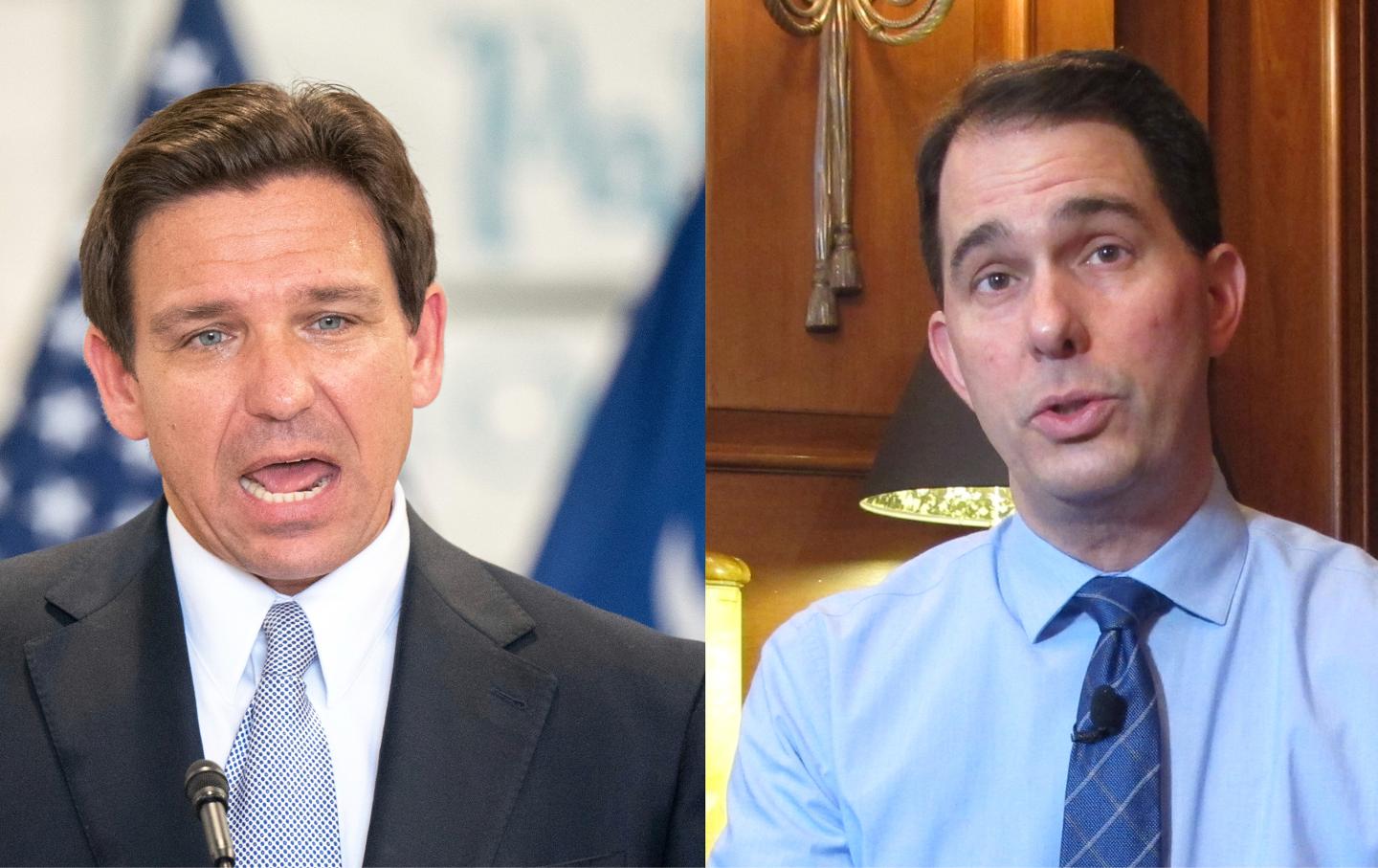 A brand new Rasmussen Reports survey has Florida Governor Ron DeSantis polling at just 13 percent in the race for the Republican presidential nomination—44 points behind Donald Trump. Despite Trump's mounting legal troubles, the embattled former president has gained 10 points since the last Rasmussen poll, while DeSantis has lost seven.
Could it get any worse for DeSantis? Yes.
A Harvard-Harris poll, which like the Rasmussen poll was released on Monday, has DeSantis falling to just 12 percent with Republican voters nationwide—40 points behind Trump and just two points ahead of political newcomer Vivek Ramaswamy.
When the governor of Florida launched his presidential campaign two months ago, he positioned himself as a political "giant killer" whose "war on woke" crusade would displace Trump and secure the Republican Party's 2024 nomination.
But, with each passing week, the governor of Florida is looking more and more like what Trump called him over the weekend: "a loser."
DeSantis is shedding staff, struggling to gain traction in critical caucus and primary states, and making billionaire donors nervous about writing more checks to a campaign that has been burning through cash so fast that The New York Times recently observed, "DeSantis is spending hand over fist, and his dependence on large donors suggests a lack of grassroots support."
Once heralded by the mainstream media as the alternative to Trump, DeSantis is now taking a pounding in the press. "DeSantis Can't Shake Trump's Long Shadow," warns U.S. News and World Report. "There Is No Ron DeSantis 2.0," asserts Politico in a dismal assessment of prospects for a campaign reset. The Atlantic simply notes "The Humiliation of Ron DeSantis."
This all sounds oddly familiar to those of us who chronicled the rise and fall of another GOP "star" who imagined that a reputation as a headline-grabbing Republican governor, along with a penchant for mouthing social-conservative dogma, would be enough to win a Republican presidential nomination.
Eight years ago this summer, Scott Walker was the hottest commodity in GOP politics. The recently reelected governor of Wisconsin had joined the 2016 presidential field with a splashy announcement that drew the national press corps to an exposition center amid the suburban sprawl of what was then a reliably Republican county. Walker went live that night with Sean Hannity on Fox News—attacking "lame ideas" from "the left" such as the minimum wage. The next morning, images of the 47-year-old career politician plunging into a crowd of seemingly enthusiastic supporters were splashed across the front pages of the nation's newspapers, as The New York Times reported that Walker would cast himself as a cultural conservative "who would defend the 'unborn,' the Americans who oppose same-sex marriage on religious grounds, and more broadly the conservative and traditional citizens who feel under attack from what they consider coastal elites."
Republican operatives assured reporters that the Wisconsinite had what it took to grab the GOP nod and take back the White House from President Barack Obama's Democrats. Walker, South Carolina Republican Party chair Matt Moore announced, had "rocketed to the top tier of candidates." A Reuters analysis noted that "a resume that appeals to conservatives" had "placed him among the top contenders for his party's nomination in poll after poll." In Iowa, he led surveys of likely Republican participants in the state's first-in-the-nation caucuses. In New Hampshire, the first primary state, headlines reported that Walker was "surging."
But, within weeks of its formal launch, there were signs that Walker's campaign was unraveling. There were money problems. Staffing problems. Messaging problems. And Donald Trump problems, which surfaced when the political newcomer shredded Walker in debates. By September, just two months after he started running, Walker's poll numbers had tanked to roughly zero. He quit the race with a feeble call for Republicans to unite against Trump and then, when political reality finally dawned on him, repositioned himself as a Trump enthusiast.
Defeated for reelection in 2018, Walker is now in the business of giving vapid advice to losing political candidates. He even has a tip for DeSantis: "light a fire with primary and caucus voters with some really bold ideas." Walker doesn't have an actual plan for DeSantis; just a word salad of political happy talk. The failed governor turned presidential candidate of 2015 says the failed governor turned presidential candidate of 2023 needs to "be lean and, at the same time, he needs to go bold. I know this firsthand."
While Walker's practical advice is trite–what candidate doesn't want to "be lean" and "go bold"? —he's right about his area of expertise.
Few Republicans know so much about getting beaten to a political pulp by Trump as Walker. But DeSantis is rapidly accumulating his own "firsthand knowledge" of how to tank a campaign for the Republican presidential nod.