For an entity that spends nearly half a billion dollars every election cycle, surprisingly little is known about the Democratic Congressional Campaign Committee (DCCC). As the political arm of the Democrats in the House of Representatives, the DCCC (or "d-trip" in Beltway lingo) is responsible for raising and spending hundreds of millions of dollars to help Democrats win congressional elections. The committee spent $354,623,642 on the 2022 midterms, according to its filings with the Federal Elections Commission.
House Democrats need to flip just five seats in 2024 to recapture control of the chamber. Hakeem Jeffries (D-N.Y.), the new House minority leader, has tapped Suzan DelBene (D-Wash.) to serve as chair of the DCCC this cycle, and DelBene has named Julie Merz as executive director to drive the committee's day-to-day operations.
With Democrats so close to recapturing control at a time when white nationalist fascism is still very much in the air, there is little margin for error, and it is imperative that the party make smart, strategic decisions about how to deploy its massive war chest. In that spirit, here are five fundamental questions that all interested parties should ask DelBene and Merz.
Will you base your spending decisions on rigorous data about what works in winning elections?
As basic as this sounds, it's sadly not common practice. Cook Political Report prognosticator Dave Wasserman expressed bewilderment in November at DCCC spending decisions, tweeting in November, "It was always strange to me that Jevin Hodge (D) wasn't taken more seriously by DC strategists/spenders/modelers considering…redistricting moving #AZ01 from Trump +4 to Biden +1." What Wasserman flagged is that, though the data would seem to have made Hodge's bid to flip Arizona's First Congressional District an obvious priority, the DCCC spent none of its $96 million in independent expenditures (a subset of its $354 million total spending) on that contest, according to the FEC reports. Left to fend for himself, Hodge lost by less than 1 percent of the vote.
It's a sadly elemental, yet key, starting point in engaging with the new DCCC leadership. Will they commit to making data-driven spending decisions based on rigorous analysis of the numbers?
Will you be transparent in explaining the rationale for the spending decisions?
The lack of communication, transparency, and accountability in Democratic politics is breathtaking. In Hodge's Arizona race, for example, the DCCC leadership never had to account for its decision to forgo investing in a winnable race. If you invest $10 in buying stock in a publicly traded company, then you get regular reports and updates on the company's future plans and past performance, with financial results that are verified by auditors. As someone who has advised many progressive donors, I've been shocked to learn that if you give $1 million to Democratic Party committees, you're lucky if you ever get a single piece of paper explaining what happened and why.
Popular
"swipe left below to view more authors"Swipe →
There is absolutely no rational justification for an organization that aspires to high performance to have such low standards.
Every stakeholder—and that includes small-dollar donors, billionaires, and every member of the Progressive Caucus—should request a simple explanation for how and where the DCCC plans to allocate the hundreds of millions of dollars it will spend over the next 21 months.
How much will you spend on voter turnout in 2024?
The untold story of the midterms is that Democratic voters stayed home in just enough congressional districts to allow Republicans to steal control of the chamber. As this table shows, below-average Democratic voter turnout contributed to Republicans' flipping control of nine seats.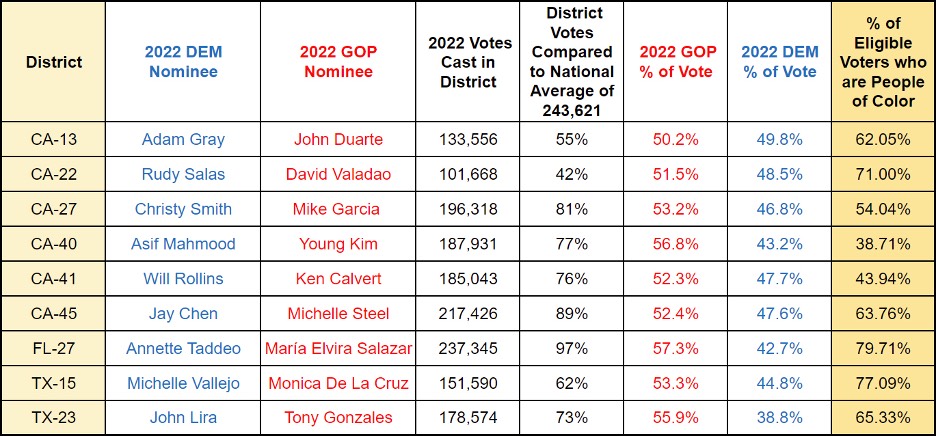 Exacerbating the problem is that seven of the low-turnout districts were substantially more racially diverse than the average district. In a country where 72 percent of people of color vote Democratic, the failure to invest in turnout out those communities is political malpractice.
Increasing voter turnout is not a mysterious or exceptionally risky proposition, but it does require a real commitment of assets. Sadly, most of the strategists and money-spenders in the Democratic ecosystem undervalue, overlook, and underinvest in voter turnout, opting instead for wave after wave of television and digital ads designed to persuade the ever-shrinking pool of swing voters. All of this despite the paucity of evidence about the efficacy of such spending strategies.
All those who want Democrats to win in 2024 should ask DelBene and Merz just what they are going to do to boost Democratic turnout, and how much of their hundreds of millions of dollars in spending will go towards that objective. Although turnout will increase naturally in a presidential year, that high-profile contest will also boost Republican turnout, so the DCCC's leaders need to be asked about their plans for targeted investments to swell the ranks of Democratic voters in key districts. And they should ask as soon as possible, not when the election is almost here.
Will you hire staffers with the cultural competence to communicate with a racially diverse electorate?
Typically, Democratic operatives see people of color and their demands for justice and equality as nuisances to be neutralized while the party zeroes in on white voters. That's the subtext of the conventional wisdom calling for talking more about "the economy" while downplaying "social issues" (the racial wealth gap is not merely a "social issue," but that's a topic for another column). Even setting aside the morality of the matter, the math is such that Democrats can't win without a large and enthusiastic turnout of people of color.
Appealing to and inspiring a racially diverse voting population requires significant cultural competence in the leadership and staffing of the party committees. It helps if the people commissioning ads and hiring staff have stepped foot in a Black barbershop or beauty salon, been to a quinceañera, or attended a Lunar New Year celebration. Notably, cultural competence also means having insight into how to communicate with white people about racial issues in ways that summon them to rise to their highest and best selves.
Historically, the DCCC has not distinguished itself in this area. In 2020, the lack of diversity within the committee, and the attendant outcry from Congress members of color, led to emergency staff meetings, copious crying, and the resignation of the executive director. Hopefully, such drama can be avoided this year, but it will require Merz and DelBene to commit to real diversity at every level of the organization—and to follow through on their promises.
A culturally competent staff, backed by a massive war chest, could do extensive research, analysis, focus groups, and polling to probe attitudes towards racial justice and test language and messages that neutralize racial resentment and maximize enthusiasm for building a better world.
Will you encourage the Democratic SuperPAC—House Majority PAC—to answer the previous four questions?
Democrats' political arsenal also includes the activities of a super PAC, House Majority PAC (HMP), that runs a legally distinct but mission-aligned set of activities to boost Democratic prospects in House races. HMP spent nearly $200 million in 2022, bringing the total allocation from the Democratic ecosystem to more than half a billion dollars.
All of the previous concerns and questions about the DCCC apply to HMP, and while the entities cannot legally coordinate, the DCCC can encourage HMP to up its game in terms of adopting best practices and conducting its operations with transparency, accountability, and a commitment to data analysis and results. The current HMP executive director is Mike Smith, and DelBene and Merz should urge him to provide answers to the above four questions as well.
The conventional wisdom is that Democrats defied expectations of a "red wave" in the midterm elections, but a smart, data-driven analysis of the playing field would have revealed that Joe Biden won the majority of votes in 225 of the redrawn districts, seven more than required to hold their majority. But because the committee failed to embrace best operational and political practices, they allowed the Republican barbarians to storm the gates (the previous DCCC Chair Sean Patrick Maloney even lost his own seat).
The most extreme elements of the Republican Party now dominate the House of Representatives. They are threatening to throw the economy into chaos and doing everything in their power to roll back the tide of change on all matters of social justice and economic equality. The good news is that the House is there for the taking in 2024 if Democrats are smart, strategic, and accountable. All those with a stake in the future of the country should ask the DCCC leaders these basic questions, so that the process of fundamental change can begin.