They Helped to Get Biden Elected. Now They're Demanding That He Back a Cease-Fire.
The president cannot afford to lose the generation of young political activists who are telling him he is flat wrong when it comes to Gaza.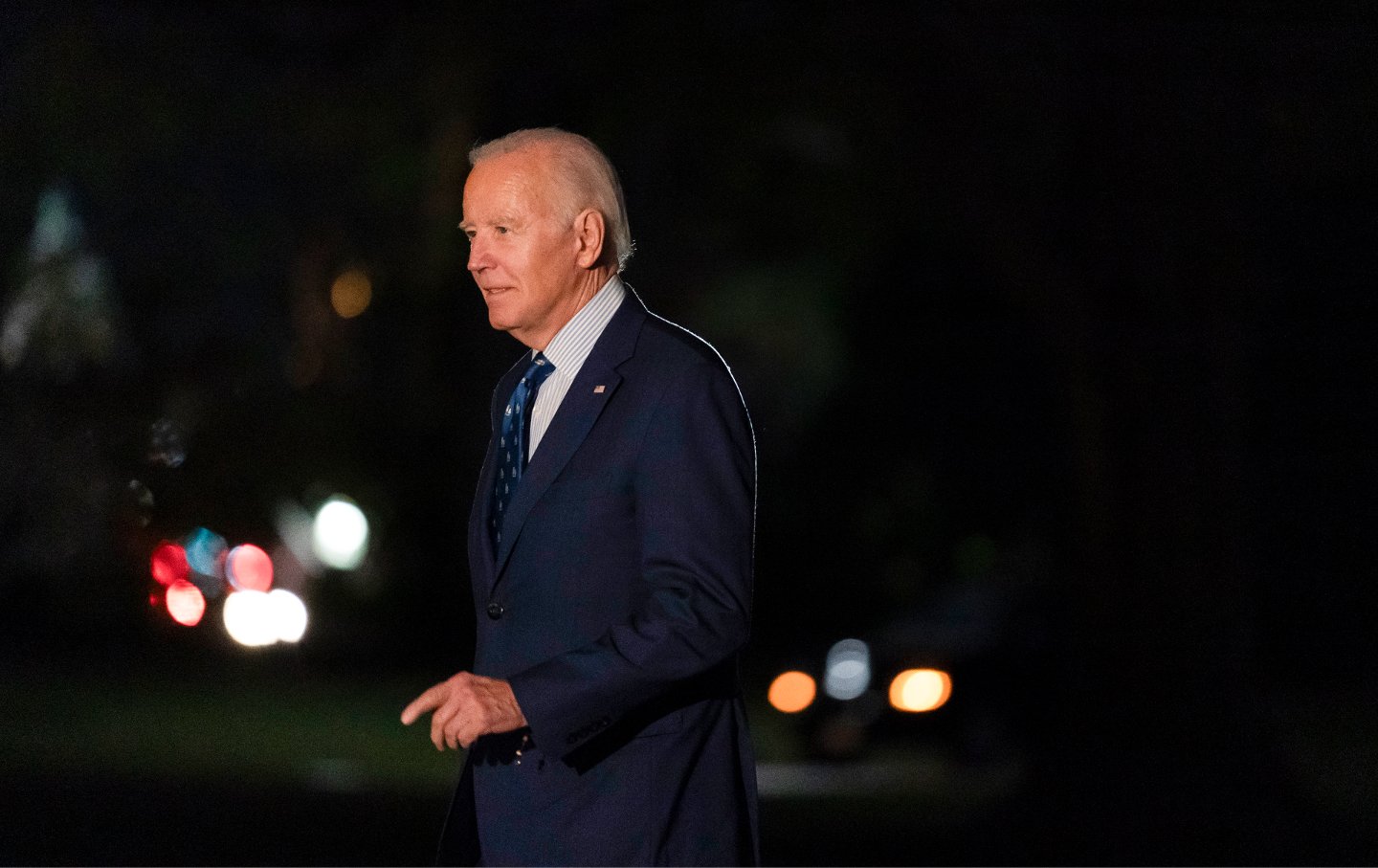 Joe Biden flipped Wisconsin in 2020, moving the battleground state that had narrowly favored Donald Trump in 2016 back into the Democratic column.
But Biden didn't do it on his own.
He relied on a dedicated team of mostly young activists who have transformed the politics of Wisconsin and other swing states by infusing local Democratic Party operations with fresh energy and skills.
Current Issue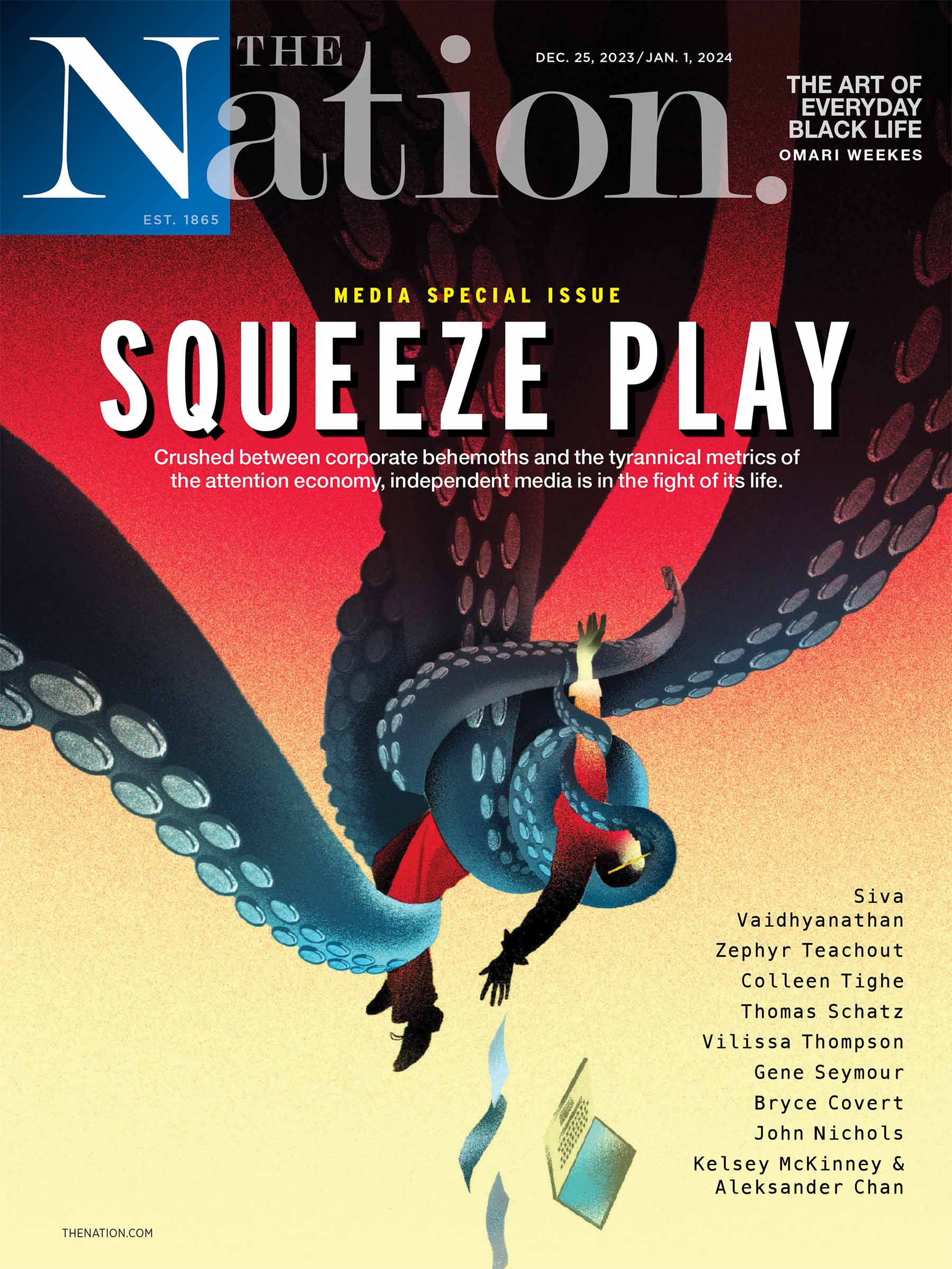 Heba Mohammad, a veteran political organizer and former city council candidate in Green Bay, was an essential member of the 2020 team, serving as the Biden campaign's Wisconsin Digital Organizing Director. Now, the Palestinian-American Wisconsinite is one of the chief organizers of a national drive to get Biden to support a cease-fire in Gaza, and she has a warning for the Democratic president she helped to elect: "The only pathway to justice and peace for both Palestinians and Israelis is to end the conditions of occupation, apartheid, and ethnic cleansing that led to the violence we are witnessing now. A cease-fire is the first step. President Biden has the ability and responsibility to save lives and reduce human suffering—if he doesn't act swiftly, his legacy will be genocide."
Mohammad is not alone in her view of what must be done to end the devastation that has been seen in the Middle East, where an October 7 attack by Hamas left more than 1,400 Israelis dead and the ensuing Israeli military assault on Gaza has left more than 10,000 Palestinians dead.
In a letter addressed to Biden, more than 500 veterans of the 2020 Biden for President campaign this week urged the president to "call for a ceasefire, hostage exchange, and de-escalation, and take concrete steps to address the conditions of occupation, apartheid, and ethnic cleansing at the root of the horrific violence we are witnessing now." Signed by Palestinian Americans and Israeli Americans, Muslims, Jews and Christians, among others, the letter's signers worked in the battleground states where Biden secured the presidency in 2020—including Wisconsin, Michigan, Pennsylvania, Georgia, Arizona, and Nevada—and they spoke from personal as well as political experience.
Matan Arad-Neeman, an Israeli American who served as a field organizer in Arizona—a state where the president won by barely 10,000 votes in 2020—spoke of how he was "still grieving the horrific events of October 7." Yet, he expressed his concern that "Israel's relentless bombardment of 2.2 million people trapped in a strip of land the size of Detroit is not going to bring back the loved ones we lost, and it only puts the hostages in more danger. Israel is carrying out collective punishment against Palestinians in Gaza that will have devastating impacts for years to come. We need a future where all Israelis and Palestinians can live in equality, justice, and safety. Biden must do everything in his power to push for de-escalation to make that future possible."
The letter from "Biden Alumni for Peace and Justice" explains that Biden has the ability, and the moral responsibility, to take steps necessary to save lives:
President Biden, it is becoming increasingly clear that this is a moment that may very well define your legacy. We trust that you believe all people deserve safety and freedom, which is why we are calling on you to:

1. Publicly call for—and use financial and diplomatic leverage to bring about—an immediate ceasefire;

2. Advocate for de-escalation in the region, including demanding that Hamas release all hostages and that Israel release over 1,200 people in administrative detention—99% of whom are Palestinians—being held without charge;

3. End unconditional military aid to Israel;

4. Investigate whether Israel's actions in Gaza violate the Leahy Law, prohibiting U.S. military aid from funding foreign military units implicated in the commission of gross violations of human rights;

5. Take concrete steps to end the conditions of apartheid, occupation, and ethnic cleansing that are the root causes of this devastation.
Popular
"swipe left below to view more authors"

Swipe →
In addition to its demand for presidential action, the letter outlines a political reality that is well-understood by people who run election campaigns. Biden's refusal to call for a cease-fire has alienated young people whose activism and votes were vital to his election in 2020, and who he'll need if he hopes to be reelected in 2024. And they are not alone in advocating for a cease-fire.
Last week, a survey by Lake Research Partners, a polling firm that's done work for the DNC, found that 71 percent of Democrats in the must-win state of Michigan support a cease-fire. The letter—signers of which include 44 Michigan staffers for the 2020 Biden campaign—argues that the president should be paying attention to polls, protests, and moral arguments from those who are profoundly impacted by events in the Middle East. The letter signers explain:
We are not alone in this demand. The majority of Americans (66%) and Democrats (80%), are in agreement—a ceasefire is the bare minimum. Across the country, tens of thousands of people are rising up in protest, demanding an end to Israel's brutal siege of Gaza, and to the United States' continued support of Israel's occupation and war crimes. Some of the most vocal critics of Israel's actions in Gaza are the families of Israelis who were killed or kidnapped by Hamas. They understand the response to one atrocity cannot be another, and that continued bombardment and a ground invasion will not bring justice for those they lost or bring their loved ones home. We should listen to them.
Heba Mohammad hopes that Biden will listen, for moral and political reasons. Asked whether she thought Biden could be reelected in 2024 without the enthusiastic backing of the staffers who worked so hard to elect him in 2024, she said, "Absolutely not." Noting that Biden's 2020 staffers have only become more experienced and more skilled over the past several years, Mohammad said, "They're irreplaceable."