The Tyranny of the Parking Lot
Finding space for cars has remade the built world. A new history uncovers just how much our lives revolve around parking.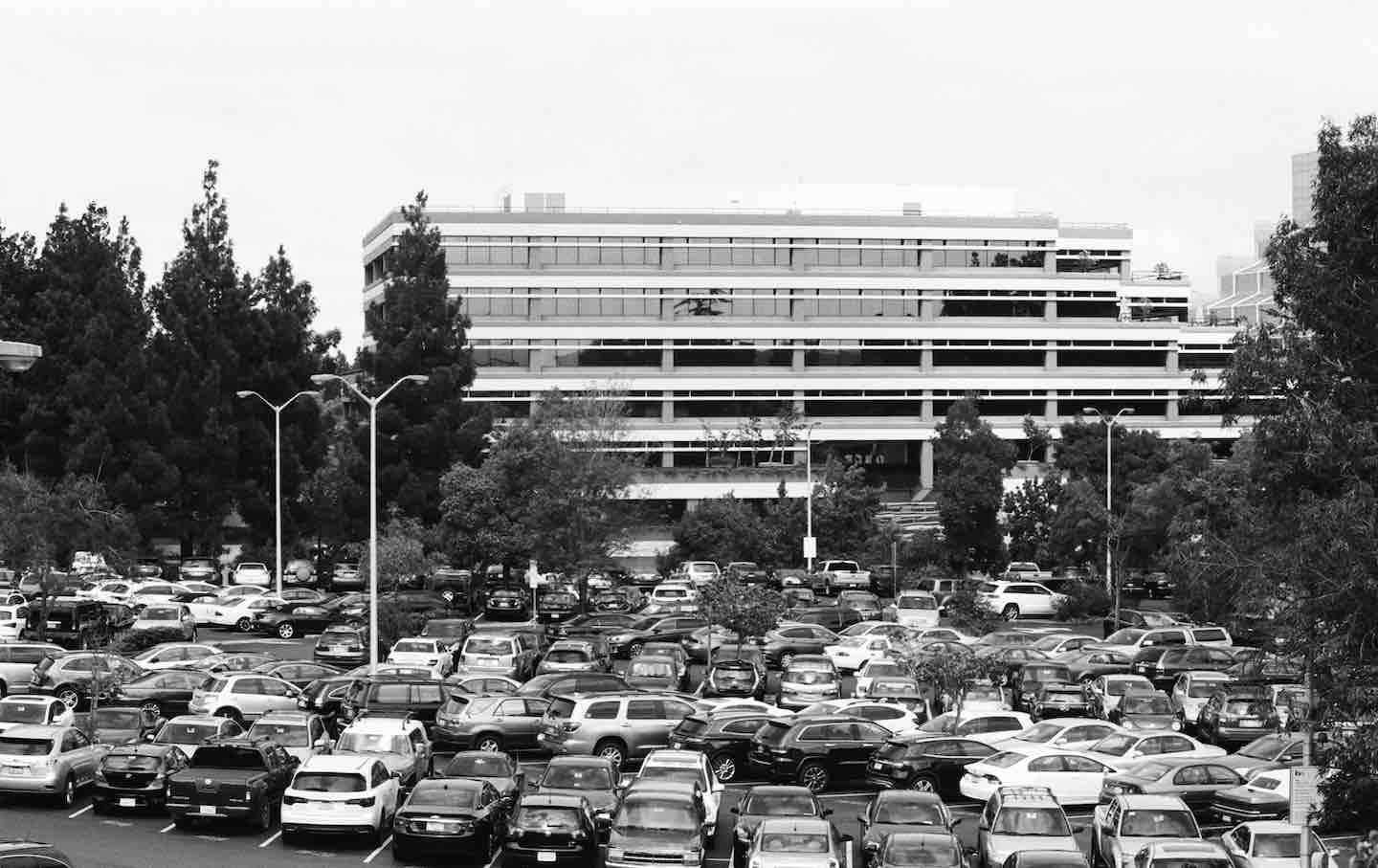 The challenge of parking is largely one of geometry. Cars are big, and when they're the only way to get from place to place, you need a lot of room to store them at either end of each trip. A typical parking space for a car takes 330 square feet, and according to some estimates, there are around 1 billion parking spaces in the United States, enough to cover the entire state of Connecticut—twice. The cascading consequences of this math for our cities and communities are enormous.
In his new book, Paved Paradise: How Parking Explains the World, Henry Grabar, a staff writer for Slate, argues that this fundamental, insatiable need to find space for cars "is the primary determinant of the way the place you live looks, feels, and functions."
As Grabar chronicles, the choices that many cities and towns have made in service of parking have come with serious downsides: Homes are less affordable; pleasant, walkable communities are illegal to build (and thus in painfully high demand where they do exist); streets are more dangerous; and the emissions from our cars are destabilizing our climate.
These aren't new complaints. In 1961, the historian Lewis Mumford wrote that "the assumed right of the private motor car to go any place in the city and park anywhere is nothing less than a license to destroy the city." And in more recent years, the American urbanist movement—a loose constellation of civic-minded individuals, advocacy organizations, and elected officials interested in street safety, housing and land-use policy, bicycling, and transit—has bemoaned them all.
As someone who spent almost a decade in New York City government with a front-row seat on many such tragicomic urbanist fights over bus lanes, bike lanes, new housing, electric vehicle charging, curbside dining, and safer streets, Grabar's basic thesis rings true to me: Parking is at the core of many critical questions about how we live and how we get around.
When Mumford was writing in the 1960s, American communities were nearing the end of a half-century transformation to accommodate and embrace mass car ownership. Many people experienced this transformation as a dizzying freedom. Suddenly, after generations where mobility was limited to the distance that could be traveled on foot, by horse or carriage, or on the fixed routes offered by streetcars and trains, cars offered a new level of freedom and comfort.
Current Issue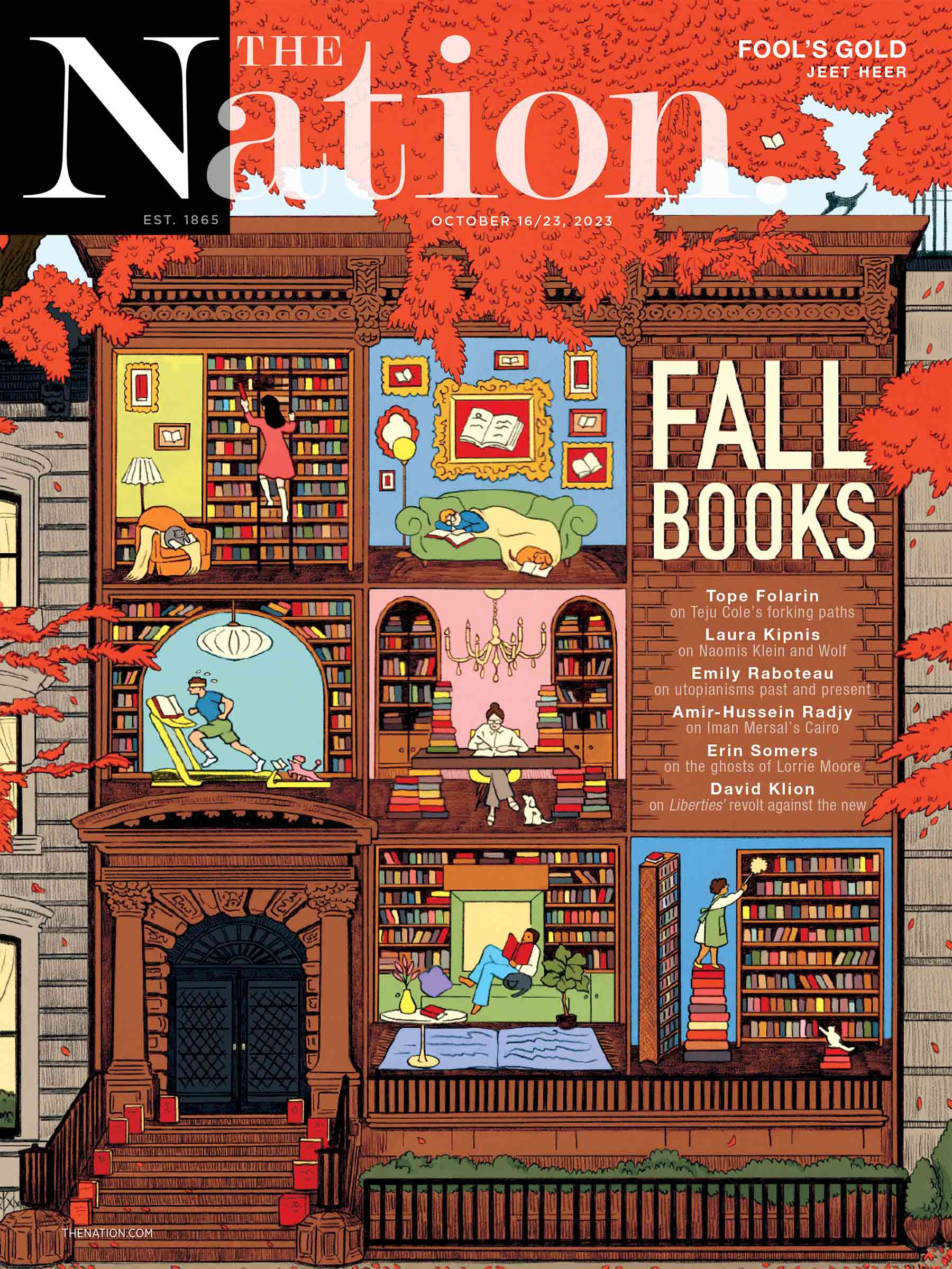 The federal government, cheered on by the titans in the automotive, steel, oil, and concrete industries, poured money into the interstate highway system, as well as subsidies for detached single-family homes on the outskirts of established cities and their streetcar suburbs.
To accommodate the cars, cities tore down apartment buildings, old commercial buildings, and even whole neighborhoods in order to build surface parking lots and parking garages. Meanwhile, people on foot became "pedestrians" and got shunted to narrowed sidewalks. New municipal laws required that all new buildings—from homes to stores to office buildings—be built with ample attached parking, making it harder and less pleasant (or impossible) to get from place to place without a car.
We are all living in the aftermath of these choices. And a few years inside local government made it clear that changing these dynamics will take a similar level of clarity, ambition, and openness to the type of physical transformations that got us here. The vision and ambition that produced the epoch of the automobile is unassailable: Nearly 92 percent of American households have at least one vehicle, and—with few exceptions—the automobile is the primary shaper of the American built environment. The story Grabar tells across the book is one of America's fraught relationship with the automobile, of ambitious builders transforming the world and subsequent generations grappling with the consequences.
Among the colorful characters Grabar introduces us to—the housing developer struggling to meet parking requirements, the corrupt lot operators taking advantage of an all-cash business, the LA civic booster who sought to remove parking requirements in order to renovate aging skyscrapers, the conniving UN diplomats angling to avoid paying their parking tickets—is the architect Victor Gruen, a Viennese émigré who fled the Nazis and came to the United States in the late 1930s, and quickly developed innovative ideas on how to build a new society around the promise and possibilities of the motorcar. Gruen's story is emblematic of the way that intentional planning by many decentralized actors, improvisational responses to consumer demand, and negligent regulatory drift—a classic American policy cocktail—helped produce our automotive world.
After working on the famous "Futurama" exhibit at the 1939 World's Fair—which imagined an automobile-oriented utopia—Gruen found work conceiving and developing what became America's earliest shopping malls, which he optimistically envisioned as the best of what city shopping districts had to offer (strolling from store to store, places to socialize), but now easily accessible by car from the new suburban communities spreading across the landscape. As shopping activity shifted from the old downtowns to suburban malls, downtown leaders sought to transform them again to win the shoppers back.
Their tactic, which Gruen and a generation of other modernist architects and planners helped them to achieve, was to add a whole lot more parking. The changes came not from one federal dictate or centralized plan, but from hundreds of communities working diligently to reformat themselves according to the visions and ambitions of the day. Later in his life, Gruen regretted his innovation when he saw the devastation it wrought: "I am often called the father of the shopping mall," Gruen said, explaining that he wanted to "disclaim paternity" of those "bastard developments" that "destroyed our cities."
But Gruen's generation of builders and architects were so influential precisely because their vision came at a moment when American communities were still malleable enough, and confident in the ability to physically change themselves, that they could transform rapidly into something that responded to an emergent need.
Another of Grabar's subjects is Donald Shoup, an academic turned movement leader whose book, The High Cost of Free Parking, articulated a clear and compelling argument to eliminate requirements that new buildings contain parking spaces and to properly price the curb with parking meters to keep spots open, shift cars to parking garages, and prevent people from circling looking for a parking space. One of Shoup's key insights was identifying the flimsy basis of the minimum parking requirement and the pseudoscience of "trip generation"—the self-fulfilling idea that every new building will necessarily generate new car trips that must be accommodated with wider roads and more parking spaces, which shapes so much real estate development in the United States.
These standards were put in place by thousands of individual municipal leaders across America's fragmented land-use-governance system, who varied the amount of parking required based on such eyebrow-raising characteristics as the number of pool tables in a pool hall, tables in a restaurant, or square feet in an assembly hall. Underlying all of these requirements was an unspoken assumption: Everyone who gets here will do so by car.
The adoption of such varied and inconsistent standards across the country was the result of risk aversion and vicious cycles: Communities copied what others were doing, too busy or under-resourced to develop their own independent assessments of the merits. Take the typical case of Corvallis, Ore., home of Oregon State University, highlighted by Grabar. Like many other communities across the country, the minimum parking mandates in Corvallis were plucked from volumes put out by the Institute for Traffic Engineers, a professional organization and generator of industry standards for parking and traffic management. The ITE reports started as a descriptive account of ad hoc parking requirements across the country but were adopted widely as prescriptive requirements. After decades of such widespread adoption, the ITE clarified that these standards were not meant to be mandatory and could in fact be counterproductive—but the damage was already done. As Daniel McKenna Foster, a planner in Corvallis, described it:
"You go to your average yokel planning department, they're talking about cars. Nobody on the ground knows that ITE has changed their tune. Lisa in zoning doesn't care. She needs a number and the book says four hundred parking spaces."
Once auto-centric development became the norm, new growth and development was seen as a source of new traffic and cars competing for zero-sum free parking spaces rather than as new opportunities for positive economic growth. Overlaying America's impulses toward racist or class-based exclusion and general aversion to change, parking and traffic concerns—well-grounded or not—gave another rationale for communities to oppose new development altogether.
I saw this all firsthand in my years in city government. Whether it was how many parking spaces should be required with a new apartment building, or whether parking could be removed to make room for a bike lane, a bus lane, eider sidewalks, or a pleasant place to eat outside in front of a restaurant, Grabar's book gets a key principle right: Parking isn't an afterthought in municipal policy; it's a core issue.
In the United States, enormous control over land use, street-space allocation, transportation management, and planning and building infrastructure (in a word: parking) rests in public offices that are easily within the reach of or currently held by young leftists: city councils, small- and medium-city mayoralties, state legislatures. These questions might not seem related to many of the headier topics—around income inequality, health care, or class struggle—that pull ambitious people into politics, but it is important to approach them with progressive values and not sacrifice them as secondary.
Small issues might seem like a minor one-off—how much parking should the new grocery store have?—but Grabar's book shows how the aggregation of many such choices, tilted in favor of more room to park, have major consequences for the climate, quality of life, and inequality.
Those places in America where you don't need a car to get around are some of the most expensive, most in-demand places to live, and yet a thicket of regulations and practices—and political resistance by some of the most outspoken political actors—make building more places like this incredibly challenging. Repurposing curbside parking space for a bike lane or a curbside dining area, or building a new apartment building without attached parking, are ideas that are often opposed by local officials, even by ostensible proponents of more sweeping economic or social change.
Grabar does have an implicit policy agenda: to make it easier to build without building parking; to invest in public transportation; and to legalize urban forms that rely less on automobiles and more on walking, biking, and transit. And to rationalize parking by using parking meters, charging more, building parking garages with smaller footprints, and having businesses and communities share parking space instead of every building having a separate parking spot.
But a sort of philosophical shift by local officials might be needed too—less to make particular changes happen, but to lower the bar for any physical change to our built environment, to allow the construction of compact, walkable communities that rely less on cars. At its best, these changes could create a much wider array of communities in the United States that incorporate the advantages of the automobile that seduced so many mid-century dreamers and continue to be beloved by so many today, while developing new places where people can live a walkable and transit-oriented urban life.
Though Grabar doesn't say this explicitly, the book can be read as an empowering call to arms for a rising generation of state and municipal leaders: to embrace the power they have to transform our built environment to reverse the damage wrought by the automobile.
Grabar's book reminds us that our country is largely built around the personal automobile because that was the vision of the future that predominated during the last major era of unfettered (and some would say excessive) building and infrastructure investment. But the solution is not to stop that enthusiasm, or to retreat into conservatism or cynicism. There's a real temptation to limit any new development or change out of worry that it could make things worse. We built ourselves into this; it's high time we built our way out.