It might be Fox News' worst nightmare: liberal bloggers and black hip hop.
The rapper with the #1 album in the country is waging war on Fox News, in a new campaign backed by black activists at ColorOfChange.org, liberal bloggers and even Bill O'Reilly's alter-ego, Stephen Colbert.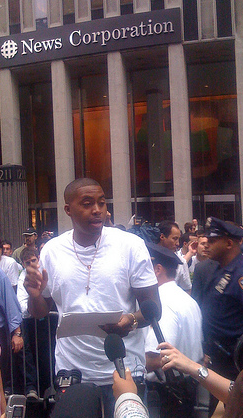 On Wednesday, the rapper Nas led a small rally at NewsCorp's midtown Manhattan headquarters, in an effort to deliver 600,000 signatures from citizens protesting biased and racist programing by Fox. Fox refused the petitions, so Nas took his campaign to "The Colbert Report" on Wednesday night, where he blasted O'Reilly and performed his new song, "Sly Fox," which skewers the channel. With his trademark staccato delivery, Nas contrasts criticism of violent entertainment to U.S. foreign policy. ("They say I'm all about murder-murder and kill-kill…What about Cheney and Halliburton? The backdoor deals on oil fields.") And the chorus sounds like Democracy Now! meets Dr. Dre:
Watch what you watching/Fox keeps feeding us toxins/Stop sleeping, start thinking/ Outside of the box and/unplug from the matrix doctrine/But watch what you say/Big Brother is watching
James Rucker, the head of ColorOfChange.org, argued that Fox's impact extended beyond the presidential campaign — a period when Fox has already apologized for false and derogatory coverage of Obama, from a discredited report about his youth to wild conspiracy theories about, yes, fist bumps. "When Fox talks about lynching the woman who may soon be our First Lady and then refers to this wife and mother as a 'baby mama,' they are maligning not only the Obamas, but Black women and Black people across this country," he said in an email statement. The group, working with MoveOn and liberal bloggers, is still recruiting more supporters for its petition (below with video). Fox, which has previously attacked Nas and likened liberal bloggers to the KKK, has been slow to respond. It even declined to comment when asked about the protest by its sister publication, the Wall Street Journal:
The Fox News Channel has faced criticism that it is biased against Sen. Obama… including one anchor's suggestion that a fist-bump between Barack and Michelle Obama could be a "terrorist fist-jab"…. Fox News is owned by News Corp., which also owns Dow Jones, publisher of The Wall Street Journal. On Wednesday, a group of protesters from the organizations ColorofChange.org and MoveOn.org, led by the hip hop artist Nas, will deliver a petition with more than 600,000 signatures to Fox, urging the network to "end its pattern of racist attacks." A Fox News spokeswoman declined to comment.
Update: Fox News' Dana Klinghoffer has emailed a response to this "FOX News/rapper protest piece." She writes that "Fox News responded immediately with a statement" on the day of the protest, which read: "Fox News believes in all protesters exercising their right to free speech, including Nas who has an album to promote." She also emphasizes that the Journal article quoted above was "written before the protest." (I left Ms. Klinghoffer a voice message today and may update further if she replies.) And that's not all. Fox officials are not only attacking Nas for selling his album (which already topped the charts), some are likening the anti-racism activists to the KKK. MTV reports that Bill O'Reilly also responded, deriding protesters such as MoveOn as "the new Klan" with "a radical left agenda." He continued:
The latest smear from Move On is telling their Kool-Aid-drinking zombie followers that Fox News is smearing Barack Obama and is a racist concern. Of course, that's a lie. This broadcast and FNC in general have been exceedingly fair to Senator Obama. … But in order to intimidate anyone from criticizing Obama in any way, Move On is playing the race card.
Michael Connery posts the Colbert segments here.