"One of the Worst Weeks at Harvard I've Ever Experienced": The Targeting of Campus Activists
How a letter from the Harvard Palestine Solidarity Committee became an international news story.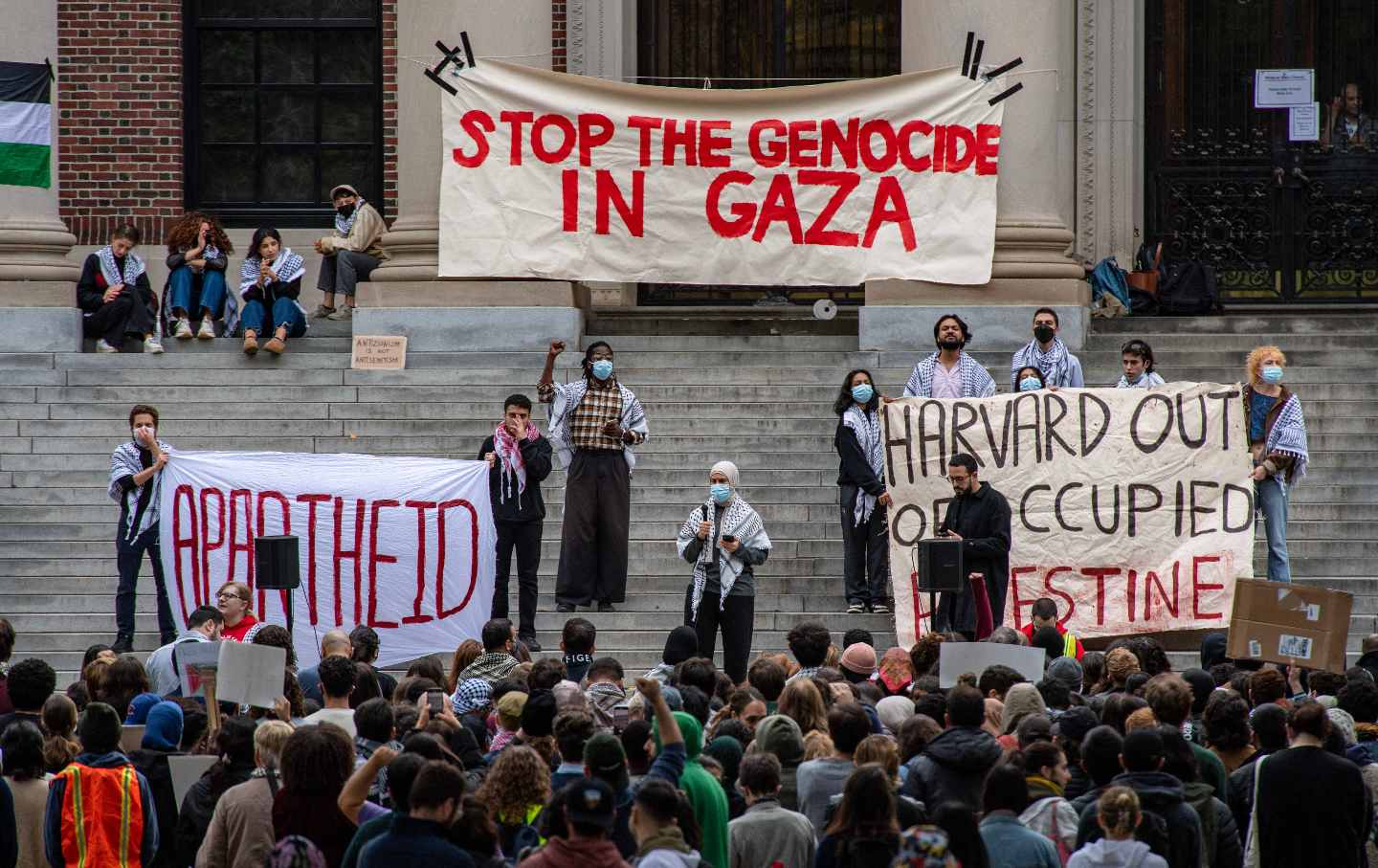 At around 7 pm on Tuesday, October 10, an NBC Boston reporter and cameraman stood outside Harvard's Science Center. A few steps away sat an agitated-looking middle-aged man, dressed in a zip-up, jeans, and Nike sneakers, holding the leash of a labrador with an Israeli flag tucked into its collar. "They can send all of them to Nantucket or Martha's Vineyard," he muttered.
This was the planned location of a vigil for Palestinian civilians killed by Israeli airstrikes on Gaza, but there were few students in sight. The event had been canceled due to threats against the organizing group, Harvard's Palestine Solidarity Committee. In its stead, organizers had placed a whiteboard in the plaza, illuminated by electric candles, with a message: solidarity vigil postponed.
Two students passed by, heading home from a nearby dining hall. "Excuse me, were you planning on attending tonight's vigil?" The reporter asked. The students looked at her warily and continued walking. "Just doing my job," the reporter murmured. She turned to her cameraman. "Do you think we should interview him?" she said, pointing to the middle-aged man sitting nearby.
The next morning, a small white truck equipped with a digital display on three sides began circling Harvard Square. Students had seen the truck before; in September, it was driving around with a message that declared Harvard "America's worst university" for free speech. But this time, it displayed alternating names and faces of students, calling them "Harvard's Leading Anti-Semites."
In a way, these scenes represent a delayed reaction. Days earlier, on October 7, the Harvard Palestine Solidarity Committee published a letter in response to Hamas's massacre of Israeli civilians and the retaliatory Israeli attacks on Palestinians in Gaza and the West Bank. It was cosigned by 33 student organizations.
"We, the undersigned student organizations, hold the Israeli regime entirely responsible for all unfolding violence," the letter began.
Today's events did not occur in a vacuum. For the last two decades, millions of Palestinians in Gaza have been forced to live in an open-air prison. Israeli officials promise to "open the gates of hell," and the massacres in Gaza have already commenced. Palestinians in Gaza have no shelters for refuge and nowhere to escape. In the coming days, Palestinians will be forced to bear the full brunt of Israel's violence.
Current Issue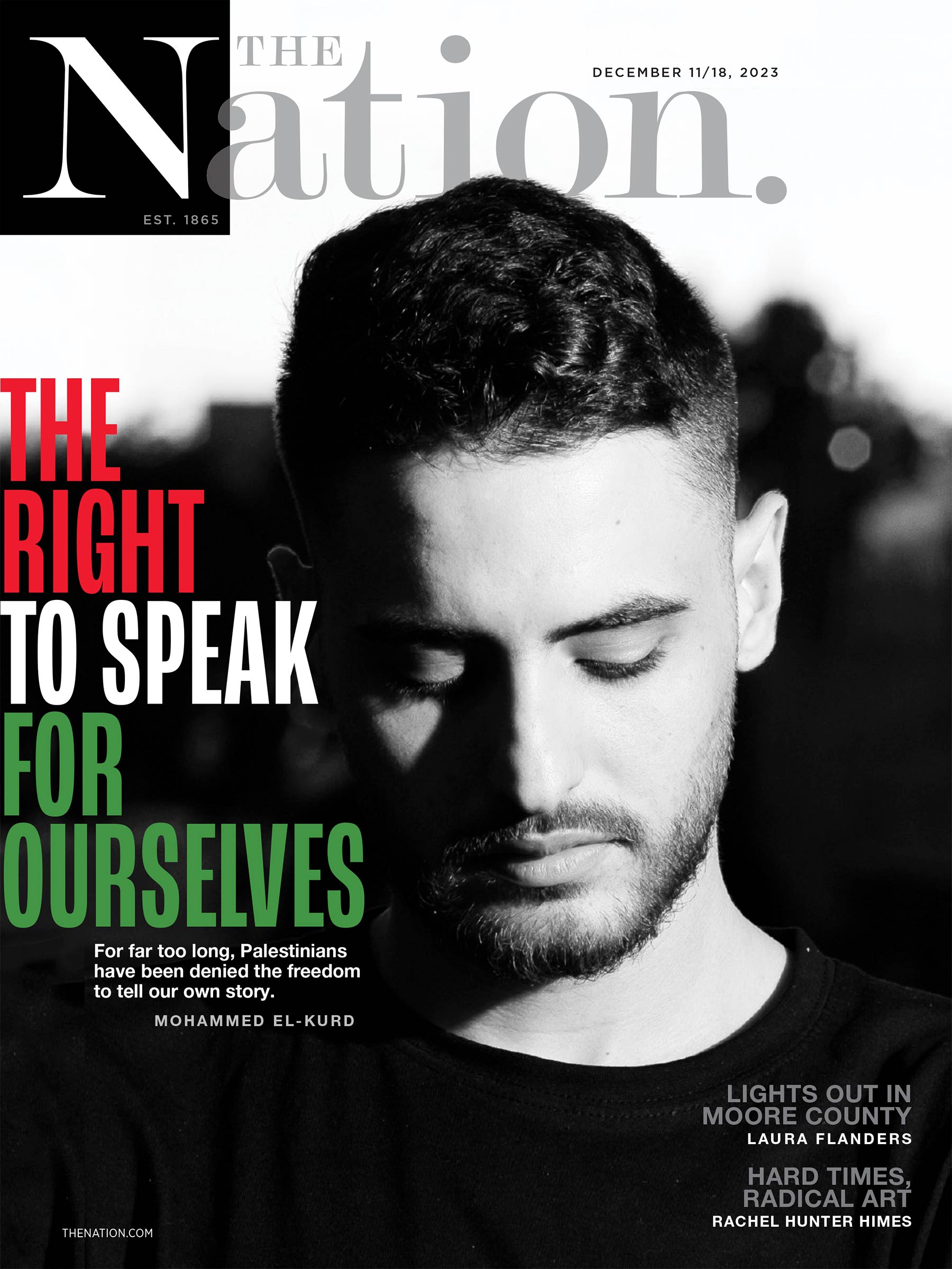 The letter was immediately criticized for its timing, its assertion that the Israeli government was "entirely responsible for all unfolding violence," and its lack of sympathy for Israeli deaths. But that weekend, discussion was mostly confined to the university. "Initially, I saw it being passed around on social media," says Phoebe Barr, a senior involved in a few Harvard activist groups. Barr noticed that it was being discussed on Sidechat, an anonymous social media platform popular at the university. "People started posting things like, 'Oh, my God, PSC released this statement, isn't it so horrible?' And then some people were defending it, saying [the PSC] weren't condoning violence and that it was just a statement about the origins of conflict in the region and the way that governments can provoke violent attacks."
By October 9, discussion of the letter left the university entirely. That afternoon, Larry Summers, a former Harvard president, issued a condemnation of the letter on Twitter, now known as X, which he said it was "morally unconscionable" and displayed a "lack of clarity regarding terrorism." "In nearly 50 years of @Harvard affiliation, I have never been as disillusioned and alienated as I am today," he wrote.
By the end of the day, Summers was joined by a litany of Harvard professors, students, business leaders, and politicians, including Senator Ted Cruz and Representatives Ritchie Torres and Elise Stefanik. Most argued that the letter implicitly or explicitly condoned terrorism; Stefanik wrote that the letter excused the "slaughter of innocent women and children."
In a statement to The Harvard Crimson, a representative from the PSC wrote that the organization rejects "the accusation that our previous statement could be read as supportive of civilian deaths." Instead, "the statement aims to contextualize the apartheid and colonial system while explicitly lamenting 'the devastating and rising civilian toll.'"
By the morning of October 10, the letter was an international news story. Billionaire hedge fund manager Bill Ackman tweeted that Harvard should release the names of students involved in organizations who signed the letter; he and several other business leaders vowed that they would not hire students who had membership in the signing organizations. University President Claudine Gay told the Crimson that the letter did not speak for "Harvard University or its leadership." Five organizations that originally signed the letter—Amnesty International at Harvard, Harvard College Act on a Dream, the Harvard Undergraduate Nepali Student Association, the Harvard Islamic Society, and Harvard Ghungroo—removed their signatures. By that evening, a counter-letter penned by Harvard Hillel's president condemning the original letter had accumulated 3,000 signatures from Harvard affiliates.
Opponents of the letter began to post the personal information of students in the Palestine Solidarity Committee and other signatories. Currently, at least four websites list such personal information, and students have reported that hundreds of strangers have tried to contact their employers and families, targeted their social media accounts, and sent them intimidating messages, including death threats. As a result, a list of the co-signing organizations was removed from the letter on the afternoon of October 10.
Popular
"swipe left below to view more authors"

Swipe →
On Tuesday, Amy, a member of the Palestine Solidarity Committee realized they had been doxxed. (Amy is a pseudonym; they spoke to me under the condition of anonymity.) Friends and family members started sending them links to websites and social media posts that shared their full name, picture, and other identifying information. Then, strangers—who have no connection to Harvard and appear to have found Amy's information through these websites—began sending Amy threatening direct messages on their social media accounts.
Amy began to worry that they would be targeted when they left their dorm room. "I have not slept, I've barely eaten, I have not completed my schoolwork." Amy says. "I have not been able to focus in class. This is one of the worst weeks at Harvard I've ever experienced."
Of particular concern to Amy and other members of the Palestine Solidarity Committee is the truck displaying students' faces and names, which has been colloquially dubbed "the doxxing truck." The truck, which circled Harvard's campus for two days, is owned by Accuracy in Media (AIM), a right-wing organization based in Washington, D.C. "The discourse about Harvard is drawing media attention away from the actual conflict," one told me. "I also think it's terrible to identify activists as terrorists."
Pro-Palestinian Harvard students have been targeted before. Several Harvard students are featured on the website of the Canary Mission, an anonymous organization that claims to fight "people and groups that promote hatred of the USA, Israel and Jews" by posting the names, pictures, and other information—including where people live, work, and go to school—of those who publicly express support for Palestine. But Amy says the truck is "the most ugly public manifestation of this that's occurred on Harvard's campus in years."
On October 12, the truck was parked across the street from a first-year dormitory and two of Harvard's most popular libraries. As the names and pictures of different students flashed across the truck's three screens, a large crowd of students stood at a careful distance, taking pictures. A few students with keffiyehs around their necks gathered closer to the truck, discussing what they could do to conceal the information.
Meanwhile, a few steps away, a man who appeared to be AIM's president, Adam Guillette, was recording a statement. Dressed in a blue suit, he held a microphone in one hand while a camera crew taped him. On Twitter, Guillette said that AIM was "removing the names of students from groups that withdrew but are also adding new names every hour."
Amy says that they believe that Guillete is trying to "taunt students into a confrontation" which he can then share on social media. They also point out that Guillette seems to have targeted students of color in particular. With one exception, those listed are Black, South-Asian, or Arab. In doing so, Amy says, Guillette is trying to "target some of Harvard's most vulnerable students."
Meanwhile, the online harassment continued. "There was a spreadsheet that had students' names and their LinkedIn profiles and their employers, the idea being to contact their employers," Barr says. "People will say, 'Well, these people condone terrorism.'" she continued. "And they will use that as a way of saying that any violence done against them is justified. But doxxing students puts them at real risk of harm."
"All these students did was state a political opinion," says Barr. "And you might not agree with that opinion, and you might have reservations about the way that they said it. I also had some reservations about the way that they said it. But this was completely out of proportion to that. There's no excuse for doxxing. There's no excuse for harassment."
C.P., a member of a student organization that initially considered signing the letter but ultimately did not, said that they found the letter "distasteful." But C.P. is also "scared" by the backlash against students who signed the letter. "The PSC has had to tell these kids how to avoid putting themselves in harm's way. They've taken their names off of their doors in their dorms, gone entirely private on social media. Having to take your name off your door so that you can avoid someone coming in and harming you in your room is ridiculous. I think the public shaming is more than enough."
Y. isn't entirely surprised by the reaction to the letter. "This response is really common to those advocating for justice in Palestine," they say. "My personal safety has been compromised as a result. The lack of clear condemnation from the university has further endangered students. When I realized I had been doxxed, I felt an incredible amount of rage for the lack of protection for students, especially the school's most vulnerable students, even more than myself."
After the October 12 statement, the university did not issue another explicit response to the letter for two days. Meredith Weenick, the university's executive vice president, did issue a statement on student well-being on Wednesday night, writing that the university "takes seriously the safety and wellbeing of every member of our community."
That night, the postponed vigil for Palestinian civilians took place in a small quadrangle in Harvard Yard. Over a hundred people—both students and members of the Cambridge community—gathered in the dark, wearing surgical masks to protect their identities. A police officer watched from a distance. Due to threats against them, none of the speakers could appear in person. Instead, an organizer played anonymous prerecorded messages from Palestinian and Jewish students, sharing different stories about friends and family members trapped in Gaza. "We have to stand here and deal with attacks right here in our community," one Palestinian said, after reading a series of final goodbye messages from friends in Gaza. "They distract us from the genocide taking place in Palestine right now. This is a vigil. We are here to mourn the loss of innocent human life. The fact that our mourning had to be postponed because this campus did not afford us the safety nor the space to grieve together reflects the larger sentiment of the administration distancing itself from us."
"To state the obvious: The presence of the doxxing truck actively threatens students safety on campus at a time when credible death and security threats have already prompted a tightening of campus security and forced us to delay a solidarity vigil acknowledging all civilian victims," the Palestine Solidarity Committee told The Nation. "It is quite literally a physical threat, a heinous intimidation technique, a warning sign meant to scare ideological allies. And yet, it has gone unacknowledged by the same administration that, caving to public pressure, felt the need to distance itself from the very groups that are being targeted only a few days ago. Make no mistake: The doxxing truck is the ugliest culmination of a campaign to silence pro-Palestinian activism that the PSC has experienced for years. We won't be silent as Palestinians are denied their humanity."
"Our university rejects the harassment or intimidation of individuals based on their beliefs. And our university embraces a commitment to free expression," said President Gay in a video released that same night. Her office did not respond to a request for comment. "That commitment extends even to views that many of us find objectionable, even outrageous. We do not punish or sanction people for expressing such views. But that is a far cry from endorsing them."