Skip to content
By using this website, you consent to our use of cookies. For more information, visit our Privacy Policy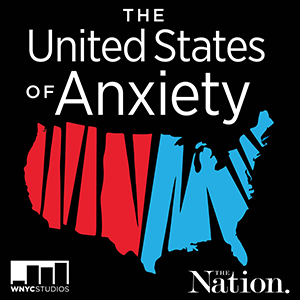 The United States of Anxiety
It's clear that two emotions defined the 2016 election: fear and anger, particularly among Republican voters. But it's too easy to caricature Donald Trump's supporters as wild, angry racists. Whatever concerns have drawn millions of people to his campaign will not disappear on November 8. So The Nation and WNYC Studios partnered to report a new podcast, The Unites States of Anxiety, hosted by Kai Wright. We met Trump supporters and heard what's happening in their lives, and we met their immigrant neighbors, too. We've found that they share a deep concern about the state of their American dreams.
---

November 10, 2016

What do the next four years look like for those who voted for Trump, and those who fear him?

---

November 3, 2016

How the burgeoning field of biopolitics can explain how you'll vote.

---

October 27, 2016

What does all of that have to do with Trump's appeal?

---

October 20, 2016

How does a more racially equitable country with a declining manual-labor base feed into Trump's campaign?

---

October 17, 2016

Stopping undocumented immigration has been a centerpiece of Trump's campaign—why does the issue strike such a chord with his supporters?

---

---

October 13, 2016

A look inside the right-wing media echo chamber that has fed Trump's rise.

---

October 6, 2016

Donald Trump wants to deport undocumented immigrants and send them "to the back of the line." What line is he even talking about?

---

September 29, 2016

A case study of New York's Hudson Valley, where immigrants—with and without documents—have brought once-dead towns back to life.

---

September 29, 2016

Following World War II, the suburbs offered three key attractions: They were safe; they were secure; and they were segregated.

---

September 22, 2016

On Long Island, two different communities are both working for their American Dream.
---