Skip to content
By using this website, you consent to our use of cookies. For more information, visit our Privacy Policy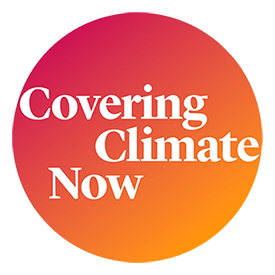 Covering Climate Now is a global journalism initiative committed to bringing more and better coverage to the defining story of our time. Cofounded by The Nation and Columbia Journalism Review, our initiative includes more than 300 outlets worldwide, and dozens of institutional and independent partners, with a combined audience of more than 1 billion people.
More are joining by the day. For more information and a full list of our partners, please visit CoveringClimateNow.org.
---

September 9, 2020

Outside the EU, most pandemic recovery spending has reinforced the carbon-intensive status quo.

---

September 2, 2020

As hurricanes and wildfires sweep through the US, the president offers no ideas—and journalists have been giving him a pass.

---

August 19, 2020

It's not an issue to be discussed. It's a crisis.

---

August 5, 2020

Journalists at CBS, NBC, CNN, Time, and The Guardian are trying—but journalism as a whole needs to do better.

---

July 15, 2020

And newsrooms need to cover the 2020 elections as a climate story.

---

---

July 1, 2020

Newsrooms have to cover the real horse race in 2020: the race against climate breakdown.

---

June 18, 2020

A decade of inaction on climate change has put even more lives at risk.

---

June 17, 2020

Centering racial, economic, and gender justice in climate coverage is about being journalistically accurate, not politically correct.

---

June 3, 2020

And Joe Biden's possible endorsement of a Green New Deal is a good way to tell it.

---

May 13, 2020

US coronavirus stimulus measures can help prevent the world from doubling down on another mass-casualty event: climate change.
---