World
/
November 21, 2023
"The Only Thing Keeping Me Standing Is the Suffering I'm Seeing": Being a Journalist in Gaza
Al Jazeera's Youmna El Sayed on what it's like to report from the heart of a crisis you can't escape.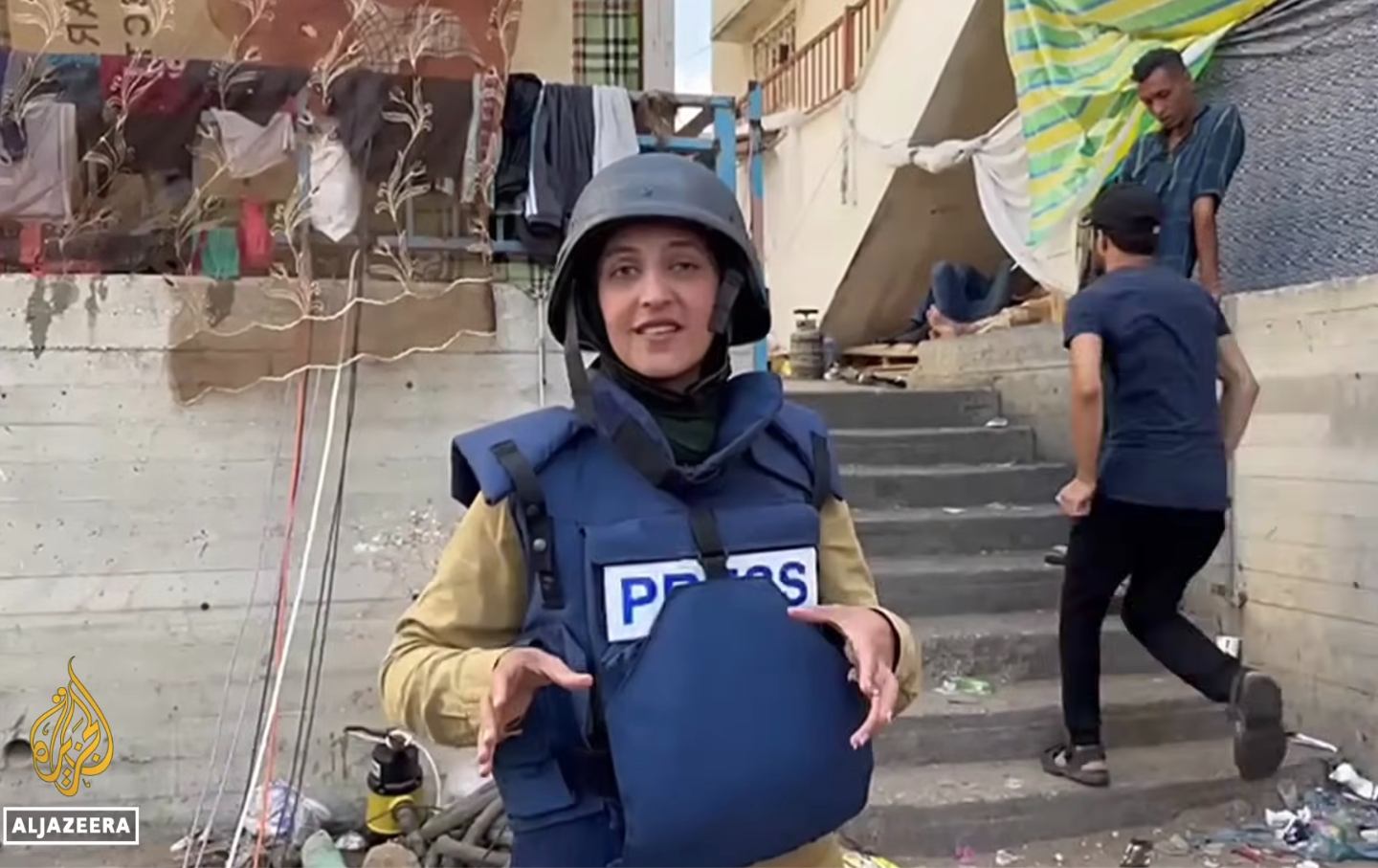 Youmna El Sayed is a Gaza-based correspondent for Al Jazeera. Since October 7, she has reported on Israel's continued bombardment of Gaza while navigating what has become one of the deadliest stories for journalists to cover in living memory. In late October, her family was personally threatened in a phone call from the Israeli military.

We asked El Sayed to talk to us about what it is like to be a journalist in Gaza right now. She sent us a series of voice notes on WhatsApp late last week. We have compiled the transcripts of the voice notes below. They have been edited for length and clarity.
Things in Gaza have been in constant deterioration. Every single day that passes, new crises are compounded over the crises that already exist. It's been over 40 days of non-stop bombardment. I've been saying many times throughout my coverage that what we have seen in this war, what we are witnessing is unlike any other war in any other place that anyone else has witnessed or lived through. The bombardments of hospitals, of UNRWA schools, residential homes—there's no place that is not under fire. There's no place that is not targeted from day one.
And the amount of people, the amount of casualties, the numbers of civilians that are being killed in this war is just enormous. It's a crisis in itself that the entire world is watching all these civilians being killed and not doing anything about it and justifying for Israel that it is actually defending itself. This is not defending itself. I've said it many times, in many interviews: This is not a war against Hamas militants or against Palestinian fighters. This is a war on the civilians of Gaza. This is a genocide.
No one is spared in this war. Journalists are being deliberately attacked and deliberately killed. There are no crossings; there's no food in the Strip. We're talking about over 2.5 million people who are systematically being starved. There's no water, no electricity. Any means of life in the Gaza Strip are running out. We're struggling to eat. We're literally struggling to drink, to find water to drink. We're struggling to find water to bathe. The amount of pressure that this war is conducting on people is not just physical; it's not just the fear of bombardment; it's emotional, psychological, mental, you name it. You're asking thousands to live together in open tents without water, without electricity, without any means of life, and diseases are spreading. My kids are at home but I fear every single time I go back home that I could transmit a disease to my kids.
It's indescribable. Not finding a place that you can call safe, or that you can leave your family in safely—this is something that we have never experienced before. Having to leave your homes and evacuate all the way to the south on foot—this is something that we would have never imagined could ever happen to us. The press vest and the press helmet that we wear—we think that we're protected as journalists, [but] almost 50 now have been killed in over 40 days of war. This hasn't happened anywhere else in the world. No matter how [many] wars we've covered before, no matter how [many] escalations, no matter how bad they were, nothing compares to what we have been living these past 40 days.
The first time the disconnection of all communications and Internet happened, it was chaos. We didn't know what to do. This is [now] the fourth time, in over 40 days that the communications have been completely disconnected. We've had to buy multiple eSIMs from abroad to be able to stay connected, because every single time there is an eSIM and Israel finds out that it's connected from Gaza through an Israeli signal, they completely block it. I've had four or five Israeli eSIMs, and they were all blocked. This is like number six that I'm using now. Electricity was easier at first, because there were still some solar panels available, especially when we were in Gaza City. Then Israel ended up targeting all solar panels on every single rooftop in the north and in Gaza City. So we completely got disconnected. We couldn't charge any batteries. We couldn't charge our phones. Now, what people are going with is that whoever has a solar panel in the south, or through hospitals, people can charge their batteries, and through these batteries they can charge their phones.
This war has brought us back to the Stone Age. We're using wood for cooking because there's no gas. We're using LED lights that are generated through a battery to have some light in our homes. In normal situations, eSIMs with very poor Internet connections wouldn't be sufficient for us. But now, here in Gaza, every little thing is better than nothing.
Current Issue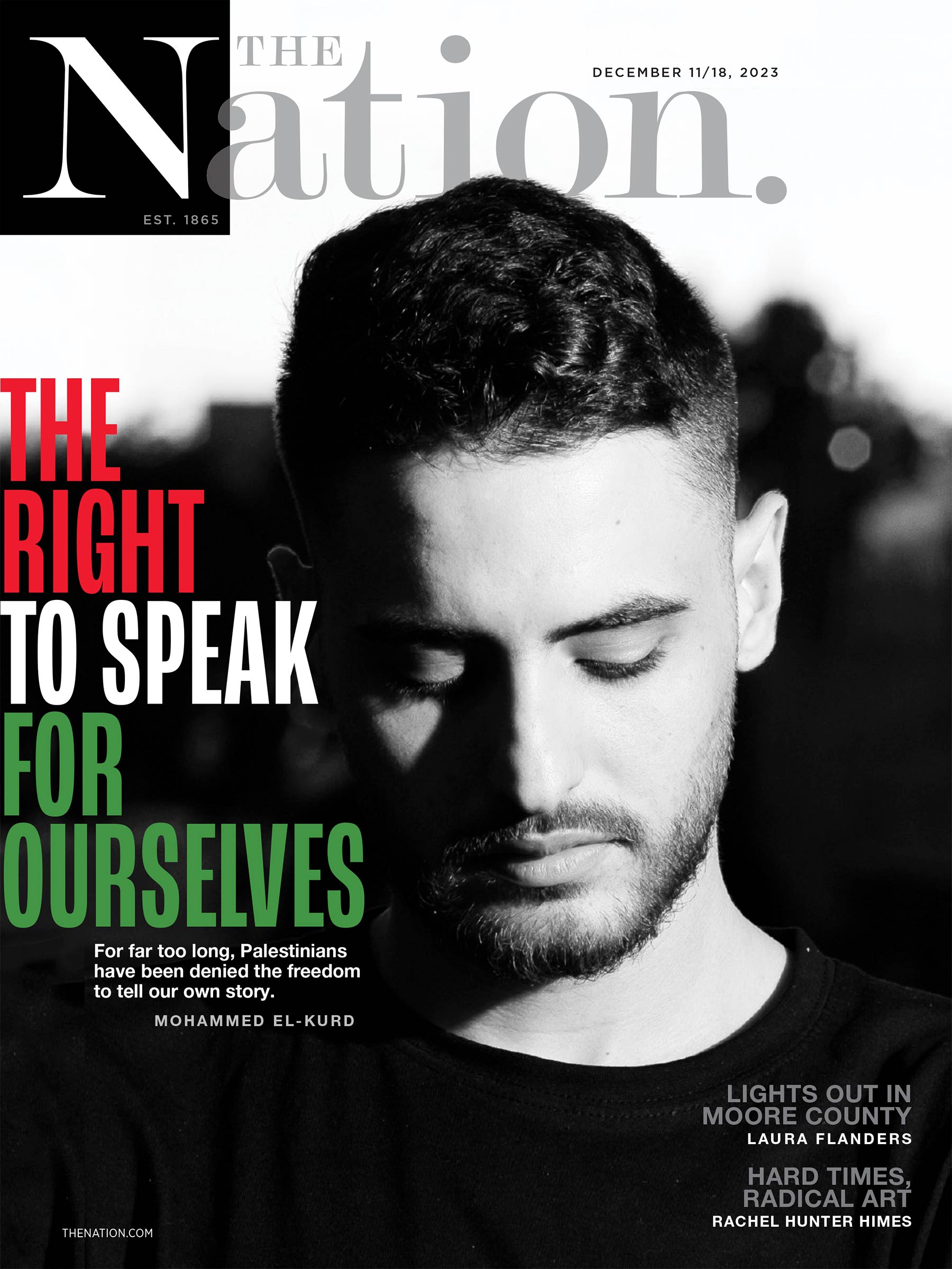 This war has spared no one and nothing. Just like hospitals, medical staff, medical teams, defense teams were all targeted and are under fire, journalists are as well. I got a threatening call saying that my family is in danger if they don't evacuate instantly. And after Wael Dahdouh, my colleague, lost his family in an attack, I felt really afraid.
Every single time I saw the crazy bombardments around my home and my neighborhood, I couldn't stop myself from filming, but I had this fear inside me. I'm afraid for my family, I'm afraid for my kids, and I know that there's nothing that's going to protect them; if they do get targeted, like Wael's family was targeted, no one is going to do anything about it. Okay, people are going to cry, people are going to be sad, but I'm going to lose my family. I might be lost with them as well. I've seen many journalists, other colleagues who have lost their families in many of the bombardments and the attacks. I felt constant fear. That even affected my work a little bit—I felt like I was always breaking down.
Despite all this, my family is living. You can't imagine that you have to wake up in the morning and start your struggle by finding water. Today, they spent the entire day without water. And on top of all that, we're displaced now. We left our home. We barely took anything with us. The weather is getting cooler and I can't even find clothes for my kids.
The only thing that's really keeping me standing, keeping me going to work every day and standing in front of the camera to speak, is the suffering that I'm seeing, the constant bombardments that never stop, the ongoing killing of people and civilians around me. If I let these people down, who is going to speak out for them? Who's going to tell the world their stories? Who's going to tell the world that Gaza is still under constant attack, that people are being killed every single day, that there is fear of ongoing bombardments through the night, that people are still under the rubble, that hospitals are under siege, that there is not enough humanitarian aid entering the Strip, that the struggle is real, that diseases are spreading widely among people, that the despair in the eyes of children is the only thing that you can see?
Who's going to tell the world? Once a story is not told for a day or two, it's forgotten. If I don't stand in front of the camera and just give a little update about the things that are happening, how is the world going to know? And this is what I tell myself every day. I tell myself, Youmna, you've got to get up, you've got to go to work, you've got to stand in front of that camera and tell the people what is happening here, because it's not fair that, after the entire world has abandoned Gaza and its people, they would even forget what is happening here.