Spain's Left Has Pulled Off a Stunning Electoral Comeback
Weeks after being routed in local elections, the left staved off a widely predicted general election triumph by the right. Now comes the really hard part: forming a government.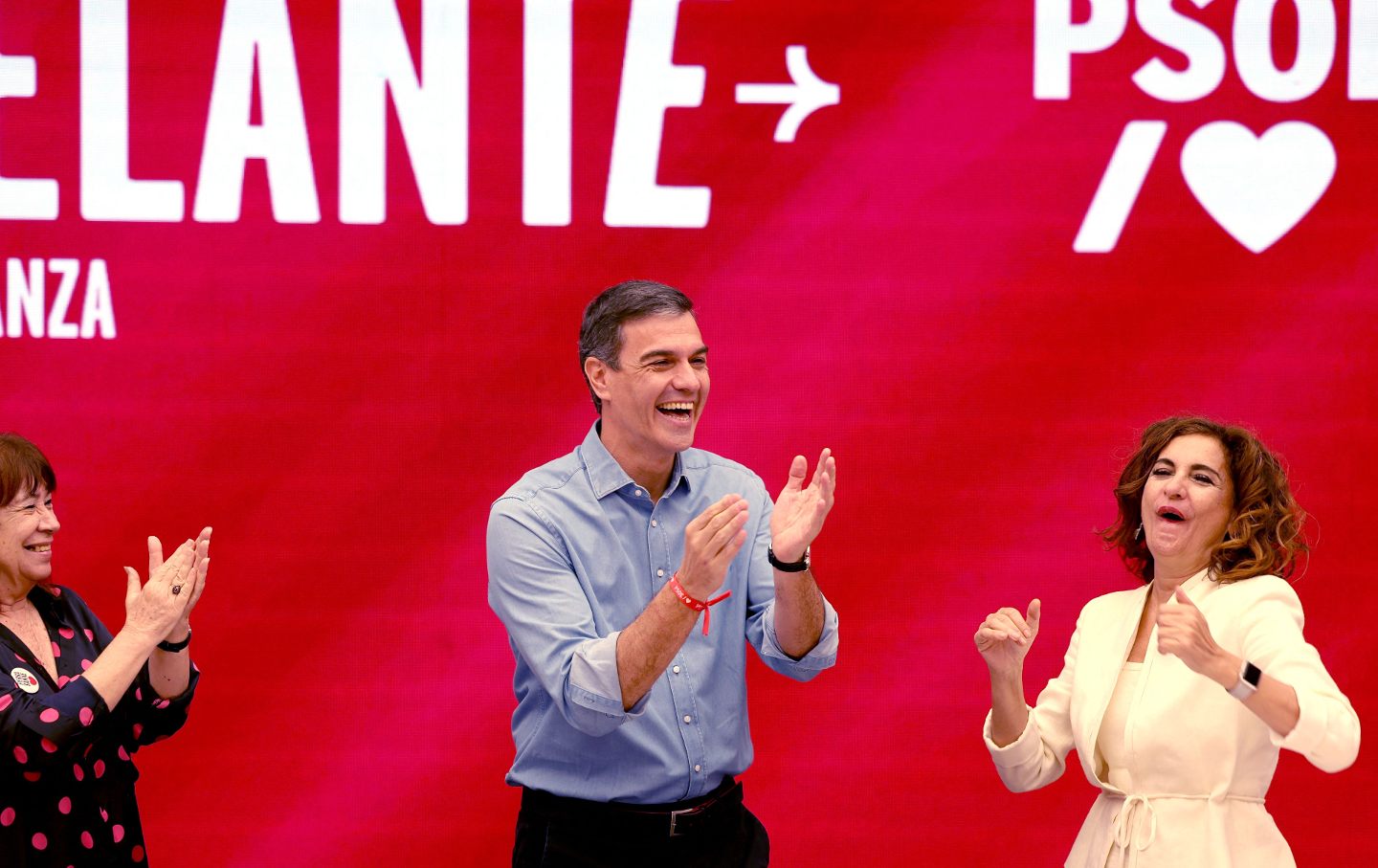 It was a bet practically everyone thought Pedro Sánchez would lose. But Spain's prime minister emerged victorious in defeat after Sunday's snap elections, staving off what most thought would be a comfortable victory by the conservative Partido Popular (PP) and its far-right ally Vox that would have allowed them to helm the country together and brusquely steer it to the right.
Though the PP won the election, with over 8 million votes to the 7.7 million of Sánchez's Socialist Workers' Party (PSOE), the right as a whole underperformed, falling below the threshold it would have needed to form a coalition government. Instead, Sánchez now finds himself, in defiance of virtually all expectations, with the best chance of cobbling together a parliamentary majority after his party unexpectedly gained two seats and nearly a million votes more than it did in 2019 when the PSOE formed a coalition government with Unidas Podemos (United We Can), the left-wing party then led by Pablo Iglesias.
"¡No pasarán! ¡No pasarán!" chanted the crowd outside the PSOE headquarters in Madrid on election night, invoking the antifascist slogan coined during the Spanish Civil War. "Spain and all the citizens who voted have been emphatically clear," Sánchez told his supporters. "The reactionary bloc of the Popular Party and Vox has been defeated." Still, whether Sánchez will manage to be voted in as prime minister—and how effective a new coalition government can be—will depend on complex negotiations that may take several months.
Sánchez's entire campaign had been framed as a bulwark against fascism from the moment he made the surprise election announcement in June, five months earlier than expected. A vote for the right and far right, he warned, could turn back the clock: "10 years…in workers' and pensioners' rights, 20 years in LGBTQ rights, 40 years in women's rights, 80 years in cultural censorship." Rather than tout his own policy achievements, Sánchez decided to appeal to voters' discomfort with the idea of Vox entering government—an idea that has become all the more palpable since elections in late May spawned dozens of city and regional governments jointly governed by the PP and Vox.
The campaign was reminiscent of 2019, when Sánchez similarly turned to fear of the far right to appeal to voters. Yet, unlike in 2019, this time he had many more accomplishments to run on, from increases to the minimum wage, pensions, and unemployment benefits to the lowest level of joblessness since before the 2008 financial crisis and the dramatic expansion of stable employment contracts.
Following the election on Sunday, which saw an increase in voter turnout despite worries about holding an election during the summer holiday, outlets from The New York Times to the Financial Times proclaimed the results "inconclusive" and declared that "both the right and left failed to secure a clear path to forming a government." Yet the celebratory scenes that night from the headquarters of the PSOE and Sumar (Add Up), the left-wing electoral coalition that includes Podemos and is led by Labor Minister Yolanda Díaz, suggested otherwise. "Tonight, Spain and Europe breathe easier," Díaz told Sumar supporters. "Tonight, people will sleep easier.… The script has changed."
The script, for both Díaz and Sánchez, has also become much more straightforward: Together, they must forge a coalition agreement and negotiate voting agreements with a slew of nationalist parties that span much of the left-right divide in order to have any chance at forming a government. Otherwise, another general election, likely in January or February, looms. All other possible scenarios—including a "grand coalition" between the PP and the Socialists—seem remote at best.
Despite the writing on the wall, PP leader Alberto Núñez Feijóo made a half-hearted attempt to salvage hope from the results, calling it an "anomaly" that the most-voted party in Spain would not be entitled to govern and requesting the PSOE's help in allowing the PP to lead the country. The conservatives gained 47 deputies for a total of 136 seats in Spain's 350-seat Congress. They will also have an absolute majority in the Spanish Senate, which may come into play in the case of a constitutional amendment or if another territorial crisis emerges, as it did in Catalonia in 2017.
Yet some anomalies appear less anomalous than others: Conservatives in recent years have formed numerous regional governments, from Andalusia in 2018 and Madrid in 2019 to Extremadura just weeks ago, without having won the election, and such a scenario is common in many parliamentary democracies. The real issue is that Feijóo's chosen electoral partner, Vox, is unpalatable to most other parties in Spain. Unlike in 1996, when then-conservative leader José María Aznar secured votes from center-right nationalist parties in the Basque Country and Catalonia, this time around it will be nearly impossible for Feijóo to do the same, since Vox's virulent Spanish nationalism, which the PP has not been hesitant to cater to, dramatically limits the available parliamentary arithmetic.
Current Issue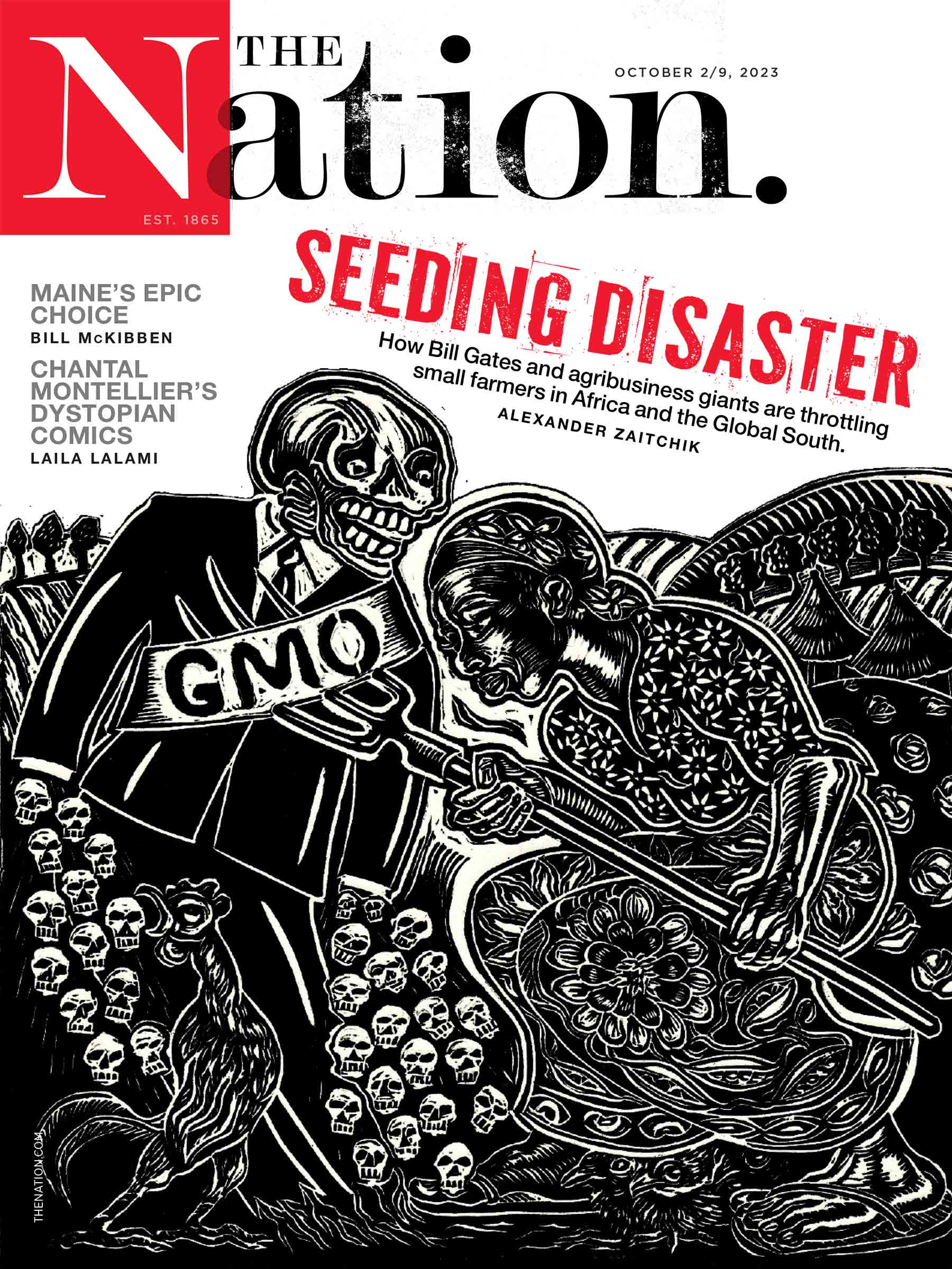 Meanwhile, Feijóo has good reason to fear for his political future. His underperformance relative to the opinion polls led PP heavyweights to question his leadership behind closed doors. According to reporting from El País, high-ranking officials in the PP blamed Feijóo's underperformance on numerous errors. These included his false claim that the party had always raised pensions in lockstep with the consumer price index when in power. The resurfacing of his friendship with the infamous Galician drug trafficker Marcial Dorado also hurt Feijóo, as did his dubious response that he was not aware of Dorado's line of work at the time. Although many thought Feijóo outperformed Sánchez during their one-on-one debate—the only one Feijóo agreed to participate in—the turning point in the election appears to have come in the last week of the campaign, perhaps signaling exhaustion with his singular focus on Sánchez rather than on his own policies and track record. According to Kiko Llaneras, one of Spain's most established data journalists, the final opinion polls before the election gave the PP and Vox a 55 percent chance at an absolute majority; chances for a left-of-center government, by contrast, were one in six. The unlikeliest outcome happened, and, in a rare occurrence in Spain, pollsters, Llaneras said on Sunday night, almost unanimously overestimated the right-wing vote during the campaign.
Feijóo's biggest rival for the conservative party leadership, Madrid Regional President Isabel Díaz Ayuso, received a surprise ovation on election night when the crowd at the PP headquarters interrupted Feijóo's address with chants of "Ayuso! Ayuso!" Were Feijóo to step down and allow her to become leader of the party, the PP would most likely move even further to the right, possibly making Vox—which was founded in 2013 by disgruntled PP defectors—superfluous. Ayuso, in fact, was the architect of the PP's rhetorical campaign against Sánchez, developing the nebulous concept of sanchismo, which suggested that Sánchez was both the puppet master of an "illegitimate," "totalitarian" government that relied on "communists" and "terrorists" to practice "social engineering," and the puppet of the Moroccan state, which is believed to have hacked the cell phones of Sánchez and other government officials.
Vox pursued a similar strategy against Sánchez. Yet unlike the PP, Vox lost around 600,000 votes and 19 seats from its 2019 showing. On Sunday, party leader Santiago Abascal claimed that the preelection polls had been "clearly manipulated," tempting some into "selling the bear pelt before hunting the bear" (i.e., counting their chickens before they're hatched). He reserved perhaps his harshest words for Feijóo, whose "whitewashing" of the PSOE was behind "the demobilization" of the right-wing vote and whose appeals to voters that they cast their ballots tactically for the PP rather than Vox, he said, had contributed to the "demonization of Vox." Vox's lackluster performance—polls during the campaign consistently suggested it would repeat its high watermark from four years ago—hints at a potential ceiling to the far-right vote in Spain, a ceiling that is nonetheless worryingly high: Vox got 15 percent of the vote in 2019 and only dropped to 12 percent on Sunday.
Vox and the PP have claimed for the past three-and-a-half years that Sánchez's government was "illegitimate" because it relied on parliamentary support from Basque and Catalan nationalist parties—parties that Vox has promised to make illegal. Yet on Sunday the Spanish right learned once again that alienating the Basques and Catalans carries a heavy electoral price. While the PP and Vox combined earned about 45 percent of the vote nationally, in the Basque Country and Catalonia they barely got past 14 and 20 percent, respectively. In the Basque-speaking regions, in fact, the party most demonized by the right, the pro-independence left-wing party EH Bildu (Basque Country Gather), increased its number of deputies.
These nationalist parties will be key to whether Sánchez will continue as prime minister. The narrow electoral math means that he will need to secure support from the center-right Junts per Catalunya (Together for Catalonia), led by former Catalan president Carles Puigdemont, who has been living in exile since his region's failed bid at independence in 2017. Such support may come in the form of abstention. However, on Sunday night, Junts spokespeople made clear that it wouldn't sell that abstention cheaply, implying that it might demand a binding pro-independence referendum like Scotland's in 2014 and amnesty for the party's political leaders, who have been condemned for their role in an earlier referendum that the Constitutional Court declared illegal. How much power they will have to make such demands, however, remains unclear. Catalonia's pro-independence parties, which include Junts, the center-left Esquerra Republicana (Republican Left), and the radical-left Candidatura d'Unitat Popular (Popular Unity Candidacy, CUP), dropped 9 seats—leaving the CUP without parliamentary representation—and from over 1.6 million to fewer than a million votes.
Regardless of how things play out over the next few months, the European Union leadership is likely to be pleased with Spain's ability, for now, to resist what journalist Enric Juliana called "the Meloni wave," in reference to the far-right prime minister of Italy, who spoke at a Vox rally days before the election. "Europe's reactionary cycle has suffered its first defeat, and it has been defeated in Spain," said Ernest Urtasun, spokesperson for Sumar, on the day after the elections. "As Spaniards, we can be proud to have sent a message of hope."
Sumar, a coalition of 15 left-wing parties that was finalized less than two months before the elections, emerged with seven fewer seats than Unidas Podemos and its other constituent parties won in 2019. Given the sizable increase in tactical voting and Sumar's many internal divisions, the result was much better than it could have been. Despite the celebratory mood on the left, post-election tensions have already surfaced in Sumar. Hours after celebrating the election results with Sumar leader Yolanda Díaz, Ione Belarra, the secretary general of Podemos, which joined the coalition reluctantly, issued a video message in which she credited her own party's "responsibility and generosity" in accepting the "imposition" by Díaz of an "agreement that no other party would have accepted." She was hinting at the purported veto by Díaz of Irene Montero, Podemos's minister of equality in Sánchez's government, from running as a candidate on the coalition's list. (Although Montero was not included in the list of Sumar candidates, Díaz insists that there was no veto.)
Belarra also called the PP's victory worrisome and stated that Yolanda Díaz failed to meet Podemos's expectations when the party picked her as its candidate in the wake of Pablo Iglesias's resignation. "Giving up on feminism and making Podemos invisible did not work electorally," Belarra said, a reference to Montero's stature in Spain's feminist movement. Díaz responded the following day, saying that "feminism isn't owned by anyone" and that "Podemos received a million votes in the most recent elections" in late May, implying that Sumar, with its 3 million votes, had tripled the total Unidas Podemos alone might have reached. According to the journalist Pablo Elorduy, Yolanda Díaz, who is a skilled negotiator, and her number two, the veteran Marxist diplomat Agustín Santos Maraver, will most likely be able to resolve any internal tensions that emerge in the months ahead.
Sánchez, who has been consistently counted out since he emerged on the Spanish political scene a decade ago, has his work cut out for him. If he manages to form a government and again become prime minister, it will complete the third major resurrection of his political career. Even securing the abstention of the Catalan party Junts, however, will not make running the new coalition government any easier than the current one: In addition to the PP's control of the Senate, the PP and Vox wield overwhelming power at the regional and local levels. And, despite Sánchez's excellent rapport with the current European Commission, Spain's political position in Europe may become even more minoritarian, as European elections next year may plunge the rest of the continent into a deeper right-wing vortex.