Olivia Chow Offers Hope to a Toronto in Crisis
Toronto's new mayor ran and won on a progressive platform.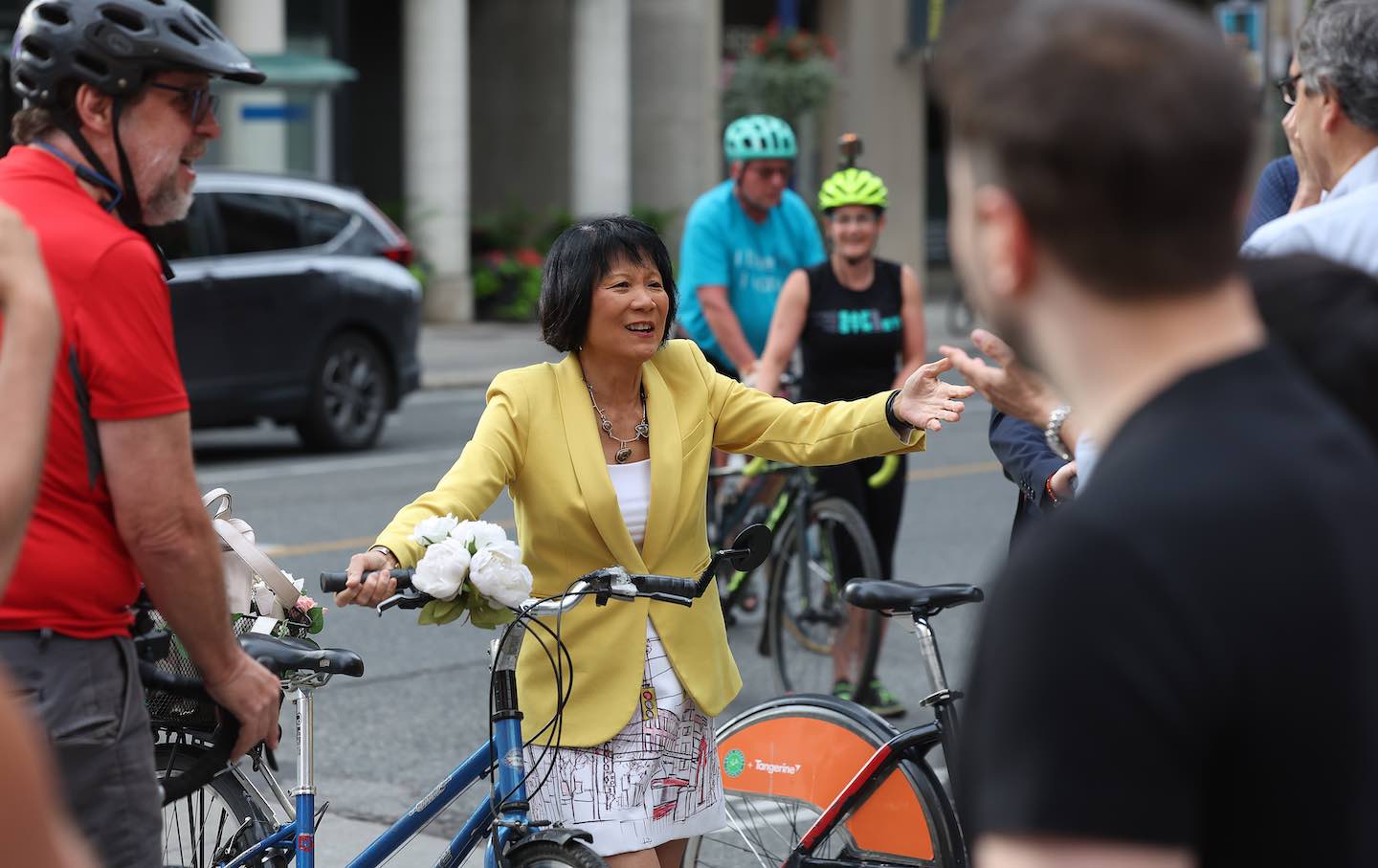 After Toronto Mayor John Tory resigned in February amid political scandal, Torontonians were eager for a different political direction. In June, they voted for it.
There is no doubt that Toronto is falling apart, from its decaying infrastructure, traffic gridlock, a Toronto Transit Commission that can't effectively transport residents, a housing crisis, and an affordability crisis fueled by sky-rocketing rents. The city is broke, and judging from the disposition of people on the street, residents are feeling a range of emotional defeatism—from frustration to anger. However, on June 26, Torontonians voted for hope and change in a race that saw its first Hong Kong–born Canadian mayor elected.
Backed by the New Democratic Party's labor apparatus, Olivia Chow captured 37.2 percent of the vote, while her opponent, Ana Bailão, secured 32.5 percent. Although many know Chow as the other half of a blockbuster political duo with her late husband, former NDP member of Parliament and former leader of the federal NDP, Jack Layton, who died of cancer in 2011, she entered the public sphere in 1985 as a school board trustee, a position she held for six years. Over the next 30 years, she was elected as a Toronto city councillor (serving from 1992 to 2000); as a NDP MP for a Toronto riding (electoral districts in Canada) from 2006 to 2014; and now as Toronto's third female mayor.
In June, the Western Standard illustrated Chow's difficulties in carving out her own sexism-free political identity: "After all, she is former NDP leader Jack Layton's wife." To assume that the name recognition she enjoyed during this campaign is due to her former husband's social status reeks of casual misogyny.
But it's still better than her last election, where the headwinds of misogyny and racism were more blatant.
Olivia Chow first ran for Toronto mayor in 2014 where she finished third after neoliberal centrist John Tory, and right-wing populist Doug Ford, respectively. Those were the days when being a "tax-and-spend socialist" was seen as detrimental to one's political trajectory. Although Chow was leading in the polls, her campaign fizzled out amid "bad luck, bad timing, blatant racism and sexism," as described in the Toronto Star. The blatant racism and sexism that Chow faced in 2014 is well-documented. The Toronto Sun published a cartoon that showed Chow in a Chairman Mao outfit, standing on the coattails of a jacket with the name of her deceased husband. Chow was also told to go "back to China" at a debate. But nearly a decade later, Toronto is a different city after the ravages of a pandemic and George Floyd–inspired protests.
Current Issue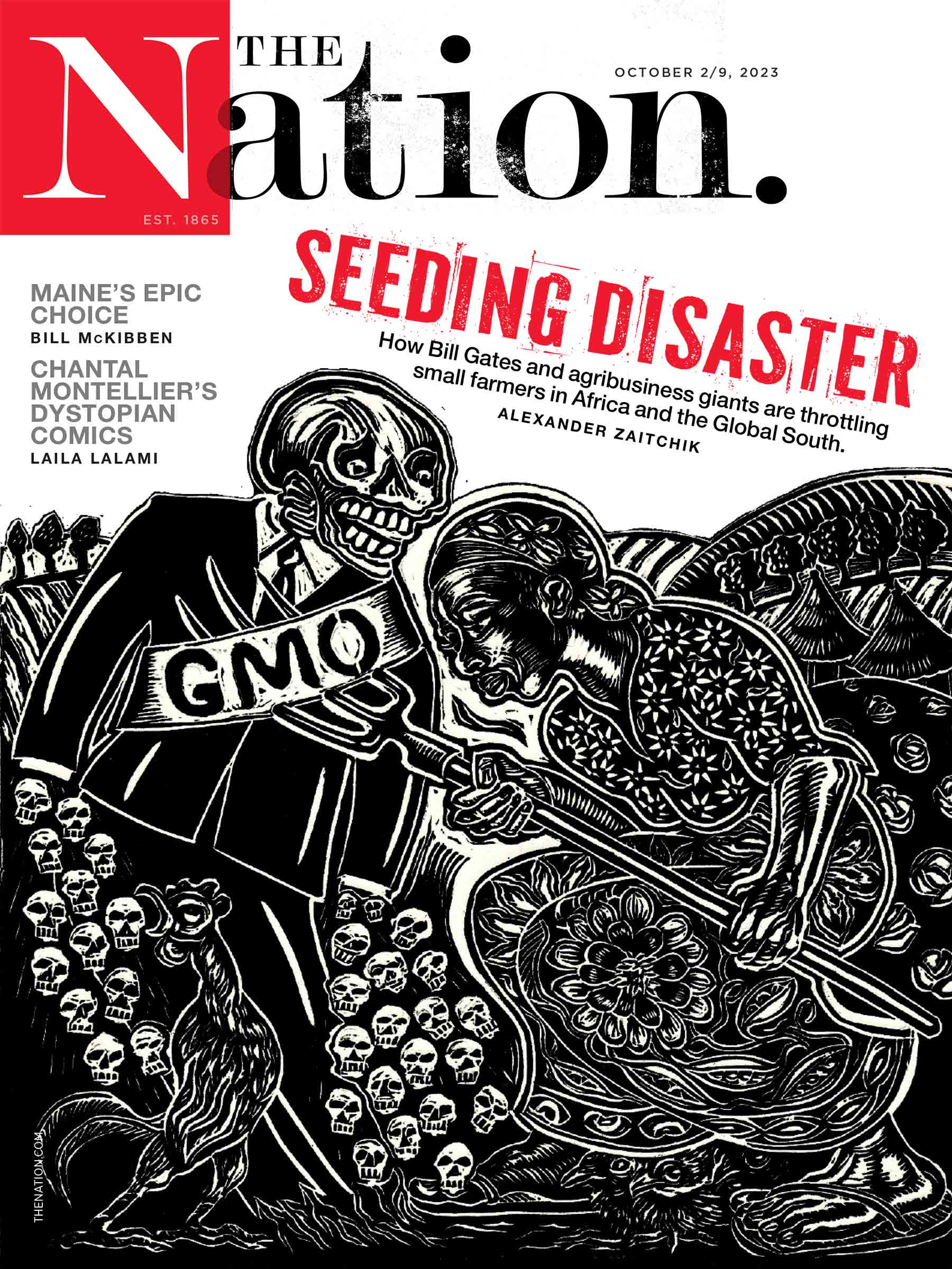 In many ways, Toronto is the diversity jewel that many liberals like to praise as a reflection of Canadian exceptionalism, which is the Canadian belief of moral superiority over their neighbors to the south because of a perceived adherence to principles of diversity, relative openness to immigrants, and ethnic diversification. Indeed, three of the four front-runners for the Toronto mayoral race were born outside of Canada: Chow in Hong Kong, Bailão in Portugal, and former police chief Mark Saunders, was born in England. But this Canadian ethos is underpinned by the erroneous belief that there Canada had never been home to slavery (slavery existed in Canada for 205 years), and that the country's only intersection with the barbaric practice was as a node of freedom at the end of the Underground Railroad. In Canada, multiculturalism is enshrined in our Constitution. The Library of Parliament instructs: "With the adoption of the Canadian Charter of Rights and Freedoms [the Charter] in 1982, the multicultural heritage of Canadians was recognized in the Constitution." Thus, immigration is one of the lenses through which Canada sees its exceptionalism.
Once immigrants arrive in Canada, however, their dreams can often turn into nightmares. Currently, there is a burgeoning refugee crisis in Toronto. African asylum seekers have been sleeping on the streets of Toronto thanks to a policy denying them accessibility to shelters. As a response to the growing crisis, Mayor Chow promises to rescind the policy of former deputy mayor Jennifer McKelvie, which created this turmoil in a tug-of-war with the federal government over funding to provide housing for these asylum seekers.
Though immigration is federal jurisdiction, the housing of refugees falls on the shoulders of provincial and municipal governments. In contrast, Canada brought in approximately 166,000 Ukrainian refugees through the Canada-Ukraine authorization for emergency travel, which allowed them a temporary, three-year visa. CBC News reports: "They benefited from a variety of measures meant to speed up the visa process, including prioritized processing and waived fees." The Toronto City Council is allocating $10 million to the Red Cross to house Ukrainian refugees, while the shelter system received an additional $97 million top-up from the federal government last week, "to support refugee shelter needs." These discrepancies over the treatment of refugees by country of origin (and, by proxy, race) have prompted accusations of anti-Blackness, as Evy Kwong wrote about in Vice: "But advocates of the camp called this is an example of anti-Black racism in a press conference last week."
Related Article
The experiences are only marginally better for economic immigrants to Canada. Their credentials aren't recognized, forcing many of them into minimum-wage jobs that ignore their prior accomplishments and work experience. The Toronto Star recorded these experiences and found the following: "Successive waves of newcomers have struggled to get their foreign credentials accredited and satisfy employers' preference for Canadian work experience." Citizenship rates among immigrants continue to decline: "45.7 per cent of permanent residents became citizens within 10 years, down from 60 per cent in 2016 and 75.1 per cent in 2001." Chow referenced similar struggles with her parents' inability to integrate economically throughout her mayoral campaign. In Hong Kong, her father served as a superintendent in the Department of Education. But despite speaking fluent English, he struggled to find work in Canada. Instead, he was resigned to food delivery or taxi driving to support his family. With the soaring cost of living and Toronto's being home to 13.9 percent of Canada's immigrant population, this is a personal story that many across the racial, gender, and (to an extent) class spectra throughout the city can relate to.
For 13 years, the city had been run under the auspices of center-right mayors espousing neoliberal economic policies, and had very little to show for it except a broken transit system, ubiquitous condo developments, a string of failed public-private partnerships, and a fiscal system of austerity that has become the culprit responsible for dwindling and unreliable public services. Chow represents the first center-left Toronto mayor since David Miller left office in 2010. She ran and won on a progressive platform that included raising funds for a supplement for renters, improving transit and cycling infrastructure (Chow is known for riding around Toronto with her blue bike adorned with plastic flowers), expanding library hours, and introducing a mansion and vacant home tax, the profits of which the city will use for a range of more affordable housing initiatives. But what is most astonishing is that Chow won by telling voters the truth—in order to fix Toronto's problems, she'll have to raise property taxes.
Like other municipalities, neoliberal ideologies of the last 30 years have resulted in rollbacks of public services, such as cuts to libraries, public health, and youth and recreation programs. As the journal of the University of Toronto Undergraduate Geography Society, Landmarks, pointed out: "As neoliberal policies are adopted at higher levels of government, the responsibility for public service provision is 'downloaded'…to municipalities, who, lacking the financial base to support these programs, must either roll-back, privatize, or cut these programs."
Consequently, cities can then rely only on property taxes (and in Ontario, a municipal land-transfer tax paid by home buyers) to fund services. Despite the notion that political ruin should befall any candidate that proposes raising taxes, Chow read the room correctly.
For many Torontonians, her message of hope and change is the ointment to disasters that have already befallen what Canadians like to mock as the "center of the universe."