How Georgia Indicted a Movement
The state's prosecution of Stop Cop City protesters is astonishingly honest in its ambitions to crush Georgia's left.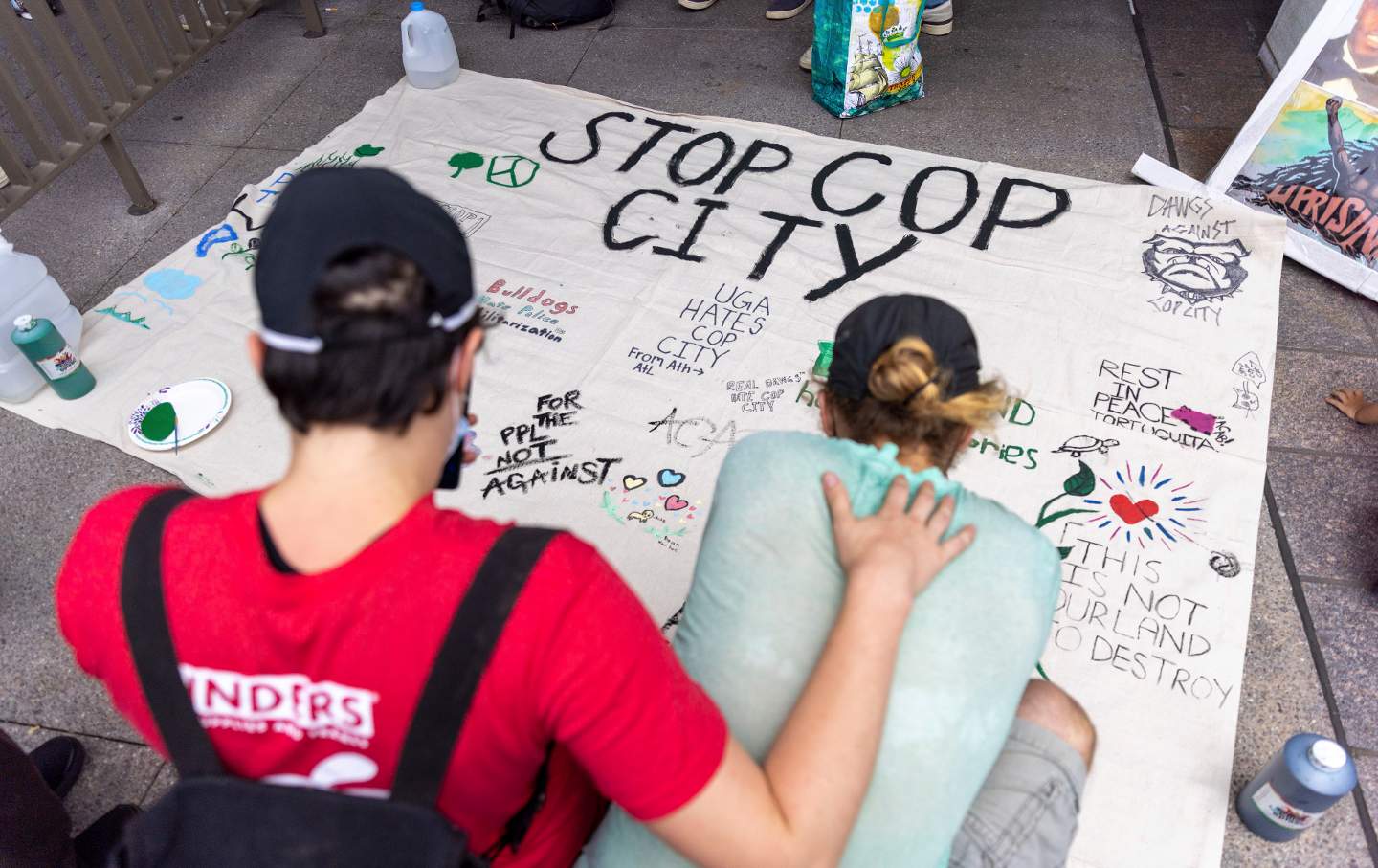 On September 5, Georgia effectively indicted an entire social movement, and on the following day, five organizers and members of the clergy chained themselves to construction equipment. In the name of a "people's injunction," they handed out bright orange notices, telling the workers to stop building the Atlanta police training facility, better known as Cop City. Police arrested the protesters, who now face criminal charges. The activists' determination, courage, and wit are hallmarks of the movement to stop Cop City and defend the Atlanta forest—but the campaign faces a vicious criminal punishment system.
Christopher Carr, the Republican attorney general of Georgia, indicted 61 people associated with the Stop Cop City movement under Georgia's RICO statute. RICO gives the state vast power to prosecute large groups of individuals who, no matter how loosely associated, are alleged to have committed two or more related criminal acts to support some larger scheme.
When the attorney general announced his indictment, Atlanta's Democratic leadership, the majority of whom support the construction of Cop City, remained silent. Both the prosecutions and the training facility have bipartisan support in a state that is otherwise deeply divided. And it's not just Cop City. Rather than engage in meaningful efforts to confront the violence endemic to US policing, Georgia's political leadership sees mass criminalization and a fortified police force as the best solutions for many of the challenges facing the city and state.
Current Issue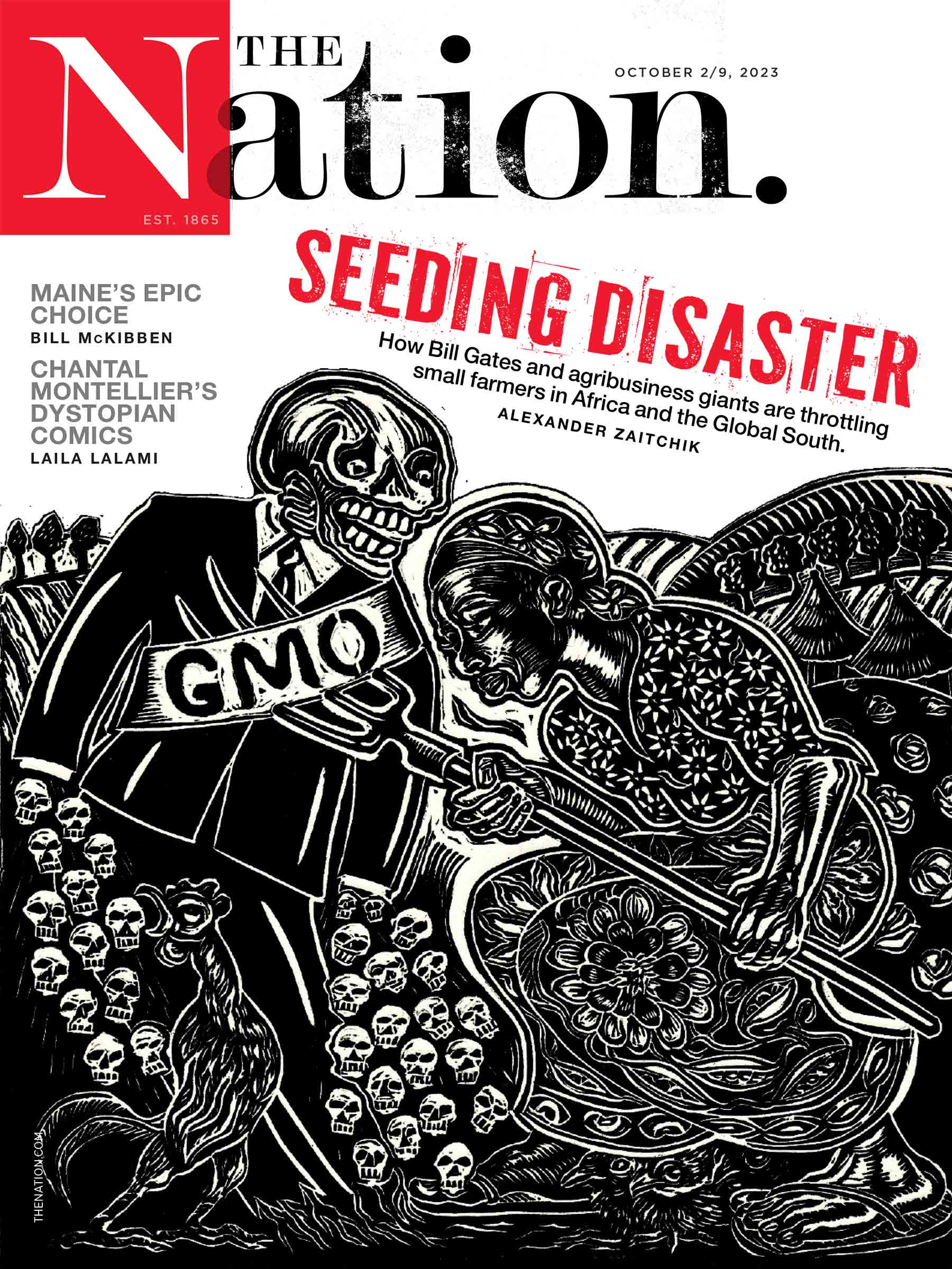 In the last few years, Georgia's legislature has increased the sentences for a range of criminal offenses—from gang-related charges to drag racing. The progress the city made in cash-bail reform has also been reversed. In 2017, Georgia passed a domestic terrorism statute, which lists "damage to critical infrastructure" as an act of terror. The attorney general first used it against Stop Cop City protesters in 2022. In 2023, the statute was broadened even further, expanding the definition of "critical infrastructure" to include property damage to "any vital public service." To further cement the support of Cop City, the legislature also amended Georgia's tax code to provide massive tax breaks for those who donate to police foundations.
Meanwhile, anticipating Carr's charges and city officials' indifference, community activists announced their own indictment. The People's RICO is a sharp, if dark, parody of the coordinated effort by Democrats, Republicans, law enforcement, city council, prosecutors, and private equity to ensure the construction of Cop City. The People's RICO concludes, "After an extensive investigation, we've determined that there is an active criminal enterprise with clear intentions to extort and conspire to destroy our treasured South River Forest."
With the AG's RICO indictment, the Stop Cop City movement and its members face a struggle for their lives. The prosecution is astonishingly honest in its ambitions to crush Georgia's left. The accused could face up to two decades in prison. The legal complexity inherent to RICO prosecutions will likely take years to unfold in the Fulton County court system, which is already in crisis. In the local jail, six people have died within the last six weeks. Protesters face two layers of repression: these extraordinary charges and the quotidian machinations of criminal court.
An Attack on Solidarity
The indictment is an escalation in the criminal process, but it is also an escalation politically. Formally, an indictment is the legal document that charges an individual with a crime or crimes. The prosecutor presents their charges to a group of people from the community, assembled as the grand jury, and asks it to vote to authorize such a charge. Indictments are normally dry recitations of specific facts that together should establish probable cause that an individual has committed a specific crime, on a specific date, in a specific place.
In their trainings, Georgia's prosecutors are encouraged to take advantage of the breadth of RICO's charges. They often start their indictments with a lengthy introduction that tells the story behind the criminal enterprise they claim to have discovered. These openings tend to invite exaggerations and generalizations. Even so, Carr's 109-page indictment is unlike any we have seen. Its first 25 pages read like a bad-term paper, plagiarized from ChatGPT, on anarchism, mutual aid, and solidarity. In its attempt to characterize a criminal enterprise, the indictment describes common human practices, but from the vantage of an egoist alien who cannot understand why anyone would help anyone else. To the AG, writing a letter to someone who is incarcerated and coming together to offer each other material support when the government fails to help are markers of criminality. The indictment homes in on "mutual aid" as "a term popularized by anarchists to describe individuals who exchange goods and services to assist other individuals in society without government intervention." By declaring mutual aid criminal, the state embarrasses even the most paranoid among us.
The AG tries to diminish the efforts of one group of defendants, the staff of the Atlanta Solidarity Fund (ASF), who formed a community bail fund to pay the bonds of individuals arrested for protest-related activity. The AG perversely suggests that bailing out protesters—not overzealous prosecutors and punitive judges—contributes to mass incarceration by neglecting to bail out all indigent defendants.
In its rewriting of history, the indictment also dates the inception of the "Defend the Atlanta Forest Movement" to the "high-profile" killing of George Floyd. Alleging that a criminal enterprise was born out of the 2020 racial justice protests makes clear the attorney general's political motivations: The AG is charging an entire movement. The document implicitly accuses Black Lives Matter of being a criminal conspiracy.
Much of what the prosecution is arguing are acts that further a RICO conspiracy are banal. Eighty-eight of the 225 acts involve small money transfers, 45 anonymous blog posts and information sharing, and 12 "trespassing" on the campgrounds. Buying camping tarps and signing ACAB on a post are kinds of acts that hold together the prosecutor's charges. Several defendants are being charged for being part of a group, or a "mob" that was "designed to overwhelm the police." The AG apparently believes mere presence is enough to be part of a conspiracy.
Popular
"swipe left below to view more authors"

Swipe →
The indictment is a document of profound alienation from community, neighborhood, and friendship. The AG describes ordinary forms of political community, like offering emotional support to a fellow activist, as seditious acts that threaten the state. This is a prosecution to crush an empowered and self-reliant left in Georgia, which has become too powerful to tolerate.
On the one hand, all of this points to the weaknesses of the government's case. With little evidence of a criminal venture, the attorney general could not produce a coherent criminal indictment. Only one page of the document charges specific people with specific crimes of property destruction: domestic terrorism for damage to "critical infrastructure" and arson, during the primarily peaceful protests that occurred after state troopers killed Manuel "Tortiguita" Teran. The remainder of the indictment that lists substantive criminal charges is devoted to 15 counts of money laundering against members of the Atlanta Solidarity Fund. Each count represents relatively petty money transfers, like an $11.91 transfer from the 501(c)3 to an individual for glue.
But while the case is flimsy, the AG's indictment and ongoing prosecutions set a dangerous precedent. Carr makes no attempt to distinguish protected political speech from unprotected property damage, despite clear legislative intent to exclude "isolated incidents of misdemeanor conduct or acts of civil disobedience" from RICO. Constitutional law is also unambiguous: Even groups whose members may engage in unlawful activity are entitled to First Amendment protection. But constitutional relief may arrive too late. Take the protesters charged with felony intimidation of an officer in Bartow County, Ga., for distributing flyers naming the police officer who killed Manuel "Tortiguita" Terán. While their actions are clearly constitutionally protected, all three protesters were jailed in solitary confinement and initially denied bond. One protester spent three months in jail, because the judge took into account the AG's allegation that she received a reimbursement from the Atlanta Solidarity Fund for art supplies. In his RICO prosecution, Carr listed the flyer distribution as an overt racketeering act. Although constitutional challenges will undoubtedly follow, substantial harm has already been done.
This indictment comes out of secret proceedings—the grand jury. In Georgia, there is no court reporter recording the grand jury proceedings. Without a transcript, it is impossible to discover prosecutorial misconduct. Federal courts have consistently shielded prosecutors from accountability for violating the law and their ethical responsibilities. When accountability exists, the Georgia legislature has reserved it for prosecutors who dare to offer modest critiques of mass incarceration, not ones like Carr.
A Vast, Fraying Net
These RICO charges widen an already vast net for criminal liability, because Carr has pursued the most capacious theory of liability under RICO: conspiracy. Rather than requiring the state to prove that a person committed every element of a specific crime beyond a reasonable doubt, the state merely has to show that there is an agreement between at least two people to commit a crime and that one of the persons has done something, anything, to advance this agreement. In conspiracy prosecutions, the state does not need to prove the defendant committed any crimes. The agreement can be tacit—proven by indirect or circumstantial evidence. The law only requires one person to take a concrete step (an overt act) to fulfill that agreement. The other person can do nothing and be held responsible for acts committed by other people.
Carr conspicuously chose to file his sprawling RICO indictment in Fulton County—a county plagued with criminal case backlogs, a failing indigent defense system, and a notorious jail. In his 2023 State of the Judiciary, Georgia Supreme Court Justice Boggs cited Fulton County as having one of the largest criminal case backlogs in the country, with more than 18,000 open felony cases. Despite receiving $5.5 million in CARES Act funding to address a backlog previously attributed to Covid, Fanni Willis—the Fulton County DA who indicted Donald Trump and his cronies for trying to overturn the 2020 presidential election—channels much of her resources into high-profile, complex RICO indictments such as the case against Young Slime Life (YSL) Records. She boasts about prosecuting "more RICO indictments in the last 18-30 months than the city has seen in decades." Now, Carr's RICO prosecutions will overwhelm an already overwhelmed system.
This tangle of 61 defendants, some with multiple charges, will harm thousands of others hauled into criminal court in Fulton County who face more ordinary but no less consequential charges. In Judge Kimberly Adams's courtroom, where the Stop Cop City cases will be heard, incarcerated individuals are waiting anywhere from 20 to 130 days for a bond hearing. One person waiting for a bond hearing this month had been detained for 762 days. Each of the 20 Fulton County superior court judges are estimated to preside over 1,400 cases per year. When one case consumes the time and resources of an entire courtroom, thousands of individuals experience oppressive case delays. If multiple protesters need court-appointed lawyers, the attorney general's decision to include 61 people in a single indictment will potentially break an already stretched thin public-defense system.
Carr's choice to charge RICO in a sloppy and unconstitutionally specious indictment will result in complicated, expensive, logistically challenging, time-consuming litigation. The ongoing YSL trial offers a preview of the roadblocks ahead. Nine months into jury selection, the parties have yet to pick a jury. One court-appointed lawyer moved to withdraw from representation because the state pays too little for such a time-consuming, complex case. Few jurors will be able to survive on the $25 per day stipend the court offers, raising the risk of defections or truncated deliberations. The protesters will experience a persistent truth about criminal courts: The process is the punishment.
The protesters face a hostile legal terrain and institutions that are collapsing under their own oppressive weight. But this new front of repression also creates opportunities for creative resistance. These cases offer the chance for deepening solidarity between protesters as they navigate their prosecutions but perhaps more importantly with other criminalized Atlantans. Highlighting the connections between these political and more run-of-the-mill prosecutions against Atlanta's low-income communities can help underscore the case against Cop City, and more generally against policing, prosecution, and incarceration. This is precisely the kind of solidarity that terrifies the attorney general and Atlanta's political leadership.