The ADL Is Defaming Palestinian Students as Terrorist Supporters
The group is urging hundreds of colleges to investigate Students for Justice in Palestine for material support for terrorism. September 11 politics are back in force.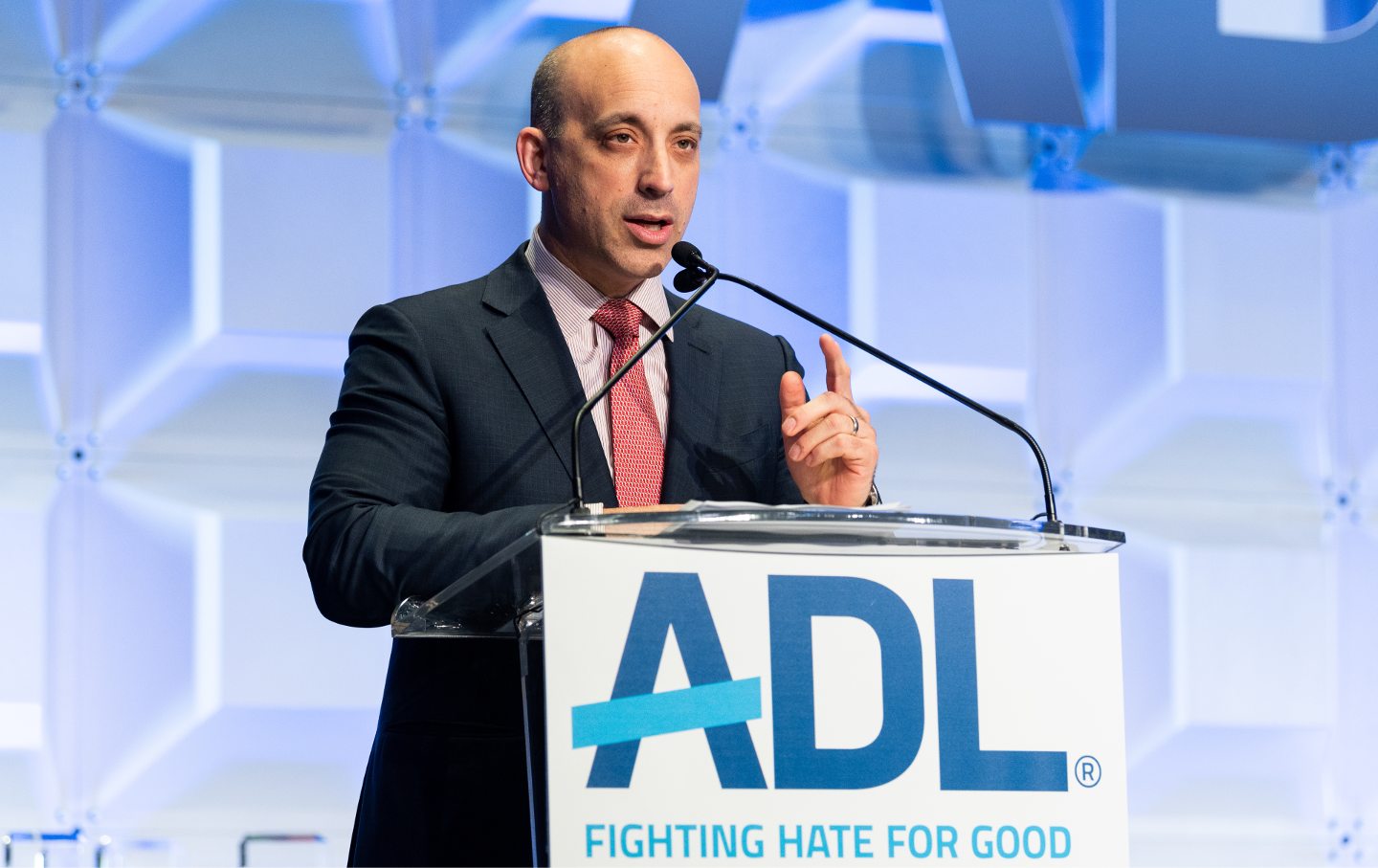 If there were any doubt that the vicious, censorious politics of the September 11 era have returned in force after Hamas's October 7 massacre and Israel's collective punishment of Gaza, the recent actions of the Anti-Defamation League (ADL) have removed it.
An "urgent" open letter issued last Thursday by the ADL—which, lest we forget, promotes itself as one of America's leading defenders of civil rights—and the Louis Brandeis Center for Human Rights Under Law urged college and university administrators to "immediately investigate" their campus chapters of Students for Justice in Palestine (SJP) for "potential violations of the prohibition against materially supporting a foreign terrorist organization." They claim to have sent the letter to nearly 200 schools.
The ADL provided not a shred of evidence for that incendiary, potentially life-ruining accusation. It instead cited overheated rhetoric at pro-Palestinian campus demonstrations post–October 7, including from some who defended Hamas. It interpreted references to "resistance" to the siege, bombardment, and invasion of Gaza exclusively as support for terrorism—not, say, as a rejection of the Israeli stranglehold around a densely packed area of 2.3 million people.
Even if you accepted the ADL's interpretations of those comments, it would still not amount to evidence that anyone targeted by the group had gone beyond rhetorical support of Hamas—something that, no matter your opinion of the comments themselves, is protected speech under the First Amendment, at least as of this writing. It is with such frivolousness that the ADL made allegations that can land people in prison for up to 20 years.
When I asked the ADL about the basis for its charges, a spokesperson e-mailed SJP comments praising October 7, some from students' Instagram stories. After I pointed out that none were examples of material support, the spokesperson, who did not provide their name, replied, "Our letter speaks for itself."
It's not every day that ostensible civil rights organizations call for the mass violation of Palestinian students' civil rights. But, says Maya Berry, executive director of the Arab-American Institute, "the bottom line has been that the ADL has decided to prioritize its pro-Israel work at the expense of any contribution it's made in the civil rights space for some time now. From redefining antisemitism as anti-Zionism in May 2022 to weaponizing the charge of material support now and the policies of the 'War on Terror' against students they disagree with, it's an extraordinary leap, and one that's harmed my community for decades, before 9/11 and after."
Current Issue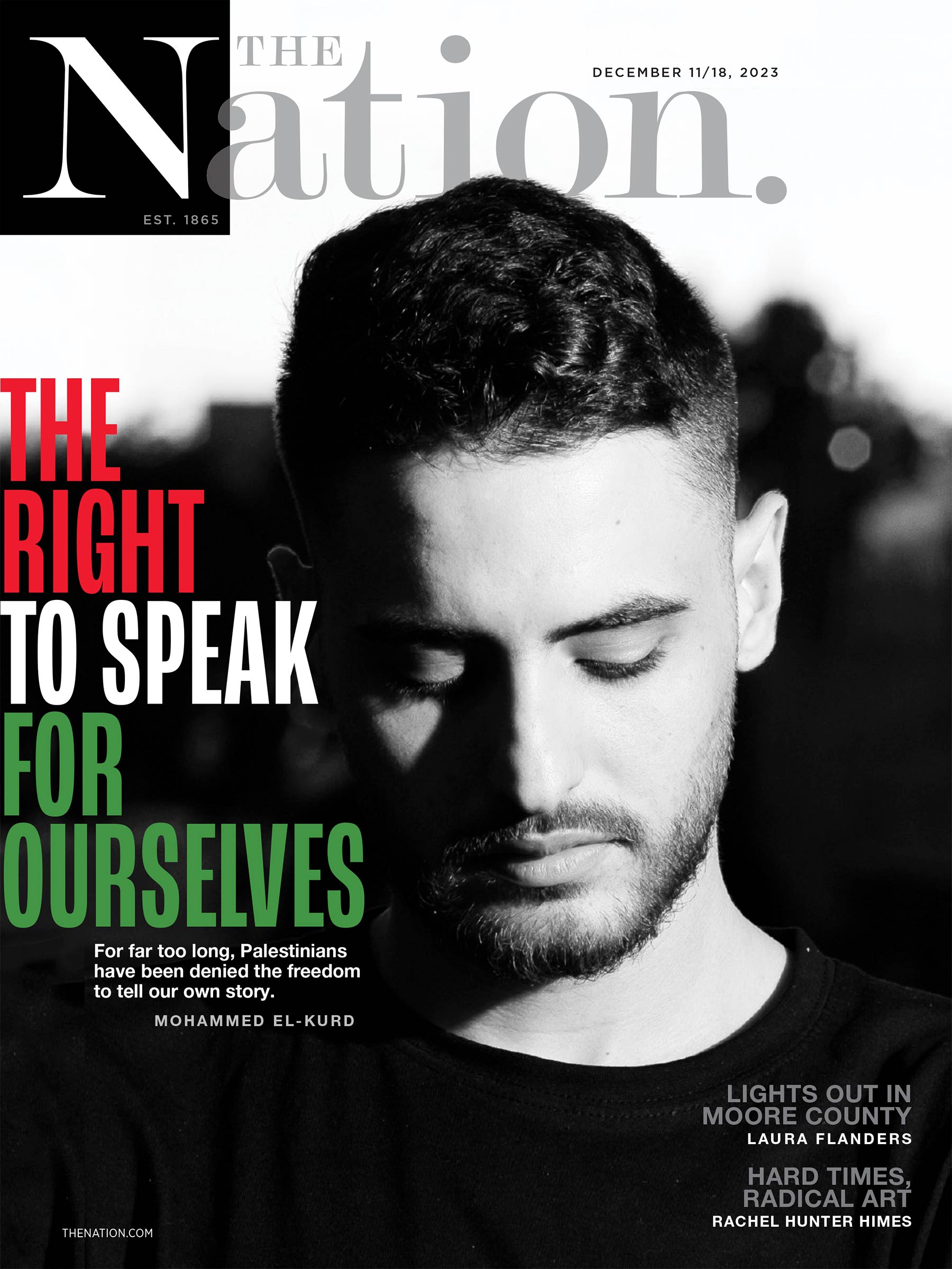 As Berry suggests, the letter provides the latest example of how the September 11 era, which conflates dissent with sympathy for terrorism, is not finished with Palestinians, Arabs, and Muslims in America. Since October 7, people inside and even outside those communities who have stood with the Palestinians have lost jobs, had job offers revoked, been threatened by former-and-possibly-future president Donald Trump with deportation, and been the subject of Senate condemnation. Florida Governor and presidential candidate Ron DeSantis, suddenly fond of cancel culture, banned SJP from the state's public university system. On Monday, the Biden administration announced a move that pushes law enforcement including the Justice Department and the Department of Homeland Security, deeper onto college campuses in the name of combating antisemitism—a move with the potential to implement the ADL's initiative.
And in a sickeningly extreme case, a man in Illinois murdered a 6-year-old boy and critically injured his mother for being Muslim.
Now, an institution that bills itself as the guardian of Jewish civil rights in America is reaching for a signature tool of the War on Terror—one made infamous by the 2001 Patriot Act—to suppress speech it finds objectionable. (This is not the only way the ADL is choosing to stoke division instead of acting as a voice of reason. Its national director, Jonathan Greenblatt, has outrageously compared anti-Zionists, including anti-Zionist Jews like myself, to white supremacists in the last few weeks.)
The consequences of a material-support investigation can extend far beyond the loss of job opportunities. Allegations of "standing with quote-unquote terrorist groups can cause people significant criminal repercussions and put them and their families at risk," said Malak Afaneh, a law student at the University of California–Berkeley and a member of the local SJP chapter, known as Berkeley Law Students for Justice in Palestine. "What we're seeing are McCarthyesque tactics, like those used post-9/11."
Dima Khalidi, director of the civil rights legal defense group Palestine Legal, pointed to the likelihood of "surveillance, infiltration, and investigation" of pro-Palestinian speech and association on campus. "These hysterical reactions to students who are taking a political stand in support of Palestinian rights and pose zero threat other than to the notion that we should all toe the dominant line of unconditional support for Israel and dehumanization of Palestinians that Biden is displaying is dangerous on many levels, not least of all the potential for criminalization of speech activities," Khalidi said. "This affects all of our fundamental rights to dissent."
In practice, material support investigations often strain to make a case, even with all the tools of the Patriot Act at prosecutors' disposal. But such investigations still require "at a minimum, that there is coordination between the persons charged and the designated foreign terrorist organization," noted Faiza Patel of the Brennan Center for Justice. "This letter provides nothing to suggest that is the case. Lobbing unfounded accusations of serious criminal acts will only serve to silence diverse voices." With thousands around the country taking to the streets in support of Palestine, that seems like the point.
Popular
"swipe left below to view more authors"

Swipe →
Patel added that investigating material-support allegations is a job for the Justice Department, "not the role of universities." But calls from prominent organizations to investigate students for something as serious as a terrorism connection are unlikely to remain campus matters. Even before Biden's moves this week, the investigative machinery of the War on Terror was an available option for the self-deputized campus counterterrorist.
Terry Albury, a former FBI counterterrorism special agent turned whistleblower, said that when the ADL talks, the FBI tends to take what it says seriously. Asked how college administrators, who lack subpoena power for bank records, could conduct material-support investigations, Albury replied, "[They] can't." But campuses can easily enlist law enforcement via the Joint Terrorism Task Forces around the country that unite state, local, and federal police.
Campus police "can offer their services to the local FBI office and say they received a referral about radical students," Albury said, "and they will work in concert with the FBI to initiate investigations of those students."
Joshua Dratel, a prominent national-security defense attorney, added that he has had clients over the past decade who were referred to the FBI by people who were monitoring students' social media posts. "Campus authorities wield considerable authority through campus discipline mechanisms to launch investigations," Dratel said.
It's a heated and anguished time for both the Jewish and Muslim communities. That's particularly true on campuses, where young adults often express their politics with an intensity that can disgust or even frighten those who disagree. Then there's speech that unequivocally crosses the line into violence. At Cornell, posts on an unaffiliated message board recently targeted Jewish students with threats of murder and sexual violence.
At the same time, the ADL would doubtlessly and correctly object to portrayals of Jewish students who demonstrate for the release of Israeli hostages as advocating a second Palestinian Nakba. Civil rights groups around the country would reject innuendo suggesting that Jewish student groups are providing "vocal and potentially material support" to settler terrorists who are currently attempting to intimidate Palestinians into leaving their homes in the West Bank. (Not that the US has any Jewish extremist organization on its foreign-terrorist blacklist; it delisted Meir Kahane's Kach Party last year.) Only Muslim groups, and especially Palestinian ones, have to bear the bigoted social burden—present since at least September 11, supercharged after October 7—of proving that they are not front groups for terrorism.
The censorious climate is affecting these groups from the inside. Afaneh, the Berkeley Law student, said that her SJP chapter has had to exercise caution in its own group chat after notice of leaks at other chapters led them to evaluate whom they would let join: "SJP groups, unlike any other marginalized group, are simultaneously asked to condemn Hamas and are questioned if the killing of the Palestinian people is legitimate, while we watch videos of mothers crying over children in body bags, and while Israel threatens to bomb hospitals. We are constantly having to look over our shoulders."