Trump Has Never Been More Vulnerable
The former president thinks he's invincible. But after yesterday's indictment in Georgia, getting through what's coming next would take superpowers he doesn't have.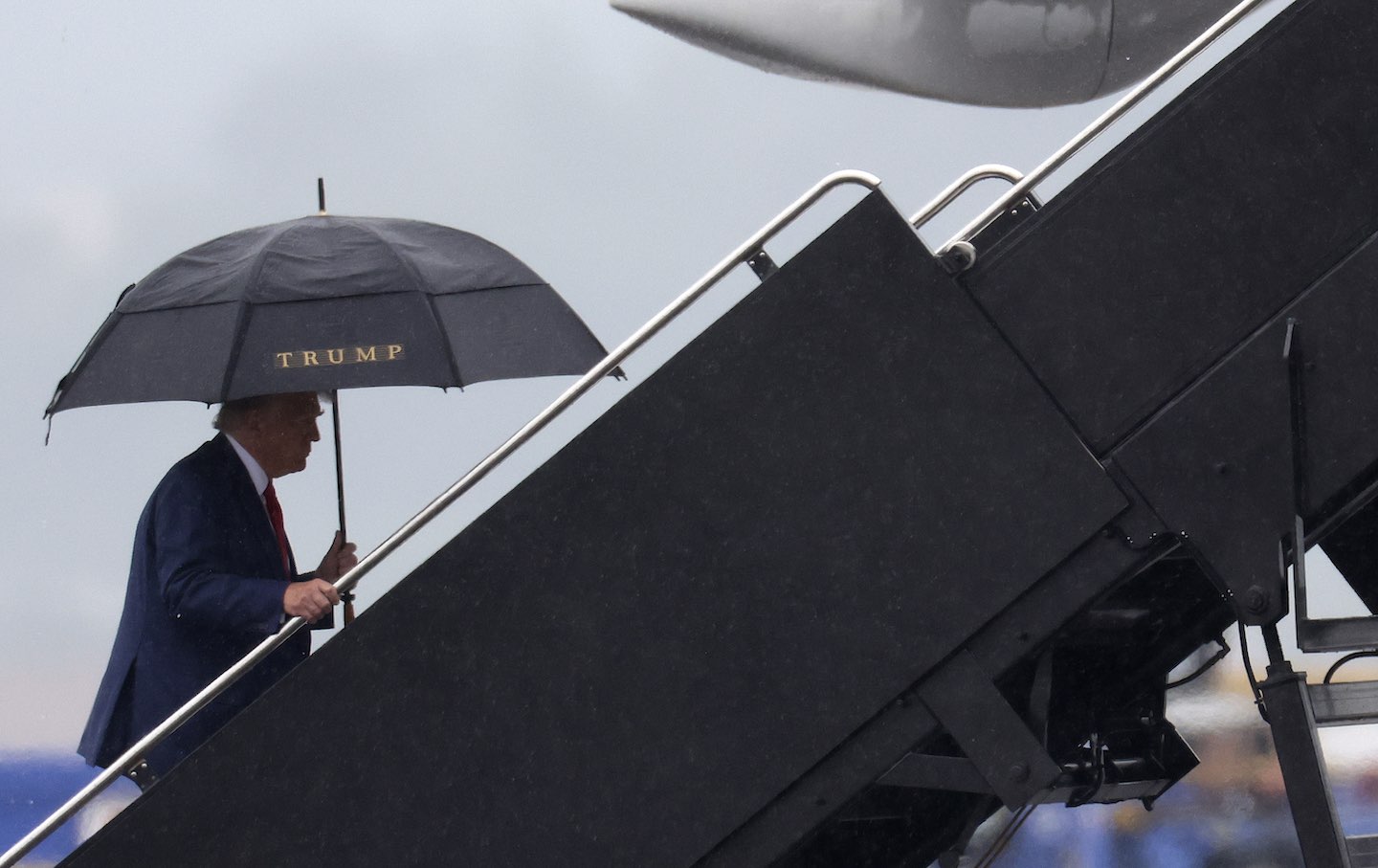 When Donald J. Trump surrenders to Fulton County authorities sometime before August 25, on RICO, perjury, forgery, and a slew of other charges relating to his efforts to overturn the 2020 election result, he will, according to the Fulton County sheriff, have to have his mug shot taken. For at least as long as it takes for the photograph to be generated, Trump will cease to be the gold-obsessed, real estate mogul-cum-ex-president that he is. He will instead be reduced to being one of 19 co-defendants charged with 13 counts in a sprawling anti-racketeering case, brought by District Attorney Fani Willis and her team, and will face the full might of the law as he begins a trial process that could see him sentenced to years in a Georgia penitentiary. Deprecated: Non-static method Athletics\TheNation\ACFBlocks::parse_popular_posts() should not be called statically in /code/wp-content/themes/thenation-2023/inc/single_article_functions.php on line 566
Popular
"swipe left below to view more authors"Swipe →
As with his other arrests over the past four months, Trump will have to state his height and weight, along with various other identifying details. In April, in New York, he came in at one inch shorter than the height that he has, historically, claimed to be. Similarly, while his weight came in at 240 pounds, it's not clear whether that number includes the vast amount of hot air, which weighs in at 21 grams per cubic foot, that surrounds this bullshit artist and keeps him afloat as he proceeds from one lie, insult, threat, or act of intimidation to the next.
That cushion of hot air has been keeping Trump going for months now as he seeks to capitalize on his burgeoning rap sheet to consolidate his support among the extremists of the GOP base. To put it another way, he is hoping to become a one-man anti-gravity machine, converting the nearly 100 indictments now attached to his name into a presidency-winning political plus. This in a country that into the recent past used to turn against high office seekers for such trivial offenses as admitting to smoking marijuana in college or plagiarizing lines from another politician's stump speech (President Biden's efforts to capture the Democratic Party's presidential nomination in 1988 were essentially scuppered when he had to admit to borrowing lines from Neil Kinnock, then-leader of the UK Labour Party). Trump, on the other hand, now has a rap sheet that rivals those of the best-of-the-best of corrupt, machine politicians over the centuries.
On the surface, Trump's utterly surreal strategy, down to efforts to monetize the image of any potential mug shot, is looking fairly savvy; the demagogue's support within the GOP has soared since its nadir in the aftermath of the 2022 midterm elections, and most horse-race pundits assume that he's unbeatable in the GOP primaries.
Yet there are limits to how much a presidential candidate of an ostensibly law-and-order party can truly stick it to the Man, or to how much an autocratic and authoritarian billionaire (self-proclaimed) can reinvent himself as an outlaw folk hero. Anyone who thinks about it for a New York minute will see it as an absurdity.
Trump isn't Robin Hood, or Bonnie and Clyde. He isn't Fred Hampton or Angela Davis. He isn't Abbie Hoffman or David Dellinger. What he is is a self-absorbed, dangerous, and unstable narcissist. His putative crimes were carried out for no purpose more grand or more idealistic than to cling onto power. His only ideology is onanism.
Current Issue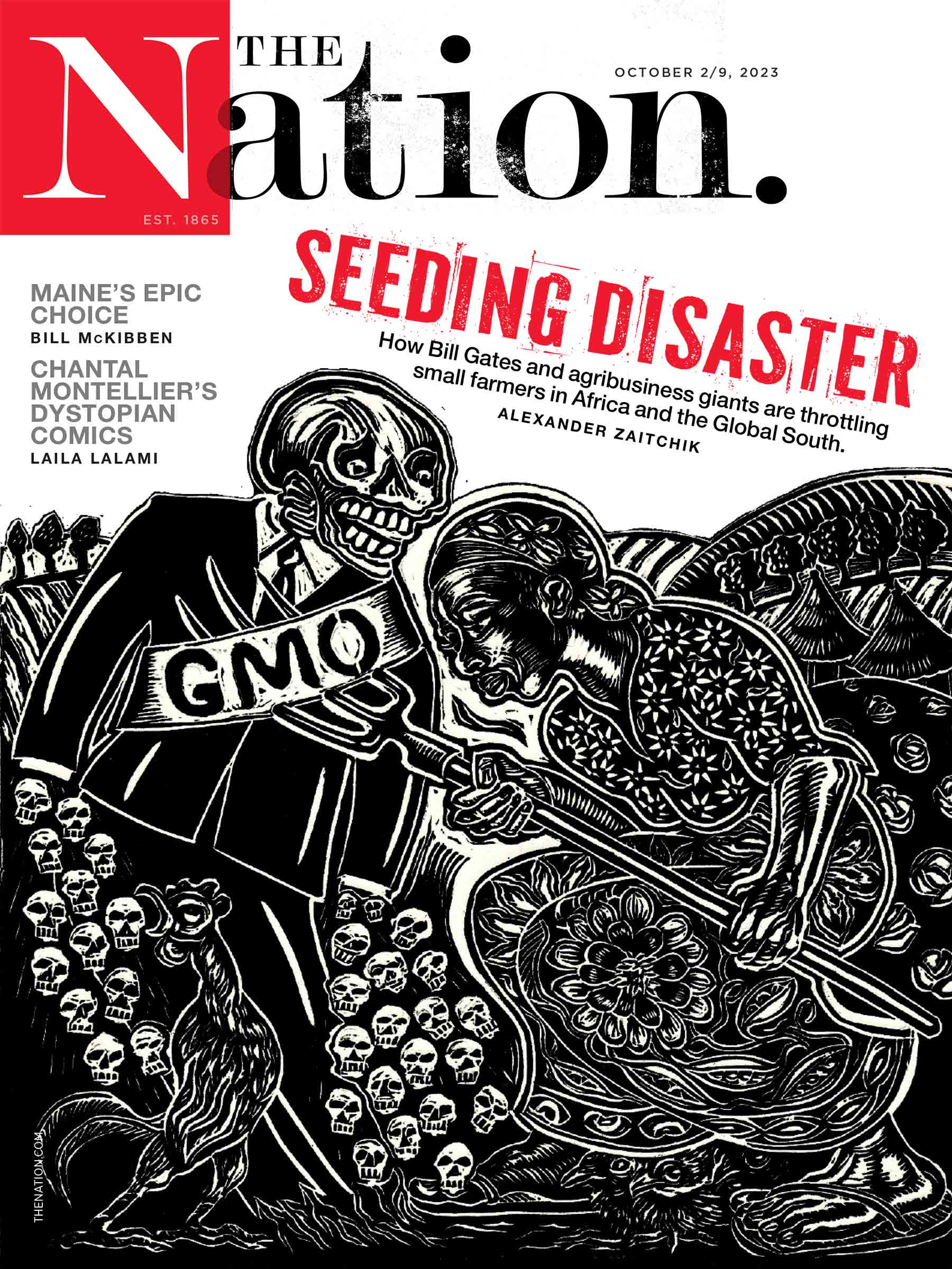 The Fulton County indictment, released late Monday evening, makes clear the extreme lengths that Trump and his sycophantic "made" men and women were willing to go in their efforts to prevent a peaceful transfer of power and to overturn a presidential election result. In copious detail, it lays out the hows and whys of Trump's moves to solicit illegal interventions from Georgia Secretary of State Brad Raffensperger and Vice President Mike Pence; the ways Trump and cronies such as Rudy Giuliani, Sydney Powell, Jeffrey Clark, and Mark Meadows ginned up the fake electors plot; the lengths to which they went to illegally access computer voting systems; and the deliberate lies and misinformation that they spread, including in official settings where they perjured themselves in order to maintain Trump's hold on power. It also charges him with impersonating a public officer. The reality-TV president is now being held legally liable for the act he's been putting on all these years.
DA Willis has made clear that she wants to move to trial within a matter of months—which, when added to special counsel Jack Smith's stated aim of also bringing Trump to trial on federal charges by early in 2024, means that Trump might well be facing a barrage of trial dates and damning testimony through the GOP primary process. Even if he emerges as the GOP presidential nominee—and I am not at all convinced that he will—he will almost certainly end up a deeply wounded presidential candidate.
Trump has pulled all kinds of tricks aimed at delegitimizing the myriad felony charges he now faces, and he has so solidified the cult of personality around him that for tens of millions of Americans he could, as he once boasted, quite literally shoot somebody in broad daylight on Fifth Avenue and not lose their support. In doing so, he has temporarily boosted his poll numbers to improbably high levels. But at the end of the day, those tens of millions of Americans who have bought lock, stock, and barrel into the Trump cult do not an electoral majority make. They didn't make a majority in 2016, when Trump lost the popular vote but won the presidency because of the quirks of the Electoral College system. They didn't make a majority when Democrats captured Congress in 2018. They didn't make a majority when Trump lost the presidency to Biden, and the GOP lost the Senate to the Democrats, in 2020. And they didn't make a majority last year, when the great majority of Trump-backed election deniers—including Kari Lake and Mark Finchem in Arizona or Jim Marchant in Nevada—were handed their political hats by local electorates.
Given the electoral limits of Trumpism over the past four electoral cycles, it makes precious little sense to think that the man in the mug shot will do better electorally in 2024 than he ever has before. But as the country's demographics continue to shift against the Republican Party, that is what he would have to do to win the presidency once again.
Hot air eventually cools, and anti-gravity machines do not exist. Trump wants to come off as invincible, a comic-book superhero battling endless conspiracies hatched by the Deep State. Don't buy it. The man's more vulnerable now than he has ever been. At the moment, many of his GOP rivals for the presidential nomination—as well as his coconspirators, both indicted and unnamed—are rallying around him. But Trump, of all people, should know just how transactional these relationships are.
They may stick with The Boss as long as they think he remains able to rally his rent-a-mob against them. But the moment he seems even marginally weak, many will turn on him in a heartbeat. Don't be surprised if at least some of the 18 codefendants who, as things currently stand, will be tried along with Trump in Fulton County, decide in the coming months to cut their losses and testify against their Great Leader. And don't be surprised if, in the heat of legal battle, the unindicted coconspirators identified by Jack Smith also turn on Trump.
We may, at long last, be entering the final act of the Trump tragedy. You can't fly too close to the sun before gravity takes over.
Ad Policy