How Osage Nation Members Struck Back at Decades of Indigenous Misrepresentation in the Media
Killers of the Flower Moon Embeds Members on Both Sides of the Camera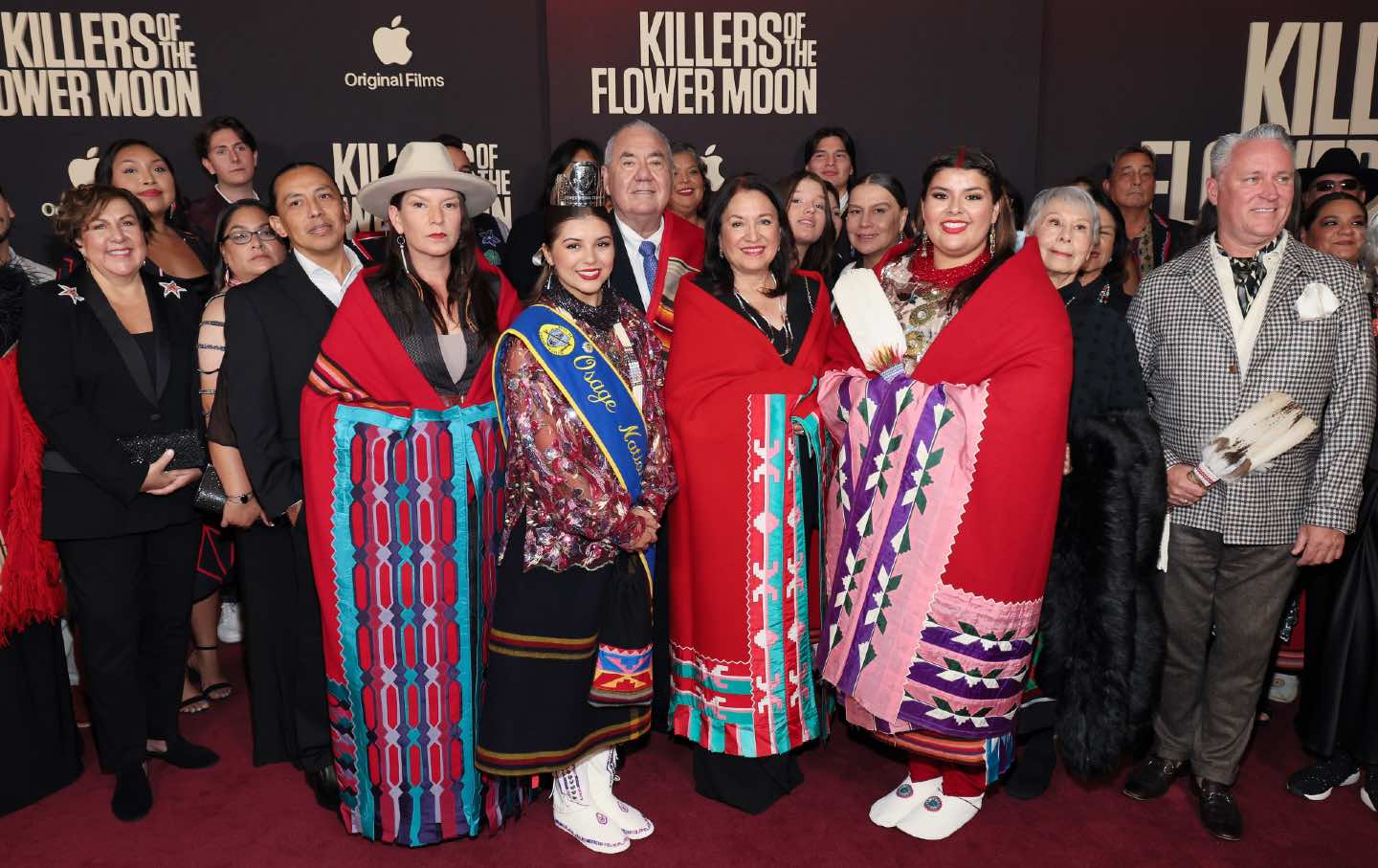 When Martin Scorsese's latest epic, Killers of the Flower Moon, made its American premiere at Lincoln Center on September 27, the red carpet was noticeably lacking in the kind of star power you'd expect. The film's stars—including Leonardo DiCaprio and Robert De Niro—were absent because of the ongoing SAG-AFTRA strike.
In their place, however, were dozens of members of the Osage Nation—not only the subject of the film but also the crew members and cultural consultants who helped bring it to life. The Osages—wearing blood-red Pendleton shawls and blankets, their hair accented with tribal jewelry—proudly walked the carpet and took their moment.
"Our people are everywhere in this movie," said Osage Principal Chief Geoffrey Standing Bear. "We needed our Osage culture and language to be told by us and not someone else."
It was a moment typifying the inclusive, collaborative way the film was made—hopefully setting a new standard for popular art that centers marginalized communities and amplifies their stories.
Based on the 2017 nonfiction book of the same title by David Grann, Killers recounts the horrific story of the "Reign of Terror" in 1920s Oklahoma, a bloody chapter in American history when dozens of Osage natives were murdered in a conspiracy by white settlers to steal the oil-rich land underneath their feet.
When Martin Scorsese and cowriter Eric Roth began writing a film adaptation, they focused early drafts on the masterminds behind the plot and the FBI agents who investigated the murders. But when members of the Grayhorse District of Osage Nation learned about the film in 2019—then in pre-production—they held a meeting, attended by 85 people from the community, to determine how to respond. After three hours of discussion, they resolved to write a letter to Scorsese expressing their concerns and requesting that he come to meet them.
The native community was responding to decades of Indigenous misrepresentation in the media, to years of being portrayed as cold-hearted "injuns," drunken fools, or helpless victims—when their stories were being told at all. So Scorsese met with over 200 Grayhorse members in Osage County in late 2019 and decided to completely rework the script he'd spent years writing.
"I…had meetings and dinners with the Osage, and I thought, well, there's the story," Scorsese said earlier this month. "The real story…was not necessarily coming from the outside…but rather from the inside, from Oklahoma."
The film flipped its perspective to the Osage people, and when filming began, Osages were deeply embedded on both sides of the camera. Osages worked as actors, consultants, language experts, designers and crew members, and the film was shot on Osage land.
The result, critics agree, is a heartbreaking, authentic reckoning that centers Indigenous people in a way rarely seen in a buzzy Hollywood movie—amplifying their story, not exploiting it.
The movie is also receiving praise from Indigenous groups across the country and sparking new conversations about the portrayal and treatment of Native Americans at a time when they continue to struggle with issues that have been plaguing their communities for centuries. It's a stark reminder that artists with the power and influence to tell stories on a grand scale should use that privilege to highlight marginalized communities and make space for new storytellers.
Of course, there are limits to that approach. Christopher Cote, an Osage who worked as a language consultant on the shoot, shared a nuanced perspective on the red carpet of the film's Los Angeles premiere: "As an Osage, I really wanted this to be from the perspective of Mollie and what her family experienced," Cote said following the film's premiere, "but I think it would take an Osage to do that."
Hollywood has yet to offer those kinds of opportunities. Lily Gladstone, one of the film's stars and a Native American herself, said it plainly in an interview earlier this month: "Nobody is going to hand an Osage filmmaker $200 million."
Still, the benefit of a film like Scorsese's—even an imperfect one—is that it might bring the industry one step closer to that type of representation.
Representation in media and public sentiment are intimately linked. The racism that led filmmakers to portray Native Americans as savages in 1950s westerns is the same racism that let white Americans look away as the Indian Relocation Act of 1956 continued the abuse and dislocation of native tribes.The Supreme Court's landmark 2020 decision designating nearly half of Oklahoma as an Indian reservation came down two months before production started on Reservation Dogs, a Native American comedy series filmed on that same land.
A movie like Killers has the potential to inspire new waves of Native storytelling, activism and support for Native causes across the country. In fact, Grann's book is exactly the sort of story that has been pulled from Oklahoma classrooms as a result of a state law prohibiting teachers from causing students to "feel discomfort, guilt, anguish or any other form of psychological distress" because of their race. If people aren't going to learn about the Osage murders in school, then at least they can do it at the cinema.
On the New York red carpet, Osage Nation Princess Lawren "Lulu" Goodfox made a bittersweet comment: "I hope that despite all the sadness and difficulties, that they see that we're still here and we're not relics."
The Osages who shaped this film, who are leading the conversation around it, and who will pave the way for further advancement in Native representation are no relics. They're making history.