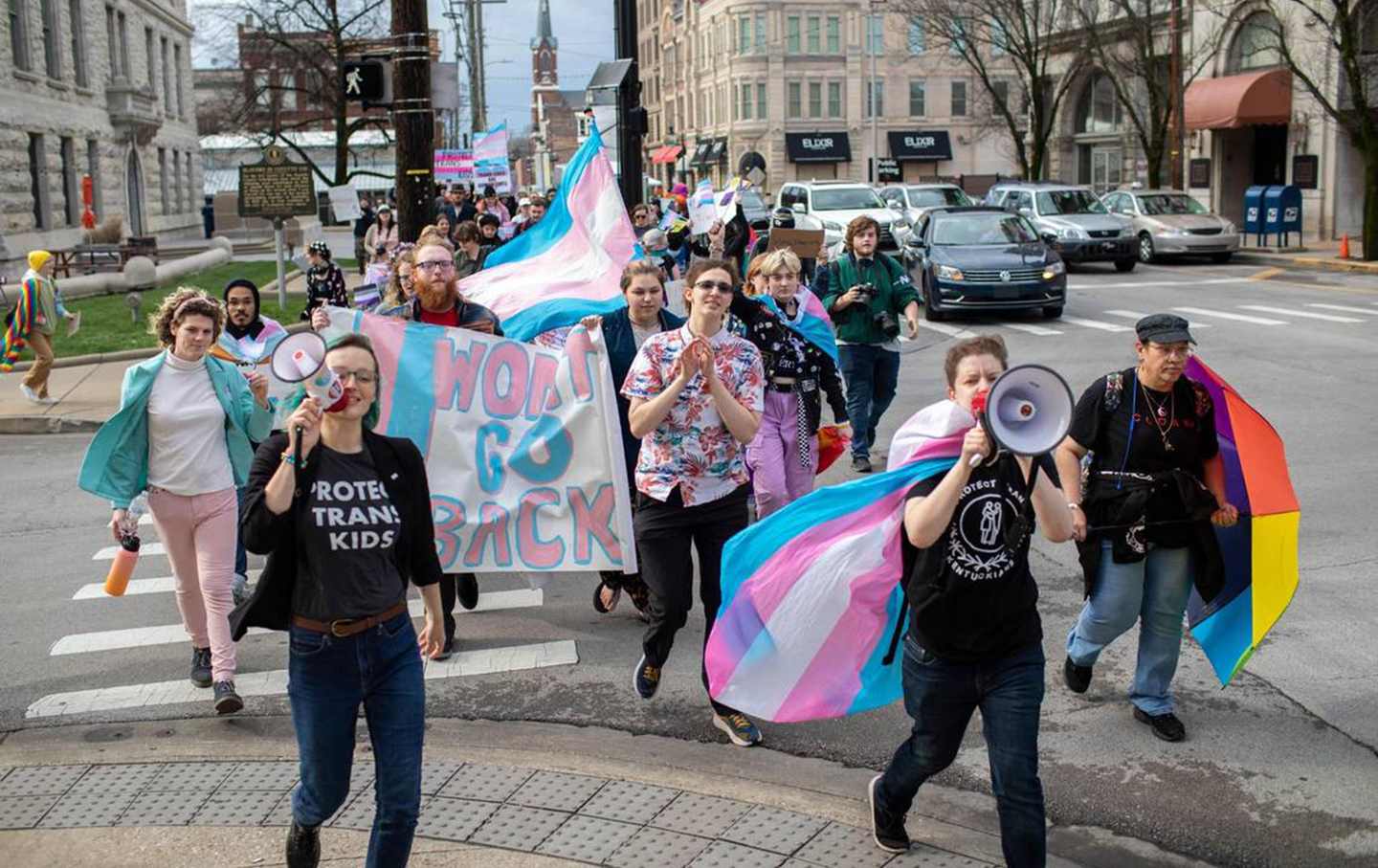 When Kentucky Senate Bill 150 was introduced in February, it was opposed by the American Medical Association, the American Psychological Association, the American Academy of Pediatrics, the Human Rights Commission and 71 percent of Kentuckians. The bill would ban gender-affirming care for trans minors, require them to use the bathroom that aligns with their gender at birth, recommend that teachers use incorrect pronouns, and limit education on "human sexuality or sexually transmitted diseases."
Still, it passed the House and the Senate. When Democratic Governor Andy Beshear vetoed the bill, saying it "strips freedom from parents" and will "endanger the children of Kentucky," his veto was overridden. The bill finally passed on March 29. The same day, the American Civil Liberties Union of Kentucky announced that it was planning to file a lawsuit against "one of the worst anti-trans bills in the country."
"Implementing the restrictions proposed by SB 150 will not change the number of LGBTQ children in schools," said psychologist Laurie Grimes to lawmakers. "They'll still be there, and they'll still have needs, but they will no longer be in a safe and accepting environment." Chris Hartman, director of the LGBTQ advocacy group the Fairness Campaign, was more forthright. "You're going to kill kids," said Hartman. "Their blood will be on your hands."
When SB 150 was first introduced, the bill's main purpose was to force teachers to use pronouns related to a trans student's biological sex, rather than what they preferred. Amendments were filed aiming to give trans students an out by changing teachers or allowing parents to require that teachers use the student's chosen pronouns, but all six were ruled out of order. The bill was eventually combined with House Bill 470, called the "Do No Harm Act," by the House Education Committee.
A majority of the bill is dedicated to provisions that hinder trans students from comfortably living their day-to-day lives, forbidding them to use their preferred bathroom or locker room and encouraging the use of incorrect pronouns or names. "People are really feeling not just the actual written effects of this law, but also what it means," said Oliver Hall, trans health director at Kentucky Health Justice Network. "What it means to be a trans person in Kentucky at a time when they're actively targeting us."
Section 4 of the bill, which eliminated access to gender-affirming care for trans minors, would have originally gone into effect on June 29. But it was temporarily blocked that same day by the ACLU's injunction, which was lifted in July. The rest of the bill will go into effect when the school year starts. "It's the single most destructive bill I've seen in my life," said Willie Carver, a former high school teacher in Kentucky.
Schools should be safe places for students. According to Carver, young people should be able to see that they're important, that they can achieve their wildest dreams. But for young trans children, they often face bullying and erasure from class content. Studies have found transgender individuals are statistically more likely to be diagnosed with a mental illness than the general population, and over six times as likely to seriously attempt suicide.
Actively taking a student's identity out of the curriculum itself is a violent act, Carver said, and the law takes it leaps and bounds farther. Some children in Louisville Youth Group, a nonprofit serving LGBTQ youth in Kentucky and Indiana, will have to de-transition, a process called "exponentially harmful" by LYG program director Em Joy. "Despite the strong opposition of every major medical and mental health association, the new law prohibits parents, healthcare professionals, teachers, and clergy from working together to lovingly and privately provide support to transgender youth," said LYG in a statement in June.