Texas Is Trying to Brutalize Its Workers—and Greg Casar Is Fighting Back
The congressman led a "thirst strike" on the steps of the Capitol to protest a law barring Texas cities from giving their workers water breaks.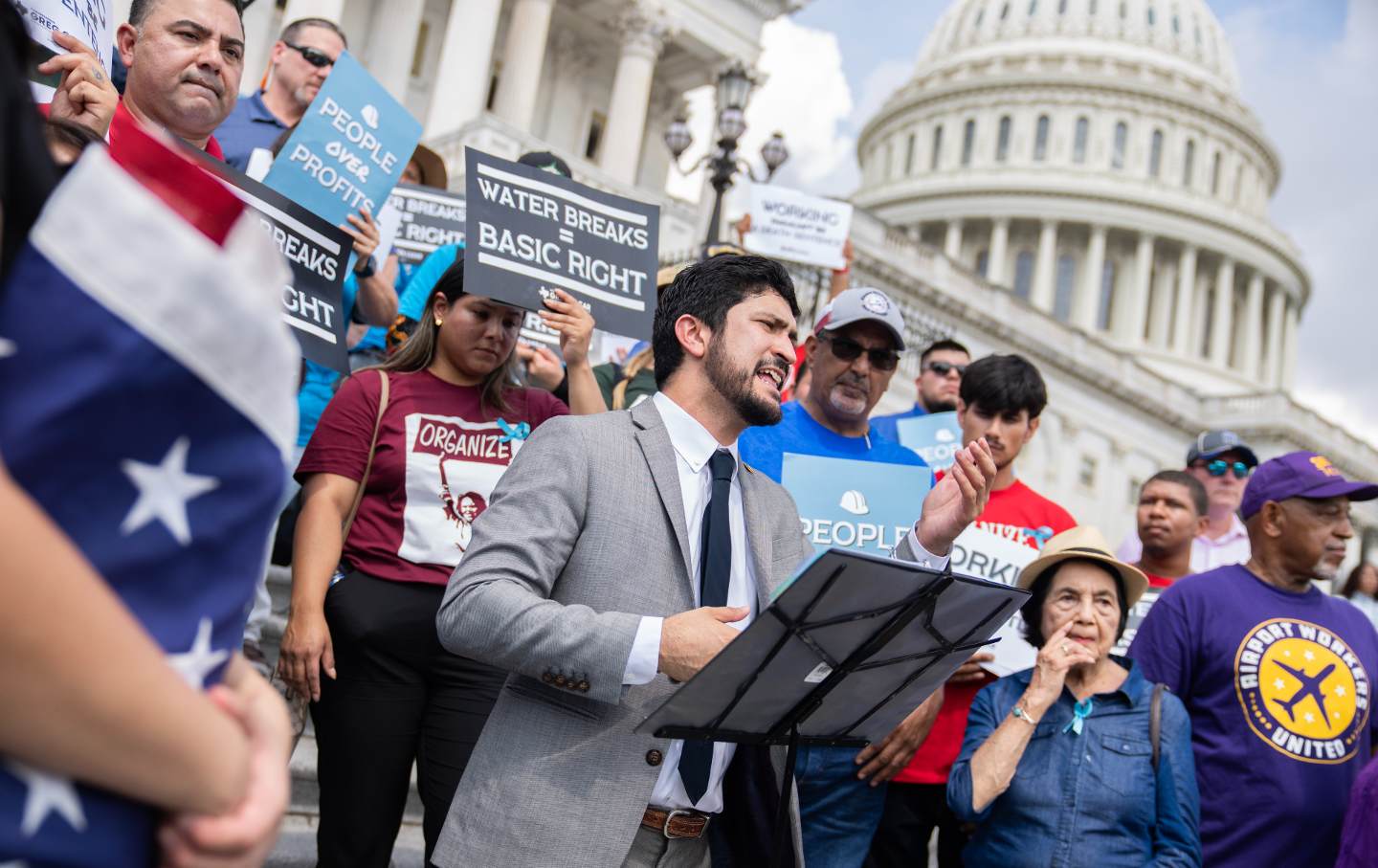 Thermometers in Texas have been logging all-time record high temperatures this summer. The sun is scorching, the air is stagnant and Corpus Christi recently recorded a heat index of 125 degrees. Yet outdoor labor goes on at construction sites and other workplaces across Texas, which, according to the US Bureau of Labor Statistics, has seen more heat-related deaths of workers than any other state over the last decade.
So what's been the response from Texas Governor Greg Abbott and the Republicans who control the state legislature? In June, at roughly the same time that the heat index reached 125, Abbott signed legislation that will bar cities and counties in Texas from enacting measures to guarantee that workers get regular breaks for relief from the heat. The Republican preemption measure was drafted with the specific intent of overturning existing ordinances in Austin and Dallas that require workers to get 10-minute water breaks every four hours. (For those doing the math, that's just 20 minutes over the course of a full eight-hour day of physical labor.)
"Bought-and-paid-for politicians like Governor Abbott are stripping workers of their right to a water break in the middle of a historic heat wave," says US Representative Greg Casar, a former workers-rights organizer and Austin City Council member who fought to establish the protections that Texas Republicans are now gutting. "It's insane."
Casar is not about to let Abbott's insanity prevail. So the congressman who was elected to the House last year on a promise to shake things up in Washington is doing just that, with a high-profile push for federal intervention before the law signed by Abbott goes into effect on September 1. On Tuesday, a campaign to protect workers from extreme heat saw Casar and veteran labor activist Dolores Huerta launch a daylong vigil and thirst strike on the steps of the US Capitol. It was a dramatic gesture, but one that the former community organizer with the Texas Worker Defense Project (Proyecto Defensa Labora) said was essential to saving lives.
Casar says he knows that the Biden administration sympathizes with the plight of workers in Texas and other states that are experiencing blistering heat waves this summer. But that sympathy needs to be coupled with a sense of urgency.
To that end, Casar and a number of other members of the Congressional Progressive Caucus got more than 100 congressional Democrats to sign a letter on Monday calling on the Biden administration to move immediately to implement a national Occupational Safety and Health Administration (OSHA) workplace heat standard that would apply in all states—including Texas. A number of senators, including Democrats Sherrod Brown of Ohio, Catherine Cortez Masto of Nevada, and Alex Padilla of California, have joined the call, as has Vermont independent Bernie Sanders, who says, "It is beyond belief that in the middle of what is expected to be the hottest year on record, right-wing politicians want to take away basic rights like water breaks." Major unions have chimed in as well, with National Nurses United reminding members of Congress and the administration that "heat kills more people annually in the U.S. than hurricanes, tornados, and flooding."
Current Issue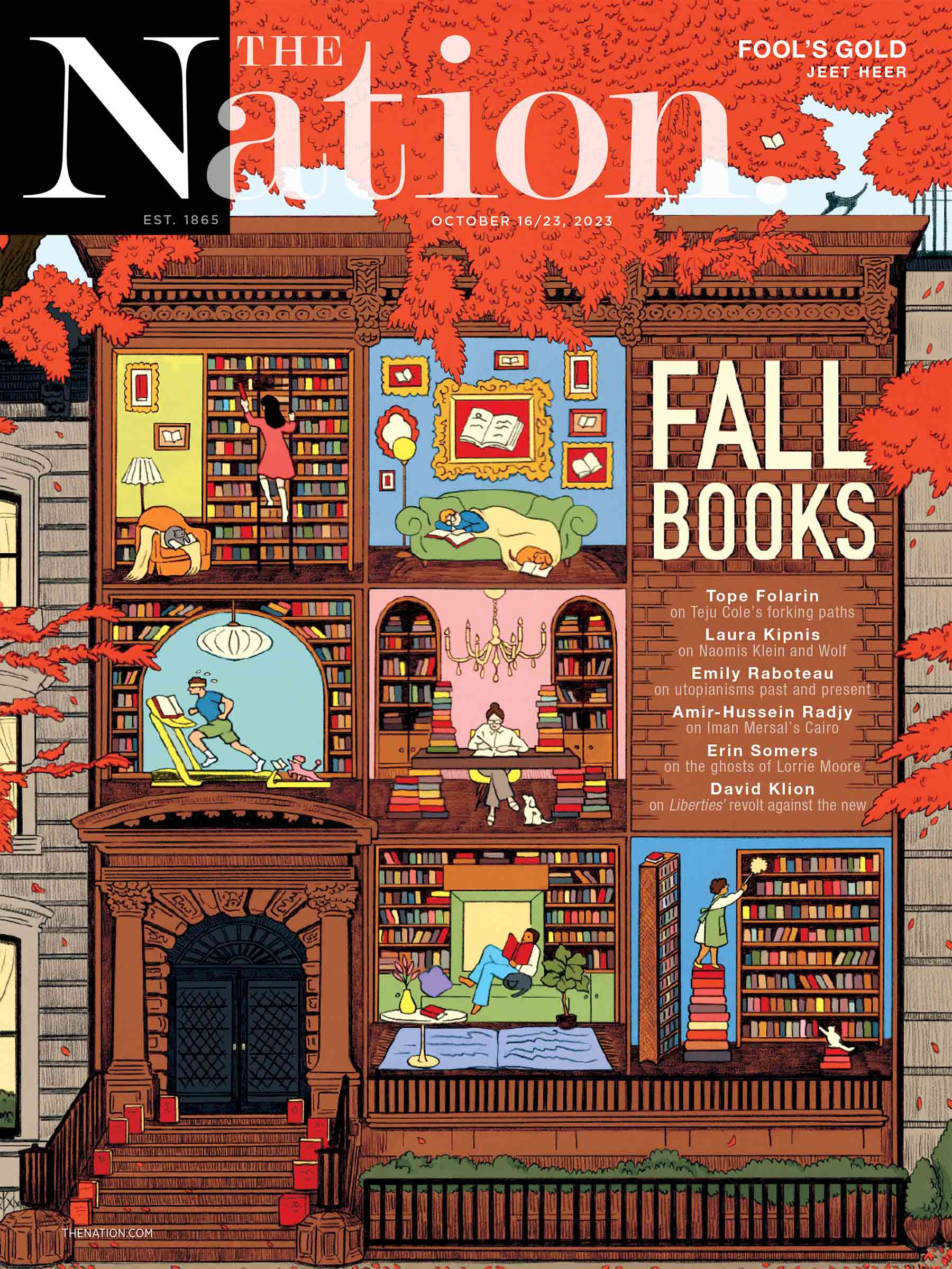 Declaring that "extreme heat is a matter of life and death," the letter from Casar and his colleagues, which was addressed to Acting Secretary of Labor Julie Su and Assistant Secretary for Occupational Safety and Health Douglas Parker, argued that there is no time to waste. Pushing for urgent action by OSHA, the members explained:
This summer will be particularly dangerous for both public and private sector American workers exposed to heat. Examining Bureau of Labor Statistics data and other relevant research, Public Citizen estimates that occupational heat stress causes on average 700 deaths and 170,000 illnesses and injuries annually in the U.S. This year is expected to be the hottest on record, demonstrated by the hottest days on record on Earth in the first week of July, following the hottest ever month of June. Heat waves are associated with increases in death rates, driven not only by deaths directly caused by extreme heat but also by increases in deaths from heart attacks, respiratory illnesses, and cerebrovascular diseases. Heat waves are also associated with increased hospital admissions for cardiovascular, kidney, and respiratory disorders. As you know, many workers whose jobs require prolonged exposure to extreme heat are not afforded paid time off or sick days. Thus, any health complications caused by heat exposure can lead to missed work, missed wages, and financial instability for families.
To highlight the letter's urgent call for action, Casar borrowed a page from the historic struggles of the United Farm Workers union, which saw leaders fast, mount long marches, and employ a variety of other strategies in order to draw attention from the media and regulators to neglected issues. In this instance, the representative decided to go without water himself, outside, on a steamy day in Washington. On the steps of the Capitol, as temperatures soared, the Texan was joined by union activists and workers. Huerta, the 93-year-old cofounder of the United Farm Workers Association and Presidential Medal of Freedom recipient, held aloft a sign that read, "Working shouldn't be a death sentence." Through the course of the day, they were joined by progressive members of the House and Senate, including US Representative Alexandria Ocasio-Cortez (D-N.Y.), who tweeted: "Texas just passed a law blocking water breaks for construction workers. President Biden can stop it by implementing a heat stress rule. It's time for the President to act."
After nine hours without water, Casar finally took a cool drink, confident that he had made his point. "The Biden administration has the opportunity—and responsibility—to protect workers and save lives." And confident that a federal standard will be established before Abbott and Texas Republicans get their way. Putting his faith in an organizing tradition that began long before he was born, the 34-year-old representative said, "When a legend like Dolores Huerta is with us, nothing can stop us."