The GOP Debate Was a Sorry Spectacle
When Ron DeSantis is trying to keep things dignified, you know the show has gone off the rails.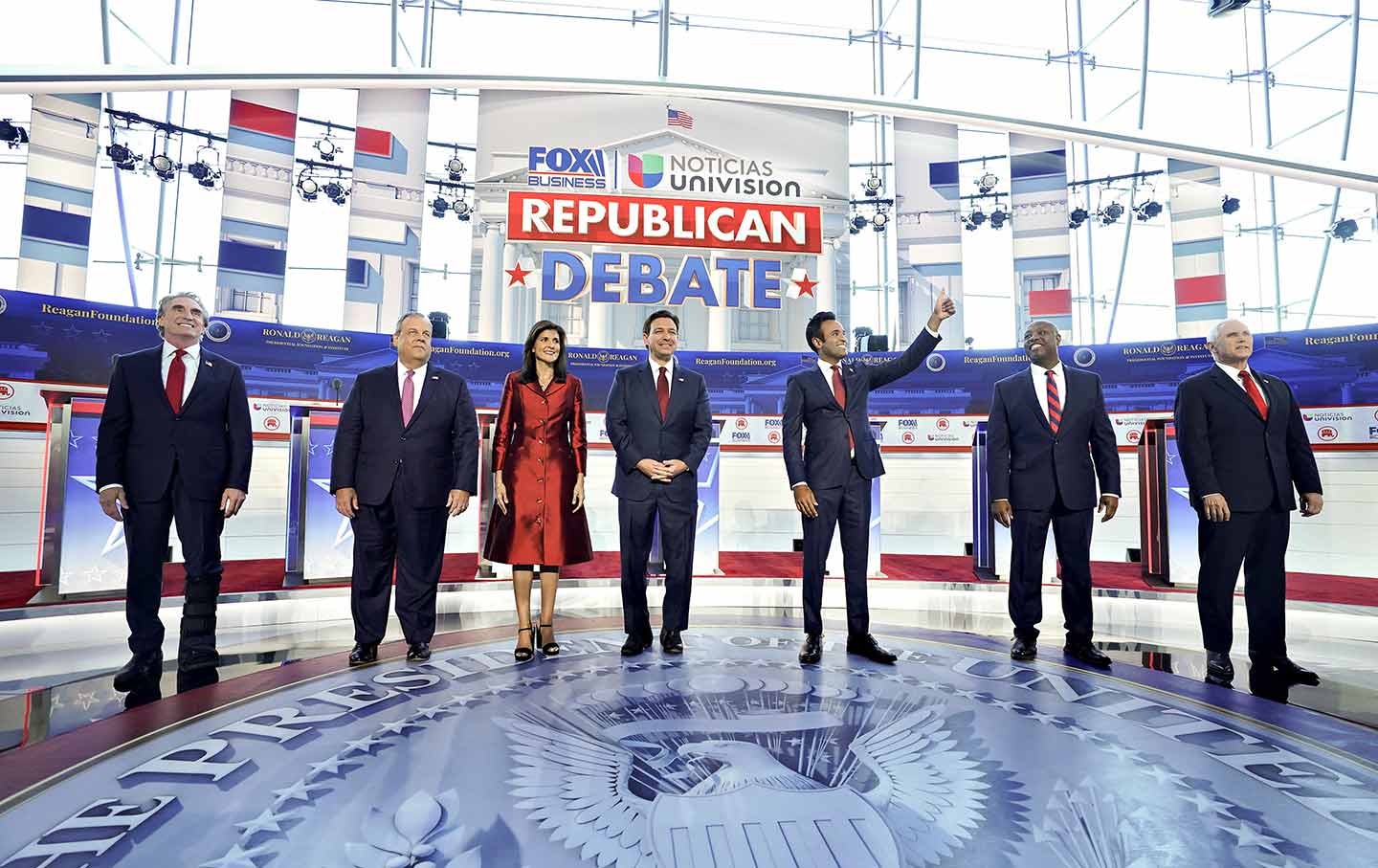 Let's start at the end instead of the beginning.
After two hours of screaming, two hours of puerility, two hours of talking over each other and coming up with one canned line after the other, the seven GOP candidates on the debate stage at the Ronald Reagan Presidential Library in Simi Valley, Calif., were asked a game-show question by co-moderator Dana Perino. Take a piece of paper, Perino instructed them, and write down which of the seven of you that you think should be voted off this island after the debate. The Fox News audience, primed to regard all of politics as an entertainment spectacle, and having been subjected to a two-hour food fight, whooped their approval.
To his credit, Florida Governor Ron DeSantis rose in fury at this indignity, telling off Perino in no uncertain terms. It was the highlight of what for DeSantis must have been another exercise in prolonged frustration. He looked ill at ease, his stretched smile more akin to that of a gargoyle hanging off a medieval French cathedral than that of a flesh-and-blood human. The only one on that stage who looked more like he didn't want to be there was the hapless Mike Pence, situated at the far end of the line of speakers by virtue of his dismal poll numbers; most of the night Pence looked like he was being force-fed caterpillars.
DeSantis, given centerstage because with roughly 12 percent support, he's still just barely in second place in the GOP nominating contest, struggled to make himself heard over the tumult. He did finally try to take the gloves off against the absentee Trump, but, alas for him, the few times he worked to land punches on the 45th president, he was outperformed by the bombastic Chris Christie, who gleefully labeled his erstwhile friend "Donald Duck" for ducking his obligations to debate his opponents in front of a GOP crowd. One could practically feel the energy seeping out DeSantis's campaign as each minute ticked by. It must be disheartening to have such an inflated sense of self and then to confront the reality that most people, even in your own party, think you're a wanker.
Everything about the evening seemed designed to make the candidates look small—from the vast Air Force One jet suspended above their heads, to the extraordinarily short answer times permitted each debater, to the three moderators' inability, or perhaps simply lack of desire, to stop the outbursts of elementary school–type squabbling. By default, the only one who came out of the debate looking big was the absent one, Donald Trump.
Current Issue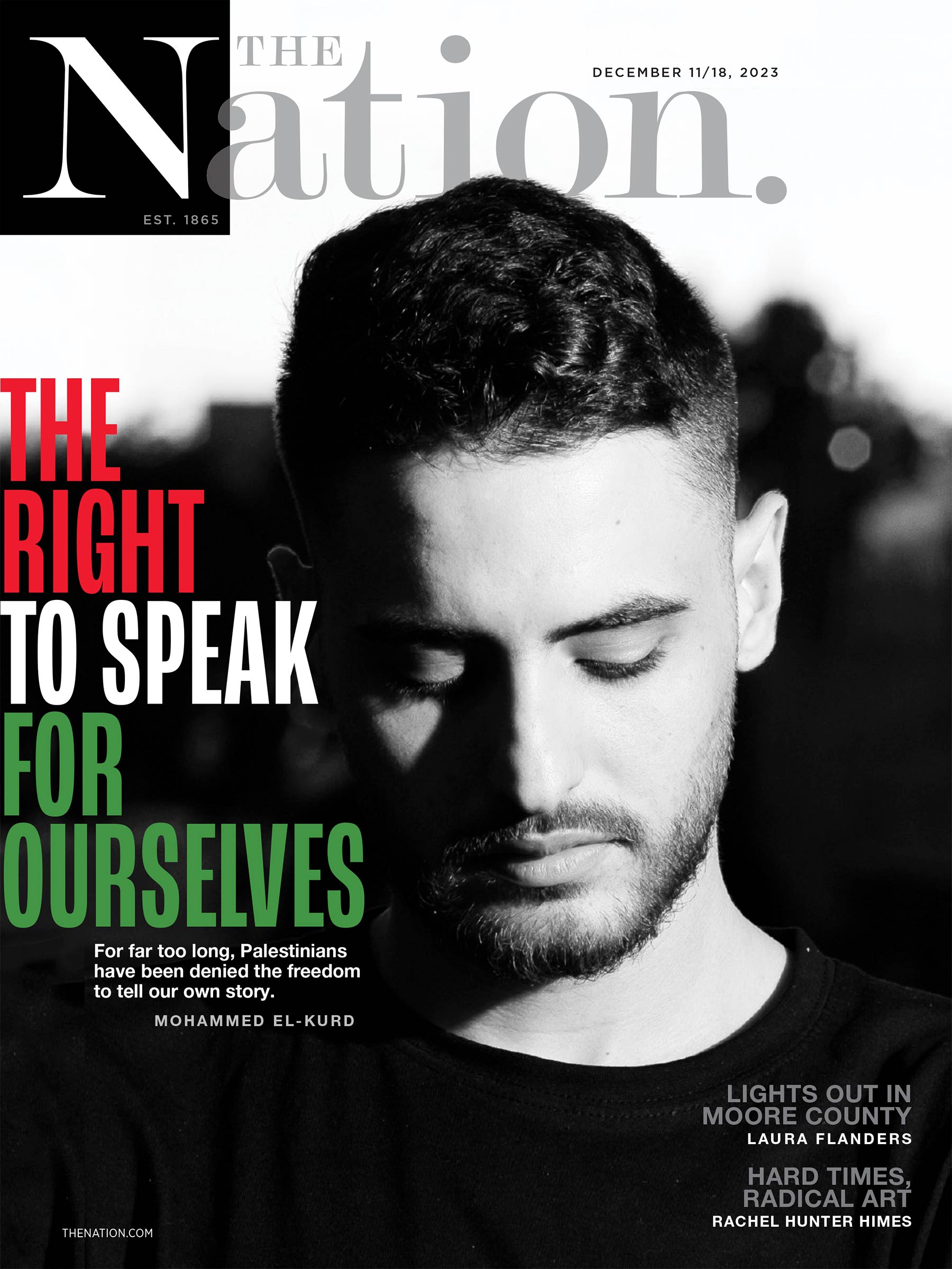 It wasn't that the Seven Dwarfs didn't have anything to say. They did: They were full of opinions about what they all labeled Biden's "open border policy" and what they agreed were the calamitous flaws of his pivot to electric vehicles. To one degree or another, they all signed on to Vivek Ramaswamy's poke-a-finger-in-the-eye-of-Mother-Earth pledge to "drill, frack, burn coal." They all argued that the rule of law, especially in America's cities had broken down at the hands of radical "Soros prosecutors," that the fentanyl epidemic represented a national security emergency—hard, really, to argue otherwise given the number of deaths the drug is now causing—that the escalating competition and confrontation with China is an existential threat that America is currently ill-prepared to navigate.
To be fair, among all of this, there were a lot of genuine policy disagreements. To take one example, that of military aid to Ukraine: Ramaswamy essentially pledged to shut off the spigot of guns and money to the invaded country; DeSantis hemmed and hawed; and several of the others, in particular Nikki Haley, Pence, and Christie, were all in on continued assistance. That's a serious policy issue, and, had the debaters each been given more than a handful of seconds to talk about their views on the topic, it might have revealed genuine ideas about how to handle one of the most serious geopolitical crises since World War II. Alas, that wasn't the format Fox Business, which has clearly found from its focus groups that its audience members have the attention spans of goldfish, had in mind. Every time the debaters got on a roll, the buzzer went off, the moderators pivoted to a different topic, and they began anew the unseemly process of screaming over each other like ill-mannered children.
Amid the noise, North Dakota Governor Doug Burgum again came across as an eminently reasonable adult in the room, successfully conveying his viewpoints without getting trapped in the sort of screaming matches that ensnared both Haley and Tim Scott. In a more sober political moment, a man like Burgum might well emerge as a credible wild-card candidate; in this moment, however, he seemed hopelessly quaint in his efforts to maintain a dignified and calm dialogue. Haley, by contrast, lost the measured cool that served her well in the first debate, getting into repeated verbal tussles with Scott and with Rawaswamy—a man she couldn't hide her disdain for. In her only stand-out moment of the night, she turned to the wealthy young candidate and, her voice dripping with contempt, announced, "Every time I hear you, I feel a little bit dumber because of what you say." That might well be the only few seconds in the evening worth pressing the repeat button on.
Popular
"swipe left below to view more authors"

Swipe →
Most of the time, GIF-like zingers aside, the debate was really just an exercise in click-bait extremism. Why were college students burdened by so much debt? Well, DeSantis opined, partly because so many colleges were teaching gender studies to their captive students. Why were Americans feeling so much economic pain? Well, said Ramaswamy, in addition to Bidenomics, there was the problem that "the Federal Reserve is an agency that has gone rogue." Did the candidates agree with Florida's new education guidelines, championed by DeSantis, for how to teach about slavery? No, said Scott, it was wrong to minimize the atrocities of slavery. But, he continued, perhaps suddenly aware that he had come off as too moderate for the GOP crowd, Black families did indeed survive slavery only to be destroyed a century later by LBJ's Great Society and its expansion of family-destroying welfare programs. Ramaswamy came up with a novel interpretation of constitutional law that would allow him to instantly end birthright citizenship. Pence advocated a massive increase in use of the federal death penalty.
The candidates were quick to spout nonsense on one issue after the next. Yet on the elephant in the room, most of them had nothing to say: There was a deafening silence on Trump's myriad malfeasances, such a silence that it was hard to take anything they said about the importance of the rule of law seriously.
Yes, the presence of transnational drug cartels on the border is a security and public safety and criminal justice issue. Yes, one can make a policy argument about the need to enforce immigration law or about the need to clamp down on street crime in America's cities. Those are legitimate points of political debate. But when GOP candidates make their law-and-order pitch, and say that undocumented asylum seekers should be summarily returned over the border to show that everyone is subject to the rule of law in the US, it's hard not to think back to this week's court case in New York, in which a judge ruled that Trump and his sons had engaged in systematic fraud by massively inflating the value of their properties. Or to Trump musing on Truth Social that in the good old days a man such as Mark Milley, chair of the Joint Chiefs of Staff, would have been put to death for his actions (the actions in question being contacting the Chinese, in the chaotic days after January 6, to assure them that Trump wasn't about to launch a nuclear attack in order to create a military emergency that would give him a pretext for not ceding the presidency). Or to the nearly 100 federal and state indictments Trump is now facing—charges that could land him in prison for the rest of his life. Or to Trump's visit to a gun store last week to muse on camera about purchasing a Glock—a purchase that would be illegal given the indictments he faces, and one somewhat akin to, if not more serious than, Hunter Biden's 2019 gun purchase that has so riled up the right. Or to Trump's ongoing efforts to intimidate and threaten witnesses, judges, and prosecutors around the country. It's hard to forget the free pass that the vast majority of Republican voters are willing to give criminals, so long as their name is Donald Trump.
Six of the seven candidates on the stage in Simi Valley are pledged to support Trump if he becomes the party's nominee, even if he has been convicted in one or more of his trials. Christie, to his credit, is holding out.
So much for their respect for the rule of law. So much for their manufactured outrage at impoverished asylum seekers who cross the border in search of better futures for their families.
If I hadn't been writing about this, I would have pulled the plug on the whole sorry spectacle about 30 seconds in. There was nothing educational or honest about the evening's show; it was lowest-common-denominator talk-show entertainment.