Goodbye, Joe Manchin—We Won't Miss You
The departure of the pro–fossil fuel, pro–Big Pharma senator from West Virginia is not the tragedy many Democrats think it is.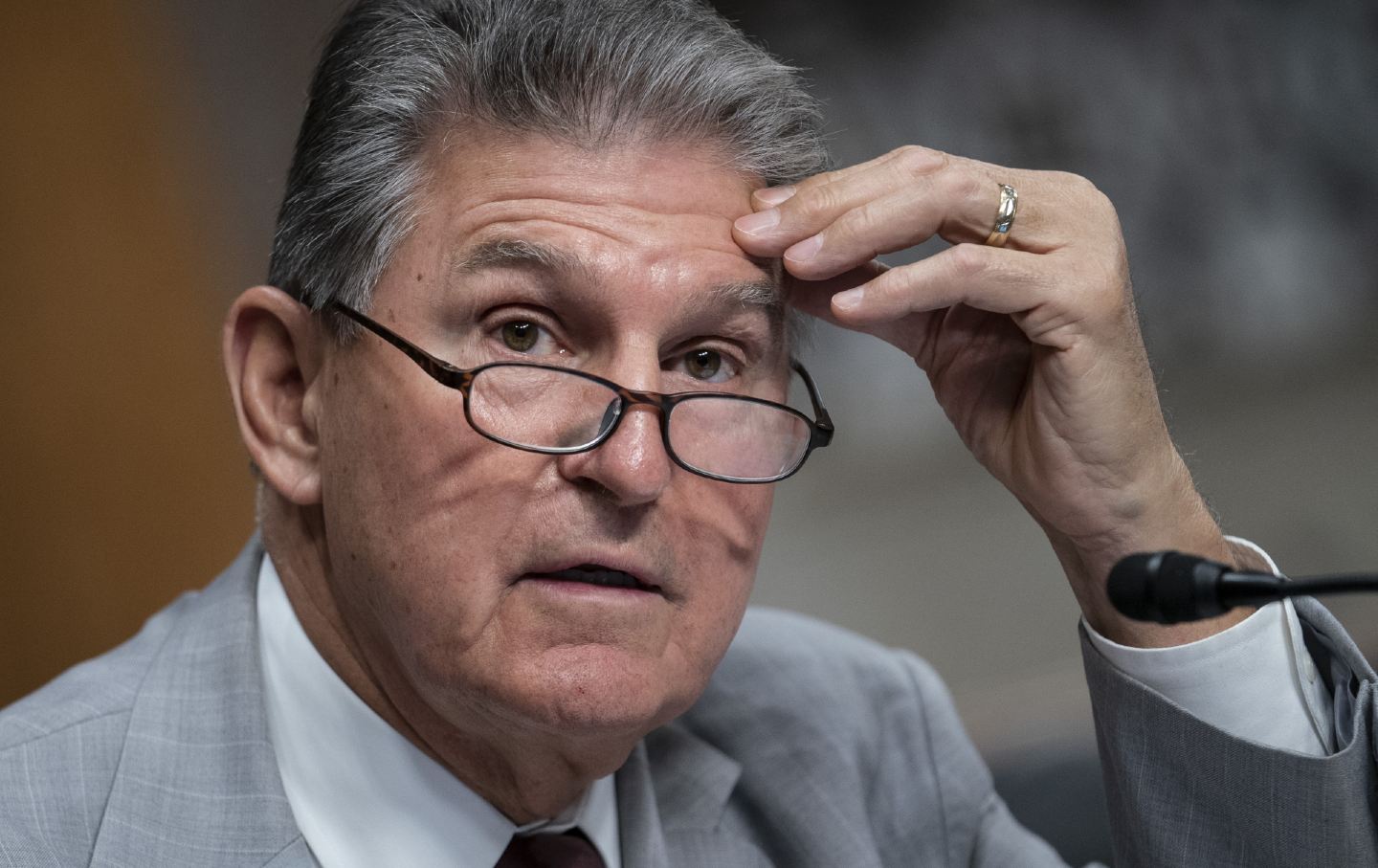 Democrats need to stop freaking out about Joe Manchin's decision to not seek reelection to the United States Senate. It's getting embarrassing. Manchin is a barely sentient lump of coal who happened to caucus with the Democrats. His contribution to the Democrats' slim majority in the Senate is significant, but so are his contributions to the fossil fuel industry, the pharmaceutical industry, and his unwavering support of the Men's Wearhouse summer collection. Losing Manchin's seat is tough, but losing Manchin is an overall positive for the Democratic Party.
Let's start with the tough part. Democrats are understandably anxious about hanging on to the Senate in 2024; the map is terrible. The senators up for reelection in 2024 are the same ones who were up for election in 2018, the "blue wave" year during Donald Trump's presidency. To maintain control of the Senate, Democrats must defend seats in Manchin's West Virginia, as well as Jon Tester's seat in Montana, Sherrod Brown's seat in Ohio, and Kyrsten Sinema's seat in Arizona (though officially an independent, Sinema is still "aligned" with the Democrats for committee purposes). If Joe Biden and Kamala Harris are reelected, Democrats can afford to lose only one of those seats; that will leave the Senate evenly divided between Republicans and Democrats, but will still give Vice President Harris the deciding vote. Should Trump and his vice presidential pick win the White House, and Democrats lose one of those seats, they'll have to pick one up off the Republicans to hang on to the Senate—and that would probably mean defeating Ted Cruz in Texas or Rick Scott in Florida.
None of that is likely. Manchin's retirement in West Virginia means that Democrats have no margin for error heading into 2024.
The thing is, Democrats have always had zero margin for error heading into 2024. Manchin was always unlikely to hang on to his seat. In West Virginia, the likely Republican candidate for Senate in 2024 is Jim Justice, the current governor of the state. Justice was elected governor as a Democrat, but switched parties at a Donald Trump rally in 2017, just a few months into his term, in one of the more pathetic "kiss the ring" maneuvers you will ever see from a full-grown adult. Manchin was most likely toast the minute Justice declared for the seat, and some polls have Justice beating Manchin by over 20 points.
Current Issue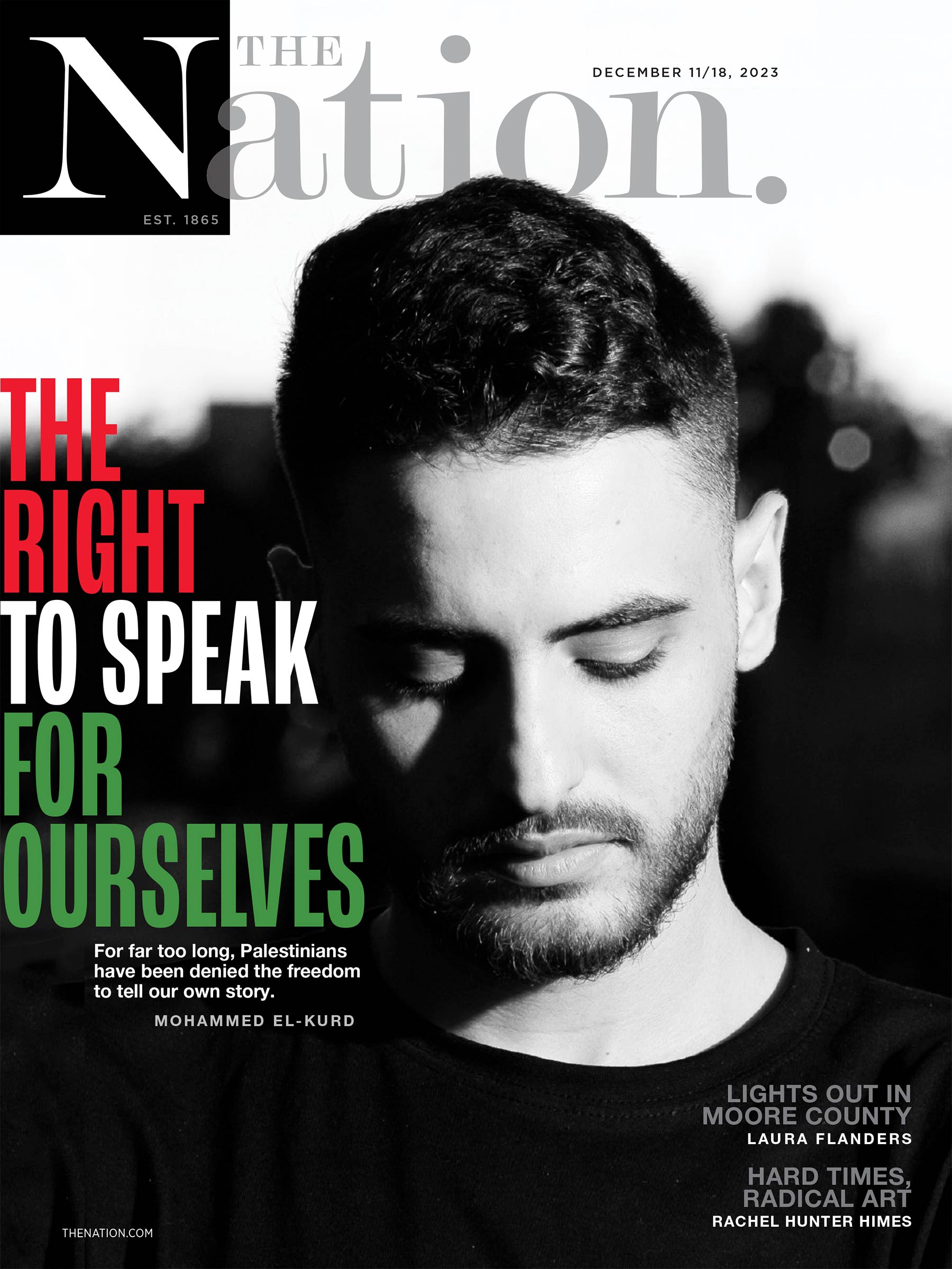 Manchin was going to lose, and Democrats who hoped that he'd help them hang on to the Senate were simply fooling themselves. Frankly, instead of a conservative "Trump-lite" Democrat, the party should go find the most pro-abortion, pro-labor city commissioner in Wheeling and try to run a single-issue campaign on reproductive rights. That kind of candidate can lose just as hard as Manchin would have, but with a lot more dignity.
Still, even Democrats who belatedly accept that Manchin was never going to help them hang on to the Senate now worry about Manchin throwing his jawline into the presidential race as a third-party candidate—perhaps with the "No Labels" party, perhaps as a running mate to Mitt Romney—and hurting Biden's reelection chances that way. I am not concerned. If anything, Manchin's candidacy would be more likely to take votes from Trump than Biden. There just isn't a lot of data to suggest that there are Republicans who are willing to vote for Biden because of Trump's unique threat to democracy but would throw their democracy-saving vote away on a third-party candidate. And the kind of Democrats who hate Trump but also hate Biden are generally on the more progressive end of the spectrum and hate Manchin most of all. Moreover, there is simply no evidence that Manchin is well positioned to appeal to any distinct block of third-party voters. The myth of Manchin as some kind of independent iconoclast has always been more powerful than the objective reality of Manchin: a coal lobbyist nobody trusts who lives on a houseboat.
Manchin is no great loss to the Democratic Party. Instead, being rid of him is a moral gain. Take, for instance, the courts. Manchin defenders have pointed out that Manchin has been a reliable vote for Biden's judicial appointments, including his Supreme Court nominee, Ketanji Brown Jackson. That's true, but what's also true is that Manchin has been a reliable vote for Republican presidents' judicial appointments, including alleged attempted rapist Brett Kavanaugh. Manchin did vote against Amy Coney Barrett, but that was purely for process reasons given the rushed nature of her appointment after Ruth Bader Ginsburg died and after the election to replace Trump was already underway. Manchin was happy to vote for Barrett in 2017, when Trump appointed her to the US Court of Appeals for the Seventh Circuit.
The fact that politicians like Manchin can't make a distinction between judges like Jackson and judges like Kavanugh or Barrett is actually part of the problem. Manchin represents the old-school Democratic thinking that judges don't matter as political actors, which is why he could vote for all of them. A Democrat who is consistently willing to break party unity to vote for Republican judges isn't somebody who is all that useful to the battle for control of the federal courts.
Even when Manchin isn't voting for Republicans, he's doing all he can to stymie meaningful reform of the courts: he's against court expansion, against term limits, and hasn't said boo about the ongoing ethical disaster that is Justice Clarence Thomas. Those stances of course link up to Manchin's legendary refusal to support any kind of pro-democracy Senate reform, and his steadfast support of the Senate filibuster—an antidemocratic tool to prop up minority rule.
Indeed, it's hard to find a piece of Democratic legislation or policy position that hasn't been made weaker and less effective because of Manchin's presence. He is the guy who watered down Biden's "Build Back Better" economic stimulus program—then turned around and didn't vote for it anyway. He refused to extend the Covid relief child tax credit, the lapse of which has doubled the child poverty rate. He's been a thorn in the side of every piece of environmental legislation that has come up while he's been in the Senate, and he's been a consistent opponent of voting rights legislation, including the "For the People" Act, which would have made voter registration automatic and restored voting rights to convicted felons.
People like to defend Manchin by comparing him to whatever troglodyte Republican they hate the most, or to a bog-standard MAGA Republican like Shelly Moore Capito, the other senator from West Virginia. I agree that, in a vacuum, Manchin is a more tolerable conservative than some others, in the same way that being bitten by a dog is preferable to being bitten by a crocodile. But I'm not in the habit of keeping crocodiles as pets; a visitor to my house would rightly be more concerned about the viciousness of my dog than all the crocs in the Okavango delta.
I would argue that in most cases the need to appease Manchin has caused Democrats to be politically weaker than they would have been if they just had to deal with a regular moderate Republican. If you have to make a deal with Romney, at least that deal gets the benefit of appearing "bipartisan." With Manchin, the call is coming from inside the house: He forces Democrats to pass Republican-appeasing legislation but then own all of it, while the GOP gets much of what they want and remains unified in its unwillingness to govern. Biden, for instance, now has to run on an economic package made weaker by Manchin, and a child poverty rate made devastating by Manchin, and then get blamed for Manchin's decisions.
Popular
"swipe left below to view more authors"

Swipe →
There's also the sheer amount of time Democratic leaders have had to waste massaging Manchin's mercurial political whims. Every second Biden or Senate majority leader Chuck Schumer has to spend begging Manchin to not stab America in the back is time they could have spent leaning on Romney, or Susan Collins, or just crafting a better, more unified message for the Democratic Party. And don't even get me started on all the cash we've had to funnel to West Virginia in every budget package to secure Manchin's vote.
The biggest problem with Manchin is that he makes people think that being Joe Manchin is the only way for Democrats to win in red states. That's just not the case. We have plenty of examples of moderate Democrats—be they Jon Tester in Montana, Sherrod Brown in Ohio, or freshly reelected Governor Andy Beshear in Kentucky—who run in red states as Democrats, and win. It's hard. But it is possible. And it can be done without suffocating the planet in greenhouse emissions. The sooner the Democratic Party stops trying to run wannabe Republicans in red states, the better.
I'm sure Manchin will have a long and lucrative career driving the Exxon Valdez II oil tanker into the Potomac River and lobbying Congress to ignore extinction level events. But I, for one, am happy he'll be doing it without the undeserved moniker of a "Democratic" senator. It will be extremely difficult for the Democrats to hang on to the Senate next November, but if they somehow manage to pull it off, doing it without Manchin will be a boon.
Having Joe Manchin around was like having a broken cane: a tool designed to prop you up but that always let you down. Democrats are better off trying to learn to run without him.