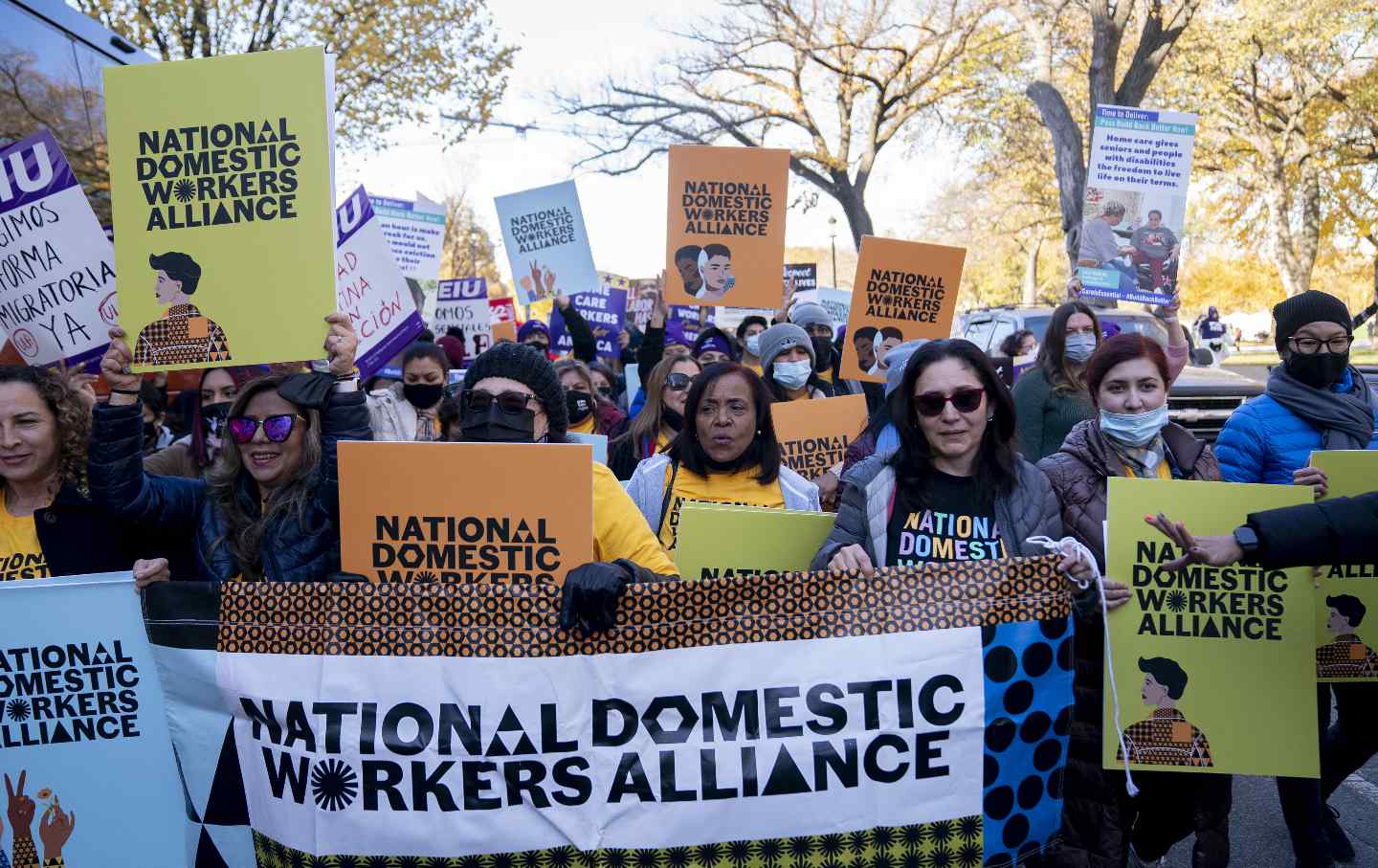 Around 20 years ago, Julia found a job as a nanny with what seemed to be the perfect family. Having arrived in Connecticut from Ecuador a few years earlier, she was grateful to have secured employment, and the family seemed like a particularly great match: The mother was fluent in Spanish and the kids wanted to learn it.
But soon, the job presented problems for Julia, who uses a pseudonym because of confidentiality agreements with previous employers and her immigration status. She often worked long hours on low wages. She didn't receive overtime or lunch breaks. Family members often screamed at her. "There was no consideration of if you were human," said Julia. "I thought, 'Why did you give me that treatment? Why did you yell at me?' But you cannot say all those things because you are afraid. You need that job."
After the mother demanded that Julia start cooking for the family, which she was not comfortable with, Julia was fired. Six months later, the family asked her to come back, but having already secured another job, Julia declined. And then the family retaliated. She heard from a number of people that the family was spreading false information about her and telling other families that they shouldn't hire her. "It was a nightmare."
At that time, it's unlikely that such treatment was illegal. Domestic workers, a group that includes house cleaners, nannies, and care workers, have long been excluded from most labor protections. Over the last 15 years, three cities and 10 states, including Connecticut, have sought to change that, passing a "Domestic Worker Bill of Rights," which often include policies for mandatory written contracts, paid time off, overtime, and discrimination protections. A national bill for a Domestic Workers' Bill of Rights was also introduced in Congress in 2021, and is set to be re-introduced this year. These laws have aimed to better regulate a type of employer-employee relationship that has for centuries been informal, unsupervised, and—consequently—plagued by abuse.
It's unclear if these bills of rights have tangibly affected the realities of domestic workers. There is still a lack of knowledge about the legislation among both employers and employees, fear from workers about asserting their rights, and inadequate investigation and punishment of violations. These issues have made enforcement difficult, and domestic workers often continue to work without protections.
A study released earlier this year by the Boston College Law School Civil Rights Clinic and the Brazilian Worker Center in Massachusetts—where one of most extensive domestic worker bills of rights was passed in 2014—found that 75 percent of domestic workers and half of employers in the state "had little to no knowledge" of the bill.
According to the report, employers frequently failed to provide terms and working conditions mandated by the law, such as written contracts, overtime, and lunch breaks; meanwhile, 90 percent of domestic workers in the state reported not seeking help when they thought their rights were violated. "If we have a law that nobody knows, that means nobody is using it. If we have a law that you know, but you are very afraid of speaking up, it's useless," said Lidia Ferreira, a worker rights organizer at Brazilian Women's Group, a Boston-based community organization whose members are largely domestic workers.
When the National Labor Relations Act was passed in 1935, granting private sector employees the right to unionize, domestic workers were excluded. Three years later, the Fair Labor Standards Act introduced the right to overtime pay—except for live-in domestic workers. Since then, bills on the state level—setting minimum wages and workplace safety protections—similarly leave out domestic workers.
In Illinois, domestic workers were included in the hourly minimum wage requirements in 2016, along with a mandated day of rest per week. But the law is not being followed, according to Ania Jakubek, a domestic rights organizer for worker organization Arise Chicago. "Workers still think it's okay to be paid by day instead of per hour. They still think it's okay to work seven days a week," she said. "Often people are just being simply abused. That's how it was before we had the Domestic Worker Bill of Rights."
Organizers report that many workers and employers simply don't know the protections workers are owed. But there are also other, more complicated obstacles to making sure workers have the protections given to them by law. Many workers who know about the protections are still afraid to ask employers for things like a written contract, breaks, and changes in working conditions. "Not having any rights for so long has made a lot of caregivers scared. They are fearful," said Abby Ruiz, a nanny in Philadelphia.