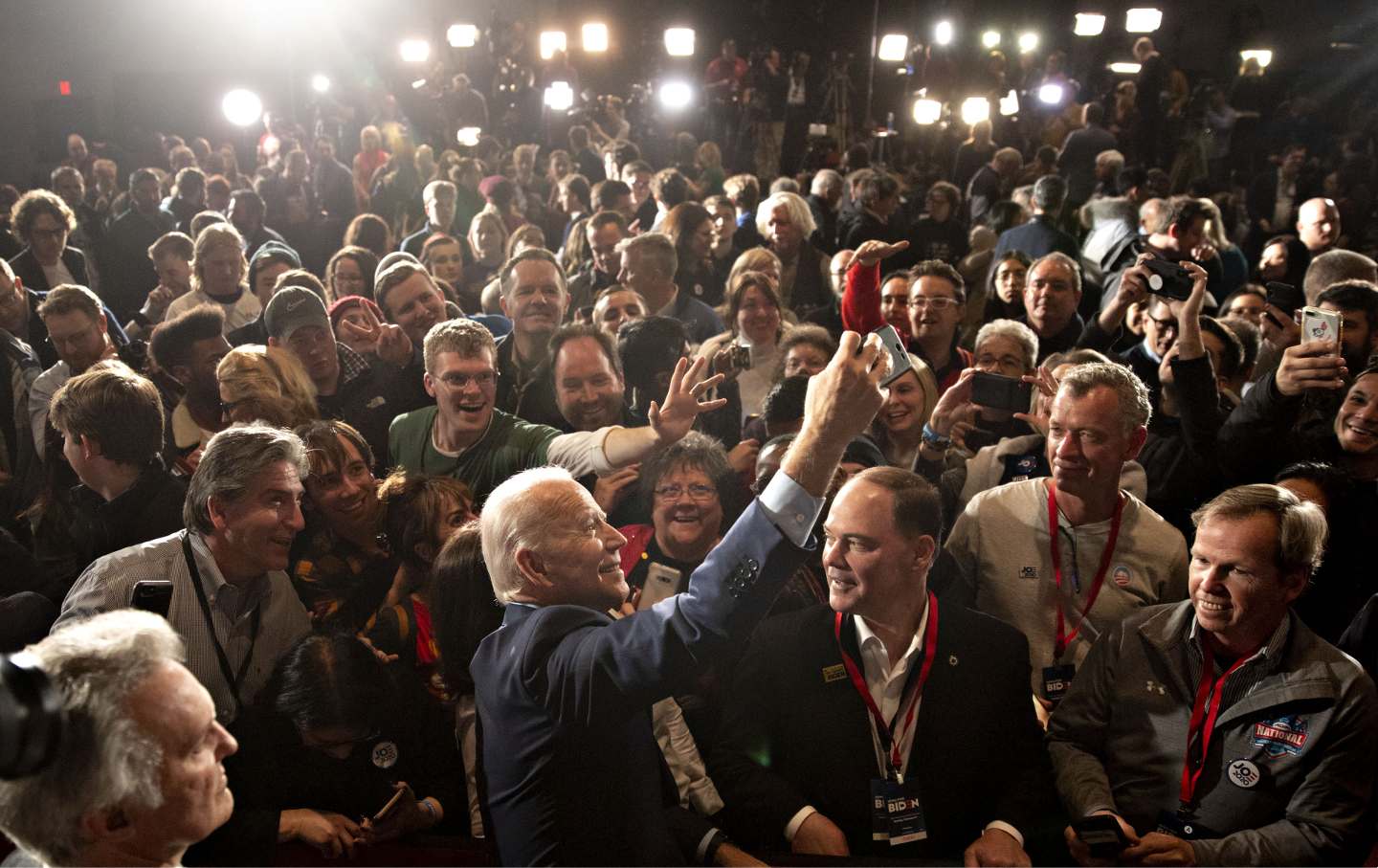 We need to talk about white people. Heading into the very high-stakes 2024 election cycle, progressives and Democrats need to engage in a sober, empirically grounded analysis of what we really know—and don't know—about how best to expand support among white voters.
For the past 10 years, I've been banging the drum about how the Democratic Party overprioritizes wooing white swing voters (a shrinking population) and does not spend nearly enough on investing in, inspiring, and mobilizing voters of color—who, after all, make up nearly half of the party's voters. But I've always also said that Dems need at least a certain percentage of white voters to win.
With Democrats and their allies preparing to spend more than $1 billion next year in the 2024 presidential election cycle, it's critical for us all to pause and make sure that the planning, spending, and strategy heading into next year's Election Day is informed by the latest and best data, including data on the most effective ways to attract more white voters. It's also imperative to assess the limits of that support, that is, to get crystal clear on which—and how many—white voters are actually woo-able.
Much of the conventional wisdom about voting patterns along racial lines in this country is faulty. Many people are surprised to learn that Lyndon Johnson was the last Democratic presidential nominee to win the white vote (in 1964). After he signed the Voting Rights Act in 1965, no Democratic nominee has won the majority-white vote again. Ever. (Jimmy Carter came the closest, winning 48 percent in 1976.)
Many misremember Bill Clinton's 1992 election as a high-water mark of white support for Democrats, but Barack Obama actually eclipsed Clinton's numbers in 2008 when he secured 43 percent of white votes compared to Clinton's 39 percent. In Clinton's 1996 reelection bid against a weak Bob Dole, he did manage to get the backing of 44 percent of whites.
That was the high point of white support for Democrats since the advent of modern-day exit polling in 1976; the nadir was Walter Mondale's 34 percent in 1984, and the average has been 40.3 percent. Forty-one percent of whites supported Joe Biden in 2020.
These figures should prompt Democrats to ask themselves two fundamental questions. First, how do we move the needle closer to the 43-44 percent that Clinton and Obama enjoyed? Second, when does political spending that targets whites reach the point of diminishing returns—that is, at what point do we reach the ceiling on how many white votes we can win?
This inquiry needs to go beyond the usual handwringing about Democrats' problems with white working-class voters. Trump bested Hillary Clinton among white non-working-class voters as well. How should we understand this, especially in light of the ongoing outsized attention showered on white working-class voters in Midwestern diners by candidates and the media? Maybe we should be paying more attention to trying to boost the turnout of college-educated white voters instead of continuing to chase those least likely to support us.
I've spent the better part of the past decade trying to sound the alarm about the need for Democrats to have a data-driven conversation about how to maximize the turnout of voters of color in a nation that is increasingly diverse and increasingly racially polarized. In a 2016 analysis, I showed that nearly 80 percent of Democratic dollars in that election cycle were spent on targeting white voters. In my 2016 book, Brown Is the New White, I broke down the math of the Obama coalition, which I dubbed the "New American Majority." This coalition comprises of progressive people of color (23 percent of all eligible voters) and progressive whites (28 percent of all eligible voters). These two groups make up 51 percent of all eligible voters. My book offered lessons on how Dems could maximize support from each racial group, including whites, in such a way that the elements commingle and create a winning formula. And yet that year the Democratic Party's white support dropped to a 34-year low as Trump turned white racial resentment and rage into a powerful political force.
While wooing white voters has always been top of mind for Democratic strategists, operatives, and leaders, there has been shockingly little transparent and constructive conversation about the evidence underlying the party's strategies and spending tactics. For example, Democratic operative David Shor has become infamous over the past couple of years for his advocacy of "popularism" as a way to boost white support. In The New York Times, Ezra Klein distilled the essence of popularism down to: "Democrats should do a lot of polling to figure out which of their views are popular and which are not popular, and then they should talk about the popular stuff and shut up about the unpopular stuff." (Spoiler alert: Much of that "unpopular stuff" includes talking about the problem of racism in this country.)