The British Labour Party, Sponsored by Amazon and Deliveroo
On the conference stage where, four years ago, delegates waved Palestinian flags, Keir Starmer defended Israel's right to retaliate in Gaza.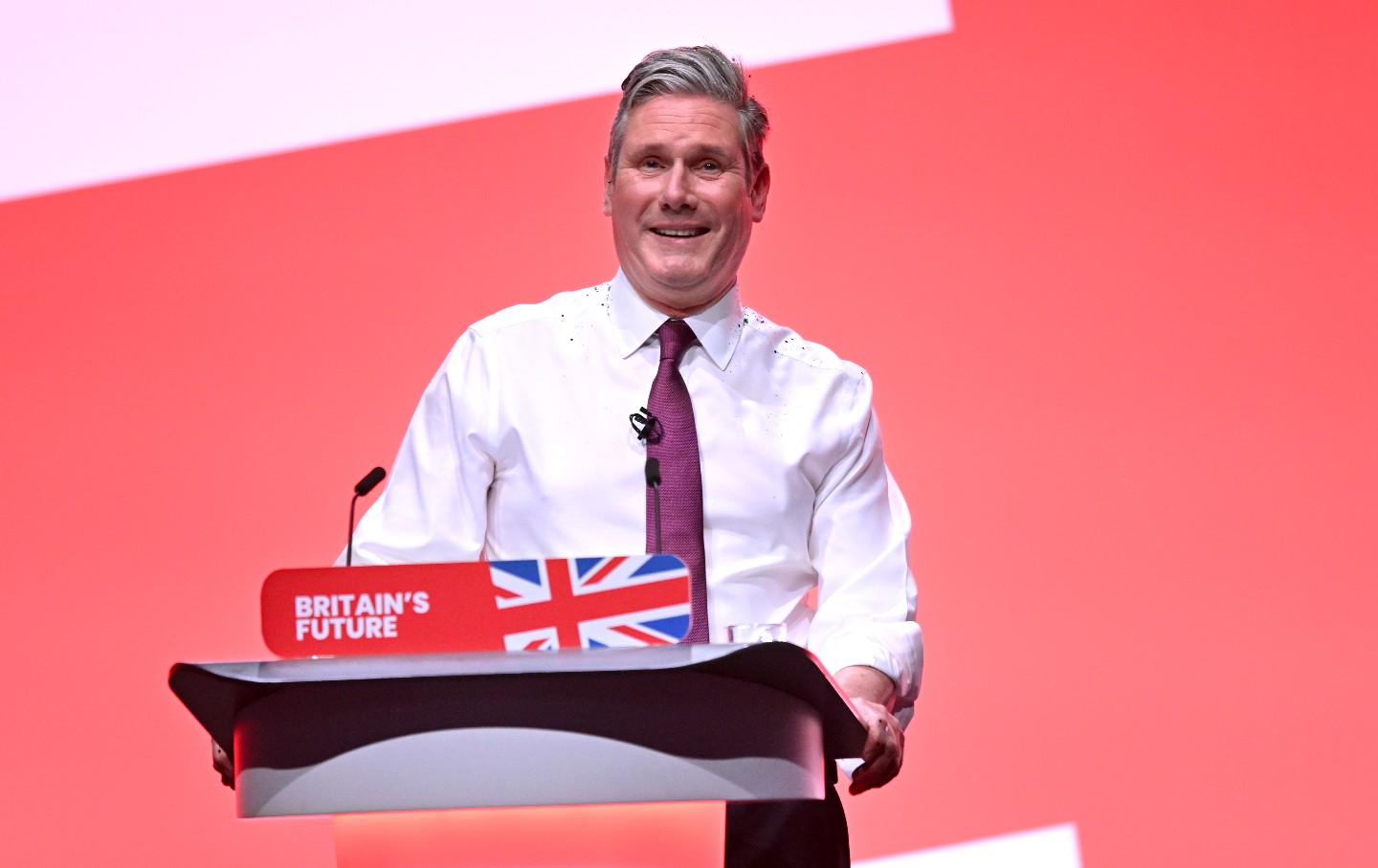 Liverpool—As this year's Conservative Party conference closed last week, it was clear that it was nothing but a self-inflicted tragedy. Organized provocatively in the English leftist stronghold of Manchester, the major political takeaways—from government figures pushing "15-minute city" conspiracy theories to the issuing of exhausted threats of economic sanctions against welfare recipients and a confected controversy over Tories' being harassed in Manchester pubs—demonstrated the Conservatives' lack of interest in tackling the crises Britain actually faces, instead indulging their pet passions as the party's looming defeat (elections are likely in the coming year) moves closer.
This week saw the opposition's turn to present itself. As the Labour Party conference began here last weekend, the atmosphere was less divided than in recent years—a reflection of the left's thorough routing by the right wing. A rough voting tally suggests that delegates supportive of party leader Keir Starmer numbered around 75 percent, while those loyal to the left belonged to the remaining 25 percent.
Leftist groups like Momentum and the Campaign for Labour Party Democracy failed to secure a place for their preferred topics on the agenda, with delegates voting instead to discuss topics such as Ukraine, defense spending and ethical standards in political life. New rule changes hit the left, with conference voting to not only liberalize processes to expel members backing non-Labour candidates (such as Jeremy Corbyn) in future elections but to remove voting rights for ethnic minority, LGBT, disability, and youth representatives in local party branches.
Outside the voting hall, more attendees came from businesses than from unions, creating an environment not dissimilar to a corporate lobbying convention. At the entrance points, workers handed out leaflets warning that "lobbyists operate in this area," while left-wingers warned of "corporate capture" as a conference welcome party was funded by a "buy now, pay later" credit firm and scores of events were sponsored by companies such as Amazon and Deliveroo.
Current Issue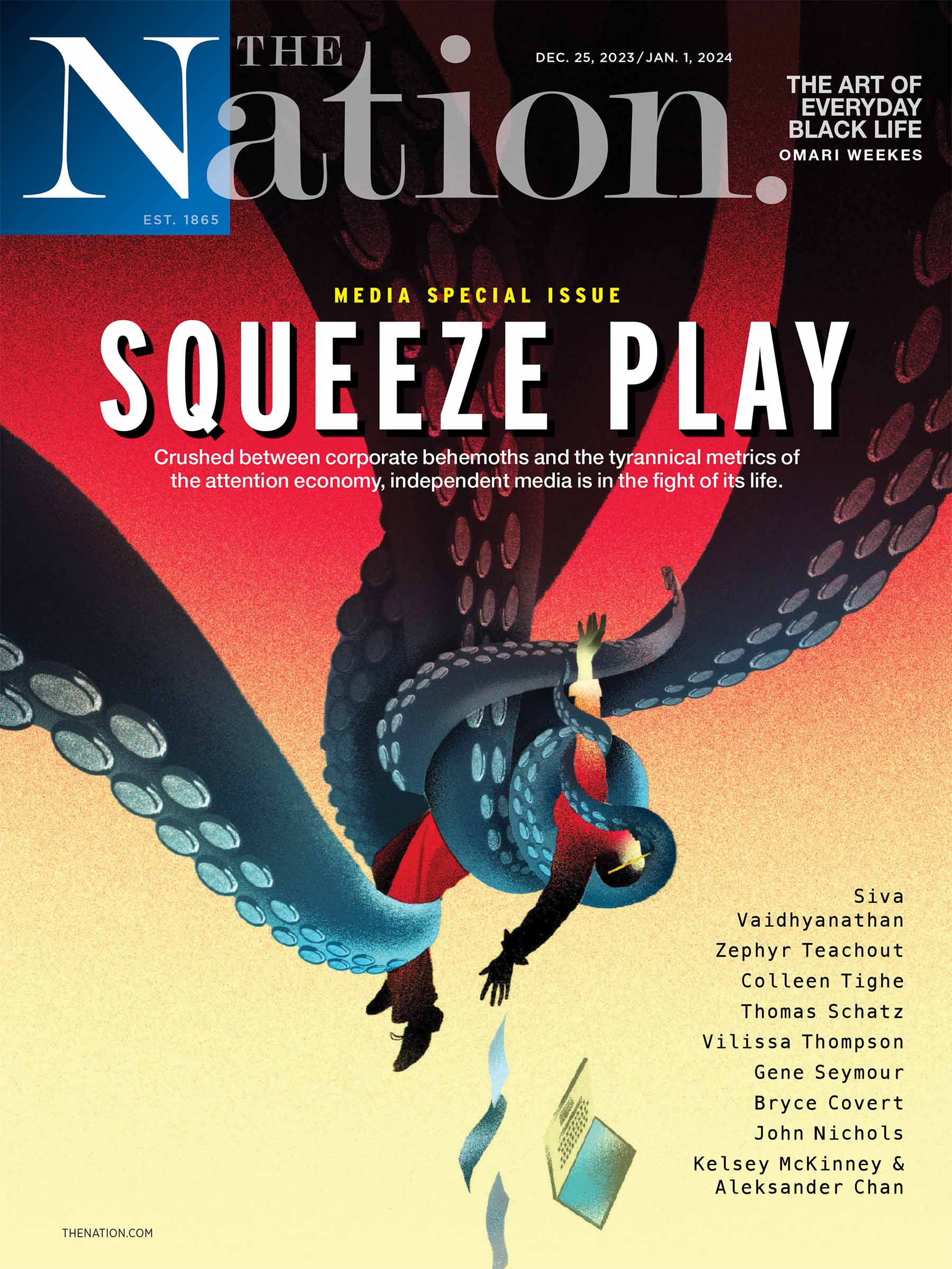 Among those speaking on an Amazon-sponsored panel was Peter Mandelson, the arch-Blairite whose presence made it clear whom the current Labour leadership felt more comfortable around. Following Unite the Union leader Sharon Graham's call for Starmer to be "bold" in his vision, Mandelson mocked her, retorting that Starmer will be "bold, not stupid." In conference, Unite were seated away from the stage into the "naughty seats" with the Communication Workers Union and the Associated Society of Locomotive Engineers and Firemen—a snubbing no doubt derived from tense battles between these unions and Starmer's office over the latter's opposition to strengthening workers' rights and ensuring free school meals for children.
Not all on the industrial front was a disappointment. Resolutions were passed calling for the public ownership of the railways and the energy sector, opposition to unregulated AI automation in the workplace, the strengthening of collective bargaining—and for Labour to fully commit to backing a bill of rights for all workers. Some of these themes were taken up by deputy leader Angela Rayner, who assured delegates that Labour's lack of commitment to workers' rights were "rumours." Postal workers leader Dave Ward received mass applause for urging Starmer to imitate Joe Biden and attend picket lines.
Surrounded by the Union Jack, both deputy leader Rachel Reeves and Starmer's speeches were rooted in the core message that the ascendance of Labour, rather than the calamitous Tories, was a necessary precondition for the recovery of British capitalism. Though she pledged the abolition of non-domicile tax status—a loophole that allows wealthy foreigners to avoid paying income tax—Reeves praised Gordon Brown's 1997 granting of independence to the Bank of England (removing political accountability for interest rate and monetary policy decisions), and pledged that Labour would enshrine the right of the Office for Budget Responsibility (OBR) to scrutinize government tax plans (it's worth noting that a leader as right-wing as Boris Johnson once considered scrapping the OBR to end Britain's addiction to austerity). Reeves's fealty to economic orthodoxy was rewarded an endorsement by former Bank of England governor Mark Carney, who approved of her "energy and ideas" in a recorded statement.
After being covered in glitter by an electoral reform activist, Starmer delivered a familiar speech. Describing Britain's general malaise in a less convincing manner than Reeves, memorable lines were few in number, beyond a mission statement that Britain's recovery requires a decade of "national renewal" under a Labour government and his condemnation of a Conservative Party that has "completely severed its relationship with the future." His repeated refrains about the need to recapture the spirit of previous Labour victories and personal anecdotes were already wearing thin.
But while in 2018 conference delegates waved Palestinian flags, Starmer received his first standing ovation for asserting Israel's right to defend "herself." In truth, the explosion of violence in Gaza and Israel totally overshadowed all conference proceedings. Even before the thousands of deaths, trouble had been brewing; earlier this month, Labour officials editing the conference guide removed the phrase "end apartheid" from an advertised Palestine Solidarity Campaign (PSC) event. This prompted a wave of anger led by train drivers' leader Mick Whelan, who warned that "you cannot tackle an injustice if you aren't prepared to name it."
Tension continued as the conference went on. Shockingly, Apsana Begum—the first hijab-wearing MP elected to the British Parliament—was forced to leave the conference after visiting the PSC stall because of credible threats to her safety (these threats are now under police investigation). Shadow minister Afzal Khan apologized for visiting the same stall, Starmer and senior politician Emily Thornberry received condemnation for seemingly supporting Israel violating the Geneva Convention (with Starmer's comments prompting criticism from UN officials). As Tory Home Secretary Suella Braverman told police that waving a Palestinian flag may be a criminal act, some delegates urged armed police to arrest Labour members waving the flag at conference.
Before Labour's 1997 election victory, politician Roy Jenkins described Tony Blair as "a man carrying a priceless Ming vase across a highly polished floor." Starmer's unwillingness to take any bold political stances has been attributed to a similar cautious impulse. As the Tories under Rishi Sunak are obviously unfit for purpose, influential businesses and institutions are already moving to Labour on completely understandable grounds.
But these are the same interests that have thrived while the rest of the country has become so poor that, without the huge economic pull of London, Britain would be poorer than Mississippi. Unless Labour are prepared to address the profound iniquities of British society—wage suppression, exorbitant rent, the abandonment of deindustrialized areas, food company hyper-profiteering, union busting –nothing will decisively improve. And while the interests that have done so well under the status quo remain comfortable with Labour, real change will never arrive.