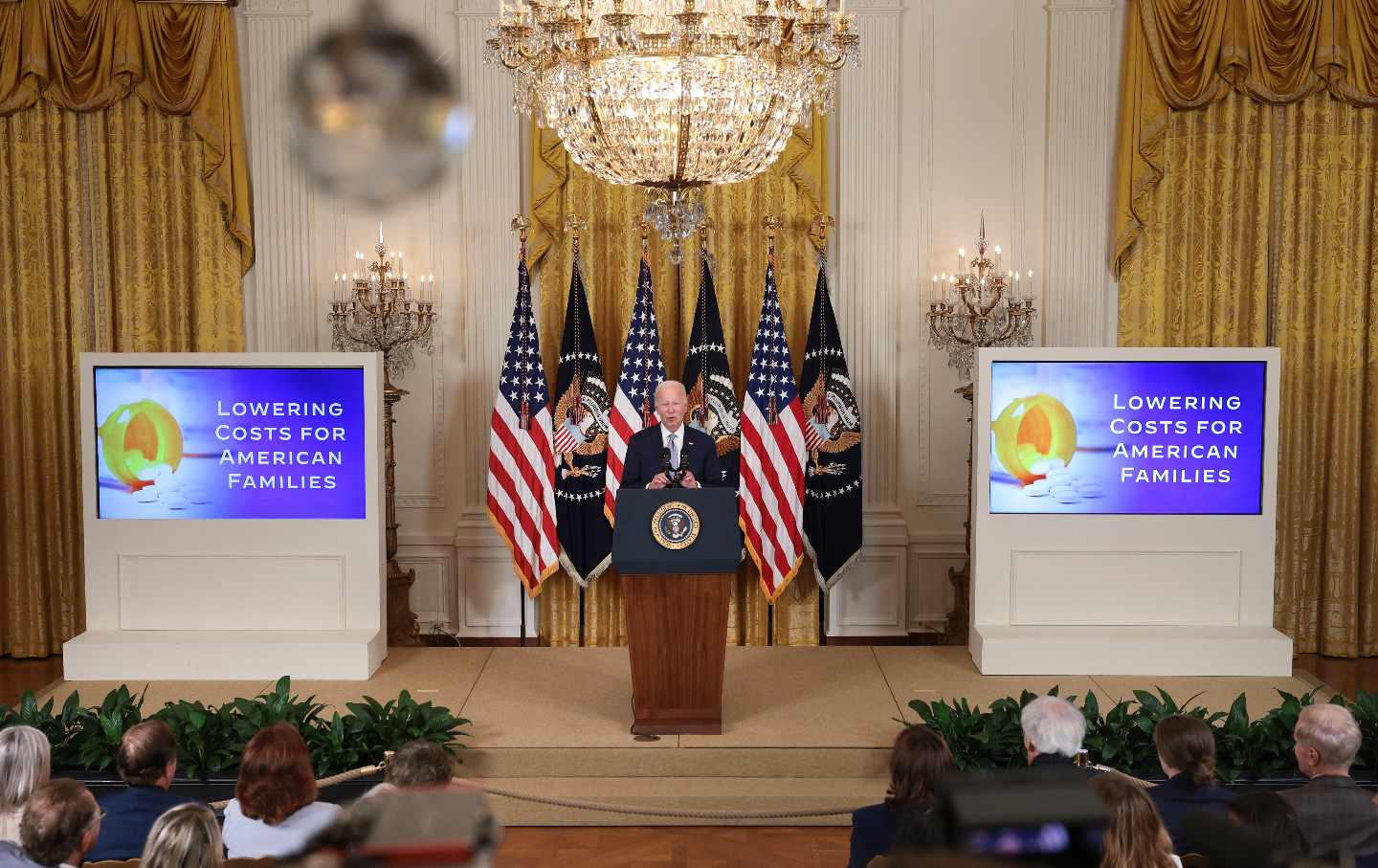 In a recent blog post, former Obama adviser Dan Pfeiffer, one of the shrewdest political strategists among mainstream Democrats, flagged some distressing polling showing a "neck and neck" race in the likely rematch between Joe Biden and Donald Trump in next year's presidential contest. Key parts of the Democratic coalition, notably young people, are dissatisfied with Biden. They aren't rushing to vote for Trump or any other Republican. But a critical mass of such voters might just sit out the election—or vote for a plausible third-party candidate like Cornel West. To his credit, Pfeiffer eschews the tired tactic of vote-shaming these demobilized Democrats and instead advocates for Biden to win them back into the coalition.
Biden's staff seems to be thinking along the same lines as Pfeiffer. On Tuesday, the White House announced a major policy change to lower drug prices. As Reuters reports, the Biden administration released a list of 10 "prescription medicines that will be subject to the first-ever price negotiations by the United States. Medicare health program that covers 66 million people, with big-selling blood thinner Eliquis from Bristol Myers Squibb and Pfizer among them." As with other Biden reforms such as student debt relief, the main problem now is the courts, which are stacked with Republican justices eager to overturn progressive social policies.
Leaving aside the dangers from the court, Biden's push on drug prices is a political master stroke. Simply as policy, it's a long-overdue reform. The deference the United States government gives to big pharmaceutical corporations means that prescription drug prices are often more than two and a half times higher than they are in peer nations. The policy will also help shore up Biden's support among exactly those voters that Pfeiffer sees as crucial to Biden's reelection (young people who are to the left of Biden on economic issues and feel he hasn't done enough to fulfill his promises).
Popular
"swipe left below to view more authors"

Swipe →
Drug price reform is also a stratospherically popular policy. According to a new survey from Data for Progress, "giving Medicare more power to negotiate lower prices for all prescription drugs" is strongly supported by 66 percent of the public, including 75 percent of Democrats, 63 percent of independents, and 59 percent of Republicans. If we combine "strong support" with "somewhat support," we get a policy that is supported by 90 percent of the public, including 93 percent of Democrats, 88 percent of independents and 88 percent of Republicans.
A policy that overwhelmingly popular also has the supreme political virtue of completely boxing in Republican politicians, since even before the new policy was announced, the lack of a coherent Republican alternative was clear. The GOP is divided on the issue. Some Republicans are choosing to ignore the issue all together. Parts of the old business establishment remain committed to maintaining the status quo on drug prices. But that's an untenable position, so we're seeing counter-moves that broadly fall into the category of dishonesty: either creating distractions or offering solutions that are pure bunkum. Not surprisingly, former president Trump falls into the bunkum camp.
Silence is the most common response. As The Hill reported in early August, "President Biden is leaning into lowering health care costs as the White House shifts into campaign mode, but the issue is barely mentioned by the gaggle of GOP candidates barnstorming the country." Of the 10 Republican presidential hopefuls contacted by The Hill to comment on their approach to the issue, only one (William Hurd) responded.
But with the Biden campaign clearly getting ready to make this one of the primary arguments in his reelection bid, keeping silent won't be an option.
Remarkably, the business wing of the GOP is still parroting the talking points of Big Pharma. On Tuesday, Politico reported that some congressional Republicans are "piggybacking on the pharmaceutical industry's strategy" and "working to persuade Americans that the Biden plan will stifle innovation and lead to price controls." Former vice president Mike Pence voiced this sentiment, telling reporters in a call, "I would have concerns about, ultimately, being able to use the power of the government to impose price controls under the free market."