Israelis Are Rejecting Netanyahu. So Why Is Biden Giving Him a Blank Check?
The president needs to recognize that Israelis are right when they criticize Netanyahu as a failed leader. Then he needs to stop giving him the green light to destroy Gaza.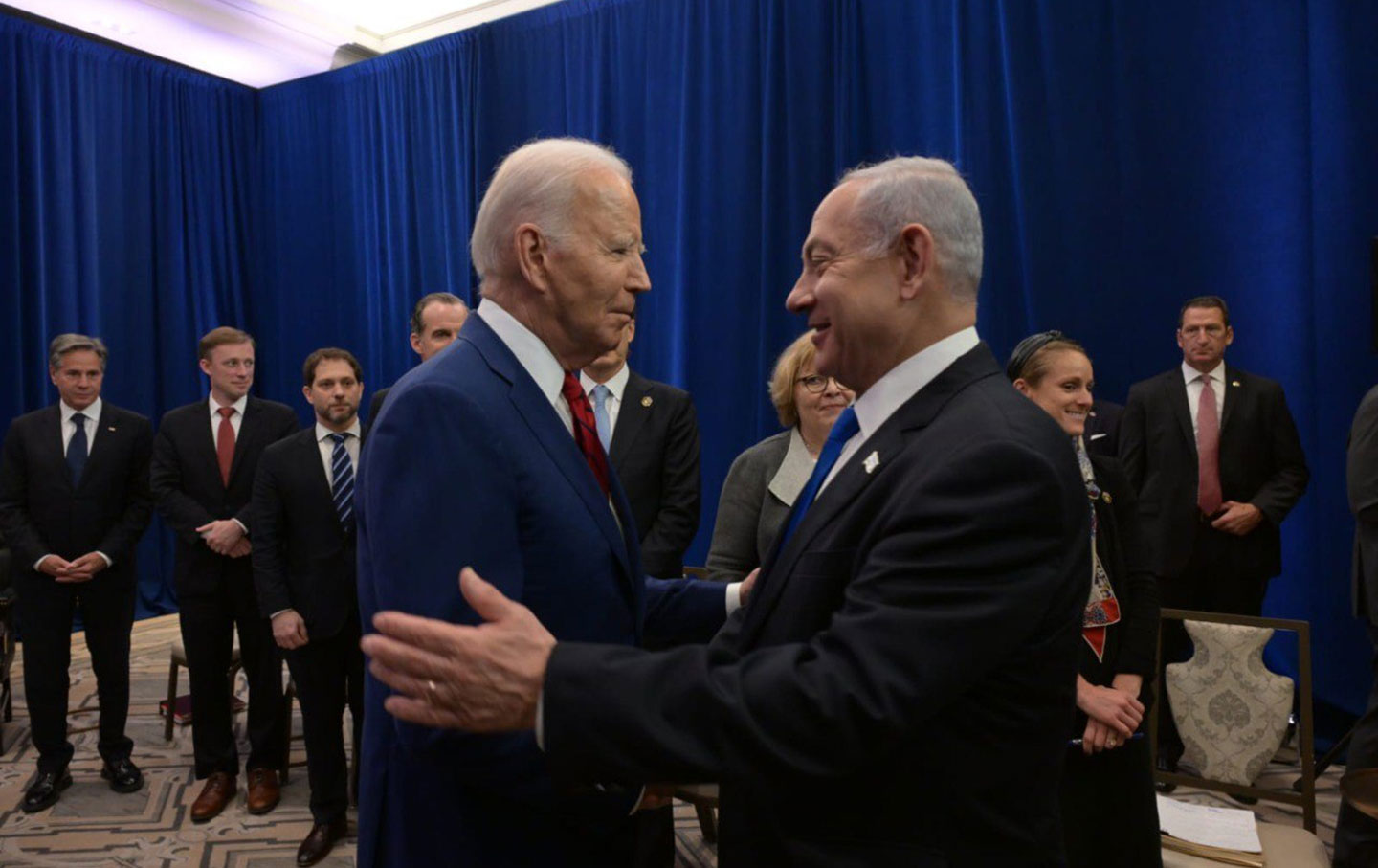 Since the horrific October 7 attack on Israel by Hamas, President Biden has highlighted his personal relationship with—and steady support for—Israeli Prime Minister Benjamin Netanyahu, going so far as to recall at one event, "I've known Bibi for 40 years in a very frank relationship." That's good for Netanyahu, as Biden, with a 68 percent approval rating in Israel, is far more popular than the prime minister.
But Biden needs to understand that Netanyahu, a scandal-plagued charlatan with a long history of engaging in desperate political gambits in order to maintain his grip on power, is now recognized by a growing number of Israelis as a failed and dangerously misguided leader.
Criticism of Netanyahu has been widespread and strikingly sharp within Israel, with the daily newspaper Haaretz declaring hours after last Saturday's attack:
The disaster that befell Israel on the holiday of Simchat Torah is the clear responsibility of one person: Benjamin Netanyahu. The prime minister, who has prided himself on his vast political experience and irreplaceable wisdom in security matters, completely failed to identify the dangers he was consciously leading Israel into when establishing a government of annexation and dispossession, when appointing [extremists] to key positions, while embracing a foreign policy that openly ignored the existence and rights of Palestinians.
It is not just Haaretz, a liberal newspaper that has long been critical of Netanyahu's wrongdoing, that is enraged by the prime minister.
Eighty-six percent of Jewish Israelis who were surveyed this week by that country's well-regarded Dialog Center said they "believe that the government and Prime Minister Benjamin Netanyahu are to blame for the mass infiltration of Hamas terrorists into Israel and the massacre that followed," according to a Thursday Jerusalem Post report. That view crossed lines of partisanship and ideology, as 79 percent of Jewish Israelis who identified as supporters of Netanyahu's pre-attack coalition blamed Saturday's surprise attack by Hamas on "a failure of the country's leadership."
Considering the fact that roughly 25 percent of Israelis are non-Jews, the vast majority of them Muslim and Christian Arabs who have historically recorded high levels of opposition to Netanyahu and his Likud Party, it's safe to say that the prime minister is in deep political trouble at home. Indeed, 56 percent of those surveyed this week said Netanyahu must resign once the immediate conflict, which the prime minister declared to be a war in the aftermath of the Hamas attack, is resolved. Opposition leader Yair Lapid refused to join a "unity government" Netanyahu organized after the attack because he said he would not serve with government officials who are guilty of "unpardonable failure." Netanyahu was able to form a new government with the help of another political rival, Benny Gantz; a poll released on Friday showed that Gantz's National Unity party would win in a landslide against Likud if an election were held now.
Current Issue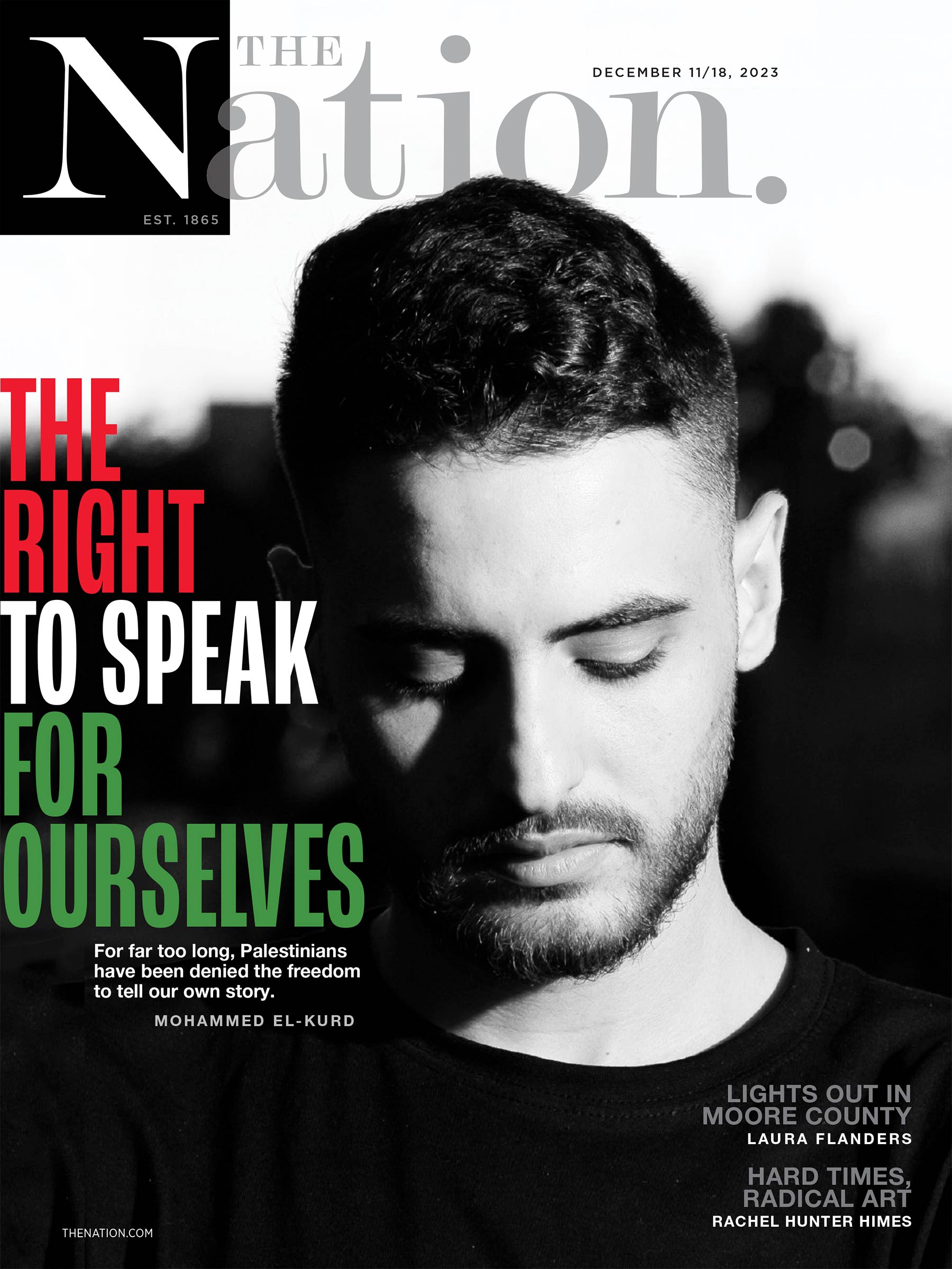 Biden has always been a strong supporter of Israel, and he is still that. But he needs to recognize, as do many Israelis, that it's a bad idea for Israel and the world to give Netanyahu a blank check to do as he chooses. That's especially true now, as Israel's assault on Gaza enters a new and horrifying stage. On Friday, as part of a siege that had already left an estimated 1,800 Palestinian civilians dead, Israeli officials ordered 1.1 million Palestinians to leave northern Gaza immediately. This was an "impossible" demand, according to the United Nations, which warned that the forced exit would have "devastating humanitarian consequences" and could transform what is already a tragedy into a calamitous situation."
The internationally respected Israeli human rights group B'Tselem, which for decades has defended the rights of Israelis and Palestinians, argued Friday, "The terrible pain over the atrocities committed by Hamas on Saturday cannot justify such harm to the civilian population. 2 million people will not be able to survive in such circumstances, and a humanitarian crisis, entirely human-made, is at the door."
Biden needs to pay far more attention to what humanitarian and human rights groups are saying. The president has made some valuable statements, which Haaretz recognized on Friday when it highlighted the president's observation that democracies "are stronger and more secure when we act according to the rule of law." The newspaper editorialized that "Biden's words must serve as our moral compass. Israel must respond to the criminal attack against it, but not at the price of giving the army a free hand to commit war crimes."
But for that to happen, Biden must sharpen and amplify his message, even if that requires him to challenge Netanyahu when Netanyahu is wrong.
To be sure, Netanyahu's approach has many supporters within Israel, and there are some who would have him go even further. But there are many other Israelis who know that what Netanyahu is doing is horrible for Gaza, horrible for Israel, and horrible for the world—people like Noy Katsman, whose brother, Hayim, was killed on Saturday.
On Thursday, Noy Katsman concluded an interview with CNN by telling host Jake Tapper: "What I wanted to say is, most important for me and also I think for my brother, was that his death won't be used to kill innocent people. Sadly, our government, my government, is using cynically the death of people to just kill. They promise us it's going to bring us security. But, of course, it not security. They always tell us that if we're going to kill enough Palestinians it's going to be better for us; but, of course, it never brings us peace and it never brings us better lives. It just brings us more and more terror and more and more people killed like my brother. I don't want anything to happen to people in Gaza like it happened to my brother, and I'm sure he wouldn't have either. So that's my call to my government: Stop killing innocent people. That's not the way that brings us peace and security to people in Israel."