Alida Ortiz-Jetter, a black-Puerto Rican Muslim who lives in Brooklyn, changed her evening commute after Donald Trump was elected. Instead of walking or taking the bus home from Interfaith Medical Center, the hospital in Brooklyn where she is a grant manager, she takes an Uber or a cab on late nights. If it's early enough, she'll hop on the hospital shuttle.
Ortiz-Jetter, whose Muslim name is Laila, avoided making that change during the campaign, even as Trump's rhetoric grew increasingly virulent toward Muslims and other minorities. But after his election, she decided to take fresh safety precautions, especially when her flowing hijab marked her unmistakably as Muslim. Friends have suggested that she remove it, a concession she is unwilling to make.
"We're all being more vigilant," Ortiz-Jetter, 42, said in an interview at Masjid At-Taqwa, the mosque in Bedford-Stuyvesant she attends. A few minutes before, an announcement from the mosque's head of security had crackled over the internal loudspeaker urging members to "just be alert. No more, no less."
Still, Ortiz-Jetter harbored hope that the election would unify Muslims and galvanize them to become more active citizens. As Trump begins piecing together his administration, Muslims in America are confronted with the simultaneous challenges of protecting themselves against Trump's proposed Muslim-targeting policies and countering the demonizing misconceptions that many in his inner circle share.
But forging solidarity and ramping up engagement face formidable barriers. In New York City, reactions from Muslims—including a few who favored Trump over Democratic candidate Hillary Clinton—to the president-elect, his victory, and the vitriolic campaign that preceded it are wide-ranging. They paint a complex and conflicting landscape of fear, despair, flippancy, resignation, and determination. A sense of powerlessness casts the longest shadow of all.
Of paramount concern for the Council on American-Islamic Relations, a national advocacy group, is protecting individuals from the many minority communities, Muslims included, targeted by vigilantes since the election. "That's obviously front and center," said Corey Saylor, director of the department to monitor and combat Islamophobia. Several attacks on Muslims were reported immediately after the election, and in 2015, the year Trump's campaign started gaining steam, the number of hate crimes on Muslims and mosques jumped about 67 percent from the previous year, the FBI recently reported. For his chief strategist, Trump has selected Steve Bannon, a white nationalist whom the Southern Poverty Law Center describes as having "a long history of bigotry" against Muslims, African Americans and other minorities.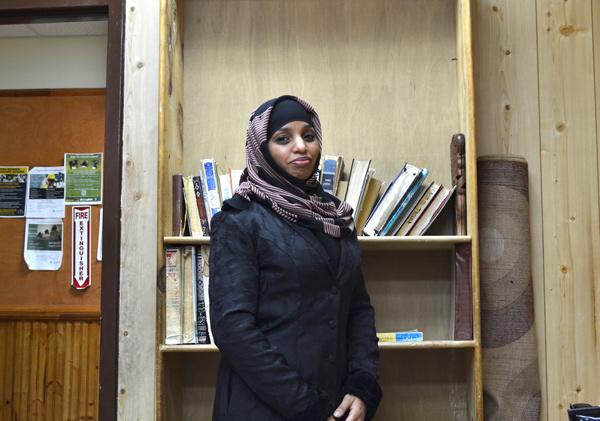 Another priority is guarding against what Saylor called a "return to the Salem witch trials" under a future Trump administration. Kris Kobach, Kansas's secretary of state, who is reportedly advising Trump, told Reuters last week that Trump advisers discussed drawing up a proposal to establish a registry of immigrants from Muslim countries.
In light of these political developments, addressing media-driven misperceptions of Islam as extreme and its adherents as terrorists will be crucial, Saylor said. Ordinary, law-abiding Muslims need to become more visible, even though countering discrimination by raising one's profile does put a person at greater risk, he acknowledged.
As a candidate, Trump said he would "absolutely" create a national database of Muslims in the United States. He later said on Twitter that the idea was a reporter's but maintained, "We must defeat Islamic terrorism & have surveillance, including a watch list, to protect America."
Trump also proposed barring all Muslim immigrants from entering the United States. Many experts concluded that such a ban would be all but impossible to implement, but his proposal became more feasible once he began to call for banning immigrants from "terror-prone regions" rather than Muslims in particular. Yet it's not merely the policy itself but the discriminatory ethos underpinning that and other ideas, such as building a wall on the Mexican border, that alarms so many. And as Trump taps advisers like Bannon and retired Lt. Gen. Michael Flynn, who in August called Islam a "cancer," for national-security adviser, those fears have deepened.
"If we have a racist president…then what should we expect from individual people?" said Badr al-Ryeshi, a 30-year-old who emigrated from Yemen about two years ago and now lives in Bay Ridge with his wife and their three young daughters. Speaking in Arabic, he said he hoped God would do away with their fears of attacks—such as one the day after the election at San Jose State University, where sophomore Esra Altun reported being grabbed by her hijab and choked—and that Trump would repudiate his policy proposals targeting minorities.
For Ortiz-Jetter, Trump's election pulled back the curtain on the full extent of racism in America that had long been obscured by political correctness. And for many of those who opposed Trump, his rise to the nation's highest office spawned a new, fraught possibility: Not only is America not the tolerant country they thought they lived in, but perhaps that country never really existed at all.
"I felt I was in an Orwellian nightmare," Ortiz-Jetter said of the day after the election. "It's a paradigm shift for all of us as Americans."
After the election, the US Council of Muslim Organizations, whose vision includes "mobilizing the Muslim populations of our local communities and that of our fellow Americans for the good of all," called for "Americans across the nation to come together at this time to work towards closing the divide."
"We've been talking for a long time about how important it is for Muslims to re-engage in broader social justice issues," Saylor said. "Now is not the time to hide away."
But this mission, a seemingly recurring one, is threatened by apathy or a reluctance to speak up, even among those targeted, at a time when the stakes appear higher than ever.
Of more than two dozen men and women I approached for this story, five refused interviews outright. Another six declined but then chatted with me informally and sometimes extensively, before declining another interview request (or several). They cited various reasons for not wanting to talk on the record, but the prevailing attitude was resignation. The election was over. Trump won. No point in discussing or dwelling; it's in God's hands now.
"I think that 'I don't want to talk about it,' is probably the attitude that got Trump elected," said Saylor.
I met Chandrajeet Padhy, a 36-year-old software consultant, who is among those Muslim men who grow their beards untrimmed, when he was handing out informational pamphlets about Islam in a subway station in Brooklyn.
"The sad part is not that Trump ran but rather the 59-plus million people who voted for him…. He's exposing those ideas to be normative in our society," said Padhy, who lives in Brooklyn. "What's more scary is the people that he's choosing in his cabinet…who have historical ill-feeling toward minorities."
Padhy said that if Trump abides by his discriminatory campaign promises, dangerous times lie ahead for Muslims in America. He argues that society must work to help Trump and his administration, but also hold them accountable and ensure they adhere to democratic values and treat all minorities fairly.
But not everyone in the Muslim community shares Padhy's views, or his conviction.
Had Hamed Nabawy, a 58-year-old Muslim immigrant from Egypt, voted on November 8, he would have cast his ballot for Republican Donald Trump.
As a businessman, Trump would improve the economy, and as a businessman with no foreign-policy experience, he would "close his eyes" to the Middle East and "improve the situation" there, said Nabawy, owner of the Fertile Crescent, a halal butcher and grocer-cum-clothing store and perfumery on Atlantic Avenue in Brooklyn, New York.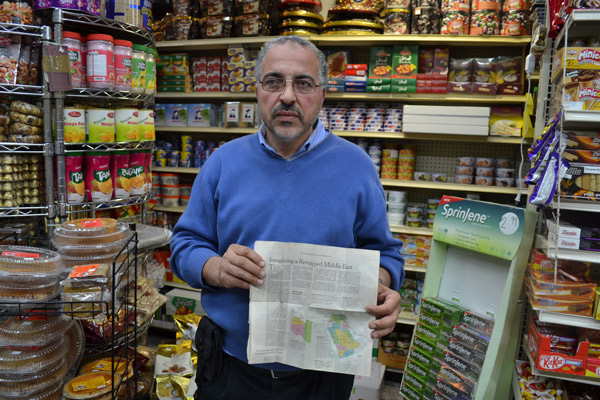 Such opinions can be disorienting when they come from the people who are the direct target of some of Trump's most extreme policies. But Trump's election showed that these views can no longer be overlooked or dismissed.
Nabawy was one of three pro-Trump Muslim, Arab immigrants I encountered. Another was an employee of his, Mohamed Hasan, who said in a separate, earlier interview that he voted for Trump. The third was Ali Al-Aswad, who 13 years ago emigrated from Yemen and now manages a deli in Bay Ridge, Brooklyn.
"He's a businessman," Aswad, 33, who voted for Trump, said. "He's going to fix problems in the US," like all the people Aswad saw begging and were on welfare and Medicare, he added.
Data on Muslims' views on Trump are hard to find, but some numbers suggest a modicum of support for the hardline president-elect. In late October, USA Today reported that a poll by the group Zogby Analytics found 12 percent of Arab-American Muslim respondents were planning to vote for Trump. According to CNN exit polls, 29 percent of Latinos—another cohort targeted by Trump—voted for him, but only 8 percent of blacks did. Overall, 74 percent of nonwhite voters favored Clinton.
One million Muslims are registered to vote in America, the US Council of Muslim Organizations estimated just before the election, and 86 percent of those voters intended to vote in November elections, according to a survey CAIR conducted. But CNN's exit polling of 24,537 voters by religion did not produce any results from the 1 percent of respondents who were Muslim.
Nabawy insisted that Trump would be isolationist on foreign policy, and that that would benefit Arab countries. He was adamant that President Barack Obama had created ISIS as part of an overarching plan by the George W. Bush and Obama administrations to break up the Middle East—and he had documents to prove it, he said.
He disappeared into the back of the shop and emerged a few minutes later, holding a folded, slightly yellowed clipping from The New York Times from Sept. 29, 2013, with the headline "Imagining A Remapped Middle East." Ignoring the text of the article, Nabawy insisted the colorful map, which examined how the borders of Syria, Libya, Yemen, Saudi Arabia, and Iraq might be redrawn along the lines of sect, tribe, and ethnicity, was not an analysis but an actual plan of "the administration" that some people had discovered and published. When I pointed out that the text said nothing to that effect and that the map and piece constituted analysis, not a plan, he urged me to read between the lines.
In separate interviews, both Nabawy and Hasan, as well as Aswad, did not repudiate Trump's threats to prohibit Muslim immigrants and build a Muslim registry. Instead, they painted it as mere campaign rhetoric that, should it somehow become policy, they were confident would not apply to them.
Seema, a 30-year-old born of Pakistani descent born and raised in Brooklyn, wasn't so certain.
"It's going to be chaos for Muslims," she recalled thinking after learning Trump had won. "I'm American-born, but they"—people who want to prevent certain groups of people from being American—"wouldn't see me as an American because of the way I'm dressed, because I want to practice my religion." Her hijab, a white scarf with simple fringe, was neatly pinned around her face, and both her tan peacoat and the blue dress beneath reached her jean-clad knees.
Seema, who declined to give her last name, tried to control her three young boys—the one on her hip as he gently hung his fingers from her mouth, and the other two as they scampered in and out of the dressing room of the Islamic clothing store in Bay Ridge where she was shopping with her mother the Sunday after the election. Knee- and ankle-length skirts hung from hooks lining the walls of the store, and chipped Styrofoam busts, some draped in headscarves, stared out vacantly from their perches atop clothing stands.
She had never voted, Seema said, including in this past election. Now, she would wait and watch how a Trump administration plays out.
A similar resignation echoed in conversations with other Muslims who expressed regret, fear, and a deep reluctance to discuss the election on the record. Many said that whatever agency they might have possessed, the election result had extinguished. It was a mindset that, while in some ways understandable, is also counterproductive to the visibility, solidarity and activism those like Saylor, Padhy, and Ortiz-Jetter see as critical.
"I'm hoping everything goes smoothly," Seema said. "Let's see what happens."