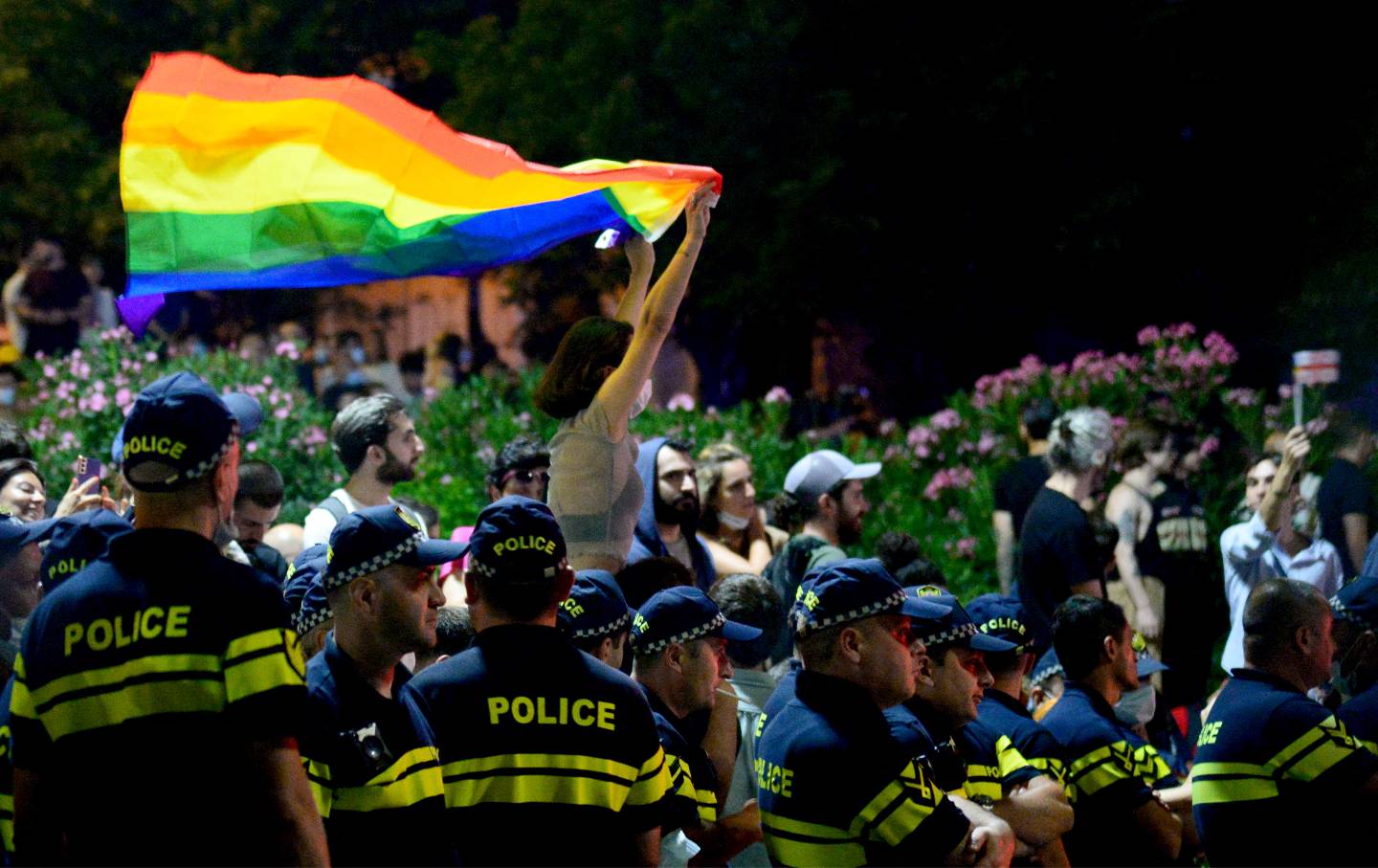 Ana Subeliani followed the arc of the police officer's finger across the map of the festival grounds. Here and here, he explained, his team would stop far-right counterprotesters from breaching the barricades and attacking the crowd at Tbilisi Pride Fest, the finale to the Georgian capital's third-ever LGBQT Pride Week.
"It felt real and trustful," Subeliani said. But as she prepared the grounds on the morning of the festival in July, as many as 2,000 protesters were already gathering at the outskirts of the park. Waving Georgian flags and chanting "Glory to Russia," the protesters—almost all men and many wearing the black T-shirts of the conservative media outlet Alt-Info—pushed against lines of policemen.
Officers who had assured Subeliani that they would defend the event now came to her with a question: How many people did she have working?
"In two or three minutes, they started, 'Evacuation!' And we heard this screaming of the people and throwing stuff," said Subeliani. Before she could protest, the police officers began running across the field, ushering organizers, volunteers, and artists into waiting mini-buses. "They didn't give us any choice," Subeliani said. "I immediately understood what happened."
After evacuating, Tbilisi Pride organizers quickly responded on social media. "The attack on LGBTQ+ activists and Pride Fest was a well-planned operation orchestrated jointly by the Ministry of Internal Affairs and 'Alt-Info' against human rights and democracy," they wrote on Facebook, referring to Georgia's national law enforcement agency and the conservative Georgian TV outlet.
Tbilisi Pride's statement captures queer Georgians' struggle to publicly assert their identities and exercise their rights to speech, expression, and assembly against a ruling party that increasingly aligns itself with Russian authoritarianism. For the safety and well-being of queer Georgians, Tbilisi Pride advocates for European-style democracy. But until then, Pride organizers must limit and conceal their events, resulting in a Pride Week often solemn—and always political.
"Unlike maybe Western Europe or the US, Pride is not only a celebration. For us, for me, it's resistance. It's a fight," said Mariam Kvaratskhelia, a codirector of Tbilisi Pride. "We are going against the most powerful institutions," she added. "We are constantly under risk."
Tbilisi Pride organizers argue that the government failed to protect them from physical threats from the very beginning. In 2019, organizers of the first Pride March canceled the event just hours before it would begin after far-right groups threatened violence online. "Gang formations were walking on the street with the crosses and trying to target the queer-looking people, and the police would not do anything," Giorgi Tabagari, cofounder and codirector of Tbilisi Pride until 2021, said. "Until now these people are not arrested."
After canceling the official march, Pride organizers called a few dozen trusted activists to protest in front of the MIA offices later that day. Their demonstration marked the first Pride March in Georgia. "We had the feeling that we won that year," said Tabagari. "We achieved what we wanted, we occupied prime-time news, and we directly communicated with the public."
Tabagari organized the first Pride March after multiple attempts by the government to suppress queer Georgians. In 2017, Parliament changed the Constitution to designate marriage as a "union of a woman and man for the purposes of creating a family." That same year, Tabagari said, the MIA convinced queer organizers to call off a demonstration on International Day Against Homophobia, Biphobia, and Transphobia for fear of violence from far-right groups.