Chicago's Labor Movement Is Looking Very Queer These Days
Queer people across the Windy City are unionizing and demanding better rights at work.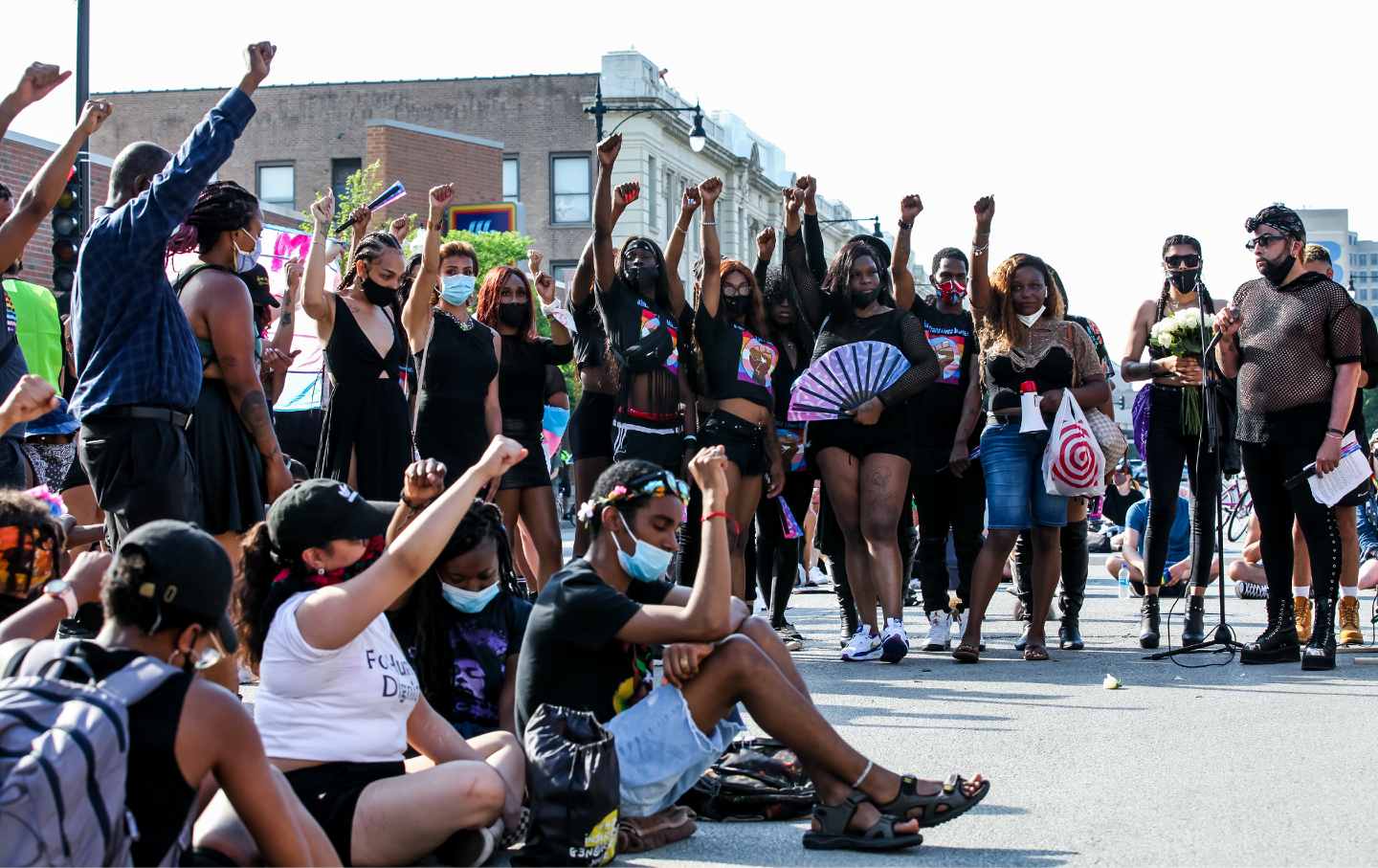 Andrea Villanueva didn't have to think very hard about joining efforts to organize workers at Chicago's LGBTQ+ health center, Howard Brown Health. "The second someone said the word union, I was like, 'Stop talking, get me in there," she says.
Villanueva works with patients living with HIV at Howard Brown, making sure they stay connected to treatment and care. She spoke with palpable anger about the way she's seen overworked employees struggle to care for thousands of Howard Brown patients on their own. In particular, she's incensed about the shuttering of a program aimed at responding to sexual and domestic violence.
"It was an incredible program that is literally unmatched, and it's just gone," Villanueva says. "Because according to the director of social services, it wasn't doing enough to bring in enough revenue and it wasn't telling the right story for donors."
Villanvueva is one of more than 400 Howard Brown workers who continue to fight cost-cutting and layoffs at the health center. The newly formed union, Howard Brown Health Workers United, went on strike in January after dozens of employees were laid off and services were severely cut or outright eliminated.
In interviews with local nonprofit newsroom Block Club Chicago, Howard Brown workers said after the January strike that clinics on the South Side were "decimated" by layoffs and cuts, sometimes leaving just a handful of people caring for tens of thousands of patients.
Current Issue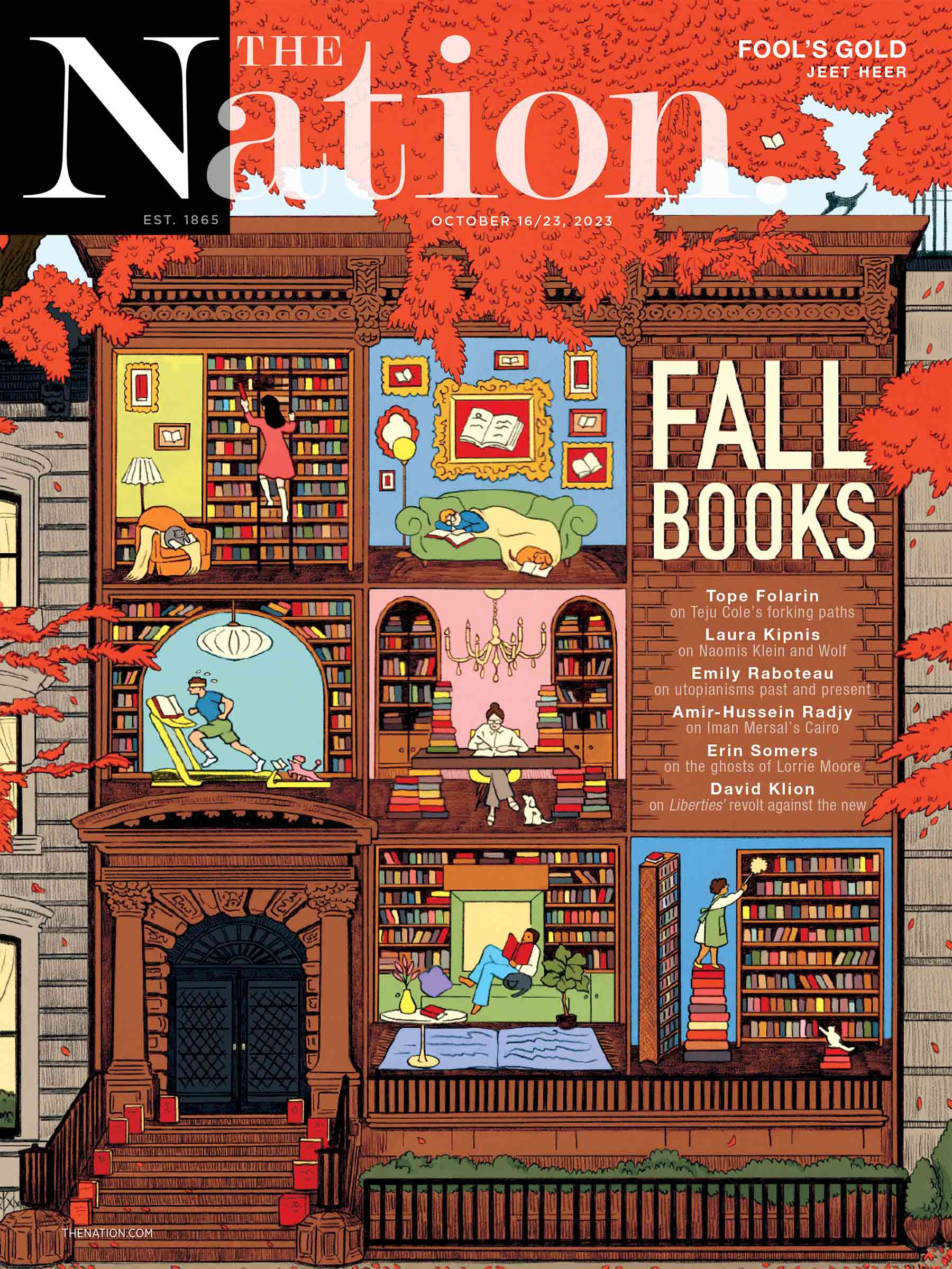 Howard Brown workers have focused much of their ire at the organization's CEO, David Ernesto Munar—who has said that the layoffs were necessary to plug a $12 million deficit due to a loss in federal funding—and a board that Villanueva says is essentially handpicked by and therefore beholden to the CEO.
And their fight is just part of a wave of labor organizing at queer institutions in Chicago—one that comes as queer people across the country grapple with a rising social and political backlash against LGBTQ+ people, all while deep-pocketed corporations abandon the queer customers to whom they've pandered for years.
In March, workers at the nightclub Berlin unionized, making them a standout in the local queer nightlife scene. Members of the Berlin union, who include bartenders, barbacks, stage managers, and security personnel, are pushing for better pay, equipment, and training. The Berlin and Howard Brown unions have forged a strong alliance, participating in each others' pickets and protests and showing additional public support for one another on social media and during demonstrations.
Jolene Saint, who is currently a bartender at Berlin (though she says she has "basically had every job you can have" at the club) and a member of its union's bargaining committee, says that an overwhelming feeling of financial precarity has pervaded at the nightclub for years. "The entire time I've worked at Berlin, there's always been this sense that Berlin is going to close in the relatively near future," she says.
Additionally, workers at Brave Space Alliance, a Black- and trans-led community center on the South Side of the city, formed a union last year. The union was quickly recognized by leadership, but it has not managed to secure a contract yet. (The founder and former CEO of Brave Space Alliance was ousted late last year after an investigation found evidence that she had allowed funds to be sent to unknown bank accounts and other "questionable spending.")
Popular
"swipe left below to view more authors"

Swipe →
The wave of organizing at prominent queer institutions in the city comes at a time when queer rights are under attack and being rolled back nationally. Anne Balay, who has written two books on queer labor organizing in the US (about queer truck drivers and steelworkers, respectively) and is an organizer for SEIU, says that's not a coincidence.
"Unions can be a way that most queer workers find community and protection, and it's so important," Balay says, citing the decades-long history of queer labor organizers fighting for landmark protections for workers, often during particularly hostile periods of anti-gay backlash.
In an era where corporations abandon Pride campaigns and cave to pressure from anti-LGBTQ+ bigots, and politicians use queer lives to score points with voters, unions have cemented themselves as a way for queer workers to ensure their safety in workplaces that serve predominantly queer clientele.
Because queer people also tend to make less money and are more likely to live in poverty than their straight, cisgender counterparts, unions can also be a crucial way for queer workers to earn stable wages and have decent health care and job security at any workplace, Balay says.
"I've had white-collar jobs that I've been fired from for being queer, consistently, whereas in a unionized job, I have some degree of protection at work," Balay says, and she's certainly not alone in that.
In a 2021 survey of almost 1,000 LGBTQ+ adults by the Williams Institute, nearly half of respondents said they experienced some form of unfair treatment at work, including being fired, because of their sexual orientation or gender identity. The National Center for Transgender Equality says that more than 75 percent of trans people have faced discrimination at work.
The chances of anti-queer legislation becoming law in Illinois right now are admittedly rare due to a strong Democrat majority in the state legislature and a staunch ally in Governor J.B. Pritzker—who has cemented the state as a haven for LGBTQ+ rights like access to gender-affirming care.
But Villanueva says that the cuts imposed by Howard Brown leadership put its important mission in jeopardy at this especially crucial moment.
"Our providers are massively overworked, most of our providers have caseloads in the thousands, if not some near the tens of thousands," Villanueva says. "It is hard to imagine, thousands and thousands more patients coming and where they're going to go with the number of providers we have right now, and the support that those providers have—or lack thereof. I just feel like Howard Brown could be so much better than it is in so many ways."
At Berlin, security team members like Chelle Crotinger say the better training and resources they are organizing for are especially important in the face of anti-queer violence—though he says incidents at the nightclub are extremely rare. But other institutions haven't been as lucky.
Last year, a gunman entered gay bar Club Q in Colorado Springs and killed five people, wounding 25 others, before he was subdued by bar patrons. A Brooklyn man was charged with arson last year after setting fire to a New York City gay bar—with the staff inside. And in Chicago, a hammer-wielding man smashed a window at a gay-owned bar and restaurant in January.
Crotinger says they and other members of Berlin's security team are all acutely aware of the potential threats they could face at work, particularly as the club's first line of defense.
"Any kind of violence that happens at the bar, it is our responsibility to put ourselves in front of that—if someone has a knife, if someone is swinging. "Crotinger says. "And I think our security team is hungry to learn how to do that in a way that is going to be effective and isn't going to do lasting damage to ourselves."
Alongside the national political climate, these queer-led unions are also organizing after an election that dramatically changed Chicago leadership and put a key union ally at the city's helm. The city's new mayor, Brandon Johnson, cut his teeth as an organizer with the Chicago Teachers Union, where he was part of a movement focusing on issues including police reform and affordable housing.
He has also repeatedly spoken out against anti-LGBTQ+ rhetoric and violence and vowed to "champion LGBTQ rights as human rights" as mayor. Johnson also threw his support behind workers in labor disputes, including Howard Brown workers, Chicago State University faculty and staff, and rail workers.
But organizers and workers are far from taking the strong support from Mayor Johnson and Governor Pritzker for granted. Instead, they say it's cemented their steadfast support for their unions and others so that these institutions can survive as havens and safe workplaces for years to come. That goes double for when the city and state aren't run by staunch LGBTQ+ allies—something that Chicagoans know is never too far off.
For instance, if Johnson's opponent Paul Vallas had won the election, queer Chicagoans would have instead been served by a mayor with a history of anti-LGBTQ+ behavior. Vallas received significant criticism last year after he spoke at a fundraiser for Awake Illinois, a far-right group criticized for its transphobic and homophobic rhetoric. And a number of LGBTQ+ legislators and community leaders denounced Vallas in March for what they said was a decades-long pattern of anti-LGBTQ+ actions going back as far as his time as the CEO of Chicago Public Schools in the 1990s.
When the livelihood of queer people can rely on a single election, Saint says institutions like Berlin, Howard Brown, and Brave Space Alliance are crucial for patrons and employees alike.
"The union is a way to get my coworkers a living wage, it's a way to have a safer working environment, but beyond that, it's also a way for Berlin to continue to exist," Saint says. "These kinds of spaces, these gay and queer spaces, are often precarious. And to me, this is the way to make sure that it keeps going—not just for me and my current coworkers, but for anybody who works there in the future."