Columbia University's Double Standard for Palestinian Protests 
The rally by Students for Justice in Palestine faced organized counterprotesters, increased police presence, and limitations to access and assembly.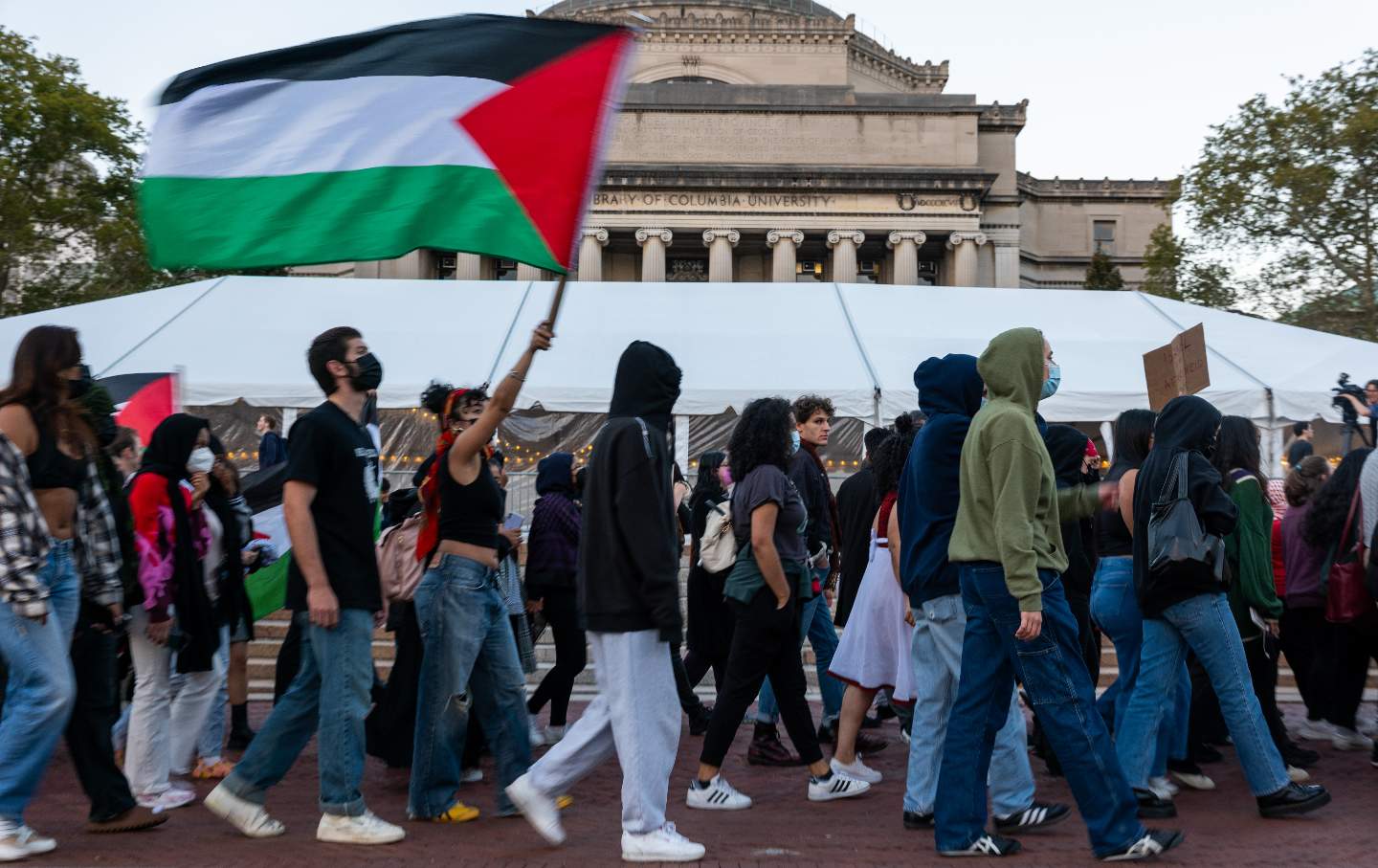 On October 4, 2023, Minouche Shafik was welcomed as Columbia University's new president. Before beginning her inaugural address—focusing on the value of education and Columbia's commitment to "rigorous" and "vigorous" debate—Sheena Wright, a Columbia alum and the first deputy mayor of New York City, acknowledged the most visibly engaged audience members: the hundreds of chanting protesters. "You will not have a Columbia welcome without protest—it would not be authentic—so get used to it."
Wright's initial advice soon became even more pertinent. Days later, after Hamas's attack on Israel on October 7 and the initial retaliatory attacks from the Israeli government, Columbia deans began e-mailing students on October 9 to address the ongoing violence. Josef Sorett, the dean of Columbia College, expressed sorrow for "the horrific acts of violence and loss of life" in Israel and Gaza, while Shih-Fu Chang of the School of Engineering and Applied Science and Lisa Rosen-Metsch of the School of General Studies sent messages absent the words "Palestine" or "Gaza" or any sentiment of sympathy for the Palestinian people.
The deans' differing messages quickly became points of debate between students. For many, the unwillingness of Chang and Rosen-Metsch to mention Palestinian deaths felt isolating—and all too predictable. A planned protest on October 12—cosponsored by Columbia Students for Justice in Palestine, the BC/CU Jewish Voice for Peace, and many other student groups—was preceded by an open letter from SJP, stating the club's "full solidarity with Palestinian resistance to 75 years of Israeli settler-colonialism and apartheid" and condemning the university for investing "in Israeli companies that violate international law and profit off of the construction of illegal settlements on Palestinian land."
"We call upon newly inaugurated President Minouche Shafik to step up and divest from Israeli apartheid, end the dual degree program with Tel Aviv University, and cancel the opening of the Tel Aviv Global Center," read the letter. "We call upon our administration as a whole to start verbally acknowledging Palestinian existence and humanity."
Within days of SJP's letter, Columbia interim provost Dennis A. Mitchell shared a university-wide e-mail with the subject "Ensuring Safety and Free Expression on our Campus," along with links to the rules of university conduct. Hours later, David M. Greenberg, executive vice president of university facilities and operations, said that beginning at 6 am on October 12—the day of the Palestinian solidarity protest—access to Columbia's primary Morningside Heights campus would be "open to valid Columbia University ID holders only." In order to access the campus, he said, students and staff must be prepared to show their ID to Columbia Public Safety. Every university-wide e-mail from Mitchell and Greenberg reiterated that the campus would be solely available to CUID holders, and yet, on the day of the protest—around 20 minutes prior to the planned event—numerous members of the press were guided onto the campus by administration and allowed to cover the event, with the university seemingly granting passes to individuals and publications of their choosing.
SJP originally planned to protest on the steps of Low Library, a massive campus building where many student events take place; however, campus security moved the rally to an enclosed area on the east lawn adjacent to Butler Library, when Students Supporting Israel announced a counterprotest elsewhere on campus. After breaking their silent protest, SSI supporters prayed and sang in Hebrew. Within the fences that separated the two groups, most SSI supporters held Israeli flags and wore blue and white, while many SJP supporters donned green, red, and black.
Current Issue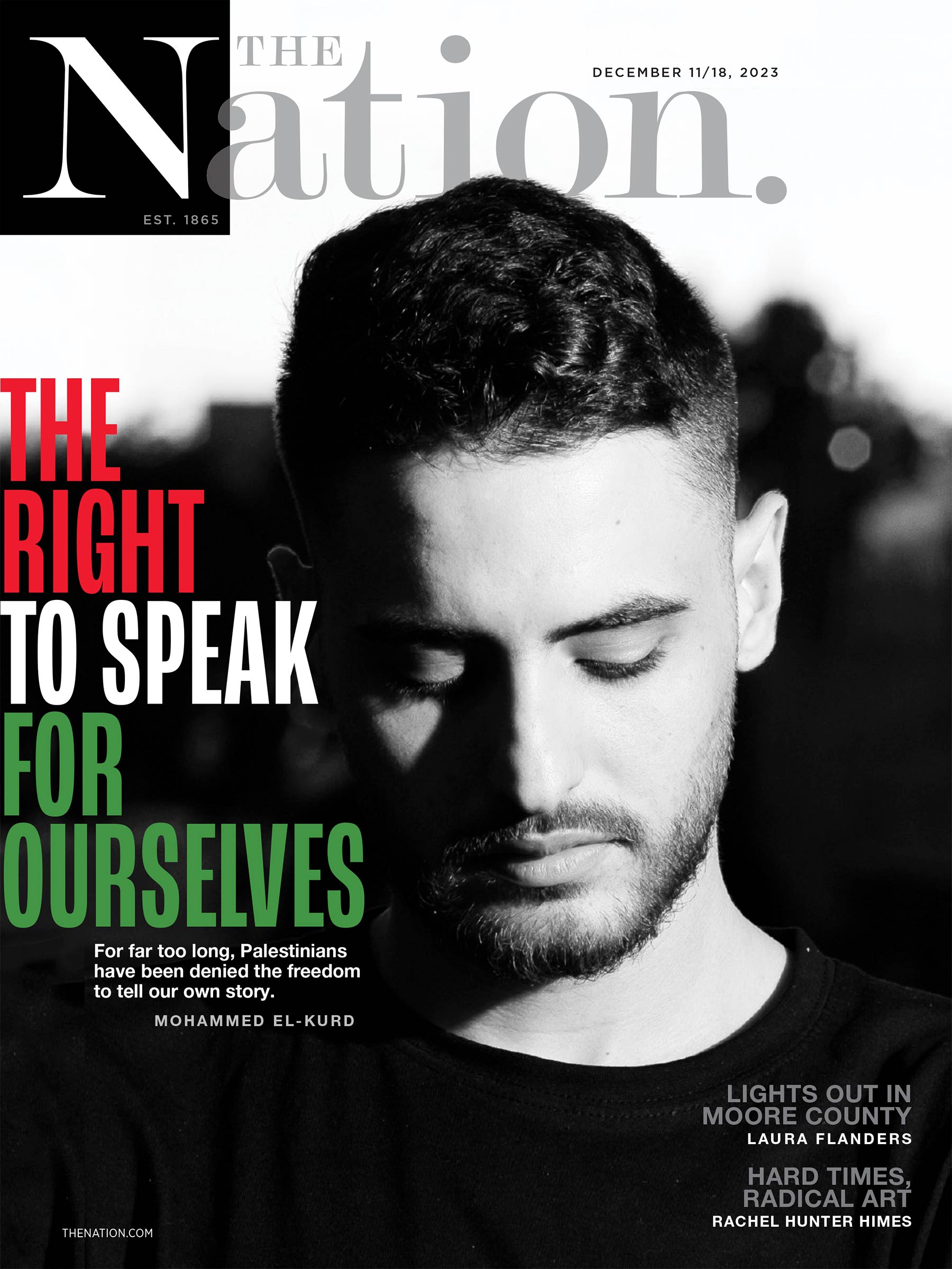 SSI had previously organized a vigil for the evening of October 7, as well as a separate community gathering on October 10. But SJP's protest was the only one that faced organized counterprotesters, and the only one for which Columbia dictated where protesters could gather. Along with Columbia Public Safety, there was also increased police presence at the SJP protest, with around 30 NYPD officers patrolling the campus. "The NYPD will be protecting us," wrote SSI on their Instagram before the counterprotest.
Many students at the SJP event wore masks to prevent being doxxed by online organizations targeting pro-Palestine students. Between accusations of being "baby killers" and "hated by America" from a handful of onlookers, and one man bearing an Israeli flag attempting to climb over the fence between the protests, the speakers continued, primarily relying on a sole female student to stand as the barrier between the angry counterprotesters while the NYPD stood aside. At one point, a Columbia Public Safety officer separated an SJP representative from the counterprotester, guiding him away from both crowds while thanking his eventual compliance.
SJP signs read: "We are not human animals," "Does Palestine not matter?" and numerous iterations of "Jews for Palestine." In speeches, student representatives reiterated their fears of being misrepresented, targeted, and used as sound bites. "The dichotomy in the media is stark and unsettling," said one speaker. "Israel says they are outraged by the killing of innocent civilians whose lives matter, so they will respond by killing innocent civilians whose lives don't matter."
After one student from Gaza spoke of her fears of friends and family dying, a student from JVP talked about the Jewish principle of "tikkun olam," a Hebrew phrase meaning "repairing the world." For these students, continuing the traditions of protest and calls for divestment seem to be the way forward.
Following the event, Columbia's student radio station, WKCR, released a special news broadcast featuring a counterprotester who identified themselves as an "officer of administration" at Columbia's uptown Medical Center campus. "I'm Jewish, okay? I'm a Zionist, okay? I hope every one of these people die," said the employee.
"How can we trust the institutional mechanisms that are supposed to protect us," read a joint op-ed by Columbia's JVP and SJP chapters, "when someone claiming to be a Columbia employee feels comfortable saying publicly that he wants us dead?"