Print Magazine
July 30, 2007 Issue
Editorial
Harvard's Carr Center for Human Rights doesn't officially favor the war in Iraq, so why is it helping Gen. David Petraeus devise a counter-insurgency doctrine?
As he observes his eighty-fifth birthday, here's a tribute to 'the most decent man in the US Senate,' who has left his mark on politics and on the American people.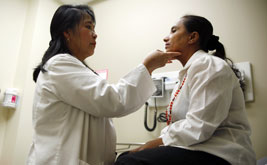 Sure we have a healthcare system in America. The trouble is, it's designed not to make people healthy but to make money.
Column
If the American people are largely against the war, what's the matter with the antiwar movement? The answer lies with what has happened over the years to the American left.