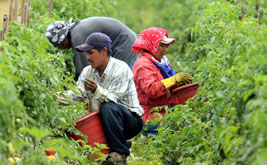 As the food movement has discovered, winning over the media, or even the president, is not enough.
Sep 14, 2011 / Feature / Michael Pollan
Today's conversation about food was started by dot-connecting writers like Berry in the 1970s.
Sep 2, 2009 / Feature / Michael Pollan
How do we fix our dysfunctional relationship with food? Alice Waters leads a forum with Eric Schlosser, Marion Nestle, Peter Singer and others, who suggest, for starters, that we...
Aug 24, 2006 / Feature / Jim Hightower, Eric Schlosser, Peter Singer, Eliot Coleman, Vandana Shiva, Carlo Petrini, Winona LaDuke, Elizabeth Ransom, Troy Duster, Wendell Berry, Michael Pollan, and Marion Nestle