The Real Agenda of Moms for Liberty
As Republicans pay the political price for overturning legal abortion, they're banking on "parents' rights" as a way to paint their opponents as extreme.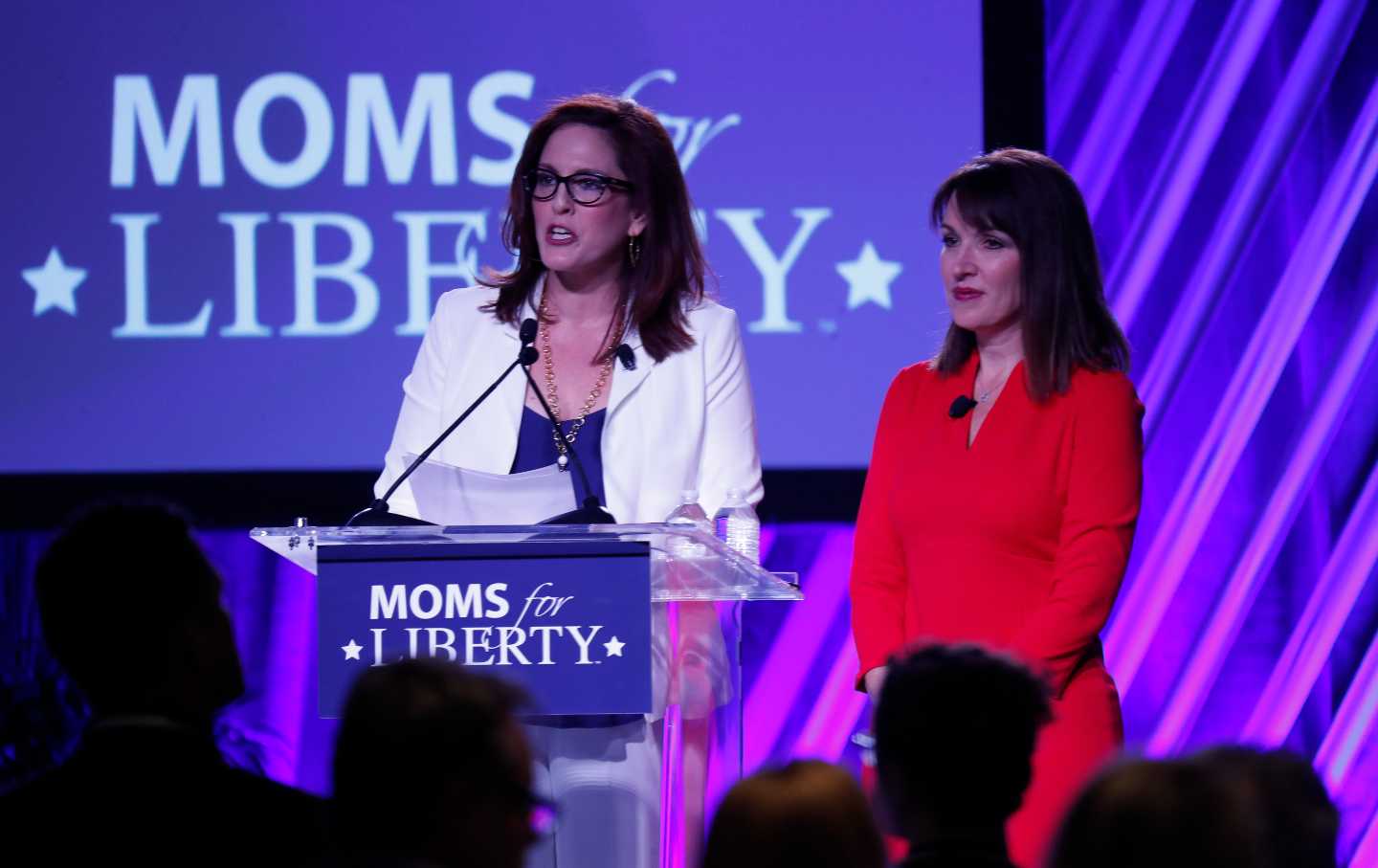 Over the Fourth of July weekend, Moms for Liberty held a packed summit in downtown Philadelphia, its second-ever national convening. Founded in 2021, the fast-growing group claims 120,000 members in 285 chapters across 45 states, with hundreds of endorsed candidates elected to school boards to promote purging "critical race theory" and books with transgender characters from classrooms. At one session I attended, titled "(Wo)manhandling the Media," the group's strategy became crystal clear. Led by Christian Ziegler, the chair of the Florida Republican Party and the husband of Bridget Ziegler, a Moms for Liberty cofounder and Sarasota County School Board chair, the session provided lessons for new recruits on how to get the media—whom Ziegler described as a bunch of "lazy" liars—to boost their chapters' profiles. A centerpiece of this approach involved using high-profile politicians to lure reporters to an event. "The media will show up because they're thinking that what [the elected officials] say is going to be news—not your chapter, no offense," he told a chapter head from a blue state who'd complained that journalists weren't covering her rallies. "So you got to piggyback off those VIPs as much as you can. It's like this summit, right?"
Popular
"swipe left below to view more authors"Swipe →
Right. I had to admit, that was why I was there—along with 132 other journalists, according to media handlers for the event.
The previous weekend had been the first anniversary of Dobbs v. Jackson Women's Health, the Supreme Court decision that overturned the legal right to abortion nationwide. Anti-abortion leaders had rallied in Washington, D.C., to celebrate, inviting presidential candidates from the party responsible for that monumental victory to join them. The only one who came was Mike Pence. The Moms for Liberty summit, by contrast, attracted five candidates, including front-runners Donald Trump and Ron DeSantis. Their mere presence quickly became the story itself—which suited Ziegler just fine. "Moms for Liberty Didn't Exist 3 Years Ago. Now It's a GOP Kingmaker," read a headline in The Washington Post that morning. Ziegler called it "probably the best headline I've ever seen."
At the event, the candidates played to the crowd. DeSantis gave his standard speech against wokeness and drag queens at breakfast time. Trump had the closing spot that evening, drawing a raucous reaction from the crowd when he compared "radical left socialism" to a religion: "Instead of taking children to church, they believe in taking children to drag shows," he said. For all their fire and brimstone, though, the candidates weren't the real story. That was on display during lunch, when top education officials from four states—Florida, Arkansas, Oklahoma, and South Carolina—took the stage with Moms for Liberty cofounder Tiffany Justice. Their goal seemed to be to disparage public schools, painting a picture of a "literacy crisis" that they blamed on teachers' unions and the encroachment into the classroom of "woke nonsense." "These are folks that want to destroy our society; they want to destroy your family, and they want to destroy America as we know it," Oklahoma schools superintendent Ryan Walters said. In May, Oklahoma's governor signed a law creating a tax credit for families who send their children to private schools or homeschool them. The officials all spoke of the need to return to a "classical" education, which has become a dog whistle for Christian nationalists who oppose efforts to teach children about racism and gender diversity in the classroom, as a report by the Network for Public Education showed. They talked about "parental rights" and "school choice," and they railed against the federal government's involvement in schools. "We don't need a federal Department of Education, folks!" Walters said, as the audience went wild, roaring and clapping. "Lotta moms like to hear that!" Tiffany Justice exclaimed.
I turned around to find that almost all of the other journalists were gone. That seemed to be what Christian Ziegler was after. By wrapping its efforts in rhetoric about parental rights and protecting children, Moms for Liberty has successfully presented itself as just a group of angry moms shouting down "wokeness," rather than as the latest link in a decades-long conservative project to undermine public education while upholding white supremacy and patriarchy. In 1982, President Ronald Reagan called for shutting down the Department of Education in a State of the Union address. More than 40 years later, the most significant change in the right's strategy is its use of transphobia to cast public schools as dens of indoctrination and danger. And it's working: People across the political spectrum are being swayed by the right's fearmongering about trans kids; a Washington Post–KFF poll last year found that a majority of Americans believe, for example, that trans women and girls should not be allowed to play sports with their peers.
Examples of conservatives' efforts to stoke anti-trans sentiment were everywhere. In the exhibit hall, I picked up a "ministry curriculum" titled "God Created Them Male and Female," produced by a nonprofit called Advocates Protecting Children. It contained a lesson that would teach children in elementary school to recite the phrase "God created people male and female; there is nothing else."
Abortion, the premier social conservative issue of the past half-century, was barely mentioned on the day I was there. I was beginning to realize why. A majority of Americans disagree with the overturning of Roe, and Republicans are paying the price politically. The framework of parental rights has given conservatives a way to meet the post-Dobbs moment by painting their opponents as the extreme ones. I asked Bridget Ziegler why I had heard so little at the Moms for Liberty conference about abortion. She told me she thought the summit probably "represents the country as far as a spectrum," although by that she meant that some people were probably "pro-choice, not pro-abortion." But the topic wasn't likely to come up at school board meetings, she added, unless it was in relation to school-based medical clinics. Then she put into practice a lesson from that morning's media strategy session, steering our conversation back to her talking points. "It really comes down to parental rights," Ziegler said. "I mean, that's really the core issue."