"Why I Resigned From the State Department"

An interview with Josh Paul.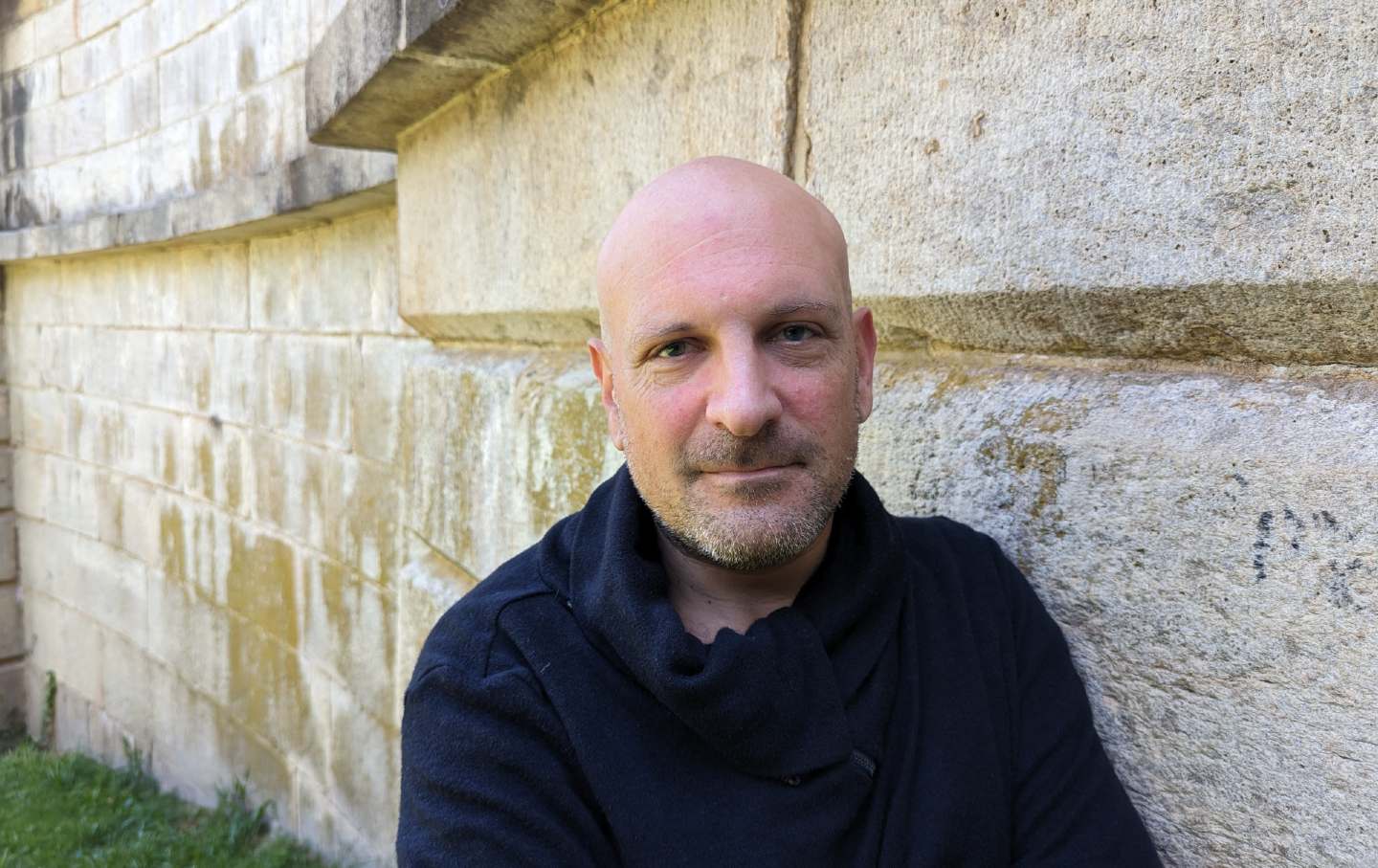 "We cannot be both against occupation, and for it. We cannot be both for freedom, and against it. And we cannot be for a better world, while contributing to one that is materially worse."
So wrote Josh Paul in his letter of resignation from the US State Department on October 18. Paul had served 11 years in the Bureau of Political-Military Affairs, the US government entity most responsible for the transfer and provision of arms to partners and allies. He always knew his job would be morally complex, but he made himself a promise that he'd stay only as long as felt he could do more good than harm. In his letter he wrote: "I am leaving today because I believe that in our current course with regards to the continued—indeed, expanded and expedited—provision of lethal arms to Israel—I have reached the end of that bargain."
Josh Paul previously worked on security sector reform in both Iraq and the West Bank, with additional roles in the Office of the Secretary of Defense, US Army Staff, and as a congressional staffer. He spoke with Laura Flanders on October 23, 2023.
Laura Flanders: We're looking at the last 11 years, in which, if we're just going to talk about Israel and Palestine, there were conflicts in 2009, 2014, 2021.… Was it something qualitatively different or just quantitatively that brought you to this point?
Josh Paul: Both. Quantitatively, I think the outbreak of violence we are seeing in Gaza between Israel and Hamas is of a scale that we have not seen previously. That is down to Hamas in the first instance, for its initial barbaric attack on Israeli civilians. But the scale of Israel's response has also been to date quantitatively different than we have seen. It is also qualitatively different. I've been involved in a large number of deeply challenging, morally complex policy making decisions on arms transfers…. In this instance, there is no such debate. There is simply an urgency to rush arms into a conflict where civilians are dying en masse and that is what I don't understand. That is what I could not do anything to stop. The lack of space in the administration and in Congress to have this discussion is why I thought that the only place to have it would be in the public eye.
LF: Had you tried to raise specific concerns with specific people before you quit?
JP: Within two days of Hamas's atrocity, recognizing what was probably going to come down the pike and knowing how we've seen previous conflicts like this play out in Gaza, I wrote to a number of officials within the department and said, Look, let's pause and think.… Before we rush arms into this conflict, before we add fuel to this fire, are there not other things we could be doing? And let's look at our track record and wonder how it led us to this point. I was met offline with some agreement but online as it were with a stony silence and continued directives to just keep moving arms as quickly as possible.
LF: We are talking about, as you say, an expanded and expedited flow of arms to Israel, but the US sends military aid to Israel to the tune of some three billion dollars every year. Can you give us a sense of what you think the real number might actually be?
JP: We are talking about 3.3 billion a year in foreign military financing, which is the state department's main method for providing military assistance and granting military assistance overseas. Incidentally, the state department's total budget for foreign military financing typically hovers around $6 billion. So we're giving more than half of our military assistance globally to Israel. The Department of Defense also gives $500 million, which it provides [to] Israel in cooperative development of missile defense programs.
LF: What are those dollars spent on?
JP: Israel spends most of that money on major long-term defense articles such as fighter jets. I would note, however, that unlike almost every other country in the world, Israel is also permitted to spend up to 20 percent of its foreign refinancing on what we call offshore procurement, which means that it can spend it directly in Israel. The rest of foreign refinancing has to be spent in the US supporting US jobs with the US companies. But Israel gets to spend some of its money domestically, and over the decades that's actually greatly enabled the expansion of Israel's own domestic defense industry, which is now a top 10 exporter of defense arms and often competes with the us. So it's our own funding that has enabled our competition in this respect.
LF: What rules and guidelines and regulations currently govern those arms sales?
JP: The fundamental laws are the Arms Export Control Act of 1976 and the Foreign Assistance Act of 1961…. [In addition,] every administration since the Reagan administration has issued a conventional arms transfer policy, this is the policy that shapes the thinking and the analysis that is supposed to go into each of these decisions on a case by case basis. The Biden administration's conventional arms transfer policy, to its credit, raised the bar to the highest level it has ever been for arms transfers with something called the "more likely than not" standard. It says that an arms transfer will not be authorized if it is more likely than not that the arms in question will be used to commit human rights violations of various types. I think it is more than apparent how arms that we are providing to Israel, particularly precision-guided munitions for the conflict in Gaza will be used. It is more likely than not. In fact, it is a certainty that they will be used for human rights violations and result in massive civilian casualties.
LF: You've said that concerns have been raised for years about units inside the Israel Defense Force.
JP: Because of the scope and size of the military assistance that Israel received in the US, it has a fundamentally different process for vetting than every other country in the world. Every other country, if there is grant US military assistance going to a unit, that unit is vetted before it receives the assistance. In the case of Israel, we provide the assistance and then look out for reports of violations, and if there are reports of violations, those are brought up within a policy process within State Department, there is consultation with Israel on its version of events and then theoretically a determination is made on whether a gross violation of human rights has occurred to date. Through this process, which is called the Israel-Leahy vetting process, there has never been a determination that Israel has committed a gross violation of human rights. I think that is obviously problematic when one looks at not necessarily even just Gaza but the West Bank where there are frequent reports of extrajudicial killings and of other abuses by Israeli security forces.
LF: Also, in your letter you make a fairly bold comparison between settler behavior—and the Israeli juvenile detention system, which is unique in the world—and the actions of Hamas. Are you saying the settlers are terrorists?
JP: I think certain settlers who attack civilians with the intent of using violence for political means—I mean the use of violence for political purposes is the definition of terrorism.
LF: So if there have been named concerns, apparent violations, and a raised standard for arms provision before we even get to this conflict, how do you explain what's happening right now?
JP: There is just an unwillingness to criticize Israel. It's a unique case, a special case. There are many reasons for that, some of them legitimate, but what it means at the end of the day is I think if you don't have a global standard, you don't have a standard.
LF: Matt Miller, State Department Spokesperson, says we never violate any laws.
JP: I think Matt Miller might actually be technically correct. Many of these laws require the department to come to some sort of a determination before any sanctions or withholding of assistance occurs. If you never come to the determination, you've never broken the law. That said, I believe that the legal standards are rather lax and lacking, and I believe that we should be holding ourselves to a stronger standard. Part of this also comes down to questions of interpretation of law.
LF: You also said that it is in the hands of higher-ups. Who?
JP: I think the main policy decisions on Israel right now are being made from the top down, which again is atypical for most arms sales. They sort of bubble their way up from the bottom. You get an application from a partner or from a US company seeking a certain military capability and that's a debate that gradually bubbles up to the decision makers. In this instance, the decision was made and therefore there was no space for that bubbling for that debate.
LF: At the top is the president, is he ultimately responsible?
JP: Of course. These are his authorities.
LF: What would you propose right now if you still had your job?
JP: With regards to the transfer of arms to Israel, I would ask the Biden administration to follow its own laws, its own policies that it has set and just to simply apply the same standard and the same space for debate to Israel as it has permitted or encouraged for conflicts and for partners elsewhere in the world. Beyond that, I think we need a radical reenvisioning of what the Middle East peace process looks like…. I think the policy approach from the US has been security for peace, that if Israel feels secure, it will feel comfortable making the concessions necessary to allow peace. But what we have seen instead is the more secure Israel feels, the more it has pushed the envelope, the more settlements have expanded, the more civil rights have been taken away from Palestinians in the West Bank, the more the siege of Gaza has continued. And so I think we need to step away from that way of thinking and ask if maybe instead of security for peace there's some way of peace for security.
LF : You said that your views have evolved since your time in Iraq and your time living in Ramallah. How?
JP: You can't enter these sorts of challenges with a set of assumptions. You have to understand the implications of the decisions you make because they are far reaching.… When we sell fighter jets to a country, that country is going to be operating those fighter jets for 20, 30, even 40 years. What we do now will have lasting generational effects. It is a unique responsibility.
LF: Do you have a message for people still working in the administration, in the jobs, the desks that were next to yours before you left?
JP: I would say to them that you have a unique opportunity to do good, and as I discovered it's possible to do more good in one day within, certainly, the State Department and around the US government than many people can hope to achieve in a lifetime. Use that opportunity.
The Laura Flanders Show episode "Josh Paul's Breaking Point: Resigns State Dept. Over Arms to Israel" is airing on PBS stations across the nation. Also available as a podcast, or streaming, at LauraFlanders.org.