I Can No Longer Justify Voting for Joe Biden in 2024
For years, Ahmed Moor rationalized voting for Democrats as the lesser of two evils. Now, Biden's unequivocal support for Israeli war crimes has destroyed that argument for him.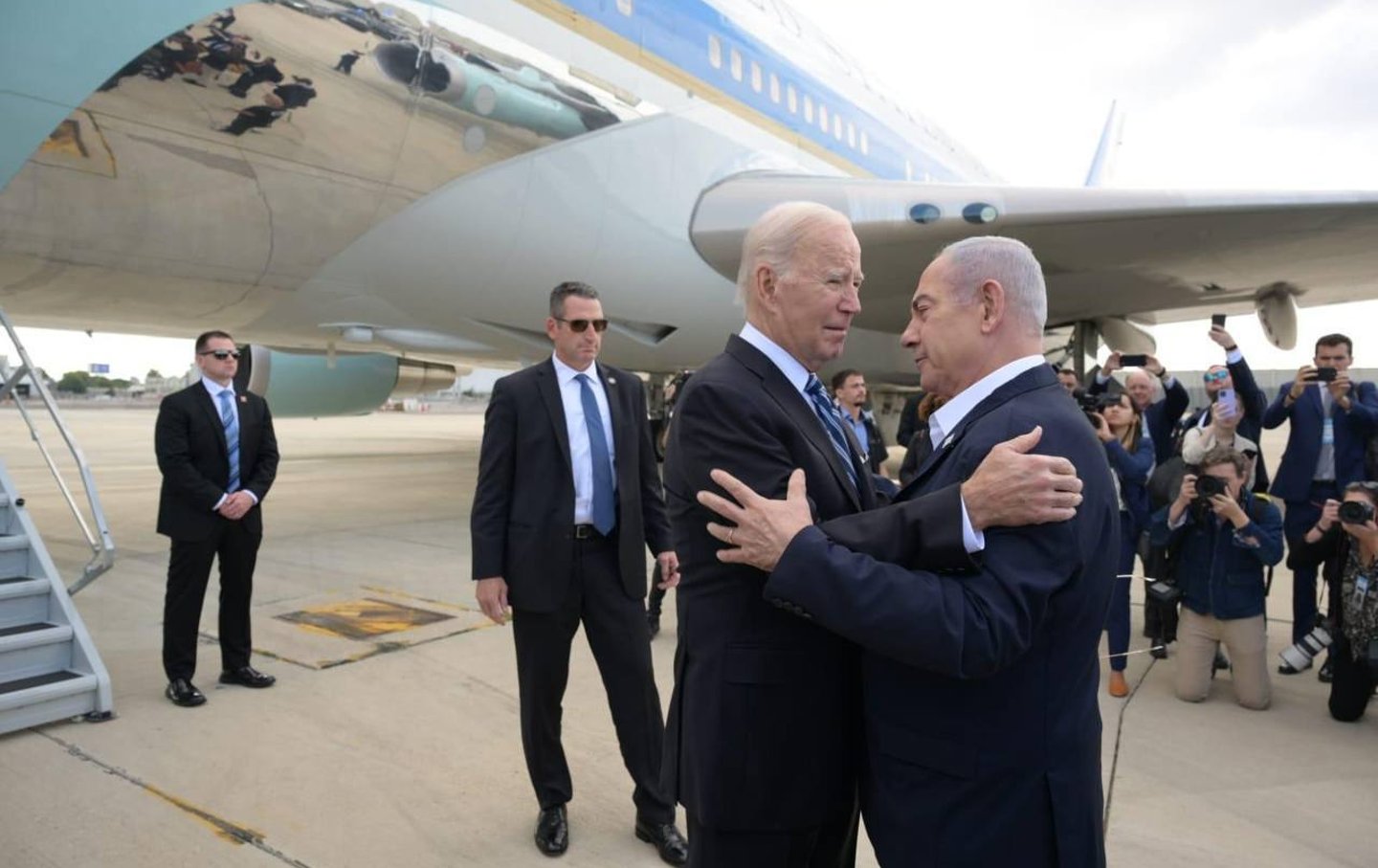 It may not be obvious, but Arab Americans have never felt naturally at home in the Democratic party. I suspect that our experience tracks that of other minority groups who've experienced marginalization and racism here in the United States. At least since the Clinton presidency, the party's agenda has exhibited centrist, status-quo tendencies. And for us, the status quo has been a source of harm—an ossified state of indifference to our needs and calls for justice.
I first had serious doubts about Joe Biden when I learned he self-identified as a Zionist. For me, as a Palestinian American, and for the millions of Palestinians living through apartheid, Zionism isn't a way of seeing the world. It's a political theory that establishes Jewish dominance over the people and land of Palestine/Israel, based on a Jewish majority in that land. It seeks to justify, unsuccessfully, repeated bouts of ethnic cleansing, occupation, and inequality before the law. By identifying himself with Zionism, Biden expressly indicated his support for the outcome of these policies: a Jewish-majority state, for Jews only. Implicitly, he endorsed the policies themselves.
Like many in the coalition of progressive minorities that drives the success of the Democratic party, I arrived at an uneasy accommodation with myself. The moral challenge many of us face in voting for the Democrats isn't new; the Iraq war, which was supported by most of the party's leadership, made it difficult to vote for Hillary Clinton. The conventional argument admonishing progressives to vote for the Democrats is: You have an obligation to help the poor, fight inequality, and work for climate justice, racial justice, reproductive rights, and basic democracy; there is only one party in Washington willing to make a contribution to your goals; therefore, despite Democrats' limitations, which include excessive corporatism, an institutional affinity for Israel, a neoliberal foreign policy, and an unwillingness or inability to tax the wealthy, you should vote for the Democrats.
Call it maturity, or a pragmatism born of experience, but over the years I learned to suppress my deep discomfort with the party's non-progressive policies to vote Democrat and keep "a lesser evil" at bay. In 2021, after voting for Jill Stein in two presidential elections, I relented and joined up. Here in Philadelphia, I ran for and won a seat as a committee person in my ward. In that capacity, I worked to turn out voters for John Fetterman. I voted for Joe Biden.
I have no intention of doing so again next year.
The past three weeks have transformed me. I've viewed shocking, nauseating videos documenting the genocide underway in Gaza. I've seen the neighborhoods I grew up in eliminated, totally. I cannot describe the pain of viewing my extended family suffer through state-sanctioned terror. I cannot describe the horror they're experiencing, their awareness of their dehumanization, and the agonizing knowledge that they've been abandoned by a cynical world. Now, with Gaza in total darkness, literal and metaphorical, I find that I dread the worst. I am justified in expecting it.
Current Issue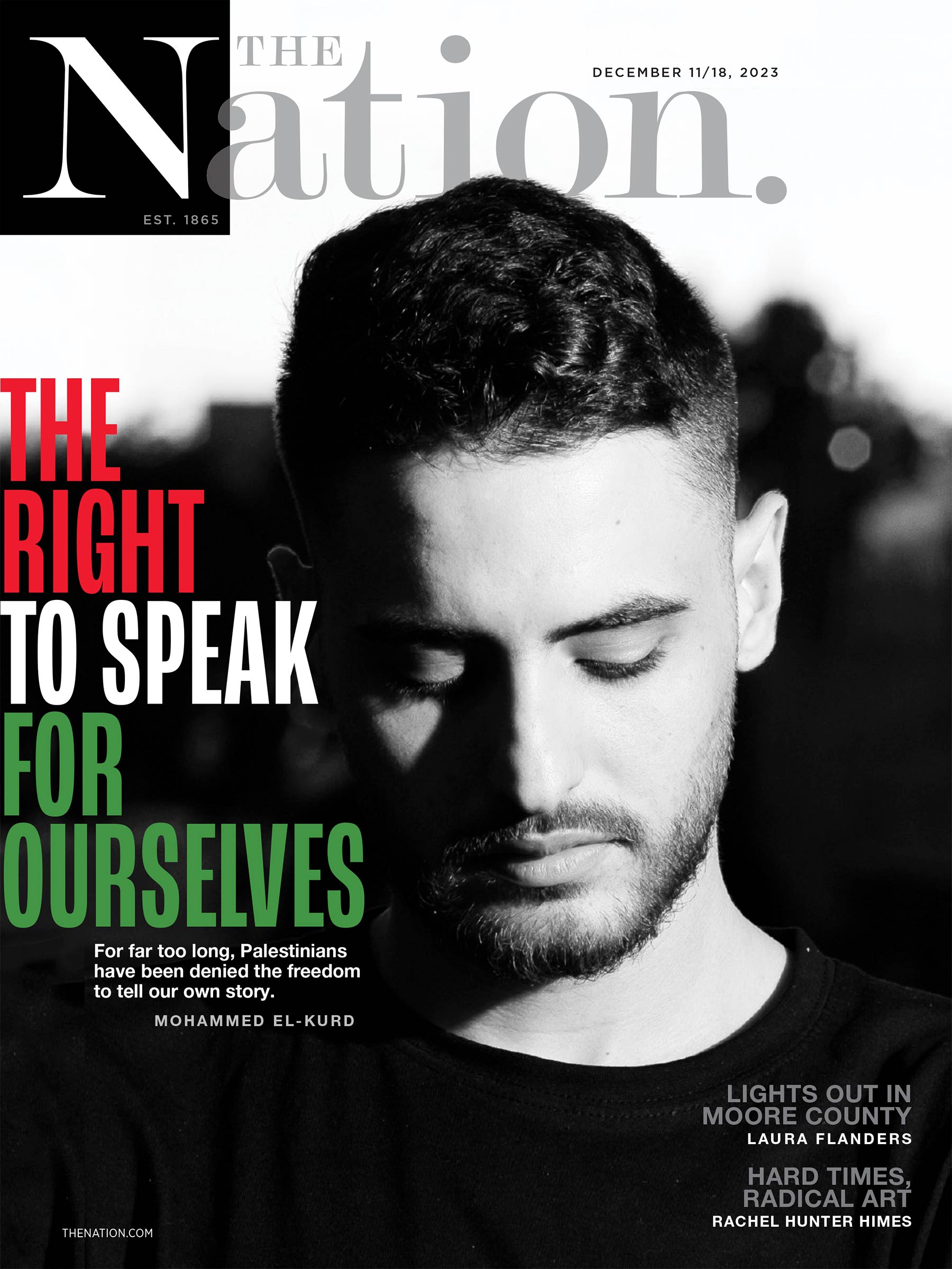 And so my focus turns to the "lesser evil." Since the current set of atrocities began to unfold, President Biden has worked overtime to deliver $14 billion in armaments to Israel. He has deployed two warships to the Mediterranean, a menacing specter for the Palestinians, even as their homes are being destroyed, as entire families are being buried in mass graves. His ambassador to the United Nations has rejected calls for a cease-fire and vetoed a resolution calling for one.
He has worked hard to provide support to Israel by denying the extent of the terror, and to suppress knowledge of the war crimes he's sanctioned. He deployed his secretary of state to entreat Qatar to stop Al Jazeera's journalists from bearing witness to Gaza's convulsions. And he has sought to extinguish the memory of the dead by casting doubt on the number of lives lost, the number people Israel has killed.
And so I wonder: What sense is there in an argument that values a lesser evil when the evil is still so great? How can I possibly vote for a president that actively sanctions a genocide, that provides support to Israel as it destroys a people?
The simple answer is, I can't.
My choice is not without its consequences. I live in a contested state, one that Biden barely won in 2020. What are the implications of withholding my vote? Will Trump win the presidency? How does that help Palestine and the Palestinians? And by withholding my vote, am I not hurting the poor and immigrants? Am I not contributing to our institutional decay? The end of democracy itself?
Each of us struggles with some version of the ethical challenge embedded within the act of casting an imperfect vote. Individually, as people with diverse interests and different views of what a world worth fighting for looks like, what a world worth living in could be, we compromise. We argue and we struggle to do the right thing and to push for the right thing. That's our responsibility in a democracy; our activism cannot end on the day after the first Tuesday in November of an election year.
Yet, despite that awareness of compromise—a necessary feature of democracy—each of us defines an ethical limit to our participation, a point at which we say "I refuse." For me, that point is now. It's a line in the sand, drawn through the Gaza Strip, where the anguished cries of innocent people serve as pitiful dirge for the dead. It's a line in the sand, marking the lightless graves of 3,457 children.