Why Is Germany Cracking Down on Pro-Palestine Protest?
A climate of fear and division has been stoked by the government's increasingly hard-line stance against migrants and dissent.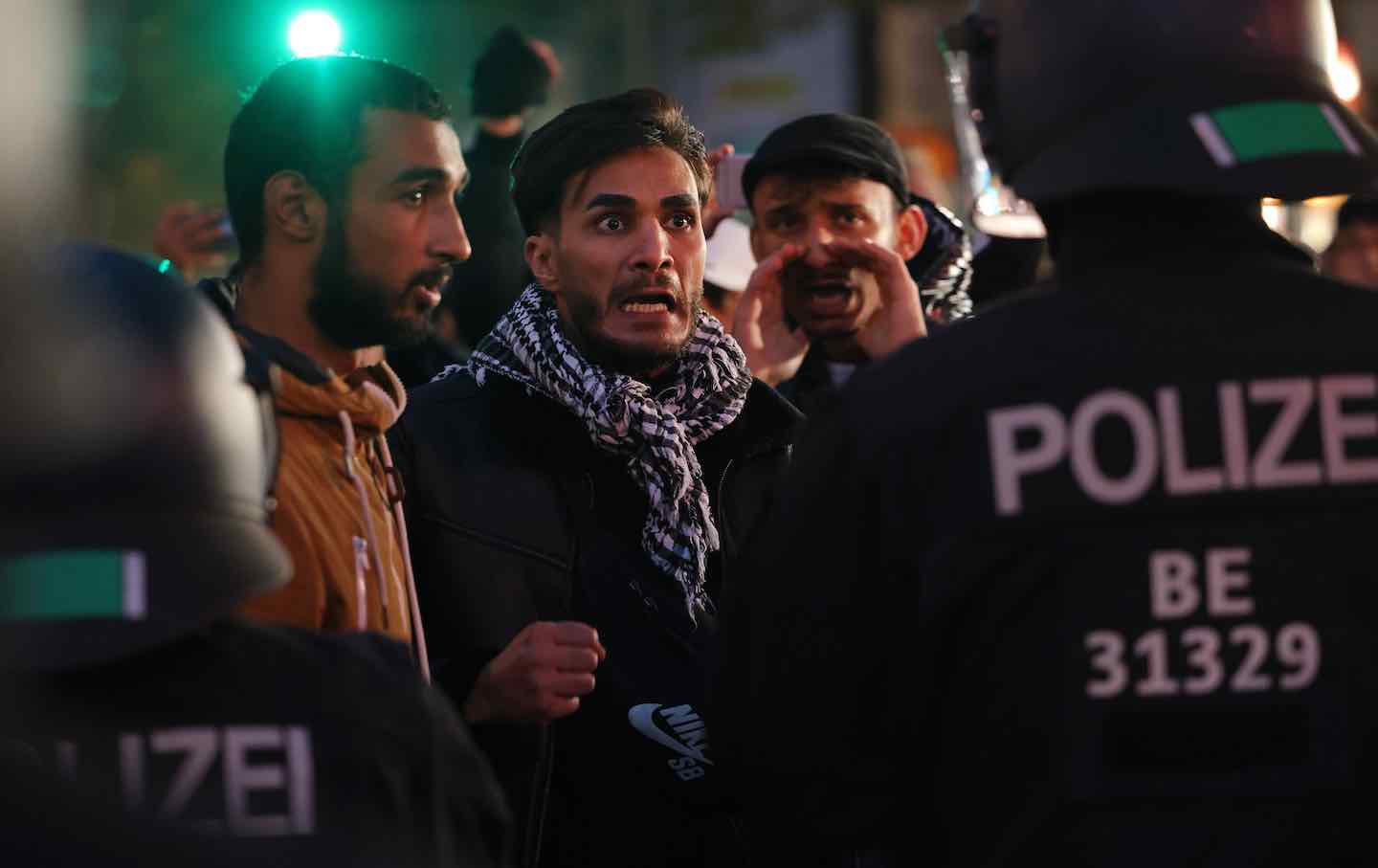 Since the beginning of the Israel-Hamas War in Gaza, on October 7, the German government has been unshakable in its support for Israel's increasingly drastic escalation of the conflict following Hamas's terrorist attack on Israeli civilians. Last week, German Chancellor Olaf Scholz visited Israel and Egypt, where he affirmed that Israel had "every right to defend itself." In the UN, Germany was one of the countries that opposed Secretary General António Guterres's most recent call for a humanitarian cease-fire.
The German state's show of support has led to an outright banning of most pro-Palestine protests. Special attention has been paid, in the last two weeks, to protests organized in Neukölln, a southern district of Berlin with a high concentration of residents of Arab and Palestinian descent. Here, protests were met with draconian measures. Police used pepper spray, water cannons, and excessive force.
The reasons for the bans seemed unambiguous: German police said that there was an "imminent danger" that the assemblies will result in "inciting, anti-Semitic slogans," as well as "glorification of violence." And while it is true that anti-Israeli as well as anti-Semitic incidents in Germany have been on the rise since the beginning of the war—one particularly disturbing incident involved the throwing of a Molotov cocktail at a synagogue in Berlin-Mitte—banning any form of protest even vaguely associated with pro-Palestinian solidarity seemed like a brute generalization. On October 13, Berlin police declared uttering the slogan "From the river to the sea, Palestine will be free" forbidden and indictable. That same day, Berlin's education senator, Katharina Günther-Wünsch, sent a letter to all Berlin school principals offering them the option to ban students from wearing "pro-Palestinian symbols such as the keffiyeh." "Any act or expression of opinion that can be understood as advocacy or approval of the attacks against Israel," she wrote, "constitutes a threat to school peace and is prohibited."

Some of the images circulating from the Neukölln protests have been disturbing: minors arrested for wearing the colors of the Palestinian flag, a woman of Jewish-Israeli descent detained for carrying an anti-war message in Herrmannplatz, a central square in Neukölln. A video taken on October 18 on Sonnenallee street in Neukölln, stood out to me in particular: It shows a police officer in riot gear stamping out a row of tea lights and candles, which had been set up in a tiny circle in memory of Palestinian civilians killed in Israeli air strikes. A person was seen kneeling on the ground in front of these candles, calling on bystanders to remain calm. Within moments, he was picked up and then shoved to the ground again by police.
Sonnenallee runs through the Neukölln district's northern part. Its eastern tail used to be cut off by the former GDR's border, making it a prominent symbol of Berlin's postwar history. Due to its concentration of Palestinian, Lebanese, and Syrian shops and restaurants, Sonnenallee is often referred to as "Arab Street." The officer stomping out memorial candles here, of all places, seemed like a sad reminder of how far the crackdown has come and how insufficient justifications have been for such violent reaction to peaceful protest.
It could also be seen as a bitter parody of Germany's partly parochial memory culture. Many Germans today place a performance of staunch pro-Israel rhetoric above moral or pluralistic integrity—in the name of coming to terms with their forefathers' crimes. Such tendencies seem to connect seamlessly to populist stances of anti-Semitism as an "imported" phenomenon—one that is allegedly brought into Germany from outside by migrants. "The anti-Semitism that has been imported to Europe requires special efforts," anti-Semitism commissioner for Hessen, Uwe Becker, said in 2017.
Current Issue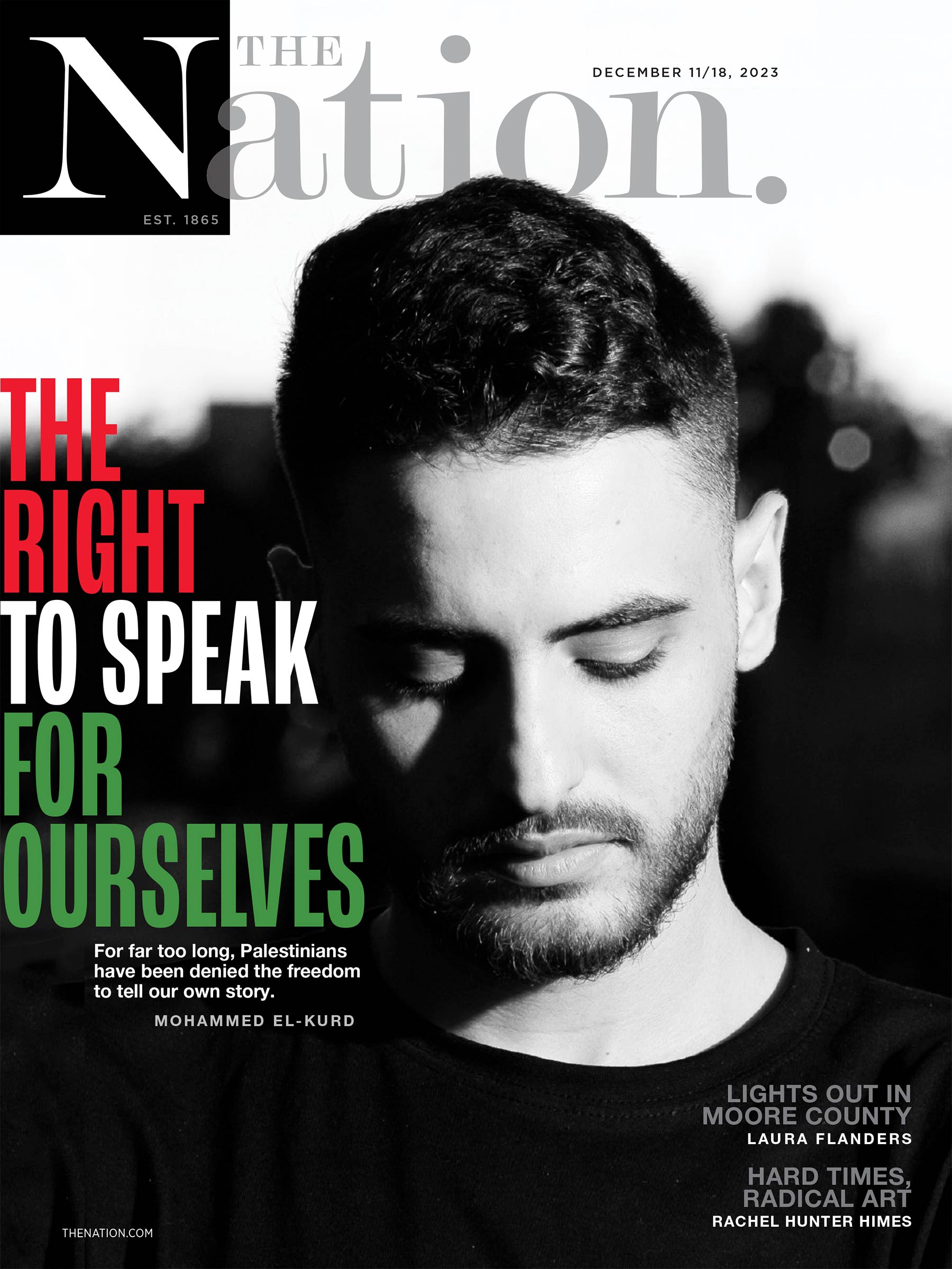 In contrast, when the Süddeutsche Zeitung recently reported that the deputy minister president of Bavaria, Hubert Aiwanger, may have written and distributed an anti-Semitic pamphlet during his high school years—and eventually admitted to having had copies of the pamphlet in his school bag—he did not suffer any serious political consequences. In recent years, Aiwanger has built a political profile based on pushing anti-migrant sentiments. Statistics also refute assumptions of anti-Semitism being an imported phenomenon. In 2022, over 80 percent of all anti-Semitic crimes in Germany were committed by the German far right, according to the federal police.
Germany's Staatsraison—its special relationship with and outward support for Israel—is nothing new, but it appears that these tendencies have accelerated and are increasingly being accompanied by a xenophobic undertone. A pattern has emerged in which critical voices have been silenced or targeted for punishment in disproportionate ways. In recent years, prominent examples have included the Cameroonian philosopher Achille Mbembe, the Palestinian German journalist Nemi El-Hassan, and the Jewish-Israeli activist Yehudit Yinhar.
Last week, the Frankfurt Book Fair canceled an award ceremony for Palestinian writer Adania Shibli over fears of how such a ceremony might be perceived in the wake of the war. When Slovenian philosopher Slavoj Žižek called out the fair's decision, pointing to the importance of listening to Palestinians to better understand the conflict, he was accused of relativizing Hamas's crimes. The Situation by the Israeli director Yaeli Ronen, which deals with the Israeli-Palestinian conflict in a critical and comedic manner, was taken off the schedule at the Maxim Gorki Theater in Berlin at Ronen's initiative, who felt it was indecent to perform a comedic play so soon after the massacre. Ronen's decision was accompanied by a statement by Gorki theatre itself which said that the Hamas attack "puts us on Israel's side" and that Israel must "fight back." Several Palestinian actors are featured in the play, including Maryam Abu Khaled, who criticized both the cancellation, and the language used to justify it. Roughly around the same time, the Haus der Poesie, a Berlin-based literary venue, canceled an event for a book of poetry edited by Syrian-Palestinian poet Ghayath Almadhoun. The volume includes the work of 34 poets of Arab origin. Almadhoun himself has spoken of "censorship." The list is long and continues to grow.
For Ben Mauk, a US journalist living in Berlin-Neukölln, the issue regarding what he describes as a crackdown on civil liberties in Germany is personal. When Mauk attended a demonstration on Sonnenallee, he was pepper-sprayed, even though he was holding up his press card. Following the incident, he decided, along with other Jewish artists, writers, and scholars in Berlin, including many Israelis, to initiate an open letter titled "Freedom for the One Who Thinks Differently," published in English in n + 1. The letter strongly condemns both Hamas's attacks on Israeli civilians and Israel's killing of civilians in Gaza. It also explicitly opposes violations of civil liberties in Germany under the guise of Jewish safety. "As Jews," it states, "we reject this pretext for racist violence and express full solidarity with our Arab, Muslim, and particularly Palestinian neighbors. We refuse to live in prejudicial fear. What frightens us is the prevailing atmosphere of racism and xenophobia in Germany."
"We all felt very disturbed and frightened by what seemed to be a sudden shift in the climate of civil liberties in our city," Mauk said as he explained his own reasoning behind the initiative. "Some of us have reported from authoritarian countries and have seen similar shifts in the past. We were dispirited and offended to see this crackdown on civil liberties, protests, and free speech being done explicitly in the name of our protection, the protection of Jews from anti-Semitism, which is then reflexively rendered by German politicians as support for the state of Israel." He continued: "It seems hard to get institutions and politicians in Germany to recognise that Palestinians are human beings."
As Mauk sees it, the sentiment expressed in the letter is also a stand against rising anti-immigration sentiments in Germany at large. Chancellor Olaf Scholz was recently quoted on last week's cover of Der Spiegel: "We must finally deport on a grand scale." Many have interpreted Scholz's strong stances on Germany's asylum policy as a kind of helpless attempt to undermine the stark rise of the right-wing extremist party AfD, which has garnered staggering support across Germany within the last months, around 20 percent in federal polls, and has built a political program almost entirely focused on anti-immigrant and anti-European sentiments.
Popular
"swipe left below to view more authors"

Swipe →
Just a few days prior to Scholz's statements, Germany's federal minister of justice, Marco Buschmann said, "Whoever celebrates Hamas terror is not of ours." Given a culture of repression around the issue of Israel-Palestine, and the fact that Neukölln's residents have repeatedly become a flash point of xenophobic debates about immigration, many fear that whether one embraces German Staatsraison toward Israel could soon serve as a definition of the very limits of Germany's embrace of pluralism.
There is no doubt in my mind that if Germany continues to ignore dissenting voices, it will eventually promote intolerance rather than prevent it. Anti-Semitism is an undeniable and disturbing trend that should be condemned as harshly as possible, especially in Germany. As a German whose family is itself implicated in Germany's historical atrocities, I feel quite strongly about this.
At the same time, a blanket ban on demonstrations in support of Palestinians' rights seems to be doing little to effectively curb anti-Semitism. Instead, it is fostering a climate of fear and division. While protesters, artists, cultural workers, and academics in Germany have come under fire for their pro-Palestine opinions, many of them are actually gesturing toward a broader point concerning Germany: The division of the public over the issue of Israel-Palestine could soon turn into a sort of litmus test for Germany's changing policies on immigration. With Berlin being home to one of the biggest Palestinian diasporas in Europe, and also an increasingly growing Israeli and Jewish community, these questions are very unlikely to go away anytime soon.

Correction: A previous version of this article incorrectly stated that Berlin's Education Senator Katharina Günther-Wünsch called on the city's schools to ban keffiyehs. Günther-Wünsch gave schools the option of banning them. In addition, the previous version did not clearly state that Yaeli Ronen removed her play from the theater's schedule.