Kentucky's Democratic Governor Backed the UAW Strike, and It's Paying Off
It used to be that Democrats in tight races downplayed their union ties. Not anymore.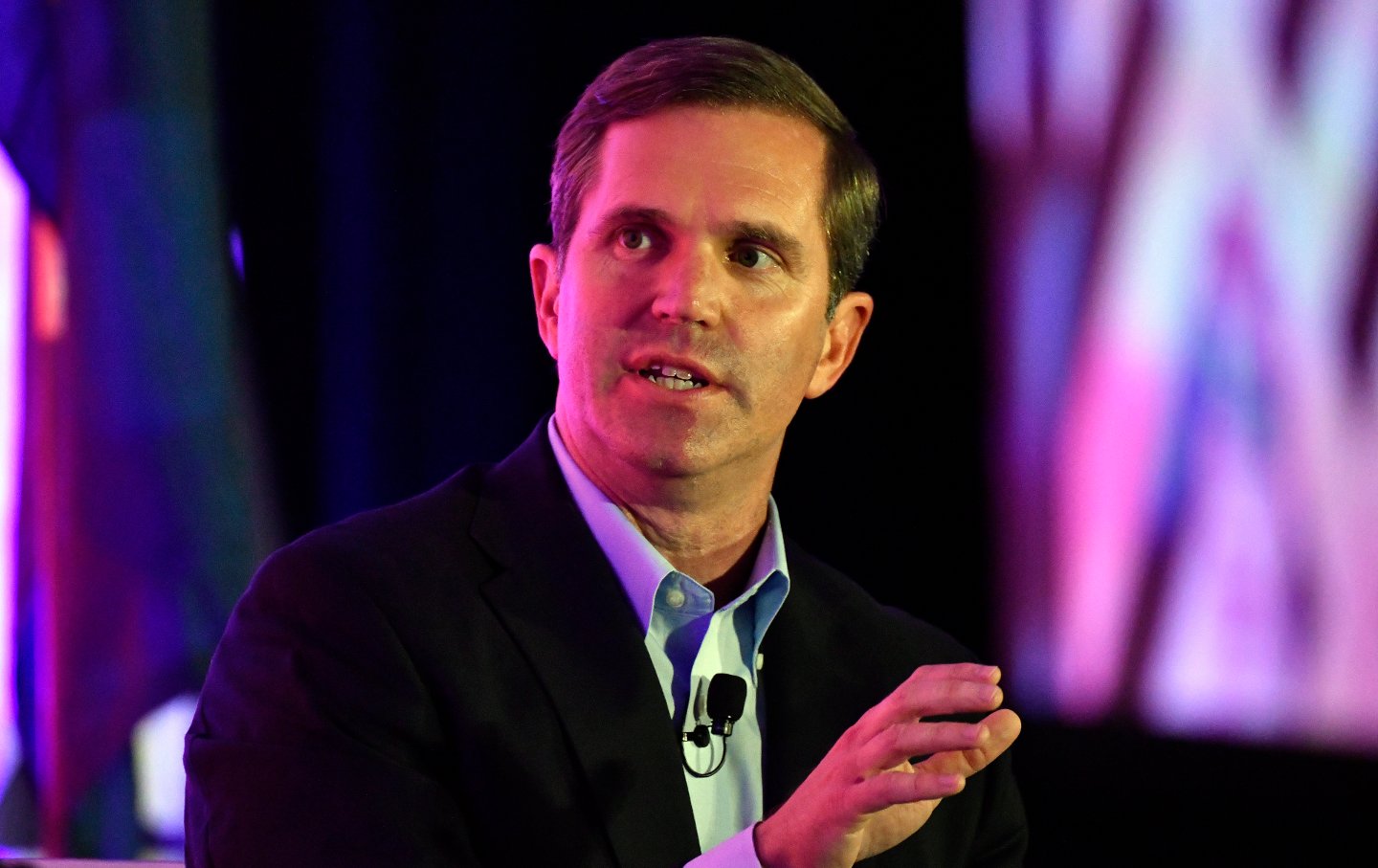 Kentucky Governor Andy Beshear is mounting his bid for a second term as a Democrat in a state that backed Republican Donald Trump by a 62-36 margin in 2020. And he's doing so as an ardent backer of organized labor, in a move that offers an indication of the extent to which top Democrats in critical races have recognized the need to make a "Which Side Are You On?" stand with striking workers.
Kentucky's off-year election, which will be decided next Tuesday, November 7, is a high-stakes contest for Democrats. Beshear, who won his initial election for governor in 2019 by just 5,000 votes, is up against Republican Attorney General Daniel Cameron, a protégé of Senate majority leader Mitch McConnell (R-Ky.) who enjoys the enthusiastic support of Trump and conservative donors in Kentucky and beyond.
This is the kind of race where border-state and Southern Democrats—like former president Bill Clinton, who arrived on the national stage as a former governor of Arkansas—used to run cautiously, presenting themselves as kinder, gentler, and more corporate-friendly versions of their Republican rivals. Unions were treated as an afterthought, as Clinton and many of his allies in business-aligned groups such as the Democratic Leadership Council reveled in their splits with organized labor on issues such as free trade and financial regulation.
Current Issue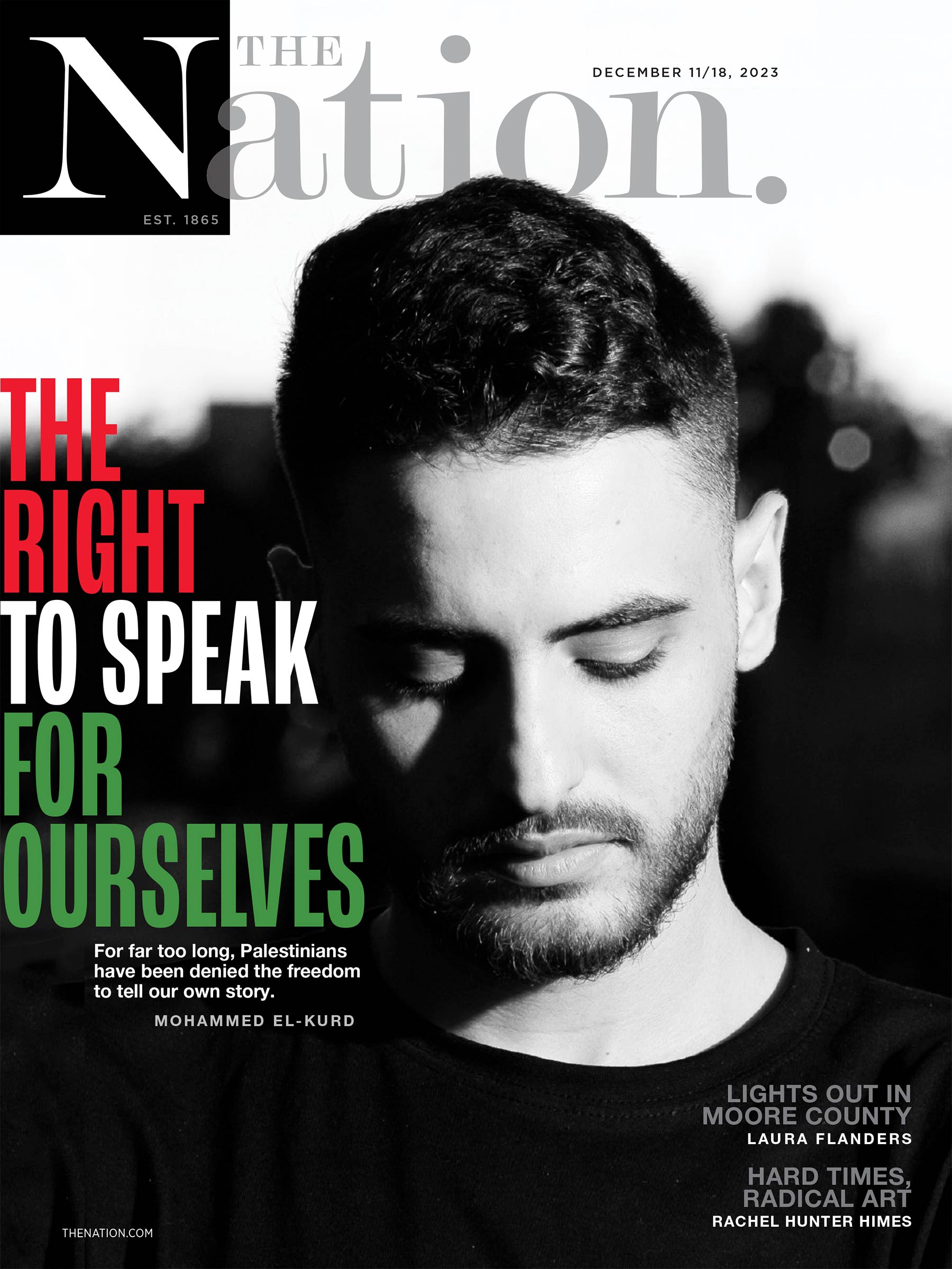 But that was then. In September, President Biden walked a United Auto Workers picket line in Michigan and endorsed the demands of striking union members for a major pay hike, new protections for workers, and a say in the direction of a rapidly transitioning industry. Pundits were still saying that the union was asking for too much and Trump was telling autoworkers that their demands would kill the American auto industry. But Democrats in the heavily unionized Great Lakes states were stumbling over themselves to join picket lines.
And Beshear is doing the same.
In a move that would have shocked Bill Clinton in his heyday, the governor joined striking UAW workers on the line in mid-October. Announcing that he was standing with members of UAW Local 862 as "the proud, pro-union governor of the Commonwealth of Kentucky," Beshear rallied with workers outside Louisville's sprawling Ford Truck Plant—one of the largest plants struck by the union as part of its six-week struggle to win improved contracts with the Big Three automakers. As he delivered sandwiches to the strikers, Beshear hailed union activists for standing up on behalf of all Kentucky workers—union and nonunion—for "better wages, better benefits, and [the assurance] that everybody gets home safely at the end of the day."
There were no minced words, no pulled punches. "I am here for you," declared Beshear, who has worked closely with Ford to expand electric vehicle battery production in Kentucky.
Now that the UAW has won tentative agreements with General Motors, Stellantis, and Ford—agreements that include a pathway for workers at future battery plants to gain union representation and union wages—it is clear that the union's demands were spot on, and that the political leaders who stood with the UAW were not just morally right but politically smart.
Beshear, a mild-mannered 45-year-old son of a former Democratic governor, is no firebrand. Indeed, he's generally identified as a moderate. But he is a longtime supporter of organized labor who joined UAW picket lines even before his election as governor. Beshear's run as an unapologetic pro-union candidate during the 2023 campaign, which has also seen him champion the expansion of voting rights by assuring that Kentuckians with felony convictions can cast ballots; boldly defend abortion rights; and oppose anti-LGBTQI+ legislation that targets trans youth. Often explaining his stances in the context of his Christian faith and a belief that it is his job "to look out for the lost, the lonely, and the left behind," Beshear has surprised even some of his own backers by opening up a double-digit lead over Republican Cameron—who was once hailed as a GOP rising star.
Beshear is not resting on his laurels, however. He knows that Kentucky is a state where Republicans have made major advances in recent years, and where no Democrat has won a presidential contest in the 21st century. So Beshear is treating the race—one of three (along with Mississippi and Louisiana) that is being decided this fall —as a close one.
But that does not mean that he's gone cautious when it comes to embracing unions. He celebrates the strong support he's earned from organized labor, including the Kentucky AFL-CIO and the United Mine Workers of America, whose president, Cecil Roberts, announced the UMWA endorsement of Beshear by saying, "The United Mine Workers of America stands with those who stand with us." Beshear isn't just taking that stand on picket lines and in union halls. In a mid-October debate with Cameron, which took place just before the tentative agreement with Ford was reached, the governor spoke about how he wanted a strong UAW and strong Ford operations in Kentucky.
"I'm proud to be a governor endorsed by the UAW," declared Beshear. "Our UAW families are fighting for better wages and better health care benefits—something we should want for every single one of our citizens. We need them to come out of this being able to provide more opportunity for their kids and a better future here in Kentucky."