Barack Obama's presidential campaign is circulating an unusual memo complaining that "unprecedented" spending by Democratic groups could "impact the outcome" in next week's Iowa Caucuses. Campaign Manager David Plouffe does not allege any illegal activity by other candidates, but he claims that some of the advertising by unions and liberal organizations is "underhanded," "negative," and "misleading." The Edwards Campaign fired back this weekend, arguing that Obama's "desperate, false attacks" showed that Edwards was surging in Iowa – and touting his record of declining any contributions from Washington lobbyists or PACs.
If Obama's aides were confident about Iowa, it's hard to imagine their ideal closing argument would be railing against the legal spending of groups that other candidates do not control. Yet as The Washington Post's Chris Cillizza reports, Obama has spent "much of the last week" on this point — a "major gamble," since campaign spending is "a topic that usually glazes over the eyes of the average voter." But if the hyper-informed activists who caucus do dig into the topic, they might not like what they find.
Obama is basically complaining about the political activities of union-affiliated groups, which are strongly supported by many Democratic voters. All the candidates seek union endorsements in the primaries — and rely on their spending and mobilization efforts in the general election. (Unions spent over $60 million on the midterms.) So it's hard to take Obama's complaint seriously, as Paul Krugman noted, when the road to the White House includes plenty more spending by outside groups. And even putting aside the general election, outside groups are currently backing Obama, including a California organization registered as a "527" and a PAC. So Obama's concerns sound more like sour grapes — AFSCME and SEIU would probably face little criticism if they were spending money on him. (They are helping Clinton and Edwards, respectively.)
Now maybe Obama is simply using the homestretch to blunt one of Edwards' strengths, as an anti-Washington crusader. Yet that risks drawing attention to Obama's own fundraising records. The Illinois senator no longer takes contributions from Washington lobbyists, but he pocketed over $125,000 from lobbyists in his last two campaigns, according to the Center for Responsive Politics, and $1.3 million from PACs. Edwards shuns those contributions, and on Saturday he uppped the ante on Obama's challenges by pledging to ban lobbyists from working in his administration. For his part, Obama has introduced solid lobbying and campaign finance reforms, and he was an early backer of Senator Russ Feingold's Presidential Funding Act of 2007 — the gold standard for reviving public financing for presidential elections.
In the end, both Edwards and Obama have solid (and similar) campaign finance proposals, while Edwards has a longer record of restricting donations to his own campaigns. Primaries often make minor differences seem large, and plenty of candidates have excelled by attacking their opponents' strengths. Obama is straining to attack precisely where Edwards holds an edge — a slight one on policy, but larger when it comes to his general reputation for fighting corporate power. It's an important issue — 84% of Americans say "big companies" have too much power over government policy — and this week John Edwards may be very happy that Obama brought it up.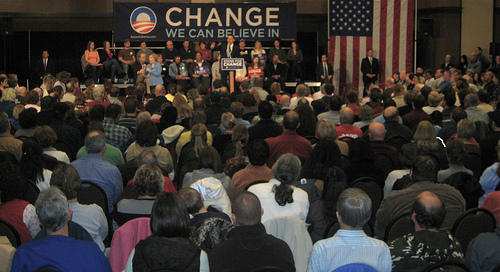 Barack Obama speaks to a packed crowd in Burlington, Iowa on Saturday.
Photo Credit: Barack Obama Flickr.