Charlottesville, Virginia—The scene at Emancipation Park on August 12 felt every bit like urban civil war: A phalanx of black-helmeted white supremacists—members of the Traditionalist Workers Party, Identity Evropa, Vanguard America, and other hate warriors—commanded the steps at the southeast corner of the park, repelling attempted incursions by Wobblies, communists, and a multiracial cast of irregulars eager to fight back. Water bottles and other projectiles flew in both directions, while police tear-gas canisters thudded into an adjacent parking lot, often times lobbed back into the park by plucky leftists. As the violence boiled over the green rim of the park, the intersection of Market and 2nd Streets became the contested arena, with combatants attacking each other with fists and sticks during brief, intense skirmishes. Leftist partisans frequently assisted comrades overcome by tear gas out of the combat zone and left them to the care of activist medics.
By 11 am, Governor Terry McAuliffe declared a state of emergency, and police ordered demonstrators to disperse, shutting down the Unite the Right rally before its official noontime start. But those who had driven miles to brandish Confederate flags and chant Nazi slogans—who had gathered to rage and brawl and intimidate—weren't ready to quit. Some limited their aggression to verbal assaults, like the man wearing a Confederate flag headband and carrying a sign denouncing Charlottesville's African-American vice mayor, Wes Bellamy, whom I witnessed arguing with a black man holding a framed photograph of Barack and Michelle Obama. Daniel Highberger, a patriot militiaman from Roanoke wearing a sidearm and body armor, insisted to a pair of masked leftists and a man wearing an Obama T-shirt that the Civil War could have been averted had President Lincoln respected Southern states' rights.
But others were committed to more violent means. After they were ousted from Emancipation Park, white supremacists in helmets and body armor marched down Market Street, swinging sticks at leftists who tried to block their path. And a white supremacist named James Alex Fields weaponized his silver Dodge Challenger by ramming it into a peaceful crowd of anti-racist counter-protesters, killing Heather Heyer, a 32-year-old paralegal from Charlottesville, and wounding 19 others. A few hours later, two Virginia State police, Trooper-Pilot Berke Bates and Lt. H. Jay Cullen, who had been monitoring the scene from a helicopter, died after their craft fell from the sky.
Amid the soul-searching that has followed, a mix of shock and anguished hashtags, including the earnestly trending #ThisIsNotUs, have been pinging across Internet. Yet it shouldn't come as a surprise that the escalating political violence in the United States materialized in Charlottesville, a progressive college town ranked as one of the "healthiest and happiest" cities in the country. The number of hate groups has surged in the last few years, their ranks sprinkled across all quadrants of the United States. And the same far-right actors who descended on the Charlottesville—their bigotry uncorked by a president who won the election with overt appeals to white nationalism—have mustered around the battle cry of "free speech" in left-friendly hotspots like Berkeley and Portland, Oregon. Indeed, if there is a lesson to be learned from the extreme right's day of rage, it is that Charlottesville is America: The white-supremacist politics of Dixie long ago burst their borders and spread throughout the country.
Consider the principal far-right figures who appeared at Unite the Right, many of whom hail from outside the South. The former rapper and far-right troll Baked Alaska, aka Tim Gionet, is from, yes, Alaska. Nathan Damigo, founder of Identity Evropa, is a native of Silicon Valley. Richard Spencer, the affluent, fresh-scrubbed face of the "alt-right" faction of the white-supremacist movement, grew up in Dallas and attended the University of Virginia in Charlottesville, and has lived in Montana. And Fields, the 20-year-old white supremacist who is charged with second-degree murder in the car-ramming attack, traveled from northwest Ohio to rally with Vanguard America at Emancipation Park.
Still, the South remains the touchstone for white supremacists, and the planned removal of the statue of General Robert E. Lee from Emancipation Park gave them a potent rallying point. The false narrative of white victimization that undergirds today's white-supremacist ideology resonates strongly with the self-pitying "Lost Cause" mythology surrounding the Confederacy. So does the vision of the South as a vanished Eden, a cradle of white American "culture" to be protected, even resurrected.
"The European people are facing genocide, not only on this continent, but in Europe and any place where we call home," said Matthew Heimbach, a white separatist, head of the Indiana-based Traditionalist Worker Party, and one of the organizers of Unite the Right, in a promotional video for the event. "The international Jewish system, the capitalist system and the forces of globalization want to destroy our people. They're doing this through mass immigration. They're doing this through so-called hate-speech laws. They're doing this through the prosecution of nationalist organizers. But they're also doing it by erasing us.
"In the South they are tearing down our monuments to our Confederate heroes," Heimbach continued. "The new South—the South the globalists want to create—is a South without Southern people. They are trying to not just demographically displace us, but to destroy our legacy, destroy our birthright, and to destroy our children's inheritance of knowing who their ancestors were and who their ancestors were willing to die for, which is them."
Despite the horrors of the day—or, just as likely, because of them—the organizers declared Unite the Right a raging success. In a post-showdown interview with The New York Times, Matthew Heimbach gloated, "We achieved all of our objectives. We showed that our movement is not just online, but growing physically. We asserted ourselves as the voice of white America. We had zero vehicles damaged, all our people accounted for, and moved a large amount of men and materials in and out of the area. I think we did an incredibly impressive job."
Richard Spencer boasted to Rolling Stone that he and his "alt-right" disciples were all "in a really good mood." "I think we're going to have to come back to Charlottesville," he said.
Yet, if the official line was jubilation, the reality is far murkier, and serious questions remain about the strength and cohesion of the many permutations of white supremacist, Neo-Nazi, Southern nationalist, Ku Klux Klanner, and patriot militiaman who showed up in Charlottesville. In the days leading up to the ingathering, the Southern Poverty Law Center reported "bickering galore" among the many factions, most notably among the patriot militia movement, which was riven by internal division over whether to stand with the white supremacists.
Patriot militias, whose members often call themselves "3 percenters" based on the premise that only 3 percent of the population during the colonial era was committed enough to take up arms against the British, are a particularly coveted target for recruitment by more overt white supremacists. The militias, which maintain a strong presence throughout Virginia, the Carolinas, and Tennessee, are more numerically significant than hardcore white supremacists, tend to be more rooted in their communities, and are more likely to have military-service experience, making them a potentially valuable security force. But while they are staunchly of the right, they tend to define themselves above all by an antigovernment ideology.
In the end, quite a few of these groups showed. They were the hyper-militarized figures sporting assault rifles and flak jackets and looking like a troop of Blackwater contractors. Some positioned themselves on the periphery, framing their involvement as a simple matter of protecting free speech and public order; others stood right alongside the white supremacists at Emancipation Park.
Billy Sessions, a member of the patriot group the Hiwaymen who came to Charlottesville, represented the more gladiatorial end of the spectrum in a movement. "If these antifa assholes show up and they want to get aggressive with us patriots, we need to kick the living shit out of them," Sessions said in a Facebook Live video posted four days before the rally that he headlined "My philosophy on the war of liberal division."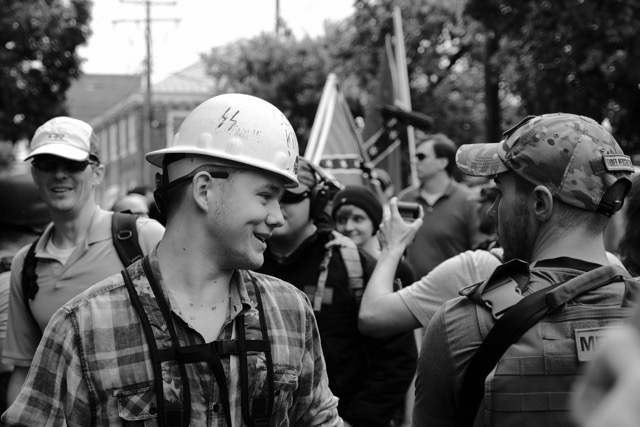 But as the carnage unspooled in Charlottesville, the threads on Facebook livestreams by patriot activists on the scene were rife with troll comments asking whether it was worth three people dead, why they weren't expressing sympathy for Heather Heyer, whether they liked being associated with white supremacists, whether they would defend the free-speech rights of ISIS and the like.
As the battle over Confederate monuments shifts to new sites like Richmond, Virginia; and Lexington, Kentucky, and future agitation by Richard Spencer and his ilk promise continuing clashes, self-reflection by patriot activists may help determine whether Charlottesville was a turning point or the first shot in a new civil war.
People of conscience are determined not to let the latter happen. In the days since, thousands have rallied, mourned, held vigils, and vowed to defend vulnerable communities from the hate and brutality of white supremacy. Yet for those who were on the scene in Charlottesville, the scars are deep. The attack took a toll on the militant leftists who traveled to the city to confront the right, as well as many in the community.
Becca Aubrey, an Internationalist Socialist Organization member from Greensboro, was near the intersection of 4th Street and Water Street where James Alex Fields plowed his car into a crowd of counter-protesters marching there. In the moments before, the mood was jubilant. "I was feeling safe, and we were standing in solidarity together," she said. "I didn't think for a second we were in danger. We felt like we were doing what we came to do. We felt we weren't going to—if not run them out of town, then at least show them we're not okay with their racist hate."
When the attack happened, Aubrey thought it was an explosion.
"I remember all of a sudden cars were coming towards me," she said. "There were people on the ground and then coming back out from under them when it backed away."
Tanesha Hudson, a local activist with Showing Up for Racial Justice, reflected on the trauma during a speak-out at McGuffey Park three hours after the attack.
"I really don't know how to feel about today," she said. "I know people didn't come out here to lose their life. I know people came out here thinking that the police would at least protect us. We are citizens here in Charlottesville that pay our taxes, and our tax dollars didn't work for us today; it worked for them. They were protecting them. They escorted them, they walked them out to make sure they were okay. They never once, never once even offered or lifted a finger. The only thing they lifted for us to do was shoot tear gas. They never once did anything to protect us—the people who are standing for peace and unity and love and togetherness."
As she spoke, mourners laid flowers in a pile in the center of the park to honor those killed and injured in the attack. The mood in the stricken crowd modulated between defeat and resolve.
"This is like a replay of Jim Crow," Hudson said. "I mean, I don't know what other way to put it. I stand here as a young black lady, and I feel like I'm living through Jim Crow. I feel like today was a replay of 1960. Things I hear my grandmother and grandfather talk about, I witnessed today."