The Hugely Important Strike You're Not Hearing Enough About
The LA hotel workers' strike is vast, high-stakes, and being met with intense resistance. So why isn't it getting more national attention?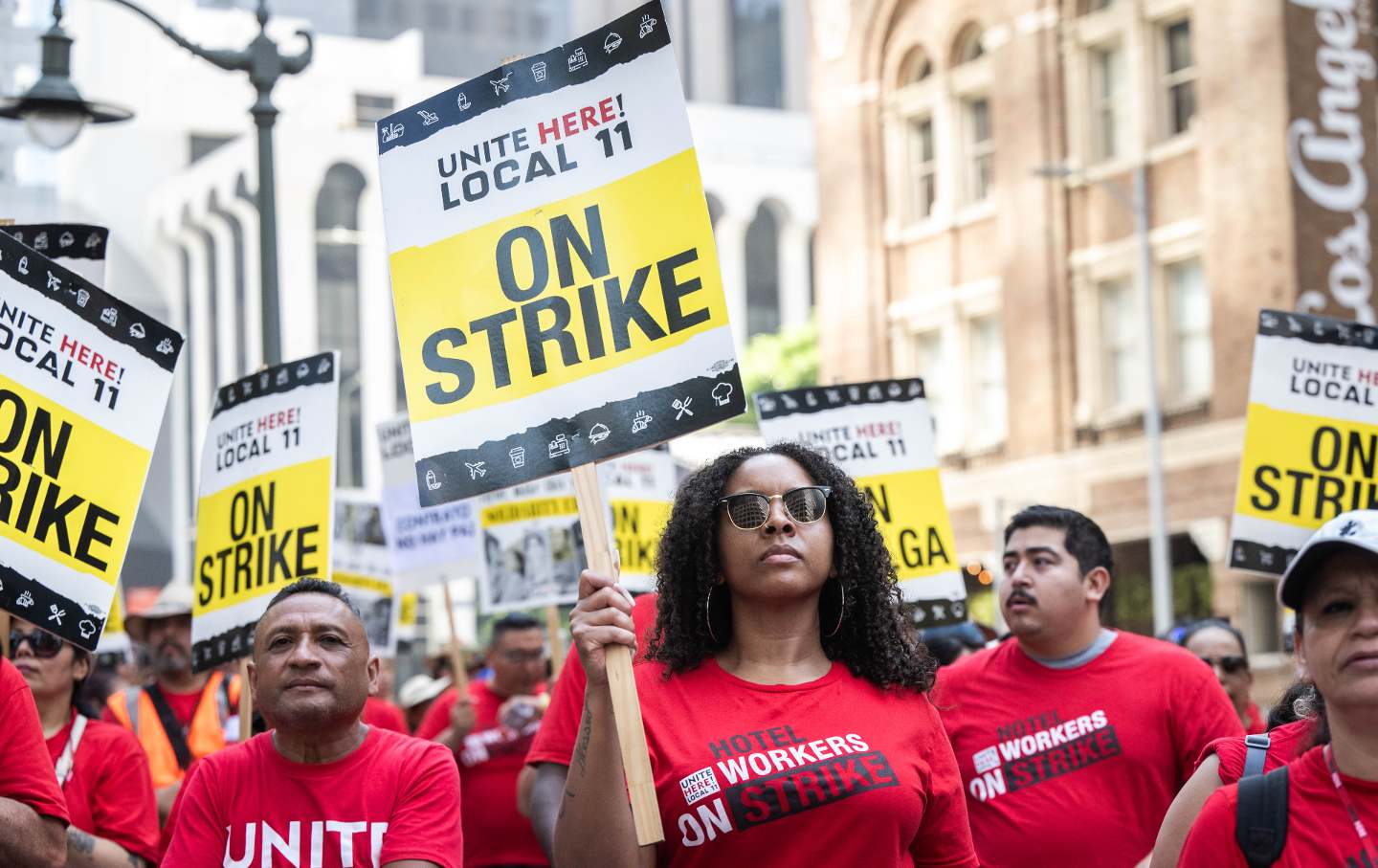 Three weeks ago, UNITE HERE Local 11 sent the National Labor Relations Board a letter alleging that the Sheraton Universal Hotel in Los Angeles, which is owned by the Shenzen New World Group Company, was engaging in a systematic campaign of retaliation against workers who had gone on strike on July 21 in order to secure a better contract.
The union wrote that the ostensible reasons for the disciplinary actions against the workers included their making too much noise at their protests; that picketing workers were filmed by hotel management; and that several immigrant workers were told, in Spanish, that they would get arrested and will lose their jobs for striking. UNITE HERE also said that the hotel has been demanding immigration paperwork from some of the strike leaders.
Shenzen has an increasingly sordid history in LA. Earlier this year, it was fined $4 million for providing up to $1 million in benefits to a corrupt city councillor; a court found that the benefits, which included luxury trips and sham loans, amounted to bribes provided in order to secure support for the building of a high-end downtown skyscraper. Now, Shenzen is at the cutting edge of hotel companies' efforts citywide to bring to heel the thousands of workers who have walked off the job to protest the lack of new contracts at more than 60 hotels around LA.
The hotel strike is a hugely important test of will between labor and management in an industry that has, historically, imposed extremely tough conditions on workers. Yet it hasn't received nearly the attention it deserves. In fact, in this summer of labor strife, the looming strike du jour is that of the United Auto Workers, which is preparing for simultaneous action against the "Big Three" Detroit auto companies to bolster its case for a better contract, including large pay increases and a shorter work week. The media has been paying a lot of attention to this in recent days, and rightly so.
It has also been paying attention to the entertainment industry and its travails. The screenwriters and actors in California have been on strike all summer long, and, to date, they remain without a contract. Currently, more than 160,000 SAG-AFTRA members are withholding their work, and, for the first time in more than 60 years, the combination of a writer-actor stoppage has put the kibosh on most new entertainment projects in Hollywood.
The local media reports that no significant breakthroughs in the negotiations have occurred since July. Writers who used to spend their days hunched over laptops in cafés are now spending their days on picket lines or working what the industry has taken to calling "survival jobs," doing everything from substitute teaching to packing groceries.
Current Issue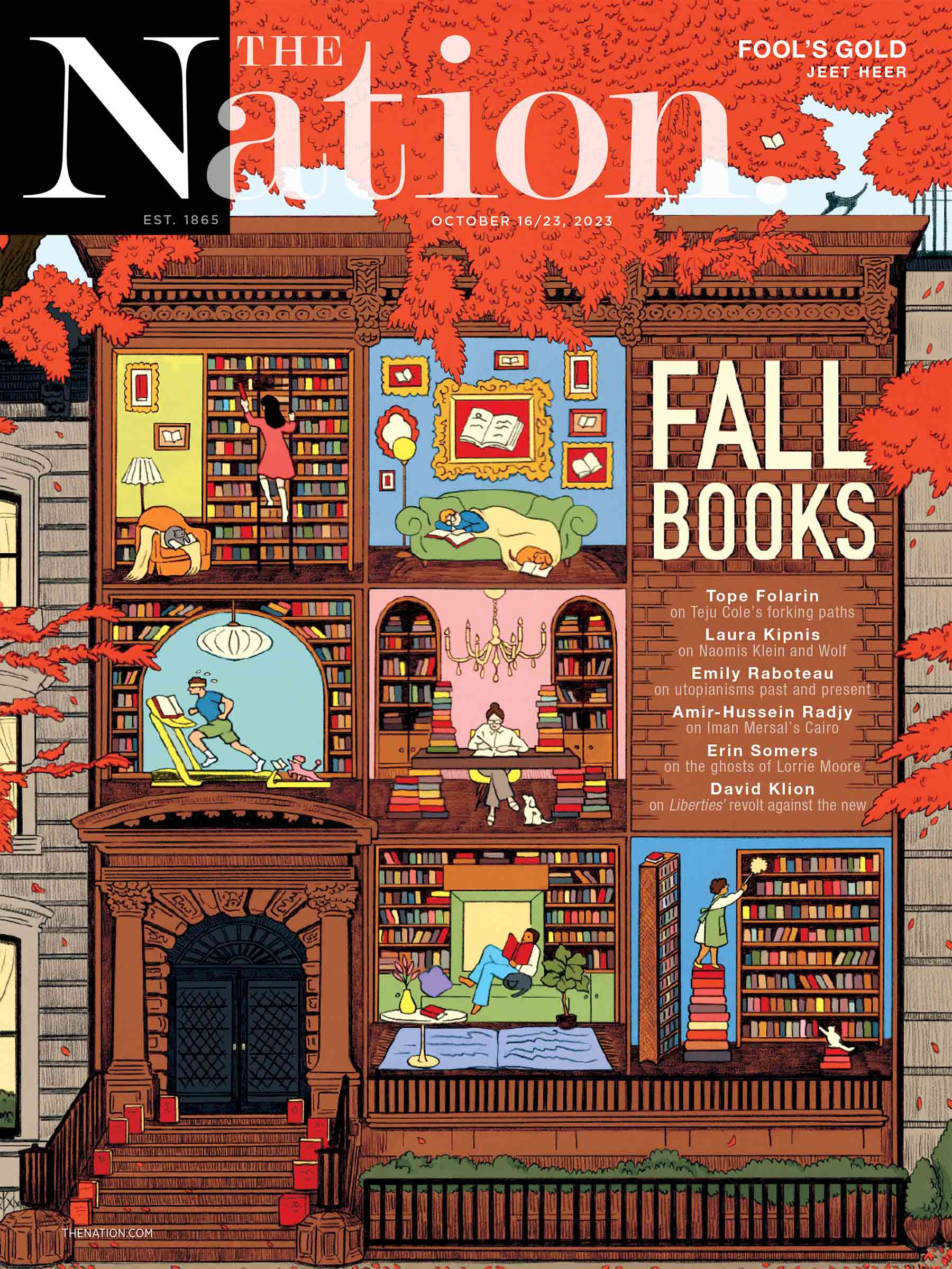 Second-rung actors—the people who make ends meet as actors in crowd scenes, say, rather than as marquee stars—are struggling to stay afloat. While many A-list actors are still manning the picket lines, other top actors are finding work on independent film projects, thus flouting the spirit of the strike while abiding by its letter. But even with this union-approved carve-out, by and large Hollywood isn't really open for business these days. The studios stand to lose huge amounts, and, more broadly, California's economy has already taken a multibillion-dollar hit from the dispute. The longer it goes on, the deeper the impact will be.
Unlike in less pro-union moments, polling shows overwhelming popular support for the strikers, with more than 70 percent of Americans siding with the writers and actors. The same polls show that three-quarters of respondents side with the UAW in its brewing dispute with the big auto companies.
What hasn't been polled to death is the UNITE Here Local 11 hotel strike. By and large, the national media has underplayed the industrial action, which revolves around efforts to secure a contract that reflects the high cost of living (and especially housing) in Southern California. Nor has it covered the episodic violence aimed at the striking workers at several of these hotels, with incidents that include wedding guests at one venue throwing punches at the picketers.
UNITE HERE Local 11 has been increasingly vocal in urging individual customers and conference organizers to boycott these hotels. Many, including the Democratic Governors' Association, have already either postponed or relocated their events. And while Taylor Swift didn't respond to the union's pleas to postpone her LA concerts earlier this summer, Argentine soccer superstar Lionel Messi did honor requests that his team, Inter Miami CF, not stay at the Fairmont Miramar hotel in Santa Monica last week when they came into town to play Los Angeles. The team canceled its reservations, and, as the Labor Day weekend got underway, the Major League Soccer Players' Association put out a statement on Twitter expressing its solidarity with the striking workers. (Contrast that with the shameful support for Brazilian far-right leader Jair Bolsonaro shown by many Brazilian national team players, including the legendary Neymar, in recent years.)
As with the big studios, so far the big hotel companies have also refused to pony up meaningful concessions during contract negotiations, and so the hotel workers' strike continues, with ever-nastier tactics being used by employers such as the Sheraton against their workers.
Maria del Carmen Trujillo, who is a housekeeper at the Sheraton and was one of the workers recently targeted by the company, says, "The Sheraton Universal thinks they can divide us and intimidate us." She is dismissive of their efforts. "They will not break our spirits," she says, "because we know our fight is fair and just. I am on strike to demand that my rights and my coworkers' rights are respected."